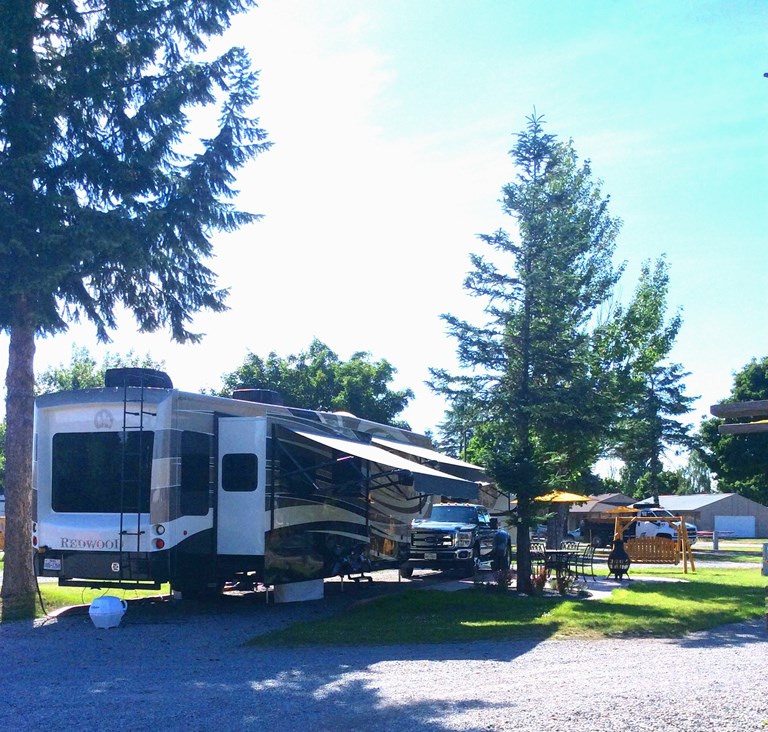 General Campground Information
2:00pm CHECK-IN TIME
Check-in time is
2pm for all sites and accommodations.
 This allows us time for site watering and clean-up daily. Help us keep our Campground clean and green by planning your arrival accordingly, so that everyone can have a great camping experience!
** Please note:
There is a one-hour time change at the Montana/Idaho state border, if you are coming from the east or from Alberta.  We are on Pacific Daylight Time. 
Thank you for your consideration!
Burn restrictions now in effect across Spokane County
Unfortunately it's that time of year again.  Good thing we have chimineas (which are still legal to burn) for use, upon request, so you can still enjoy a campfire and s'mores ??
ROAD CONSTRUCTION ALERT!
ROAD CONSTRUCTION IS BEGINNING ON BARKER ROAD, WHICH IS THE ROAD SPOKANE KOA IS LOCATED ON.  Anticipated dates 07/28/20 to 10/30/20.
Roadway will be closed to through traffic. Detour route will be posted (Mission Ave., Sullivan Rd. & Euclid Ave.). USE GPS for easy alternate route, or follow detour signs posted.
OUTDOOR WIFI AVAILABILITY
We have the best outdoor Wifi possible in our area. It is
free
to our Campers and is available throughout the Campground. Our Wifi is suitable for checking email and internet searching. 
Streaming
of any media is
never
allowed.  Connectivity is only as reliable as the amount of bandwidth that is shared between all Campers. There are certain times of the day where the demand on our wireless network will be much heavier, causing slow connections for users. Outside factors, including RV's and physical structures, natural features, and
the weather
all influence how well our network will operate at any given time. Given that Wifi technologies were conceived for
indoor
LAN applications, with access to extensive wired infrastructure, outdoor environments, by comparison, present a variety of unique problems making outdoor wifi networks prone to interference and signal blocking no matter what environment they're built in.
DOG POLICY
All dogs are welcome at Spokane KOA, provided they stay on a leash at all times, are only walked in designated dog areas and are picked up after immediately.  We even have Kamp K9 Dog Park especially for off-leash time!  To ensure that all our guests have a safe and enjoyable time, it is important that dog owners abide by our following Dog Policies at
ALL
times:
WASTE MANAGEMENT
- DOGS ARE ONLY ALLOWED TO USE DESIGNATED PET AREAS. ALL WASTE MUST BE ATTENDED TO BY THE OWNER
IMMEDIATELY
.
AGGRESSIVE BEHAVIOR
- Pets are not allowed to show any aggressive behavior towards campers or other pets at any time anywhere in the campground.  Reports of dogs being aggressive will result in immediate
eviction
of the owner with no refund.
LEASH LAW-
 All dogs are required to be leashed at all times with a leash no longer than
6 feet
in length.. Dogs are n
ever
allowed to be walked on the
grass sites
around the perimeter inside the park. Pets may never be left 
unattended 
for any length of time,
including inside
 an RV or cabin. All dogs are required to be under the control and visual observation of their owner at all times. Dogs may never be tied
up
outside to any KOA property, including, but not limited to,
tables
,
trees
,
cabins,
porches
or
fences
.
BARKING
- Allowing your dog to bark uncontrollably
at any time
will not be permitted and may result in eviction without refund.
ANY VIOLATION OF OUR PET POLICIES MAY RESULT IN IMMEDIATE EVICTION WITHOUT REFUND
FIREWOOD POLICY
All of our fire pits are portable and available upon request, while fires are permitted in our county.  We have pre-bundled firewood available for purchase in our Camp Store.  We DO NOT allow people to bring in or burn their own firewood due to infestation concerns.
FIREWORKS
The use of any and all fireworks are banned within the city limits of Spokane and Spokane Valley.  Therefore no fireworks are ever permitted in Spokane KOA.
Meet Your Hosts
Like campfires and marshmallows, we're better together!
The Chapman Family has owned and operated Spokane KOA Journey since 1974.  Three generations take pride in welcoming you!