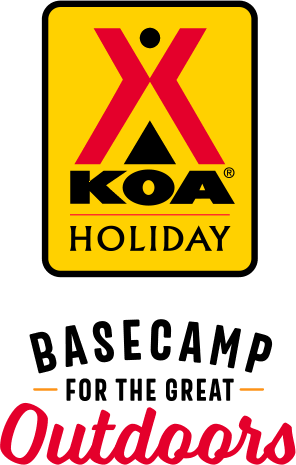 KOA Holiday Campgrounds
Whether you're exploring the local area or hanging out at the campground, KOA Holidays are an ideal place to relax and play. There's plenty to do, with amenities and services to make your stay memorable. Plus, you'll enjoy the outdoor experience with upgraded RV Sites with KOA Patio® and Deluxe Cabins with full baths for camping in comfort. Bring your family, bring your friends, or bring the whole group – there's plenty of ways to stay and explore.
KOA Holidays Feature:
RV Sites with a KOA Patio®
Deluxe Cabins with full baths
Premium Tent Sites
Group meeting facilities
Directions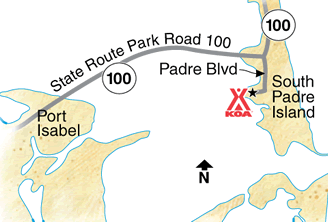 Cross the causeway at Port Isabel. Take the first right after crossing the bridge, travel one quarter mile and take the first right to the KOA entrance. GPS: N26.079219, W97.166637
Get Google Directions
Oct 25, 2021
Accommodations were great as always. Office staff very helpful and friendly
Oct 25, 2021
We had a great time the pool and facilities were very clean the water pressure in the showers needs a little work but everything was great
Oct 25, 2021
Very relaxing time, no problems with cabin, will definitely be back
Oct 25, 2021
Great place, a little more then we wanted to spend, but is kept up very well. The staff are all pleasant and helpful. Pier 19 the adjacent restaurant is very good.
Oct 24, 2021
restful and peaceful.
Oct 24, 2021
Wonderful. Nice people. Very clean
Oct 23, 2021
Clean, well kept. Enjoyed our visit.
Oct 22, 2021
Beautiful place but the odor bothered my wife.
Oct 21, 2021
In a month long trip through Texas we have stayed exclusively in KOAs. The Padre office staff was very nice & helplful but the other outdoor staff were not so friendly. I know Padre is a small area & not many camp grounds, but the in comparison to other KOAs the campspots are sooo tight between units. Having Pier 19 there is a great benefit as the food, drinks & wait staff are excellent!
Oct 19, 2021
Very nice park just very crowded and close together camper slots.
Oct 19, 2021
This park is excellent for RVs but not suitable for tent camping. The pool is awesome! The park is beautiful and well-maintained. The problem is the tent sites are separate, far from bathrooms, and on the entrance to the park and restaurant. Left early as I could not sleep due to the traffic in and out and long walk to bathroom.
Oct 18, 2021
Loud music from an adjoining property was awful from 8pm to 11pm on Saturday night. Was a mix up on site location for my trailer that delayed my set up about 30 minutes. Plenty of spaces to choose from but had to wait until one was assigned as a trailer was in the spot that I was originally assigned to.
Oct 18, 2021
great place to stay...very nice and clean....great pool and hot tub.
Oct 18, 2021
All was pretty good. I stayed in a cabin and was told that there would be a light housekeeping service on my third day. It didn't happen. Staff were friendly and the unit was clean enough. Probably could use a deep clean in the corners of the bathroom.
Oct 18, 2021
Nice clean place the only thing I need to complain about is the showers, they didn't even get hot enough. Besides that it was easy to get in and out of, friendly staff.
Oct 18, 2021
Clean, well organized facility. Disappointed this time because the "no pet" loft cabin we rented smelled of dog. They gave us air freshener and discounted the first nights stay. We would come back.
Oct 18, 2021
I have been to SPI KOA a number of times and the way I was treated this time will cause me to not return. Your staff acts more like empowered government authorities than customer service focused staff.
Oct 18, 2021
The tent spots are in the wrong location, to much traffic there. I personally think the tents should be in the back of the campground, where there is less traffic. But the employees where very courteous and helpful.
Oct 16, 2021
Love the KOA
Oct 16, 2021
Awesome facility! Staff was incredible, easy check in, very nice pool and play area for the kids.
Oct 16, 2021
First time there, very peaceful. Like the fact that there was around the clock security. Definitely will not be our last time there!
Oct 16, 2021
Very clean, good amenities
Oct 15, 2021
I usually enjoy staying at the cabins. But my last stay was not pleasant at all! There was a huge dip/hole/crease in the bed! And our shower leaked and bathroom was not cleaned well at all.
Oct 15, 2021
Nice folks, great location, and great restaurant onsite! We'll definitely be back!
Oct 13, 2021
Great location friendly staff. Restaurant and boat launch on property.
Oct 13, 2021
We enjoyed our stay very much. Your KOA camp sites are very nicely kept. We had problems with our water pump in our trailer, so we used your restroom, and shower every day. I have to say that it was very clean everyday. It didn't matter what time we went it was always clean. I was happy to know you had water aerobics for us. Thanks to all of your wonderful staff. Everyone was welcoming.
Oct 12, 2021
It was a great stay. Very clean and friendly staff. Parking is tight.
Oct 12, 2021
Super friendly staff, great location and very well maintained location. Will definitely go back!
Oct 12, 2021
2nd time here...... enjoyed the stay.
Oct 12, 2021
This is our 3rd time staying here. Cabins got more decrepit. Our blow dryer GFCI broken, back slider hard to pull open until maintenance adjusted, bunkbeds & sofa sheets stained, pull out sofa blanket dirty, with a handful of hair, feet were black from walking around the room, pullout mattress stained, told no extra towels allowed only can switch once every 3 days, so when we check out? Gym closed
Oct 12, 2021
This is a full service campground. Very nice, great staff.
Oct 12, 2021
Campground was well maintained and staff was very friendly.
Oct 12, 2021
Nice park but staff is preoccupied with enforcing all the rules. They need to think of customer service as their first priority.
Oct 12, 2021
Good customer service, nice remodeled boat ramp and nice palm trees. The bad. Pool needs some tlc. Spaces are super tight and hardly no room for your tow vehicle. Lots of traffic from pier 19 restaurant. Worse off all you can't enjoy the outdoors because of the swampy water they have in the from and back. Mosquitoes are everywhere. Had to stay inside the whole time.
Oct 12, 2021
Lots are piled on top of each other. Amazing views and great staff.
Oct 12, 2021
The grounds were very neat and tidy. We drive in after hours and weren't able to walk the grounds much, but we'll be doing that on our next visit
Oct 11, 2021
Great place. Too many speed bumps, but I understand crazy drivers.
Oct 11, 2021
I went there for a couple of days. With my adult children. We all had a great time. For a camp ground it was surprisingly quite. The cabin we stayed in was clean. The people were friendly. The only reason gave a 4 is because of all the construction going on. Also I feel the office should be open later than 5pm. We would be happy to go back and highly recommend this campground.
Oct 11, 2021
Outstanding team at this KOA. Can't wait to get back there. Thank you for a great stay!
Nov 21, 2021
Nice place to visit
- Lenore K on Google
Nov 20, 2021
A Real beautiful place!
- Kenny G Budz Bretag on Google
Nov 19, 2021
nice here not crowded at all. very helpful and friendly
- alan senn on Google