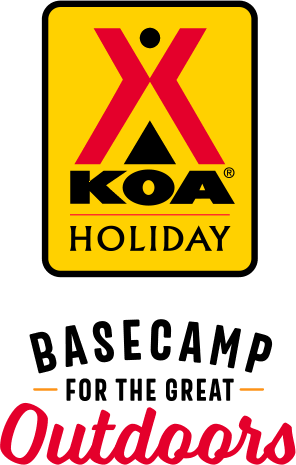 KOA Holiday Campgrounds
Whether you're exploring the local area or hanging out at the campground, KOA Holidays are an ideal place to relax and play. There's plenty to do, with amenities and services to make your stay memorable. Plus, you'll enjoy the outdoor experience with upgraded RV Sites with KOA Patio® and Deluxe Cabins with full baths for camping in comfort. Bring your family, bring your friends, or bring the whole group – there's plenty of ways to stay and explore.
KOA Holidays Feature:
RV Sites with a KOA Patio®
Deluxe Cabins with full baths
Premium Tent Sites
Group meeting facilities
Directions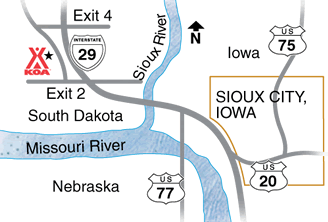 NEW Driving Directions: Road Construction Directions for the Sioux City North KOA 
Northbound Traffic: Take Exit 2. Off the Interstate take a left onto River Drive. Streeter Drive Entrance is CLOSED. Head one more block West to Sodrac Drive-The Hampton Inn will be on the left. Take a right and drive past the fire station. Sodrac Drive will turn into Streeter Drive and you can take this road all the way to the campground. 
Southbound: No changes, Take Exit 4 off I-29, turn right, then make an immediate left on the first service road. This will be Streeter Drive. Continue on Streeter Drive until you reach the campground.
If you have any questions, please call 605-232-4519.
Get Google Directions
Sep 02, 2021
Friendly staff and well stocked store. Only complaint was a barking dog in the site across from me. It barked constantly even when the people were outside with it.
Sep 02, 2021
we loved it and will be back. loved the security
Sep 01, 2021
Our stay was short and sweet - we are traveling long days to make up mileage after RV breakdown. Campground clean, neat, very well cared for. Looks like a lot of fun if traveling with children, which we were not.
Aug 31, 2021
We enjoyed our short stay at your KOA. The facilities were clean and accommodating. Although the adjacent highway noise was objectionable, there is no remedy for that. Otherwise, keep up the great work in supporting us campers!
Aug 31, 2021
Overnight stay. Everything clean. Nice level site. Great customer service.
Aug 31, 2021
only stayed one night. All was fine.
Aug 31, 2021
We loved the free jumping pillow and mini golf. The young workers were friendly and helpful. We appreciate the clean, pet fur free cabin! We hope to return next summer �
Aug 31, 2021
It was very nice & the people friendly and helpful.
Aug 30, 2021
Received text telling us of changes in access to KOA due to road work. Found it easy access. Directed to campsite, then handled the details inside. Very accommodating and hospitable.
Aug 30, 2021
Very relaxed and attentive staff, my family enjoyed all the play areas so much and easy to navigate corners
Aug 29, 2021
Great KOA with friendly staff and easy checkin. Fast, reliable WiFi.
Aug 29, 2021
We only stayed one night. We were only passing through. Very nice place and Good staff especially the guy who directed us to our camping sight.
Aug 29, 2021
Good amount of hooks in the showers!!! Since we had the a/c on, we could not hear the highway traffic this night. Good staff.
Aug 29, 2021
Friendly staff and helpful. Well light KampK9 and the location is good. I would recommend this KOA campground.
Aug 28, 2021
Very clean laundry, bathrooms and showers. Wish we could have spent more time there.
Aug 28, 2021
Nice campground, very clean, friendly staff. Wings were great!
Aug 28, 2021
We stayed in the tee pee and due to it being right next to the busy hwy it was SO loud that we packed up our things and 2 little kids at 2:00 in the morning and got a hotel room down the road.
Aug 28, 2021
Great staff, well groomed property. Off leash dog area is adequate and has a light to see at night. Would recommend this KOA.
Aug 28, 2021
Great park and super easy checkin. A storm came through and dropped some huge logs from the dead trees in the spot across from us. Those dead tops really need to be removed.
Aug 27, 2021
Great facilities it what sets this KOA apart is the staff. From the owner down they are helpful, professional, and do whatever is necessary to make ones stay the best it can be. They leave no stone unturned on the care of their customers. Thank you all
Aug 26, 2021
OUTSTANDING! Site perfect, Security gate add much appreciated to the campgrounds, Swim Pool well kept and warm See you all in 2022!!!
Aug 25, 2021
Clean, quiet, wonderful people, lots of things for kids, great place, would stay there again when in the arer
Aug 25, 2021
first night of 7 day adventure at koa
Aug 24, 2021
Staff was very friendly and efficient. Grounds were clean and well laid out. Laundry room was clean and not very expensive (5 washers and 3 dryers). Convenient location and the pizza that they made on site was tasty and helpful as we were just about out of food. Delivered right to our site. We will stay again.
Aug 24, 2021
Wonderful place to stay! The large cabin was great for our family of 6 and very clean! Staff was amazing! So friendly and helpful, you could tell they enjoyed their jobs! So many things to keep the kids entertained, from bouncing pillows to Gaga ball, train rides to mining gems and swimming to mini golf! We all had a great time! So many memories made! Thank you!
Aug 24, 2021
Need stronger wifi
Aug 24, 2021
This KOA is as fine of campground as I have ever stayed. The facility, campground and people were all over the top.
Aug 24, 2021
We stayed one night. Restrooms were clean!
Aug 23, 2021
It is nice campground Staff was very friendly.
Aug 23, 2021
It was fast but very pleasant and we are already booked to stay again on our way home. Great staff and amenities
Aug 23, 2021
Very nice and relaxing..
Aug 23, 2021
Over night visit going to South Dakota and coming back. Great place to stay.
Aug 23, 2021
Very nice campground! Clean, safe, very well cared for. Nice sites. Fun games and amenities on site.
Aug 22, 2021
We stayed in the teepee for one night as we were passing through. It was amazing! The beds were so comfortable. I wish we could have stayed at this Koa a few more nights because there was a lot to do with kids. It was Christmas in July while we were there and they had lots of themed activities going on all day. We will definitely be back!
Aug 22, 2021
Clean, staff is nice, great for an overnight. Close to interstate so noisy.
Aug 22, 2021
Met at the gate and escorted directly to our site. The park was spotless. Everywhere! Staff extremely personable. Best koa we have ever been in
Aug 22, 2021
Real nice staff, helped with positioning the RV in the spot and getting propane in the morning before we left. They offered biscuits and gravy delivered to your site on Saturday, nice added treat for $5. Everyone was pleasant and happy to help.
Jul 20, 2021
We spent two nights here on our way to Rapid City. We have been to a lot of KOA campgrounds and, by far, this one had the most helpful, friendly, knowledgeable, hard working staff we have met! The sites were long, level and shady. The pool, laundry and grounds were very clean and well maintained. They have a pizza kitchen in the office for take out orders and they have many, fun weekend activities. The camp store was stocked with lots of goodies, necessities and souvenir items. I definitely recommend this KOA!!
- KZK13 on Trip Advisor