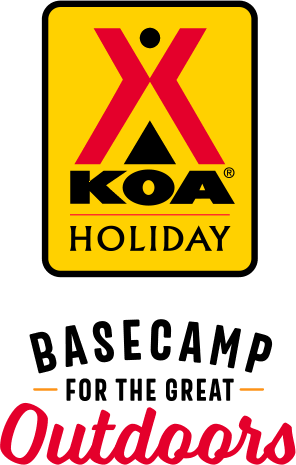 KOA Holiday Campgrounds
Whether you're exploring the local area or hanging out at the campground, KOA Holidays are an ideal place to relax and play. There's plenty to do, with amenities and services to make your stay memorable. Plus, you'll enjoy the outdoor experience with upgraded RV Sites with KOA Patio® and Deluxe Cabins with full baths for camping in comfort. Bring your family, bring your friends, or bring the whole group – there's plenty of ways to stay and explore.
KOA Holidays Feature:
RV Sites with a KOA Patio®
Deluxe Cabins with full baths
Premium Tent Sites
Group meeting facilities
Directions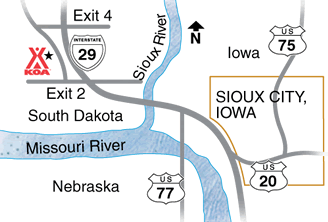 NEW Driving Directions: Road Construction Directions for the Sioux City North KOA 
Northbound Traffic: Take Exit 2. Off the Interstate take a left onto River Drive. Streeter Drive Entrance is CLOSED. Head one more block West to Sodrac Drive-The Hampton Inn will be on the left. Take a right and drive past the fire station. Sodrac Drive will turn into Streeter Drive and you can take this road all the way to the campground. 
Southbound: No changes, Take Exit 4 off I-29, turn right, then make an immediate left on the first service road. This will be Streeter Drive. Continue on Streeter Drive until you reach the campground.
If you have any questions, please call 605-232-4519.
Get Google Directions
Sep 13, 2021
Management clearly tired of customers. Very unfriendly. I felt like a pain in their butt, not the welcome customer. There was a for sale sign on the road and their attitude reflects it.
CAMPGROUND RESPONSE / COMMENTS:
I am sorry that you had a terrible experience. We have owned our campground for 6 years now and are definitely not planning on selling. I hope your visit with our campground was much more pleasant!
Sep 12, 2021
We had a one night stay in a deluxe cabin. The cabin was very nice and clean. We loved having the pizza delivery. This was our first time staying at a KOA campground, and we will definitely stay again.
Sep 12, 2021
Amazing staff at a good location. Pizza and wings delivered to the campsite?!? What?!? Yup!!!! This is the place to stop.
Sep 11, 2021
Campground was neat and clean, check-in was easy and plenty of texts with directions and instructions
Sep 11, 2021
Very much enjoyed our stay. Front desk help was prompt and professional. The homemade pizza & chicken wings were delicious. Our pull thru campsite was level and comfortable. We highly recommend this campground.
Sep 11, 2021
Very friendly and helpful
Sep 10, 2021
Very friendly and clean
Sep 10, 2021
The young man that checked us in was extremely helpful and kind. He answered all of our questions and made the process so easy.
Sep 09, 2021
Great stay at this campground.
Sep 09, 2021
Great place, helpful staff, nice spots, convenient access
Sep 09, 2021
We went to Sioux City for a week. Art Splash was the main reason, but also to relax and enjoy the area. We ordered wing bites and breakfast pizza while we were there. They were great, and the service from the office was outstanding. So many new ammenities and a beautiful gift shop/store.
Sep 09, 2021
Great, friendly and helpful staff. Clean accommodations and well arranged utilities. As a way point, you do get highway noise, but it is easily accessible.
Sep 09, 2021
Pool and laundry were nice and well-kept. The camp was much too close to the interstate and was very noisy all night. Train tracks close too. No cable TV and impossible to get the satellite to work. Nothing of interest close by.
CAMPGROUND RESPONSE / COMMENTS:
We appreciate you choosing our location for 4 days over Labor Day Holiday Weekend as we are convenient on/off for travelers. We have many outdoor activities throughout the park and Sioux City also offers many historical sites for Lewis and Clark. We have many local channels and the BEST wifi!
Sep 08, 2021
Sites are level. The park is clean and well-maintained. We enjoyed our stay.
Sep 08, 2021
We stayed in a small cabin and LOVED our time at the campground the activities and games were Excellent to give kids something to do each/every day. Bathroom/showers were Exceptionally clean and spacious. Staff is VERY pleasant and helpful Sammie and Evan were the BEST!! And the younger lady that helped us with the Tie Dye shirts!! Pool was warm, very clean and spacious. Will b back!!!
Sep 08, 2021
Great stop, staff friendly and personable enjoyed our stay
Sep 07, 2021
Super friendly staff. Clean restrooms and amenities. Lots of activities packed into one site. Cute and comfortable cabins. 10/10 would recommend.
Sep 07, 2021
Great staff! Great facilities!
Sep 07, 2021
Amazing staff! The guy that checked us in when we arrived had a great attitude. Place was crazy busy and he just huddled and even went in and checked us in so we didn't need to come back to the office. So rare getting this type of service these days.
Sep 05, 2021
Very nice campground. The sites are pretty wide. Customer service is great.
Sep 05, 2021
The camp grounds were lovely and the cabin was perfect! I can't wait to come back again next year!
Sep 05, 2021
Very clean bathrooms, friendly staff. Maybe too many texts/emails though
Sep 05, 2021
Great people. Good service. Clean nice area
Sep 05, 2021
Very nice sites, level and with the dump connection in a concrete pad. Had a little electrical problem but they moved my site and they were very helpful. Of the three KOA campgrounds I stayed at on this trip, this one was definitely the best and had the friendliest staff!
Sep 05, 2021
Friendly, helpful staff, clean restrooms and showers, and trees!
Sep 05, 2021
Not a fan of the location. Very noisy right next to the main interstate. The camp is kinda run down; old shower fixtures, tired playground equipment. Probably won't be back. On the bright side, the staff was very helpful on a whim, switching our reservation from tent to the Teepee since it was raining hard and we didn't have a good tarp.
CAMPGROUND RESPONSE / COMMENTS:
We are sorry to hear that our park didn't meet your needs. The jumping pillow and jumping pad may not have been a good fit since you were not traveling with children but we do offer FREE Mini Golf along with other activities for all ages when it is not raining.Try us again when you have more time.
Sep 04, 2021
We were super impressed with the family that owns this KOA. The WiFi and the water pressure were the best we've ever had. Highly recommend it!
Sep 04, 2021
It was a great overnight stay at this KOA! When we checked in a young man escorted us to our camping site. It was perfect! We got all set up and it started sprinkling. They fix and deliver pizza and wings right to your spot if you want them too. They were friendly and so kind to help us with any issues. It was also one of the cleanest campgrounds we've been to on our trip. Thanks KOA!
Sep 04, 2021
The staff was very friendly and efficient. We loved the campground too. It was very clean and shady.
Sep 04, 2021
Awesome amenities, spacious site.
Sep 04, 2021
I am retired and spend a lot of time in various campgrounds. This was by far the friendliest staff I have ever encountered. While all of them were great, I want to give Jules a special kudo. If I had a business I would want 10 of her! KOA is fortunate to have her as the face of KOA to the public.
Sep 03, 2021
Was nice camp site and staff was very friendly
Sep 03, 2021
We have stayed at this KOA many times. But this was the worst! They have installed gates and you need a card to get in. I am older and had a difficult time getting the gates up.. Visitors are now charged $5 to get in even if they are just coming for dinner! The young man who showed us to our spot was very nice. The price has gone up also. checked out a campground by the river for next time.
CAMPGROUND RESPONSE / COMMENTS:
We are sorry to hear that you are not satisfied with the improvements that have been made over the last 3 years since your last visit. We are continuing to add resort amenities that guests are asking for to keep our park clean, safe, and family friendly. We do offer discounts with KOA rewards.
Jul 20, 2021
We spent two nights here on our way to Rapid City. We have been to a lot of KOA campgrounds and, by far, this one had the most helpful, friendly, knowledgeable, hard working staff we have met! The sites were long, level and shady. The pool, laundry and grounds were very clean and well maintained. They have a pizza kitchen in the office for take out orders and they have many, fun weekend activities. The camp store was stocked with lots of goodies, necessities and souvenir items. I definitely recommend this KOA!!
- KZK13 on Trip Advisor