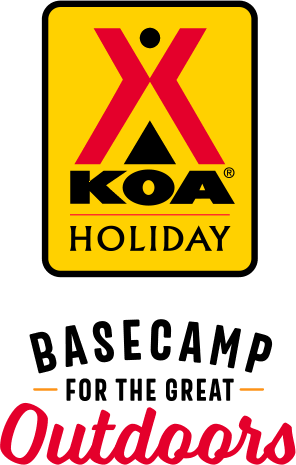 KOA Holiday Campgrounds
Whether you're exploring the local area or hanging out at the campground, KOA Holidays are an ideal place to relax and play. There's plenty to do, with amenities and services to make your stay memorable. Plus, you'll enjoy the outdoor experience with upgraded RV Sites with KOA Patio® and Deluxe Cabins with full baths for camping in comfort. Bring your family, bring your friends, or bring the whole group – there's plenty of ways to stay and explore.
KOA Holidays Feature:
RV Sites with a KOA Patio®
Deluxe Cabins with full baths
Premium Tent Sites
Group meeting facilities
Directions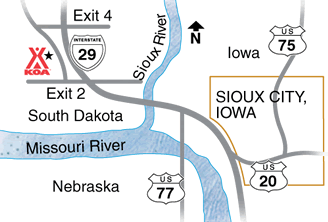 NEW Driving Directions: Road Construction Directions for the Sioux City North KOA 
Northbound Traffic: Take Exit 2. Off the Interstate take a left onto River Drive. Streeter Drive Entrance is CLOSED. Head one more block West to Sodrac Drive-The Hampton Inn will be on the left. Take a right and drive past the fire station. Sodrac Drive will turn into Streeter Drive and you can take this road all the way to the campground. 
Southbound: No changes, Take Exit 4 off I-29, turn right, then make an immediate left on the first service road. This will be Streeter Drive. Continue on Streeter Drive until you reach the campground.
If you have any questions, please call 605-232-4519.
Get Google Directions
Sep 27, 2021
Nice KOA staffed by nice people. Restrooms are kept clean (although the push button lock on the men's is somewhat unreliable and could use some maintenance). Grounds are in good condition and pleasant. Our only objection was that, being within 150 yards of Interstate 29, it's rather noisy. Fortunately the Highway users all seem to stop for the night by about 9:30 pm, so we did get good sle
Sep 27, 2021
1 night stay on road trip. Easy to make reservation. Easy directions. Thank you for telling us about the detour. Had the pizza. It was quickly delivered to our site and good. Nice grassy dog park. We said it was the best of the 4 KOAs we stayed at this trip.
Sep 26, 2021
Loved my stay there, the campgrounds are kept very clean and beautiful. The solar lights are the cherry in the cake! Thanks Sioux City KOA for a great stay!
Sep 26, 2021
Very clean and quiet, the staff was great, good WiFi and the bathrooms were very clean.
Sep 26, 2021
Really appreciate being able to get food delivered to my camper! Especially after a long day of traveling!
Sep 25, 2021
This is a beautiful campground! We only stayed one night, but were impressed by Jules, the young lady at the desk, the cleanliness of the park and the great, level Campsite. We did not use any of the amenities, but would imagine they were first rate also. We camped in a travel trailer and had full hookups.
Sep 25, 2021
Very friendly. Clean and nice sites. When I arrived, I was personally escorted to my site. I would definitely stay there again. We were coming from South Dakota heading home to Michigan and needed a over night stay. Thanks again and keep up the great work.
Sep 25, 2021
Greeted at the gate and led to the site. Very efficient. Loved the pizza delivery after a long day of traveling.
Sep 25, 2021
Only stayed one night and it seem to be very clean and the dog park was very nice and I would stay there again
Sep 24, 2021
Fabulous The staff was courteous professional and inviting. Before we arrived they contacted us to make us aware of a detour to the KOA. The park had fabulous WIFI, too.
Sep 24, 2021
Clean and pleasant, decent spacing around sites. The freeway was close and a bit noisy, so take earplugs. The staff were friendly and helpful.
Sep 23, 2021
Nice campground. Friendly staff, tidy grounds. A little close to the highway, but overall quite fine. Looks like lots for kids to do.
Sep 23, 2021
Ease of getting in and out good, great 5G wifi service.
Sep 22, 2021
Awesome site!! We especially liked the pizza made on-site and delivered right to our door!!
Sep 22, 2021
The staff is so friendly, the campground is very clean, and we love staying there!!!!
Sep 22, 2021
We enjoyed our stay EXCEPT: 1. Trees need to be trimmed to call this KOA "big rig friendly" 2. The entrance only accommodates one rig at a time.
CAMPGROUND RESPONSE / COMMENTS:
We would love to widen the driveway but unfortunately the city will not allow it. Due to this we have escorts waiting for arrivals to take them directly to sites upon entering. Due to the timing of arrivals and departures rigs should never have to pass each other.
Sep 22, 2021
Our site was a bit on the short side and we were put in the "back 40" with a lot of annuals and a few junkers. Site was mostly level, water pressure very low. The woman checking us in was totally clueless about nearby attractions. I can see potential here but poor management for the moment.
CAMPGROUND RESPONSE / COMMENTS:
This review must have been meant for another facility. The site rental site was next to the office. We also limit seasonal sites and have a strict contract they must follow in regards to cleanliness. We hope you visit our facility and try us again we have many pamphlets of the area at our desk.
Sep 21, 2021
Extremely impressed with the whole campsite.
Sep 21, 2021
The staff was very friendly and accommodating from the escort into our slip, having firewood delivered as well as a pizza for a snack!! The campground is big rig friendly with our 35' moving around very easily. Just outside the park is a public walk that has workout stations for those so inclined. Great stay looking forward to our return visit next season!
Sep 20, 2021
We were rushing home with a sick dog so we did not have any time to enjoy all the activities available at the park. It is like the Disney do camp grounds!
Sep 20, 2021
Clean park and nice people.
Sep 20, 2021
Great internet connection, friendly staff. Sites are well maintained and well spaced.
Sep 18, 2021
Check-in was quick and we were led to our site. We appreciated the gated entrance. The cable worked and the wi-fi was fantastic! The park was clean and neat. Although there was road noise, it didn't bother us inside with the air conditioner running. We only stayed one night but would stay agin if passing through this area.
Sep 18, 2021
Great pizza!
Sep 17, 2021
Friendly staff. Sites are very well placed. Grounds were clean, easy to get in and out and felt safe.
Sep 16, 2021
Way to much road noise.
Sep 16, 2021
The person in the office was extremely nice and helpful. Wish I knew her name. Understands what Customer Service means!
Sep 15, 2021
Very friendly staff, facilities were very clean and nice.
Sep 15, 2021
Friendly, courteous and helpful. I would not hesitate to recommend to a friend.
Sep 15, 2021
They bragged about paying for Friday and getting Saturday free weekend after Labor Day but then the pool is closed and was absolutely nothing to do. They also charge $5 per person to visit somebody that was camping there .
CAMPGROUND RESPONSE / COMMENTS:
VKR Weekend is a National KOA program. Even though the pool closes on Labor Day as advertised we still have many self guided activities. Jumping pillow, Jump pad, mini golf, horseshoes, gagaball, and much more!
Sep 14, 2021
Very nice park with large trees. We were guided to our site which was nice. Didn't use any facilities but did buy an ice cream in the well stocked store. Would definitely stay again.
Sep 14, 2021
We use this KOA as a stop on our trips North and it is always very clean and staff are super helpful, they even met us as we drove into the park. We have stayed there 3 or 4 times and will stay again.
Sep 14, 2021
Staff was very professional and helpful. Campground was neat and clean. Since we only stayed one night, we only used the laundry which was very clean. Lots of other amenities looked great but we didn't use them. I would love to visit in the summer and see the park full of children!
Sep 13, 2021
We only stayed one night twice, we used the dog off leash area a lot but think there is much needed repairs that could be considered.
Jul 20, 2021
We spent two nights here on our way to Rapid City. We have been to a lot of KOA campgrounds and, by far, this one had the most helpful, friendly, knowledgeable, hard working staff we have met! The sites were long, level and shady. The pool, laundry and grounds were very clean and well maintained. They have a pizza kitchen in the office for take out orders and they have many, fun weekend activities. The camp store was stocked with lots of goodies, necessities and souvenir items. I definitely recommend this KOA!!
- KZK13 on Trip Advisor