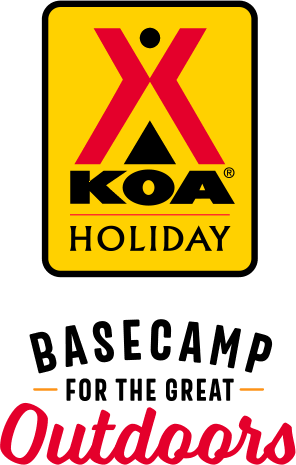 KOA Holiday Campgrounds
Whether you're exploring the local area or hanging out at the campground, KOA Holidays are an ideal place to relax and play. There's plenty to do, with amenities and services to make your stay memorable. Plus, you'll enjoy the outdoor experience with upgraded RV Sites with KOA Patio® and Deluxe Cabins with full baths for camping in comfort. Bring your family, bring your friends, or bring the whole group – there's plenty of ways to stay and explore.
KOA Holidays Feature:
RV Sites with a KOA Patio®
Deluxe Cabins with full baths
Premium Tent Sites
Group meeting facilities
Directions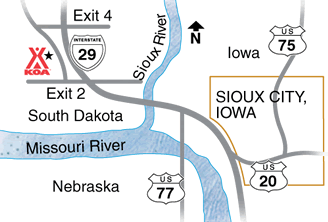 NEW Driving Directions: Road Construction Directions for the Sioux City North KOA 
Northbound Traffic: Take Exit 2. Off the Interstate take a left onto River Drive. Streeter Drive Entrance is CLOSED. Head one more block West to Sodrac Drive-The Hampton Inn will be on the left. Take a right and drive past the fire station. Sodrac Drive will turn into Streeter Drive and you can take this road all the way to the campground. 
Southbound: No changes, Take Exit 4 off I-29, turn right, then make an immediate left on the first service road. This will be Streeter Drive. Continue on Streeter Drive until you reach the campground.
If you have any questions, please call 605-232-4519.
Get Google Directions
Oct 14, 2021
Friendly staff. Clean bathrooms. Love the Hunt Brothers Pizza onsite.
Oct 13, 2021
We were only there overnight but would have loved to be able to stay longer. Everything was great! Nice Hosts and a great campground!
Oct 13, 2021
Friendly staff, clean grounds, level spot.
Oct 13, 2021
Staff was always ready to help. Facilities were clean and well maintained.
Oct 13, 2021
It was fine. Nothing special.
Oct 13, 2021
Great place. Helpful staff. Excellent bathrooms.
Oct 12, 2021
Great place to stay! Awesome hosts!
Oct 11, 2021
Amazing time! It was our 2nd time for the Halloween weekend! Awesome staff! The haunted house was fantastic! The cabin was really clean! Great family time!
Oct 11, 2021
It was great
Oct 11, 2021
The staff was great at getting you settled in to your spot. Contrary to other post I've seen the Water, Sewer we lined up perfectly on the site for my camper. I was able to use all of my short hoses. Alot for kids to do.
Oct 11, 2021
Third visit to this facility… always pleasant, never any issues! Thank you for a clean and helpful campground and staff! We'll be back!
Oct 10, 2021
Stayed one night and was happy with our accommodations. Everyone working was excellent. Would definitely stay here again.
Oct 09, 2021
They had a Bad Breaker from a previous guest that never got fixed and we got the site with the bad breaker and had to relocate in the dark when it keep tripping off.
Oct 09, 2021
After hours check in handled great. Clean well maintained level sites spaced out perfectly.
Oct 09, 2021
A+++++Campground definitely will come and stay again
Oct 08, 2021
Don't like the new gates to get in and out. Wish they had spent the money on trying to decrease the noise level from I29.
Oct 08, 2021
Wonderful smile at arrival, assistance in parking in overflow so we could explore and check in later. Wide sites alternated so we aren't staring into another camper. Wonderful, helpful staff, easy in and out. Treed, well maintained, just a lovely campground.
Oct 08, 2021
Don't stay here unless you're deaf. The noise is HORRENDOUS!!!!!!!
Oct 07, 2021
Very friendly staff, clean park with nice level spots.
Oct 06, 2021
Enjoyed our stay very much.
Oct 06, 2021
Great staff, spacious sites, very clean and well-organized campground, and great laundry room!
Oct 06, 2021
Had a great one night stay in a camping cabin. Bathrooms were clean and functional, and the cabin was great. I will say that the dog run was very messy so keep an eye out! But we had a great stay.
Oct 05, 2021
Campground was well maintained with nice size sites. Employees were friendly and provided several activities for the kids. Road noise was loud due to location just off I29. Enjoyed riding our bikes from the bike trail at the campground to the trails at the Adams Nature Preserve. This was a very good KOA.
Oct 05, 2021
Great campground. Clean and lots for the kids to do. Highway is loud but easy access when coming and leaving.
Oct 05, 2021
Great campground. We were even able to order pizza and it was delivered right to our door. That was nice after a long day of driving.
Oct 04, 2021
The owners and all their staff are so friendly and helpful! They go out of their way to make sure you have everything you need! We have gone twice now for their Halloween weekend and both times were a blast-highly recommend to anyone!!!!!
Oct 04, 2021
This KOA would do better spending its resources on fixing the drainage rather that than throwing Halloween parties. A coach should not be sitting in a bog after a little rain. Also the grass was in need or mowing....so with the grass high and wet....and the rest mud there was no place to walk you pets without creating a real mess. Will not return.
CAMPGROUND RESPONSE / COMMENTS:
The Midwest is currently in a drought but we still have our lawn care service tend to the park once a week. Early arrivals at 10am for 5 days due make the site very difficult to take care of. We do offer a dog park and a very nice walking path for exercise and pet use.
Oct 03, 2021
Lol I've the family oriented environment. Good spaces - level and wide
Oct 03, 2021
Just stayed one night. This KOA is not the best I have stayed at but for my needs it was fine. I arrived after dark. I do not care to set up after dark. The water was a bit far from the electrical. Same goes for the sewer dump. Had to put three sewer hoses on to dump my tanks.
Oct 02, 2021
Most accommodating we needed a late checkout and they said no problem at all and we were able to stay till mid-afternoon, thank you very much KOA crew.
Oct 01, 2021
Great service! Fixed a broken circuit breaker in the dark in 15 minutes. Everything was with a smile.
Oct 01, 2021
The 30amp breaker broke during the night and we had to run on our generator from am for electric and air. When they were told it was an oh well, tuff kind of reaction. No apologies or compensation for having have to use our generator on a full service sight
CAMPGROUND RESPONSE / COMMENTS:
We do have staff on call in case of emergencies but were not made aware of this issue until right before checkout. Please check your bank statements as a refund was credited due to no electric however the restrooms and water/sewer will still able to be used for your party of 5.
Sep 30, 2021
Great showers - helpful staff - always KOA if I can!
Sep 29, 2021
As soon as we pulled into the entrance, a young man (attendant) quickly came out of the building and greeted us and took us to our camp site. If there was more stars I would give you more. Best KOA I have ever stayed at.
Sep 29, 2021
Love a campground that will deliver the firewood, ice, and food! Our puppy loved the dog park and was able to play with other dogs in the K9park. All in all we have stayed twice and loved it.
Sep 29, 2021
Friendly staff, was led to our site by a young lady who was very polite. Nice level site was able to stay hooked up as we were only there for one night. Quiet park. Used the laundry very clean. My only request would be for an iron and ironing board. When we traveled in 2019 we has access to many units so this time for our 6+week trip I did not pack one. The security gate was a nice feature.
CAMPGROUND RESPONSE / COMMENTS:
We have an iron and ironing board located next to the dryers on the wall! It is one of our requirements for our KOA inspection. We will make sure all our staff knows the location as we do have some newer staff.
Sep 29, 2021
Disappointed in pet deposit charged. No mention when I checked in.
CAMPGROUND RESPONSE / COMMENTS:
We do not have a pet deposit charge for RV campers. We do track the amount of pets coming in to know the need of improving our pet facilities in the future. Billing was only charged for a one night stay and pizza that was delivered to the site.
Sep 28, 2021
Would stay again….quiet, not busy.
Sep 28, 2021
Stayed one night and everything was very good. The road noise is noticeable when outside but not disruptive when inside our trailer.
Sep 28, 2021
This park is nearly perfect. Clean, well located, nice sites, and has EVERYTHING you can think of to entertain kids. It is, like most KOAs, very close to a major throughway, so there is a lot of road noise. But for an overnight, that's no big deal.
Sep 27, 2021
Beautiful and well kept; friendly and helpful staff; level RV sites; nice to have the pizza place there. Showers: need a curb installed at front of shower so water doesn't run out onto the floor where you put your bath mat and try to stay dry while you're dressing. Grab bar in each shower would be a safety feature since floors are slippery, but also to help anyone who is a little unfirm.
Jul 20, 2021
We spent two nights here on our way to Rapid City. We have been to a lot of KOA campgrounds and, by far, this one had the most helpful, friendly, knowledgeable, hard working staff we have met! The sites were long, level and shady. The pool, laundry and grounds were very clean and well maintained. They have a pizza kitchen in the office for take out orders and they have many, fun weekend activities. The camp store was stocked with lots of goodies, necessities and souvenir items. I definitely recommend this KOA!!
- KZK13 on Trip Advisor