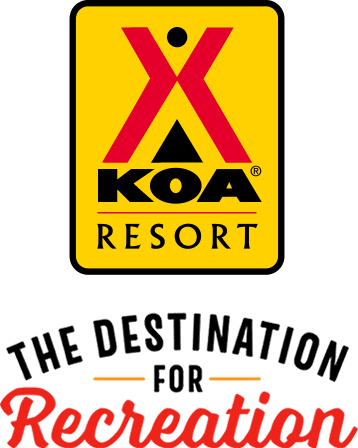 KOA Resort Campgrounds
KOA Resorts offer a carefree vacation in the great outdoors. Enjoy robust recreation and staff-led activities, kick back and relax by the resort-style pool, or grab a bite to eat, all while never leaving the campground. And with plenty of RV Sites with KOA Patios® and Deluxe Cabins with full baths to meet your needs, it's the ultimate camping getaway.
KOA Resorts Feature:
RV Sites with a KOA Patio®
Deluxe Cabins with full baths and linens
Premium Tent Sites
Resort-style pools
Indoor and outdoor group facilities
Directions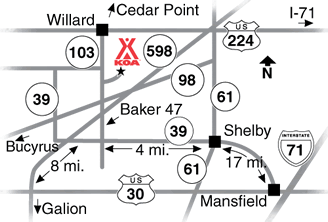 Please check shelbymansfieldkoa.com for directions from major cities in Ohio.  
From Mansfield: West on US 30, then right (north) 8 miles on SR 598, cross SR 39, then left onto Baker 47, go 2 miles and cross SR 98, go 1-1/2 miles on right.
From Shelby: West on SR 39, at junction of SR 39 & SR 96, on west side, stay right on SR 39 for 2 miles, right onto Baker 47 for 4 miles. 
GPS: N40.94861, W82.74323
 
Google maps works perfectly, do not use Mapquest or your Garmin, they will take you to the wrong Baker Rd.
Get Google Directions
Aug 13, 2021
Owner and staff were friendly. A charge of 40 dollars for early arrival was excessive. Facilities were clean and nice.
Aug 12, 2021
It was fantastic except for the rib dinner. Ribs were burnt. Also disappointing that the electric boats weren't working
Aug 12, 2021
Awesome campground!!! Sites are nicely spaced apart so you have plenty of room and not on top of neighbor. Campground is super clean and very well maintained. Also has lots to offer for fun time with kiddos!! Honestly this is my new favorite campground I have visited and plan to frequent here at least once every season
Aug 12, 2021
Lots of things to do for the kids. My youngest especially liked the Fun train and bingo night!
Aug 12, 2021
Great. As always
Aug 12, 2021
Great place to stay its truly like being at a resort. Everyone is so friendly and kind We will most definitely be back, the star gazing at night was awesome no light pollution at all. Lynn F
Aug 12, 2021
Couple days away from home. It wasn't perfect
Aug 11, 2021
We had a RV campsite and 3 cabins for a family vacation. Lots of things for the kids. We had a great time. Already booked the same for next year.
Aug 11, 2021
We have our family reunion and camp together. The range of activities is great for all our grandchildren. The service is ideal and the grounds are well managed. It has become our family tradition!
Aug 11, 2021
The grounds were well kept with beautiful flowers and foliage. Clean, spacious cabins. Lots of activities for the kids to do
Aug 11, 2021
Fabulous! Definitely thought of everything! Food from the restaurant delivered to our site. Many activities for both adults and children. Trash pick up at site. All the convenience you would want. EXCELLENT CAMPGROUND!
Aug 11, 2021
We have stayed here many times and always enjoy our stay. Lots to do for all. Great food in the cafe. Owners and employees always friendly and helpful. One of our favorite campgrounds.
Aug 11, 2021
Always a very helpful, professional staff. Extremely clean and well taken care of campground. There are always plenty of activities to keep everyone busy if you want.
Aug 11, 2021
The campground has everything one could desire. The cabin we stayed in was clean and comfortable.
Aug 11, 2021
Employees were friendly, facilities were extremely clean and the kids and adults enjoyed all the activities. Awesome weekend! Thank you
Aug 11, 2021
Thank you for a wonderful stay! Our cabin was very clean and cozy. There was plenty for everyone to do. We had an amazing time and we will definitely be back next year!
Aug 11, 2021
Love it favorite campground I have visited
Aug 11, 2021
Great and friendly staff who not once hesitated to assist or answer questions. Clean and well thought out sites. All the amenities were used during our stay and we played hard! Fun place. Will be back!
Aug 11, 2021
Loved all the amenities and campsite! But do have 2 issues, one with having to wear wrist bands all the time. The other was trying to get LP gas prices and not price to fill empty tank. Lady wanted my tank size to give me a price: Mine was half full just wanted to top it off not pay for a full tank. Thanks Charlie
Aug 10, 2021
Not very pleased with the site cleanliness before we arrived. Grass mowed, but that was the extent. One would think for the Price paid for a deluxe site, quality would match.
Aug 09, 2021
We had a great time! The campground is beautiful. We loved our site. Every employee was so nice and helpful. We came to visit friends in the area, and they were able to come and enjoy the campground with us a few times.
Aug 07, 2021
One of our favorite campgrounds Very friendly personnel Beautiful campground
Aug 07, 2021
We had such a great time! Staff was so sweet and helpful. The campground is amazing! My favorite KOA so far!
Aug 07, 2021
We wanted to do something with the grandkids while camping and this park was amazing at entertaining them. Great place for kids They loved the bounce pillow. The jump pad was deflated but that was the negative thing about the park
Aug 06, 2021
Beautifully kept resort and great staff! Top notch! Will definitely be back!
Aug 06, 2021
Plenty to do for the whole family. Staff was great. Grounds were very well maintained. Wifi could be better but everything else was great.
Aug 06, 2021
Like that you have so many things for kids to do, even on a week day. Grandkids had a blast. Very clean campground and friendly staff. Gary and Vicky have done a great job with the campground. Our favorite place.
Aug 05, 2021
The campground was very nice and clean. Pool was nice, activities for the kids was nice and the store and food service were very reasonable. I rate this as a 3 because of the Bass cabin and golf cart rental. The cabin was clean, but the whole cabin wasn't level. There were nails sticking up at the bottom of the stairs and I slept down hill. As for the golf cart, rental should be for all day.
Aug 04, 2021
We had a great time! Our cabin was great and spacious. All the activities were fun and the pool was nice.
Aug 04, 2021
Was there with six of our grandkids, ranging from3-13yrs. And they all enjoyed themselves! Thank You
Aug 03, 2021
This was our first time here and we loved it!! So much to do for everyone and even for our 4 legged baby. We had so much fun! Everyone was very nice and the grounds were very well kept. This is definitely on our list to return.
Aug 03, 2021
This was our first stay at this KOA and it was absolutely enjoyable. So much was included in the price and will definitely make this a yearly trip. We had some issues with other campers walking through out campsite and they staff was on it immediately. Thank you so much for the great memories!
Aug 03, 2021
Fantastic all the way around. Great Staff. Clean. We will go again....
Aug 03, 2021
My wife our kids our grandkids all loved everything about this place activities pool campground cabins and camping spots.We've stayed at a lot of campgrounds in our 60 some years one of the best.Thanks to you and your great staff.
Aug 03, 2021
Love shelby koa.....lots to do!
Aug 02, 2021
We stayed for 16 nights and I can't say enough about how accommodating and friendly all of the staff were to us. This is a beautiful campground with so much to do! I highly recommend anyone to stay here!
Aug 02, 2021
Great campground and friendly people.
Aug 02, 2021
Cabin and facilities were clean, staff was friendly and courteous. It was a great time for all!
Aug 02, 2021
Wonderful campground!! Everyone was so friendly, the campground was super clean and well maintained! Tons for the kids to do, they had a blast!
Sep 18, 2021
We came to the campground with a few friends -- we ended up getting a single cabin (amazing!), another couple had a cabin (they booked later, so only had cabins with an outside bathroom available, I would recommend booking sooner than later and getting a cabin with a restroom), and another couple had a camper; we ended up checking out the surrounding areas, hiking, checking out Mansfield, and walking around the campgrounds. At night we had a fire, s'mores, BBQ cookout, and hung out all night in chairs. We didn't have too many bugs which surprised me but either we got lucky or they recently sprayed. First time to a KOA and I have to say it was a pleasant surprise.
- dubdarko on Trip Advisor