Alert
The Seligman/Route 66 KOA Journey is open for camping with all amenities including laundry, general store and propane services. To ensure the safety and well-being of guests and staff, we are offering curbside or self-registration only. We continue to follow county and state-issued COVID-19 guidelines and have introduced additional cleaning standards. Our goal is to provide guests wishing to enjoy the outdoors a safe and enjoyable stay. Also, there is currently a county wide fire ban, no open fires allowed at this time. Please check back here for updates and we hope to see you soon!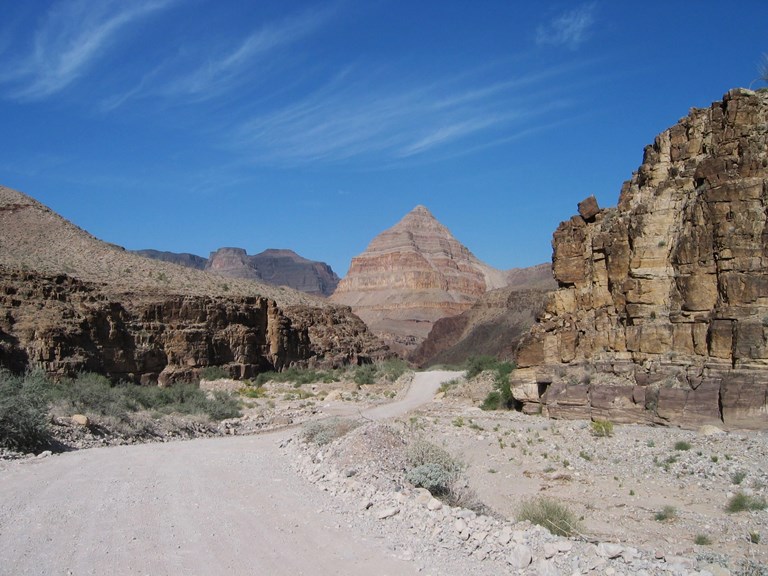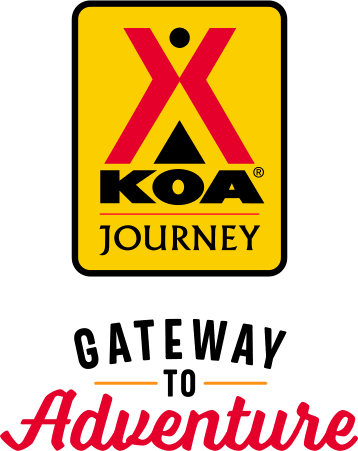 KOA Journey Campgrounds
KOA Journey campgrounds are the perfect oases after a day on the road. Whether it's along the way or a quick getaway, they've got you covered. Located near the highways and byways of North America with long Pull-thru RV Sites, they deliver convenience to the traveling camper. Pull in, ease back and take a load off.
KOA Journeys Feature:
Pull-through RV Sites with 50-amp service
Premium Tent Sites
Well lit after hours check-in service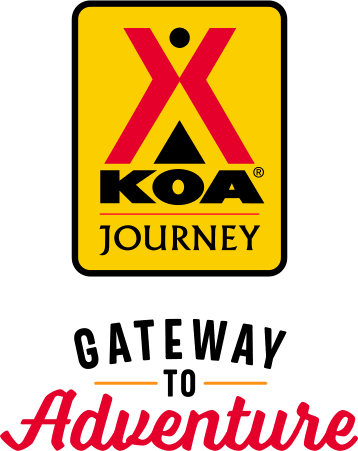 KOA Journey Campgrounds
KOA Journey campgrounds are the perfect oases after a day on the road. Whether it's along the way or a quick getaway, they've got you covered. Located near the highways and byways of North America with long Pull-thru RV Sites, they deliver convenience to the traveling camper. Pull in, ease back and take a load off.
KOA Journeys Feature:
Pull-through RV Sites with 50-amp service
Premium Tent Sites
Well lit after hours check-in service
Directions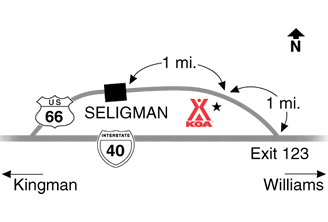 Exit 123 off-ramp from I-40: Turn north 1 mile on I-40 Business Loop and you will see us on the left.
Hwy 66 coming from the West: Drive through the historic town of Seligman, continue straight for 3/4 mile and you will see us on the right..
Hwy 66 coming from the East: Turn right just past the campground and take the second entry road into the park.
GPS: N35.317627, W112.854223
Get Google Directions
Jul 07, 2020
We had a great time. Campground is nice. We stayed in a small cabin. It was awesome. We will be back.
Jul 06, 2020
We always have a great time here, the accommodations are the best. Hopefully the pool will be up soon, we missed that this year. We usually stay here at least once a year. Great place and people.
Jul 06, 2020
HOT outside and no trees for tent sites, thorny burrs to stick in shoes, tents, tires etc.... but the bathroom was clean
Jul 06, 2020
No Wi-Fi available, Pool down for maintenance, plus I had to work very hard to get three channels on the TV, no reception there.
Jul 03, 2020
Our understandingg this Koa under new ownership, so would believe improvements are under way. Site needs a lot of improvement of the Grounds Chick weed between. Camps is a nuisance grass or chat would greatly improve area with new trees in some areas. We were told pool under renovation. No signs it actually is being done not a lot for middle aged kids to do
Jul 03, 2020
It was a great time there really a neat town koa was very good.
Jul 03, 2020
Wonderful! Easy and clean stop for an overnighter. Only problem was all the stickers on my dogs feet. But, great people, facilities and super easy check in. Will be back!
Jun 30, 2020
The guys are VERY good, very friendly and very attentive and wonderful, the perfect break to our road trip when we needed to rest to continue the next day, thanks so much for everything �����
Jun 29, 2020
Super clean, very nice. Exceeded my expectations. Will definitely be back when we are in town again!
Jun 29, 2020
I don't remember reading anywhere about how many trains go by during the night, it was so loud. Also there was no shade for tent camp sites.
Jun 29, 2020
Convenient yet lots of noise from constant train traffic. Close to town with a limited dining and drinking establishments. Ok place to stop for the night
Jun 28, 2020
Newbie to all this. Work trip - in late, out early. Appreciate learning from 3 sites (all late arrivals, no res's) on this 5,000 "grind jaunt". Look forward to inevitable return (love Seligman and Ariz in general from way back) to your site in casual vacation terms!
Jun 27, 2020
Super nice store, lots of goodies, great ice cream, great staff, very helpful. Would stay again. Nice shade trees. Town of Seligman was quirky and cool.
Jun 24, 2020
It was nice,clean restrooms. A little noisy, but I like trains,lol. The only bad point,was too many stickers. Maybe rake out the sights and put dirt or gravel down?
Jun 24, 2020
Place needs attention. Our site was not operational. The electric connection was missing. We had already set up before we realized it. Box was full of muddy residue indicating it had been non-operational for some time. The new office set up was nice, however.
Jun 23, 2020
It was ideal,other than the pool being remodeled, which is not on the website. Otherwise, perfect time. We'll be back for sure!
Jun 22, 2020
Had a good stay at the KOA in Seligman. I was disappointed that the pool wasn't up and running, that was one of the reason for wanting to stay there.
Jun 22, 2020
Their system was down and when I arrived in the middle of the night, my name was not posted and I did not have anywhere to stay. From what I could see, the site was very run down.
Jun 21, 2020
Had a nice stay. Nice people working to make the place better. Once they get everything back in working order I would give them a higher rating.
Jun 21, 2020
Bathrooms very clean
Jun 21, 2020
it was awesome!!!! Things are a'changin',,,,keep it goin'..we will be back!!!!!
Jun 21, 2020
No registration forms, and lack of information. No pool ,even tho the website said there was. Weeds and stickers all over ,pick nick tables were in very bad shape, and the dust was terrible.
Jun 20, 2020
Very nice koa and I have stayed at hundreds, very clean and they were cleaning while I was there, I felt safe even in these trying times, have stayed here before covid and will continue to stay here whenever I'm in the area.
Jun 19, 2020
NO internet, loud railway coming through every few minutes.
Jun 16, 2020
This campground is a little out of the way but it's a nice place to stay as a base camp. The movie "cars" was based on the town of Seligman So there is a lot of neat stuff to look at in a very small town.
Jun 14, 2020
Love staying here people are always friendly and helpful, Wi-Fi is very week
Jun 12, 2020
Trains were very noisy and honking their horns and were running 24 hours a day multiple trains per hour. Wish I had known that before I stayed. Didn't sleep much.
Jun 10, 2020
Hot showers in men's. Not hot in women's Early morning. Staff friendly. Bathrooms were very clean. Easy pull throughs.
Jun 09, 2020
Stay was ok, water tasted like a hose, need concrete pads
Jun 08, 2020
This is an older property that NEEDS upgrades,,but, the new owners are doing a great job working on that,,I enjoyed the quiet vibe of the place, there are trains that go by a few times a day and night, but you can get used to it. The WIFI situation,,,we were there 3 days,,never had WIFI ,,ONCE. That is critical when traveling, so I hope they get that fixed,,other than that, the owners are nice
Jun 01, 2020
All the spaces We're supposed to have a green area and a table however all the green areas were stickers and weeds that you could not even walk on. Couldn't even get my dog to walk on it. Also the breaker kept tripping, even after the attendant supposedly put a new breaker box in it. The place really needs updated. Washers are open to the public and the laundry room was filthy.
Jun 01, 2020
The park is in need of maintenance. New trees have been planted but the overall landscaping is in need if help. While we never used the fire pit at our site, it contained trash and cigarette butts and was never cleaned. The staff was new and quite friendly. If you like trains, you'll love park.
May 30, 2020
power problems, sizzling and arcing noise coming from electric box, had to unplug my trailer to protect my electrical system. Water valve was leaking making a muddy mess. Dumpster was locked. Only one sewer connection way to far to connect my trailer to, couldn't dump my tanks. No password provided to the wifi. Terrible KOA. Felt I was ripped off at $40 for one night.
May 27, 2020
The staff were ok. The park leaves a lot to be desired as it is dirt and weeds. Not what I expected for a KOA and what I paid. Oh, and don't forget the railroad tracks near by. Only thing it's good for is stopping for the night while traveling. Don't plan on stopping there again. Sorry.
May 26, 2020
The KOA is too isolated, nothing there in support of this KOA.
May 26, 2020
The grounds look unkempt, all weeds, no grass. All the indoor facilities were nice & the bathrooms clean and the hot water was amazing! It's a nice place for a stop over, but not for more than a night. And the TRAINS - all night long!!!
May 24, 2020
Level sites, very easy check in. I was very pleased with the Seligman KOA. The train is close by, but the noise wasn't bad. This was a perfect stop over for our Route 66 trip.
May 23, 2020
For overnights camp is good. Clean facilities and friendly owner
May 19, 2020
Everyone was kind and courteous, and also gave me a lot of information about other KOA's in different states. I had a Great Time for my First stay! Thank you
May 14, 2020
Well located, everything you expect from KOA.
May 14, 2020
Very nice well maintained park, great hosts, however, no local TV stations, WIFI we couldn't connect too, signal strength to low, every park today should have a high speed connection, it's 2020. Train noise kept wife awake. For overnight stay it was good.
May 13, 2020
It was a good experience, staff was friendly and restrooms were very clean. Did Not utilize any other amenities. Easy on and off interstate.
Jul 08, 2020
We have been coming to the Seligman KOA for two years now since we've had our RV. Always a pleasure to stay there. They are pet friendly. A big plus. The new management is doing a lot of work to improve the facilities. We will be back.
- 22250pdhunter on Google
Jul 07, 2020
This KOA was a quiet, quaint, extremely charming campground. We opted to have a small cabin that had a full size bed and two twin beds. The experience will be extremely memorable for many years to come. I highly recommend anyone that's traveling on Route 66 the stopping for the night.
- Dane Hill on Google
Jul 01, 2020
This Koa stop was a fun one. My husband and I really enjoyed the hospitality and it was a treat to watch the trains go by. We had a great time
- Bonnie Davis on Google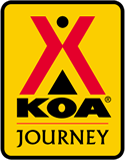 Seligman / Route 66 KOA
Open All Year
801 E Highway 66
Seligman, AZ 86337
Check-In/Check-Out Times
All Sites
Check-in: 2:00 pm, Check-out: 11:00 am
Operating Hours
Sunday: Open 24 hours
Monday: Open 24 hours
Tuesday: Open 24 hours
Wednesday: Open 24 hours
Thursday: Open 24 hours
Friday: Open 24 hours
Saturday: Open 24 hours
Get Google Directions