Alert
Effective June 12, 2020: SANTA MARGARITA KOA IS OPEN FOR ALL TYPES OF CAMPING WITH A TWO-NIGHT MINIMUM STAY…BUT California is still under a Stay-At-Home Order. Please assess your health risk and ability to travel at https://covid19.ca.gov/stay-home-except-for-essential-needs/ before making a reservation. We will follow the California Department of Public Health (CDPH) Guidelines. Guests are encouraged to bring their own hand sanitizer and disinfecting products, to practice social distancing and frequent handwashing, and to not gather in groups of more than 10.

***All Summer Group Activities have been cancelled.
***Our public restrooms and showers are open.
***Our pool is open to 40 Guests at one time in two-hour sessions.
***Our Jumping Pillow and playground are officially closed.
***No linens or towels are provided in Deluxe Cabins.

*****Thank you for your patience during the COVID-Craziness. You may close this Alert box to explore our website. Please call us to check availability...even if the website says, "These Sites Are Not Available." We are still Happy Campers at Santa Margarita KOA (805)438-5618.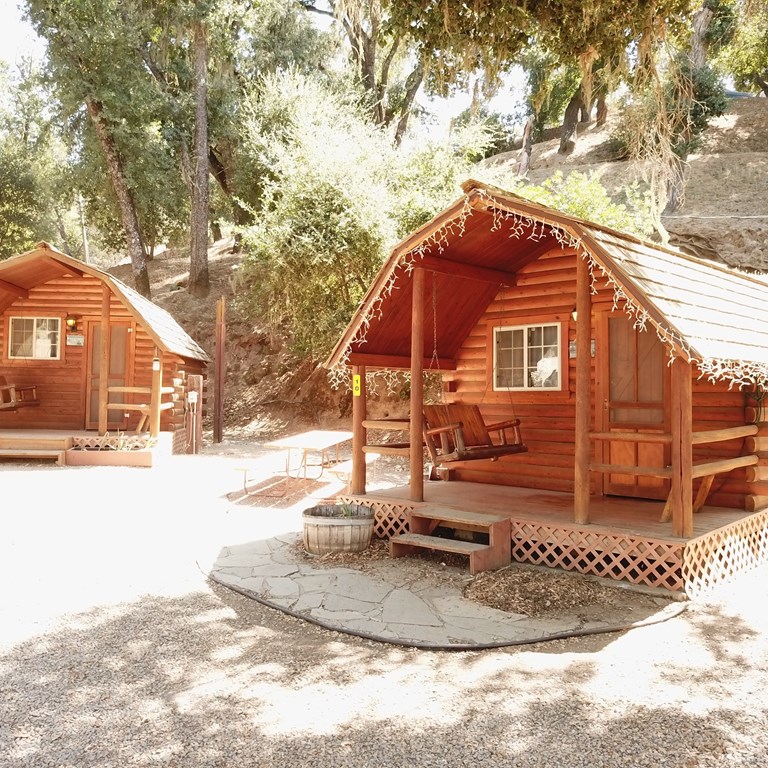 Santa Margarita KOA Reviews
The Best Kept Secret in Central California!
Directions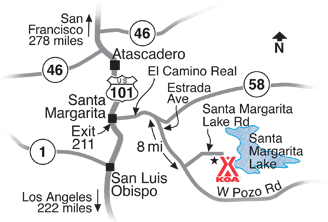 From Hwy 101 North and South:
Take Exit 211 for Santa Margarita Lake.
Go east 1.7 miles thru the little town.
Turn Right on Estrada Ave./Highway 58 East
Estrada Ave. becomes "J" St. which becomes W. Pozo Rd.
(Do not turn left on Hwy. 58 East)
Continue straight on W. Pozo Rd. for 7 miles.
Turn Left on Santa Margarita Lake Rd.
Go 1/2 mile up the hill.
The KOA will be on your right.
From East and Northeast of Santa Margarita KOA:
From Highway 41, 99 or 5...
Take Highway 46 West to US 101 in Paso Robles.
Take US 101 South to Exit 211.
No matter what your GPS, Google Maps or Mapquest says...
DO NOT TAKE HWY 58 WEST, HWY 41 south of HWY 46 or HWY 229 TO REACH US.
These roads are narrow, winding and likely to cause car sickness.
We want you to be a Happy Camper when you arrive!
Get Google Directions
Nov 11, 2019
Our scout troop reserved a spot. Staff was amazing and helpful from start to finish of or trip. Clean and big spaces.
Nov 11, 2019
friendly staff, great scenery, wild turkeys, an emu, and great nearby hiking at santa margarita lake
Nov 07, 2019
The staff are the best ever
Nov 05, 2019
Very nice and clean. Kept up well. Very friendly staff. We will for sure be back !
Nov 05, 2019
What an awesome experience at KOA Santa Margarita friendly staff great amenities bathrooms very clean full hook up I recommend anyone looking too camp or fish to visit thanks KOA
Nov 04, 2019
Quick overnight stay, staff very friendly and campground appeared well maintained. I realize the cabins are going to be dusty but for $130 night I at least expect a clean bathroom, free of clumps of hair on bathroom floor etc.
Nov 02, 2019
I had such an enjoyable stay , the employees were so sweet and accommodating, the entire campground was clean lots of different animals to see the weather was perfect the entire time I was there I had such fun
Oct 30, 2019
It was great! The little store in the front office was well stocked. The entire camp grounds were immaculate, the bathrooms and showers were also. The little cabins were decorated with white icicle lights which gave a cozy mountain feeling. The staff were extremely pleasant, and helpful! I will make reservations to stay there again!
Oct 29, 2019
It was so dirty and dusty!!!! You had us right on the corner between 2 roads and the dust just billowed every time someone drove by. (watering the road might have helped) We had paid for 2 nights, but, left right after the first.
Oct 29, 2019
Had a great time . the cabin was wonderful! The Lady at the front desk was awesome and very helpful.
Oct 24, 2019
Friendly and helpful staff. Our first stay at the cabins. Great experience. Our third time staying at Santa Margarita KOA. We love this place and will be back.
Oct 22, 2019
Everything was perfect for us. The reception was great and a gentleman helped us with our dumping of Rv. Very nice location would love to visit again
Oct 21, 2019
Great place to stay & relax.
Oct 20, 2019
Great customer service...KimAnn was so helpful ...taking great care of us.
Oct 19, 2019
The bathroom needed paper towels for all 4 days we stayed and there were more spiders than usual in the stalls and shower. The new mattress pads are harder than the old ones, they made sleeping a bit difficult. Other than that, everything was wonderful. Thank you.
Oct 17, 2019
We got there late 9pm. There was a walkies talkie at the door saying if you need help, please call and directions on how to use it. Campsite is very dark. We have a class A. We found our reservation, yellow card for tow and map. We called for help because of darkness and size of coach. called at least 10 times. We know how to use these walkies we use them for business.Horrible customer servic
Oct 16, 2019
Easy check in, beautiful grounds, spotless bathrooms!
Oct 16, 2019
ABSOLUTELY PERFECT!
Oct 15, 2019
We had an amazing time at the KOA. The staff were friendly and accommodating . The grounds were clean. Will definitely stay here again.
Oct 15, 2019
Easy check out process. Clean site. Awesome accommodations. Would come back again!
Oct 15, 2019
Nice clean campground with fun activities for the kids campsites are a little small but overall I would recommend and we will return again
Oct 15, 2019
Very friendly staff and cute campground! We will definitely be back! :)
Oct 14, 2019
Fall in love with fall camping at this KOA. The staff are so warming and welcome, Kim Ann is such a wonderful camp host. The trees are beautiful, the smell of fall in the air, the tarantula visitors and crisp mornings in need of a camp fire. Always a great stay!
Oct 14, 2019
The cabin was wonderful but please do something about the driveway. I would like To use the cabin again, but will NOT drive up there again. Very dangerous!!!
Oct 13, 2019
Great stay as usual. We come back every year, however the cabin wasn't the cleanest. Next time check under mattresses- found a ton of candy wrappers and the floors were super dirty.
Oct 12, 2019
Extremely attentive camp hosts who went out of their way to help us out. Would definitely stay here again. We showed up late and they didn't care a bit and helped us carry the stuff we bought (girlfriend and showed up on motorcycles). They make customer service their mission! You will not be disappointed if you stay here.
Oct 07, 2019
The place is nice and well kept. The difference for my family was the STAFF!!! Very rarely do you get to experience the genuine and courteous employees like we saw there. We'll be back!! Thank you for the great weekend! I live locally in Atascadero and I will start spreading this positive experience!
Oct 06, 2019
Very short stay, arrived after the reception had closed, but our keys were left for us, then we were leaving the next morning around 9am, the kabin was spacious, clean and tidy and the shared bathrooms were also clean and never a queue Wish we'd stayed longer so we could've taken advantage of the facilities, but we'll definitely stay at another KOA when we next visit the USA
Oct 02, 2019
We have been to the Santa Margarita KOA a few time and have enjoyed it each time. They keep the area clean, water the dirt roads regularly, have a nice pool, have a great kids area w/ a big jumping pillow, the staff has always been very welcoming and accommodating. The spaces above the play ground are a little close, but that is a minor tradeoff for being able to watch the kids from the trailer.
Oct 01, 2019
Cabins were much smaller than advertised on the website. Being "near bath row" meant climbing down and back up a hill to the bathrooms. We had to upgrade to a cabin with a bathroom due to the inaccurate website description. Not likely to recommend. We have stayed at much nicer KOA's.
Sep 30, 2019
Great new cabins. Only the pull out was unusable, but the rest.... top notch. Can't wait to go back
Sep 29, 2019
Camp sites are spaced apart as much as possible, very friendly staff.
Sep 28, 2019
Very pleasant staff. The facility is great for access to Lake Santa Margarita. The campground itself is a bit hilly and somewhat open. Regardless, the facilities are nice.
Sep 26, 2019
One of our favorite KOAs. The campground is nice and well kept. They are always making improvements that have made the campground even better. Kim is a wonderful camp host that goes above and beyond to make your stay pleasurable. All of the staff is great friendly and helpful.
Sep 24, 2019
Great secluded site amongst trees!
Sep 19, 2019
Wonderful host,makes it possible to reach her at all hours of the day. Campsite is separated and spacious.
Jul 07, 2020
My grandchildren especially liked the pool and we all enjoyed fishing at the nearby lake. The KOA staff is exceptional and they made our trip pleasant and stress-free. We locked our keys and phones in our camper and Kim stayed way beyond her duty time to make sure we were able to get help from AAA. We frequently popped into the well-stocked office/store and were always greeted with helpful/pleasant personnel.
- Susan992 on Trip Advisor

Santa Margarita KOA
Open All Year
4765 Santa Margarita Lake Road
Santa Margarita, CA 93453
Check-In/Check-Out Times
Accommodations, Deluxe Cabins, Log Cabins & Yurts
Check-in: 3:00 pm, Check-out: 12:00 pm
RV Sites, Tent Sites, RV & Tent Sites
Check-in: 1:00 pm, Check-out: 12:00 pm
Operating Hours
Sunday: Open 24 hours
Monday: Open 24 hours
Tuesday: Open 24 hours
Wednesday: Open 24 hours
Thursday: Open 24 hours
Friday: Open 24 hours
Saturday: Open 24 hours
Get Google Directions

© 2020 Kampgrounds of America, Inc.