Alert
Effective June 12, 2020: SANTA MARGARITA KOA IS OPEN FOR ALL TYPES OF CAMPING WITH A TWO-NIGHT MINIMUM STAY…BUT California is still under a Stay-At-Home Order. Please assess your health risk and ability to travel at https://covid19.ca.gov/stay-home-except-for-essential-needs/ before making a reservation. We will follow the California Department of Public Health (CDPH) Guidelines. Guests are encouraged to bring their own hand sanitizer and disinfecting products, to practice social distancing and frequent handwashing, and to not gather in groups of more than 10.

***All Summer Group Activities have been cancelled.
***Our public restrooms and showers are open.
***Our pool is open to 40 Guests at one time in two-hour sessions.
***Our Jumping Pillow and playground are officially closed.
***No linens or towels are provided in Deluxe Cabins.

*****Thank you for your patience during the COVID-Craziness. You may close this Alert box to explore our website. Please call us to check availability...even if the website says, "These Sites Are Not Available." We are still Happy Campers at Santa Margarita KOA (805)438-5618.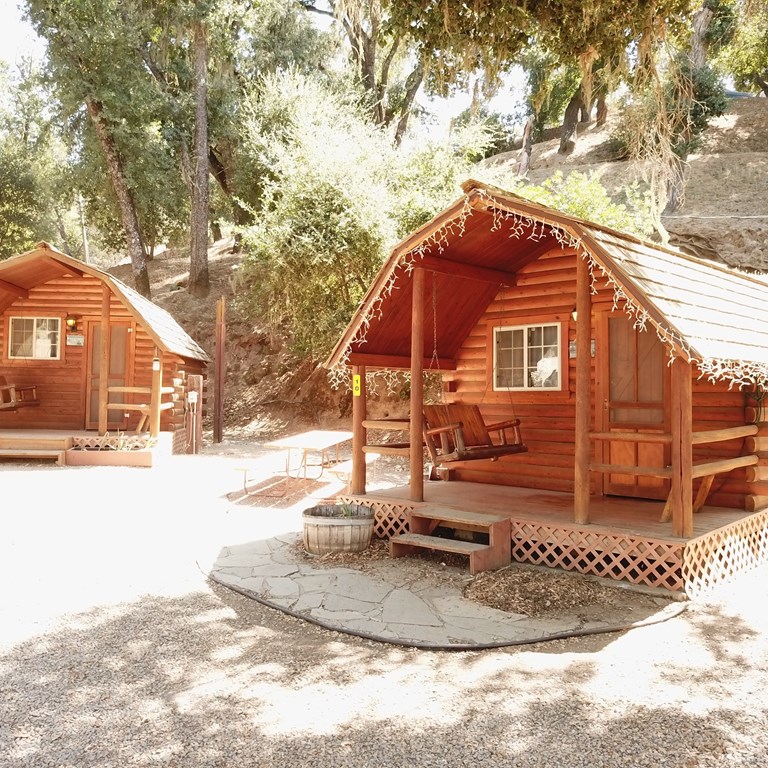 Santa Margarita KOA Reviews
The Best Kept Secret in Central California!
Directions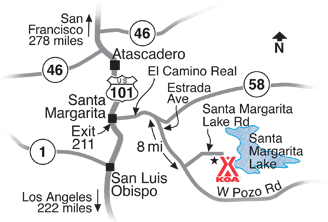 From Hwy 101 North and South:
Take Exit 211 for Santa Margarita Lake.
Go east 1.7 miles thru the little town.
Turn Right on Estrada Ave./Highway 58 East
Estrada Ave. becomes "J" St. which becomes W. Pozo Rd.
(Do not turn left on Hwy. 58 East)
Continue straight on W. Pozo Rd. for 7 miles.
Turn Left on Santa Margarita Lake Rd.
Go 1/2 mile up the hill.
The KOA will be on your right.
From East and Northeast of Santa Margarita KOA:
From Highway 41, 99 or 5...
Take Highway 46 West to US 101 in Paso Robles.
Take US 101 South to Exit 211.
No matter what your GPS, Google Maps or Mapquest says...
DO NOT TAKE HWY 58 WEST, HWY 41 south of HWY 46 or HWY 229 TO REACH US.
These roads are narrow, winding and likely to cause car sickness.
We want you to be a Happy Camper when you arrive!
Get Google Directions
Feb 29, 2020
We stayed with a group from our school and had a blast! So many activities and beautiful countryside to explore. The campground was clean and well maintained. Definitely coming back!
Feb 28, 2020
My husband and I came to stay for our 5 year anniversary. We stayed here on our 1st anniversary too. It's so beautiful and everyone is so friendly! Our favorite thing is how dog friendly the camp is, and their new dog park! Our 2 pups enjoyed running around the agility course. We loved petting and feeding the friendly emu named Kevin too. We can't wait to come back again!
Feb 28, 2020
Family friendly! Kids had a blast and so did mom & dad! We will come back!
Feb 27, 2020
We had a great time. Michelle, Kim and Vinny were great! We will be back.
Feb 26, 2020
The water failed in the men's room after lathering up. Otherwise awesome camping, great staff!
Feb 24, 2020
Nice, quite, friendly, & clean
Feb 24, 2020
Very clean ,quiet , and comfortable. We hope to visit again later this year
Feb 23, 2020
Mid- week is the time to camp. Everyone here was super friendly and helpful.
Feb 20, 2020
Great location for a quick getaway (live in Salinas) and beautiful hiking trails around Santa Margarita Lake. Also a couple of great restaurants in Santa Margarita if you do not feel like cooking. Friendly staff and loved our cabin!!
Feb 18, 2020
Great place to stay, staff was extremely nice. Park had plenty of activity's for the kids. Parks clean & had large pull through a for the larger coaches.
Feb 18, 2020
Great location, staff, services and accommodation. Thank you!
Feb 17, 2020
Nunca había tenido la experiencia de acampar con KOA y fue muy agradable utilizar sus instalaciones. Su personal es muy atento con las personas que vamos a disfrutar de un tiempo de relajación. Gracias por compartir esta experiencia con nosotros. Esperamos volver a utilizar sus instalaciones en otra localidad. Saludos.
Feb 04, 2020
WONDERFUL, we will be back.
Feb 01, 2020
Poorly marked signs for pump out. Too far from campsite to bathroom and laundry. Bathrooms near entrance are long in tooth and moldy. Whole place needs refresh. Roads need gravel. We paid for full hookup and no pump out. Too expensive for one night
Jan 27, 2020
Definitely will comeback to santa margarita koa again. Koa Staffs are super accommodating and super nice. Highly recommended and will be to my friends and family. This will be my #1 favorite KOA then 2nd fav SD KOA. Will be back soon.
Jan 26, 2020
I thoroughly enjoyed my stay at Santa Margarita KOA because of the beautiful location and fantastic personnel that treated me as family . I hope to return soon .
Jan 22, 2020
We had such a great time at the KOA in Santa Margarita. The staff we very welcoming and accommodating to our needs. We brought our dogs with us and they really enjoyed their time as well. The cabin we stayed in was perfect and very clean. We will definitely be staying here again for a quick weekend getaway.
Jan 20, 2020
Beautiful campsite & friendly, helpful service! Nearby tiny family farms provide the chance for a fun drive if you like to look at farm animals.
Jan 20, 2020
This is a great place.....the workers were soooo helpful, friendly.....we'll be back!
Jan 10, 2020
I have always enjoyed my stay in the cabins at KOA. However, as a senior adult, it would be helpful to have hand holds in the bathroom to assist with use of the toilet and shower. I am looking forward to my next stay. It is particularly helpful during the annual memorial run for my granddaughters.
Jan 09, 2020
We always love being and staying there. This time the heater seemed to goining out and they moved us to a better cabin with no extra charge. We absolutely love thst place. We have been going there for the last 5 years. Love it.
Jan 08, 2020
Very nice campground! Loved the animals and the location. Thanks.
Jan 08, 2020
Great place!!
Jan 07, 2020
family groups. all close together. great time.
Dec 30, 2019
While we were the only campers there, Kimmie Ann was so very warm and gracious. She made sure to make sure everything was meeting our standards. While this KIA would primarily be for lake use and families I would recommend it to people who fit that description. We also lived Kevin the emu. Thanks.
Dec 28, 2019
We rented two cabins for our family Christmas gathering. The cabins were very clean and had all the amenities we needed. Super friendly staff and always on hand for whatever we needed. We were very pleased with the cleanliness of the grounds. We will definitely recommend this KOA to our friends and will return for another stay in the near future!
Dec 25, 2019
Fantastic experience! Most definitely will return for some Rest & Relaxation at Santa Margarita KOA in the future.
Dec 24, 2019
Kim was very helpful
Dec 05, 2019
We really enjoyed staying in the Yurt!
Dec 03, 2019
Great campground, great service! Even the rain couldn't dampen our spirits. Coming back in summers.
Dec 02, 2019
Had a great time even with the rain. The jumpy was great fun for our 9 kids in group. Kevin was awesome. ....however, your electrical problem was awful. We were afraid for our turkey being cooked and our heaters keeping us warm. Hope you can fix the problem so we can come back next year.
Dec 02, 2019
Awesome Thanksgiving week (even with the rain and mud!) Camp hosts were very hospitable and accommodating. Beautiful setting fun primitive cabins-- perfect reset for our tech-addicted adult kids! Quality time was had and we will be back.
Dec 02, 2019
Kim Ann and Vince were the best hosts!! They helped us immediately! We had a little power outage and Vince came over within minutes. They were both so nice. I cannot believe how many things there are to do there. I want to go when it is nicer out. I love the jumping pillow, Kevin the Emu, Camp Store and dog play yard. Our little cabin was impeccable.
Nov 29, 2019
The campsites were very narrow and not flat. Not a pretty location just Trees and dirt. Large bathroom that needed cleaning.
Nov 27, 2019
Nice campground!
Nov 25, 2019
Very friendly service! Bathrooms a little dated
Nov 25, 2019
koa staff r the best and made or stay even better can't wait to go back
Nov 24, 2019
Returned to this koa after 20 years and it was extremely quiet and enjoyable, wonderful memories and will return again.
Nov 22, 2019
Very clean and well maintained. Had a great stay.
Nov 19, 2019
Had a good time. Campsites were spacious. Grandkids loved the bounce pillow and Kevin the emu. Friendly staff. Easy check in.
Nov 12, 2019
Very friendly and helpful staff. I arrived late and it was dark. My fault, but I could have used some help getting into the site. They did help me when I jackknifed my toad.
Jul 07, 2020
My grandchildren especially liked the pool and we all enjoyed fishing at the nearby lake. The KOA staff is exceptional and they made our trip pleasant and stress-free. We locked our keys and phones in our camper and Kim stayed way beyond her duty time to make sure we were able to get help from AAA. We frequently popped into the well-stocked office/store and were always greeted with helpful/pleasant personnel.
- Susan992 on Trip Advisor

Santa Margarita KOA
Open All Year
4765 Santa Margarita Lake Road
Santa Margarita, CA 93453
Check-In/Check-Out Times
Accommodations, Deluxe Cabins, Log Cabins & Yurts
Check-in: 3:00 pm, Check-out: 12:00 pm
RV Sites, Tent Sites, RV & Tent Sites
Check-in: 1:00 pm, Check-out: 12:00 pm
Operating Hours
Sunday: Open 24 hours
Monday: Open 24 hours
Tuesday: Open 24 hours
Wednesday: Open 24 hours
Thursday: Open 24 hours
Friday: Open 24 hours
Saturday: Open 24 hours
Get Google Directions

© 2020 Kampgrounds of America, Inc.