Alert
Effective June 12, 2020: SANTA MARGARITA KOA IS OPEN FOR ALL TYPES OF CAMPING WITH A TWO-NIGHT MINIMUM STAY…BUT California is still under a Stay-At-Home Order. Please assess your health risk and ability to travel at https://covid19.ca.gov/stay-home-except-for-essential-needs/ before making a reservation. We will follow the California Department of Public Health (CDPH) Guidelines. Guests are encouraged to bring their own hand sanitizer and disinfecting products, to practice social distancing and frequent handwashing, and to not gather in groups of more than 10.

***All Summer Group Activities have been cancelled.
***Our public restrooms and showers are open.
***Our pool is open to 40 Guests at one time in two-hour sessions.
***Our Jumping Pillow and playground are officially closed.
***No linens or towels are provided in Deluxe Cabins.

*****Thank you for your patience during the COVID-Craziness. You may close this Alert box to explore our website. Please call us to check availability...even if the website says, "These Sites Are Not Available." We are still Happy Campers at Santa Margarita KOA (805)438-5618.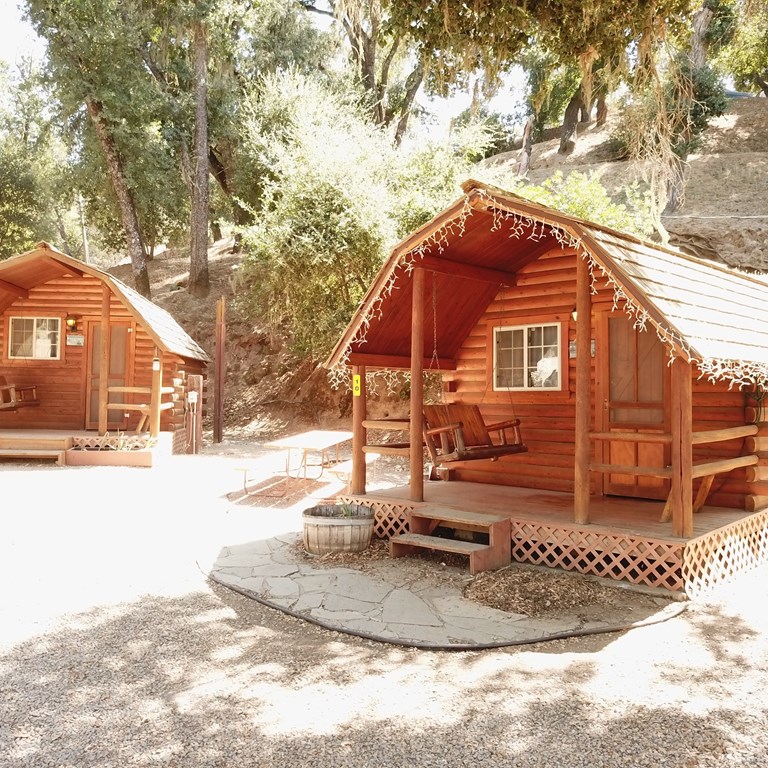 Santa Margarita KOA Reviews
The Best Kept Secret in Central California!
Directions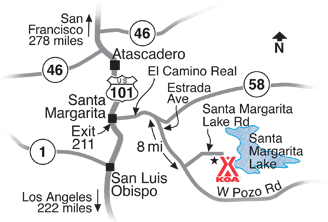 From Hwy 101 North and South:
Take Exit 211 for Santa Margarita Lake.
Go east 1.7 miles thru the little town.
Turn Right on Estrada Ave./Highway 58 East
Estrada Ave. becomes "J" St. which becomes W. Pozo Rd.
(Do not turn left on Hwy. 58 East)
Continue straight on W. Pozo Rd. for 7 miles.
Turn Left on Santa Margarita Lake Rd.
Go 1/2 mile up the hill.
The KOA will be on your right.
From East and Northeast of Santa Margarita KOA:
From Highway 41, 99 or 5...
Take Highway 46 West to US 101 in Paso Robles.
Take US 101 South to Exit 211.
No matter what your GPS, Google Maps or Mapquest says...
DO NOT TAKE HWY 58 WEST, HWY 41 south of HWY 46 or HWY 229 TO REACH US.
These roads are narrow, winding and likely to cause car sickness.
We want you to be a Happy Camper when you arrive!
Get Google Directions
Apr 28, 2020
Mature trees, quiet campground, spaces are mostly spread out. Pretty location. Campground very clean.
Apr 28, 2020
We had a wonderful 4 night stay. Did some mountain biking and fishing. Looking forward to our next stay at the Santa Margarita KOA.
Apr 28, 2020
Beautiful place with the most accommodating and kind staff!
Apr 27, 2020
My sweetheart turned 60 during our current pandemic situation, so there was not much I could plan to make it special for him. A weekend in a deluxe cabin at the KOA in Santa Margarita made it an amazing birthday despite all the challenges. The cabin was perfect, the surroundings lovely. Even without the pool, and general store being open, it was a wonderful to get outside safely. 5 Stars!
Apr 27, 2020
Very awesome people! Called at around 9:00pm (already closed for a few hours) and they delivered us some wood to our site! Also, had some problems with our electrical (on our end) and they were kind enough to come out and help with the situation at around 9:30pm at night. Very nice, clean and great stay! Very highly recommend!
Apr 27, 2020
Very friendly and helpful staff, beautiful surroundings, several activities and 1/2 mile from the lake!!!
Apr 27, 2020
We've stayed here twice and each experience has been a great one. The staff are extremely friendly and went above and beyond to help us. Highly recommend this campground and we will definitely be back again.
Apr 27, 2020
Pam was unbelievable! Great host and super friendly. We booked another stay while we were there
Apr 27, 2020
Staff was awesome and very respectful and safe during the COVID precautions.
Apr 27, 2020
SM KOA yet again an amazing weekend. Kim and the KOA staff were very friendly and accommodating. This is my second time trailer camping out here and I had a great time with my friends. We all booked for Memorial Day weekend as well. In a nutshell I would recommend this place to anyone with an RV or travel trailer.
Apr 27, 2020
Wonderful stay. We love this campground. Sorry to see pool closed, but due to COVID19, might not have used it anyway. Air-conditioner in unit 31 was a fan at best. It was a warm weekend and no cold air. The freezer could also use a defrosting. Will definitely be back.
Apr 27, 2020
Had a very pleasant stay. Kids loved the bouncing mat. Might benefit from hand sanitizer in the play area.
Apr 26, 2020
Need to upgrade frigerator also need a television the plumbing in the restroom wasn't the best
Apr 23, 2020
Thank You Michelle your always so welcoming and quick to help!!
Apr 20, 2020
Great place to camp and explore Santa Margarita. We loved it here and during the COVID-19 shelter in place the staff was very helpful and accommodating. Thanks to you all. T&C
Apr 20, 2020
Kim was my welcome representative when I showed up to SM KOA and she was very hospitable and informative. I enjoyed my stay so much that I booked another weekend. Thank you KOA staff
Apr 18, 2020
Relaxing and Beautifully kept. Everyone was very friendly. We will definitely be back.
Apr 18, 2020
The camp host was excellent. Both ladies were kind and accommodating. Special thanks to Michelle.!
Apr 14, 2020
We had an awesome time! It was just gorgeous! Thank you!
Apr 14, 2020
It was awesome! The campground host was very friendly. I loved that she came around Saturday night to make sure everything was okay and if we needed any more firewood. We did need some, she brought it back to us and charged it to our card....so easy! Thank you!
Apr 14, 2020
The camp host were courteous, helpful and available. The sites were tight but well done. Had a perfect time and had no trouble keeping social distancing. Will be back again soon.
Apr 10, 2020
This place is a hidden paradise beautiful scenery and the staff treated me better than a five star resort very hospitable. Highly recommend nice place to relax and decompress. Their the best.
Apr 08, 2020
Loved the deluxe cabin and the staff! This wasn't our first time staying there and are already making plans to go again! Thank you KayAnn for being so hospital!
Mar 25, 2020
Best kept secret in the Central Coast!
Mar 23, 2020
Wonderful facility! All the staff we came in contact with went above and beyond to make sure we were enjoying our stay!
Mar 18, 2020
checked in Fri March 13th cabin 11 cabin had dirty tissues on top bunk and trash can full of trash was givin cabin 16 porch along with swing seat was dusty dirty and could not sit on them bathrooms extremely dirty.both friday and Saturday the showers did not work properly.was in the shower and lost water pressure not fun with a face full of soap!at 90 dollars a night i did not expect this.very bad
Mar 18, 2020
We had an amazing time, very clean and cozy. Enjoyed our stay, will definitely be doing it again.
Mar 13, 2020
The atmosphere was great. Our site was spacious with activities for the kids close by. Restrooms/Shower were also close by. Would definitely go again.
Mar 13, 2020
Too many service trucks interrupting peace and quiet all day.Get some Electric vehicles or put new Mufflers on current ones.
Mar 04, 2020
Quiet, peaceful and beautiful!
Mar 02, 2020
Beautiful place, nicely kept. And I had never seen a jumpingpillow before. But at $70, it's just too expensive.
Feb 29, 2020
Without a doubt one of the prettiest and friendliest KOA properties I have ever used. I'll be back.
Feb 29, 2020
The staff at the SM KOA was BEYOND accommodating both of our trips out there this month. They were friendly and helpful and anything we needed they were happy to help us with. We stayed once with our family and came back with a group and both times made us want to make reservations here over other local campgrounds again! Amenities are great for families!
Feb 29, 2020
We stayed with a group from our school and had a blast! So many activities and beautiful countryside to explore. The campground was clean and well maintained. Definitely coming back!
Feb 28, 2020
My husband and I came to stay for our 5 year anniversary. We stayed here on our 1st anniversary too. It's so beautiful and everyone is so friendly! Our favorite thing is how dog friendly the camp is, and their new dog park! Our 2 pups enjoyed running around the agility course. We loved petting and feeding the friendly emu named Kevin too. We can't wait to come back again!
Feb 28, 2020
Family friendly! Kids had a blast and so did mom & dad! We will come back!
Feb 27, 2020
We had a great time. Michelle, Kim and Vinny were great! We will be back.
Feb 26, 2020
The water failed in the men's room after lathering up. Otherwise awesome camping, great staff!
Feb 24, 2020
Nice, quite, friendly, & clean
Feb 24, 2020
Very clean ,quiet , and comfortable. We hope to visit again later this year
Feb 23, 2020
Mid- week is the time to camp. Everyone here was super friendly and helpful.
Jul 07, 2020
My grandchildren especially liked the pool and we all enjoyed fishing at the nearby lake. The KOA staff is exceptional and they made our trip pleasant and stress-free. We locked our keys and phones in our camper and Kim stayed way beyond her duty time to make sure we were able to get help from AAA. We frequently popped into the well-stocked office/store and were always greeted with helpful/pleasant personnel.
- Susan992 on Trip Advisor

Santa Margarita KOA
Open All Year
4765 Santa Margarita Lake Road
Santa Margarita, CA 93453
Check-In/Check-Out Times
Accommodations, Deluxe Cabins, Log Cabins & Yurts
Check-in: 3:00 pm, Check-out: 12:00 pm
RV Sites, Tent Sites, RV & Tent Sites
Check-in: 1:00 pm, Check-out: 12:00 pm
Operating Hours
Sunday: Open 24 hours
Monday: Open 24 hours
Tuesday: Open 24 hours
Wednesday: Open 24 hours
Thursday: Open 24 hours
Friday: Open 24 hours
Saturday: Open 24 hours
Get Google Directions

© 2020 Kampgrounds of America, Inc.