Alert
Effective June 12, 2020: SANTA MARGARITA KOA IS OPEN FOR ALL TYPES OF CAMPING WITH A TWO-NIGHT MINIMUM STAY…BUT California is still under a Stay-At-Home Order. Please assess your health risk and ability to travel at https://covid19.ca.gov/stay-home-except-for-essential-needs/ before making a reservation. We will follow the California Department of Public Health (CDPH) Guidelines. Guests are encouraged to bring their own hand sanitizer and disinfecting products, to practice social distancing and frequent handwashing, and to not gather in groups of more than 10.

***All Summer Group Activities have been cancelled.
***Our public restrooms and showers are open.
***Our pool is open to 40 Guests at one time in two-hour sessions.
***Our Jumping Pillow and playground are officially closed.
***No linens or towels are provided in Deluxe Cabins.

*****Thank you for your patience during the COVID-Craziness. You may close this Alert box to explore our website. Please call us to check availability...even if the website says, "These Sites Are Not Available." We are still Happy Campers at Santa Margarita KOA (805)438-5618.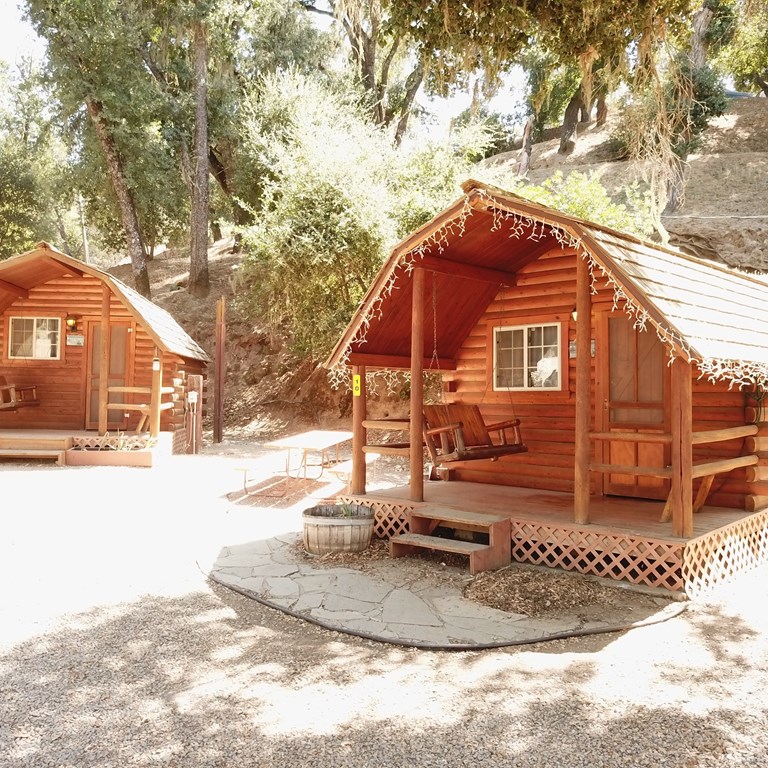 Santa Margarita KOA Reviews
The Best Kept Secret in Central California!
Directions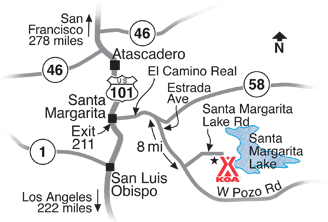 From Hwy 101 North and South:
Take Exit 211 for Santa Margarita Lake.
Go east 1.7 miles thru the little town.
Turn Right on Estrada Ave./Highway 58 East
Estrada Ave. becomes "J" St. which becomes W. Pozo Rd.
(Do not turn left on Hwy. 58 East)
Continue straight on W. Pozo Rd. for 7 miles.
Turn Left on Santa Margarita Lake Rd.
Go 1/2 mile up the hill.
The KOA will be on your right.
From East and Northeast of Santa Margarita KOA:
From Highway 41, 99 or 5...
Take Highway 46 West to US 101 in Paso Robles.
Take US 101 South to Exit 211.
No matter what your GPS, Google Maps or Mapquest says...
DO NOT TAKE HWY 58 WEST, HWY 41 south of HWY 46 or HWY 229 TO REACH US.
These roads are narrow, winding and likely to cause car sickness.
We want you to be a Happy Camper when you arrive!
Get Google Directions
Jun 22, 2020
Very nice koa site 22 was the bomb
Jun 22, 2020
It was great. nice campground, friendly staff.
Jun 22, 2020
Kim Ann was the receptionist, she went out of her way to accommodate our group, and make us feel welcomed. Will be back again.
Jun 22, 2020
Great stay! Friendly staff and love the music video on YouTube!!
Jun 22, 2020
This is a great campground with very friendly staff! Kim was very professional and made us feel very welcome. Her upbeat personality is awesome! Bathrooms/shower area was kept clean as well as the rest of the grounds. Will go again for sure and will recommend to anyone who wants to enjoy a fun camping experience! Thank you!
Jun 22, 2020
Amazing staff!
Jun 22, 2020
The ladies at the store/check in were so sweet and the campsite was beautiful + the bathrooms were spotless! Coming back ASAP
Jun 20, 2020
Good little spot for the weekend getaway. Lake is close by,staff is very friendly and helpful. Kids loved it. Kevin likes apples and Grapes lol
Jun 20, 2020
Kim is awesome and we had a wonderful time! We'll be back!
Jun 20, 2020
Great views, friendly staff, clean facilities!
Jun 19, 2020
Nice place to stay. Very nice and accommodating staff. Clean showers and bathrooms. Plenty of hot water yea.
Jun 19, 2020
We enjoyed our stay but there was a lot of construction which we know had to be done but it was not quiet. We are planning to return at the end of July and hopefully most of the construction will be completed. We had a nice bike ride to Santa Maragarita Lake and also hiked. We hiked around the camp and saw Kevin the Emu. All the KOA people were very nice, helpful and friendly.
Jun 18, 2020
The yurt was more than enough room for our family of two adults and two tweens. The radiator helped to keep the night comfortable (overnight temps dropped to the 40'sF). The staff were friendly, professional and accommodating. The amazing variety of the wildlife was the real cherry on top. We spotted a deer our first night, woodpeckers and blue jays in the morning, quails in the afternoon.
Jun 17, 2020
Huge site, 3 tents are enough. No bugs. Great camp ground.
Jun 16, 2020
There was so much noise. I didn't sleep a wink.Lots of people there to party and not be concerned with other peoples stay. But the campsite itself is beautiful and I would happily return when the season quiets down.
Jun 15, 2020
Helpful staff and great location
Jun 15, 2020
All was great except for one main thing: THE MATTRESS was terrible just old and absolutely uncomfortable. It crunched and no support what so ever to the point of unable to sleep...fortunately we only stayed 3 nights. Again we really enjoyed everything just couldn't sleep.
Jun 15, 2020
Beautiful and unique campground! The staff were wonderfully friendly and the campground is beautiful! We will be staying again. Thank you!!!!
Jun 13, 2020
Customer service was a 10 but the electric was not not adequate to run our air conditioner. Called RV service tech he advised us to run generator for air conditioner.
Jun 13, 2020
Great, friendly staff. Fun playground with jumping bubble activity. WiFi worked great- better than we expected. Happy that pool reopened on our last day there (though with capacity restrictions as it should be)
Jun 10, 2020
Amazing. Staff was super accommodating!! Felt safe and extremely relaxed and comfortable. Hope to be back sooner than later :)
Jun 09, 2020
I have nothing but POSITIVE WORDS for my stay here! From the beginning of the process (BOOKING) until check out...The customer service was EXCELLENT..SPECIAL Thank You to Michelle & Kim...My family and I was extremely Blessed..WE WILL BE BACK!! We've already told multiple family and friends to go check you all out! THANK U AGAIN!
Jun 08, 2020
Fantastic time Helpful and friendly staff Quiet and peaceful
Jun 08, 2020
Everyone was nice and helpful. Very clean campgrounds and quiet.
Jun 07, 2020
Pull through was tight Otherwise nice place
May 30, 2020
Michelle was an incredible host
May 26, 2020
Again Kim and the other staff are always hospitable. The sites were clean and easy to hook up to. I recommend staying here once. You'll definitely return
May 26, 2020
Amazing place, amazing people!
May 23, 2020
We had a very peaceful stay. Will probably come back again.
May 22, 2020
Our family loved our stay at Santa Margarita KOA!
May 22, 2020
Large sites, gravel, most level. They have picnic tables & fire pits. Lots of mature trees. Very quiet. Very helpful staff!. Very nice lake about 1/2 mile away. Would stay again.
May 18, 2020
Hi! Koa Santa Margarita. I just want to say that we had an amazing weekend. Thanks to the staff Michele, Sylvia, Kim, and the guy I didn't get his name. I apologize for any inconvenience we have created. I'm looking forward in staying at your koa. I hope I'm still welcome. I promise I will recommend this koa to my friends. Thank you again to the owner Karen and sir..
May 16, 2020
Awesome place, very quiet and clean. There were so many things to do, my kids were busy all day. Staff was super friendly and helpful. I needed firewood and they brought it to my campsite within 30 minutes then brought me lighter fluid. Ill definitely be back with more family to camp. My in-laws want to come just from the pictures we sent them. Well worth the drive from Bakersfield.
May 15, 2020
The Friendly Staff Really Makes It Hard To Want To To Go Home.... You Guys Make Memories Happen..
May 13, 2020
Stayed there 4 times and going back as often as possible,staff are all awesome, area is beautiful
May 11, 2020
Awesome time! Friendly staff!
May 11, 2020
The staff made this visit extra ordinary
May 11, 2020
The location was good. The lake was beautiful. The sites were adequate. I did notice a lot of unsupervised children on bikes and actually saw one fall and injure themselves so that was a bit unnerving. Didn't notice security driving around often. Other than that it was pleasant.
Jul 07, 2020
My grandchildren especially liked the pool and we all enjoyed fishing at the nearby lake. The KOA staff is exceptional and they made our trip pleasant and stress-free. We locked our keys and phones in our camper and Kim stayed way beyond her duty time to make sure we were able to get help from AAA. We frequently popped into the well-stocked office/store and were always greeted with helpful/pleasant personnel.
- Susan992 on Trip Advisor

Santa Margarita KOA
Open All Year
4765 Santa Margarita Lake Road
Santa Margarita, CA 93453
Check-In/Check-Out Times
Accommodations, Deluxe Cabins, Log Cabins & Yurts
Check-in: 3:00 pm, Check-out: 12:00 pm
RV Sites, Tent Sites, RV & Tent Sites
Check-in: 1:00 pm, Check-out: 12:00 pm
Operating Hours
Sunday: Open 24 hours
Monday: Open 24 hours
Tuesday: Open 24 hours
Wednesday: Open 24 hours
Thursday: Open 24 hours
Friday: Open 24 hours
Saturday: Open 24 hours
Get Google Directions

© 2020 Kampgrounds of America, Inc.