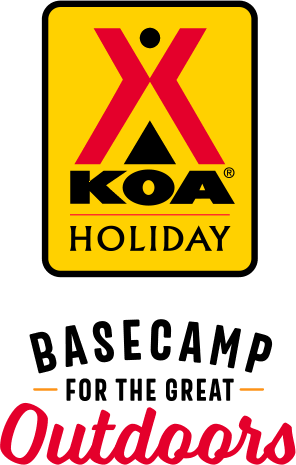 KOA Holiday Campgrounds
Whether you're exploring the local area or hanging out at the campground, KOA Holidays are an ideal place to relax and play. There's plenty to do, with amenities and services to make your stay memorable. Plus, you'll enjoy the outdoor experience with upgraded RV Sites with KOA Patio® and Deluxe Cabins with full baths for camping in comfort. Bring your family, bring your friends, or bring the whole group – there's plenty of ways to stay and explore.
KOA Holidays Feature:
RV Sites with a KOA Patio®
Deluxe Cabins with full baths
Premium Tent Sites
Group meeting facilities
Directions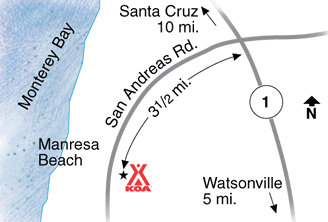 We are located 11 miles South of Santa Cruz.
Take Hwy 1 South to San Andreas Rd Exit 432 and go W 3.2 miles on San Andreas Rd.
We will be on your left. Look for the Yellow KOA Sign!
**If you are traveling on Hwy 1 North-DO NOT TAKE BUENA VISTA EXIT.
And despite what GPS, Google maps or other services may inform you, DO NOT TURN ON PEACEFUL VALLEY DR.**
Take Hwy 1 North, take exit 425 onto W Riverside Dr, take a left on W Riverside Dr toward Lee Rd.
In .2 miles, take a right on Lee Rd
In .2 miles, take a left on W Beach St
In 1.4 miles, take a right on San Andreas Rd
In 4.2 miles, destination will be on your right - look for the Yellow KOA Sign!
Get Google Directions
Oct 16, 2021
Very well maintained campground with multiple venues for children located a comfortable distance from individual campsites; staff very helpful; well stocked general store. Would stay again
Oct 16, 2021
I have stayed here for years however- theres been a change of ownership- in the past the staff were super friendly- this time you were lucky if they smiled at you - they were understaffed in the amenities and overstaffed in check in - we had to call down each time to rent bikes etc - there was broken equipment on the playground and lights were out in cabins and amenities closed at 430 for the kids
Oct 15, 2021
First time there and will go back, We have two dogs and stayed in the site with your own dog park, and the other two dog parks and the cleaning station was a plus. The new pool and spa where great!
Oct 15, 2021
Our third stay at this KOA and we will be back. I would recommend that you take less than five minutes and sweep away all the spider webs on the cabin porch so that it is more welcoming.
Oct 15, 2021
We had a wonderful time! There is so much for the kids to do. The campground is clean too. We love this place!
Oct 14, 2021
Very nice, I like how the fire pit was cleaned out when we arrived. Usually you see left over ash at other campgrounds.
Oct 14, 2021
Great spot for family and kids very clean and staff very firendly. Will be returning.
Oct 14, 2021
Need better cell coverage and/or WiFi.
Oct 13, 2021
Well compared to years past for the Halloween celebration, this year definitely seemed like there was not a lot of effort put into the festivities. Usually there is a Haunted woods and a roaming DJ parade going through the campsite. This year, it seemed that they had higher prices, rules that you can't cancel even a year outside of your booking, and way less effort put into the festivities.
Oct 13, 2021
Very disappointed. The battery under my bed in the airstream I rented was really loud and made sleeping unpleasant. When I called the after hours number thinking they would send someone out in the morning the guy was rude and didn't care and said that's just what airstreams do.. I wasn't offered any compensation for my troubles! The windows were so filthy I could barely see out. Doubtful to return
Oct 13, 2021
Nice facilities! Great for kids, lots to do, and the kids had a great time. The airstream we stayed in had a lot problems. Table was broken and needed fixing. Door had trouble shutting. Friends' airstream's heat didn't work. The maintenance guy was kind and fixed things quickly.
Oct 13, 2021
Staff were friendly and site was clean, but we were told we would have dish soap in the unit and didn't realize until after the store was closed that there wasn't any. We had to borrow from a neighboring site. Also, our check in was delayed 20 min because the cabin wasn't ready and feel it should've been offered to hang at the pool until it was ready so we didn't lose out on that time.
Oct 13, 2021
Friendly staff, very clean campground, excellent service, nice sites
Oct 12, 2021
Wasn't expecting the staff or management to be so rude, we have gone for years to this KOA, it was a shock, we waited for years to get a October Halloween date, finally got it when they opened the second weekend as a Halloween weekend only to be told next year is Octoberfest and our cabins were already taken. Parking lot was downsized. We had a cabin that sleeps six but could only get four towel
Oct 12, 2021
On 10/9 I asked to have 2 cabins closed to each other. I received KOA texted, said they can lock #17 & #139 for me, not next to each other, but cross a few cabins down the road, ask if I'm ok. I responded that I'm appreciated, but KOA didn't inform me about additional charge. I found out these unauthorized charges when I came to KOA on 10/10, charged $22 per each cabin for "lock fee"
Oct 12, 2021
On July 20th we had the septic tank next to our site overflow into the street. This trip, the same exact thing happened, sewage water bubbling up through the drain and into our spot causing us to pack up all of our stuff and move to another site.
Oct 12, 2021
We love staying here, great spot, lots of amenities, close to great beaches. The reason I'm lowering the rating is due to a nuisance on the campground. There was a golf cart riding around with 3 kids (little kids) sitting in back waving a trump 2020 flag and yelling at the campers as they passed. It was disappointing and frankly sad. I really hope this was a fluke and not a trend.
Oct 12, 2021
The cabin had problems and when I addressed it at checkout with the front desk person and manager, they were rude and combative and did not offer any solution. Very disappointed with our experience. We would come at least a few times a year, but am now thinking we'll find somewhere else to go.
Oct 11, 2021
Great place, but over priced.
Oct 11, 2021
As always we had the best time during our stay. You have the most amazing staff (especially the girls who work the desk at the store) however, we are very disappointed to hear when we return next October it will not be a Halloween celebration like is has in the past. We are hoping this will change and we can continue on the fun KOA Halloween camping traditions.
Oct 11, 2021
Fun, easy to find, great amenities
Oct 10, 2021
We stayed a week at your site. It was clean, the staff were friendly. We did have some noisy neighbors on Friday night. But even they were nice the next morning.
Oct 10, 2021
Beautiful place to stay. Felt more like camping with our RV rather than a parking lot. Loved it here.
Oct 09, 2021
This is by far our fav Koa we have stayed at..we love camping and will be back!
Oct 09, 2021
Nice grounds. Good kid amenities. Wish you could bring back mid week kid activities and games and the climbing wall. Staff was nice and helpful with all our inquiries. Thanks for a great time!
Oct 09, 2021
I don't want to give a bad rating . Except for the fact that. We were put in a cabin with a dead animal.
Oct 09, 2021
Loved the airstream. Loved the casual ambience.
Oct 09, 2021
We stayed in an Air Streamer and were very dissappointed! Unfortunately!!! The Streamer was old and not properly maintained!!! The door was had to unlock with a key, the windows were hard to open and did not close properly!!! The floor was uneven, it felt like you were walking in a funhouse, off balance!!! The interior was obviously very worn, boards fell off the kitchen area, etc....Sad.....
Oct 08, 2021
Staying for Halloween themed weekends is always fun! Especially as we exit Covid it was great to see everyone enjoying outdoors again. This location is under new management and is going through some pains due to change, but the end result will be an even better family experience for everyone. We are looking forward to our next visit even more now!
Oct 08, 2021
I think you do a great job of keeping the campground clean. Would like to see the pet areas kept a little better - more grass, less dirt. I am truly appalled at the price you charge for visitors - I assume that is because of the children's playground - but my brother (age 68), sister in law (age 69) and her father (92) came over to our place for dinner to the tune of 30.00 bucks is plain silly.
Oct 08, 2021
Very well kept and all employees we're very polite !
Oct 08, 2021
Great park! A bit pricey but we will be back for sure
Oct 08, 2021
Great for kids and dogs, clean , no drunken rowdiness and quiet after 10pm. Great facilities as well.
Oct 08, 2021
Amazing! Clean, quiet and spacious sites.
Oct 08, 2021
Nice facility. Well maintained. Friendly staff.
Oct 08, 2021
Beautiful area....enjoyed our stay.
Oct 07, 2021
The people that work there are super friendly and accomodating.
Oct 07, 2021
This KOA was awesome. Super clean and roomy. The sites were perfect. And all the cute little cabins we saw so cute.
Oct 07, 2021
Very nice sites. Sweet staff. Beautiful location.
Oct 06, 2021
Bathroom but especially the showers could have been much cleaner
Oct 06, 2021
We loved everything about our stay except that we got a cabin next to the water pump which was always running and was an inconvenient noise considering there were so many other cabins available. We were waiting to do the fun train for over 30 minutes and then had to go to the office and ask about it and then waited another 15 minutes before the train showed up.
Nov 14, 2021
Best koa in the area. By far.
- Michael A on Google
Nov 14, 2021
My family stayed in the airstream and it was great. A lot of things inside the airstream had a lot of wear and tear and probably needs an upgrade but it did have everything you need to be comfortable for a weekend trip. Gas stovetop, microwave, propane bbq grill, outdoor fire pit, separate heater water for shower and bathroom, small television, toaster, hair dryer, AC, heater and tons of cabinet and storage space throughout. Also had a table, chairs and benches to sit outside. Please note that the bathroom and shower are small and probably not made for someone large in size or over six foot tall! Quiet time at 10pm is strictly enforced. I was the only one with campfire on after 10pm. Tons of day time activities for the kids and is mostly a family oriented place.
- Danny Chu on Google
Nov 08, 2021
Love this camp ground!
- Nicole M on Google