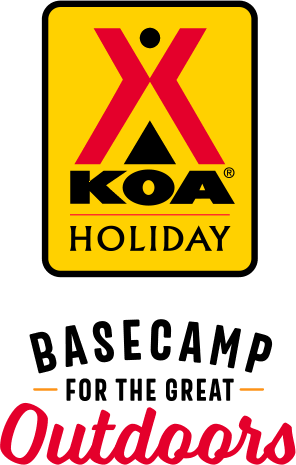 KOA Holiday Campgrounds
Whether you're exploring the local area or hanging out at the campground, KOA Holidays are an ideal place to relax and play. There's plenty to do, with amenities and services to make your stay memorable. Plus, you'll enjoy the outdoor experience with upgraded RV Sites with KOA Patio® and Deluxe Cabins with full baths for camping in comfort. Bring your family, bring your friends, or bring the whole group – there's plenty of ways to stay and explore.
KOA Holidays Feature:
RV Sites with a KOA Patio®
Deluxe Cabins with full baths
Premium Tent Sites
Group meeting facilities
Directions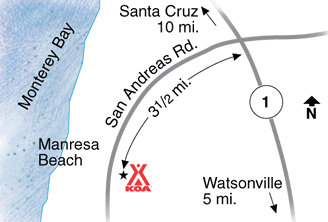 We are located 11 miles South of Santa Cruz.
Take Hwy 1 South to San Andreas Rd Exit 432 and go W 3.2 miles on San Andreas Rd.
We will be on your left. Look for the Yellow KOA Sign!
**If you are traveling on Hwy 1 North-DO NOT TAKE BUENA VISTA EXIT.
And despite what GPS, Google maps or other services may inform you, DO NOT TURN ON PEACEFUL VALLEY DR.**
Take Hwy 1 North, take exit 425 onto W Riverside Dr, take a left on W Riverside Dr toward Lee Rd.
In .2 miles, take a right on Lee Rd
In .2 miles, take a left on W Beach St
In 1.4 miles, take a right on San Andreas Rd
In 4.2 miles, destination will be on your right - look for the Yellow KOA Sign!
Get Google Directions
Oct 20, 2021
I have been camping at this campground for over 30 years. Unfortunately I will not be camping here again. I found a new management to be unfriendly and extremely argumentative with their guests. I have never in all the years I have camped here seen the people banned for life from the campground. I was also Dismayed by the fact that we could no longer reserve our spot for the Halloween weekend.
Oct 20, 2021
Unbelievably disappointing! And the reason is we didn't find out until this weekend, and only from word-of-mouth from other long-time loyal KOA Watsonville Halloween RV campers, that all of our RV spots for next year's Halloween weekends have been booked! Not one piece of communication from KOA to their LOYAL customers- years we have all been coming here to enjoy these Halloween weekends �Ϫ
Oct 19, 2021
Not happy with the changes in the booking.lost our week in because they change from one year to one year 3 months and didn't tell us . I had the same weekend and spot for 15 years
Oct 19, 2021
I was disappointed in the Halloween holiday. The new managers got rid of the pet costume contest, the kids contests, and the group contest. It used to be so fun seeing everyone (and the dogs) dressed up trick or treating in their costumes. They also changed the site decorating contest to be voted on by guests, which is just a popularity contest. Staff should vote. My kids were bummed this year!
Oct 19, 2021
We were told to put trash out in bags during the weekend and workers would be by to pick it up. No one came by. I brought extra garbage bags but ran out before leaving on Sunday. Also outside the cabin loading with key left in the cabin door when front office called to ask where the key was. I said I would walk it down. When I checked out nothing was said but then I was charged $30 late fee.
Oct 19, 2021
My family was there last weekend for the Halloween event. We had a great time but it wasn't as big as years past. The bathrooms were constantly dirty with toilet paper all over the floor. The main thing we were disappointed with was the new reservation system. We can no longer book the Halloween weekend for the next year. So many familiar faces didn't get in for the next year and that is sad.
Oct 19, 2021
Patty was very helpful multiple times throughout the trip. We have been doing Halloween camping at KOA Santa Cruz for 20 years. We appreciate the efforts to keep it kid friendly while letting adults have responsible fun. Thank you for stopping people from getting too rowdy very late at night. Changes to the reservations for next year will make it difficult for our family traditions to continue :(.
Oct 19, 2021
The new management has changed things. Some for the good, some for the bad. The bathrooms were not cleaned and on Sunday after everyone checked out they still didn't clean the bathrooms or most of the camp sites. The past management has always been welcoming and friendly, not so now. I was happy that they enforced the quiet hours this time but they did not when I was there earlier this year.
Oct 19, 2021
It saddens me that the new administration is unconcerned with customer service. Check in was unpleasant. I was not given a vote card which made it unfair as I had no idea campers voted this year. Changes such as reservation policy should have been communicated. It costs nothing to be informative and kind. Limiting parking was a huge hassle as the cabins don't have room for parking if we decorate
Oct 19, 2021
The change in management culture caused us to cancel our upcoming trip. There were many families accused fairly and unfairly of misbehavior and then treated with a no-tolerance heavy hand without conversation or openness to discussion or improvements. There seems to be a goal to remove groups that have been coming for years in the quest to eliminate certain "problem" repeat families at Halloween.
Oct 19, 2021
I was there in September with my mom and son had the best time connected with some nice people clean and safe very friendly staff.
Oct 19, 2021
Best campground for families with kids!
Oct 18, 2021
Was extremely disappointed that the reservation system for the following years was changed without any prior notification. This left us unable to get our spot next year. In addition, there were less events during the weekend than in the past, like no children's costume contest.
Oct 18, 2021
Employees were very rude and seemed very unhappy to help customers.
Oct 18, 2021
After 15 years, ours & most everyone's recurring sites were allowed to be booked for next year by other random people, with no warning. We will NEVER come again. Many sites, if true to their word, will never go back either. We would talk this KOA up to everyone and what a great place it is, not anymore. With such a successful event why would you change and push out so many loyal customers? So Sad!
Oct 18, 2021
The customers service wasn't what it was in the past. Also.... There was a lot of upset loyal costumers that helped you grow into the business you have. I understand making changes but notification of the changes should have been done. The attitude I heard was pretty much "to bad we will fill your spot with another customer". I have personally referred dozens of campers to go visit your KOA!
Oct 18, 2021
The new management is making a huge mistake by changing the format. Fred is a main problem. He ejected a family for excessive noise and curfew yet was observed participating in loud activities after curfew the following day. Not good.
Oct 18, 2021
Horrible policies now. We come every year for over 10 years and the policy changed for booking a year in advance and we lost all our spots. Our deluxe cabin has room for 2 cars yet the new policy only allowed one. Left key in cabin at checkout because I was told by the girl at front desk I could do that but then got a call later on Sunday asking why I didn't turn in key. Staff needs training.
Oct 18, 2021
Sad to see some of the fun things from camping not there this year (haunted house/trail). Only having 1 winner for the site decorating winner. s/b cabins, lodges, sites. My BIGGEST issue is reservations for next year. I have been coming for over 20 years. We have been guaranteed 1st dibs on our site and to find out that wasn't the case and NO warning or heads up. I believe that was not fair!!
Oct 18, 2021
I was completely unsatisfied with the way the new management handled things. The Halloween extravaganza is for the kids and it was taken from them. No notice on the way the reservations were now made it is unfair. I got several text from Wednesday on but nothing for reservations being opened early. The manager had a very bad attitude. I will not be back at until management changes won't recommen
Oct 18, 2021
So disappointed with the new management and how they handled reservations. It would have been nice to know that the policy had changed and you could no longer reserve your spot for next year. Generations of families have been coming here for years and now we will not be able to go next year. Missed the old staff who were so polite and engaging. The cleanliness has diminished and there was a foul s
Oct 18, 2021
I do not like the new changes that are being implemented. You are charging a lot of money for a "holiday weekend" therefore I would expect superior stay. The outdoor chairs are falling apart, inside my room (212) bokk lights do not work. The whole cabin could be much much cleaner. The coffee mug was poorly washed and it was dirty!!!
Oct 18, 2021
Bathrooms were filthy, they looked like they where not cleaned on a regular basis. Bathroom trash can closest to the RV dump station smelled like dirty diapers. Garbage was not picked up very often. In the past they came by several times a day. Our garbage sat in the sun for a good portion of the day.
Oct 18, 2021
You changed the procedures after 10 years and didn't bother telling anyone. Then when I complain the manager says "it feels like I was yelling at her". Which I was not. You have texted us 20 times over the weekend but could give us a heads up you changed the rules!!! Very sad that the patrons who have gone for years and years where not given a heads up. And your employees could care less
Oct 18, 2021
We have been going to the KOA Santa Cruz/Monterey for the Halloween Weekend for many years. This year the management changed and everything went downhill!! The bathrooms were not clean, soap dispensers were broken and not usable. The management was rude and ready to kick you out instantly. Nor were they friendly, smiling or welcoming. It was truly sad to have our last experience like this.
Oct 18, 2021
I have been coming to this KOA for over 10 years with friends that have been coming for over 25 years. We have sold KOA to our friends for years but will not again. For years we were able to book the same location for the same days the next year, and we just learned without notice the booking policy was changed is already fully booked for next year. This is no way to treat loyal customers.
Oct 18, 2021
This is a great property and great staff but the change of how Halloween Camping reservations works is disappointing to say the least. Making lasting memories with friends and our kids growing up looking forward to this event for it to change says something bout KOA. The frustrations expressed by many campers echoed my same feelings and I'm certain will impact who attends in the future.
Oct 18, 2021
With KOA under new management a lot of traditions and a lot of families over 20 years of attending KOA Halloween holiday will not have a place to stay next year on their brief decision to Rent customers rental cabins and motorhome spots without notifying Their customers in advance to let them know there was a change in management new management is horrible a lot of activities were not available
Oct 18, 2021
Discovered this KOA is under new mgmt. Several things have changed which affected my rating. We missed the pancake breakfast and costume contest! What was most upsetting what the change in how reservations are taken. After 10yrs of being able to renew for the following year it's been changed to 1yr + 3 mos. Many upset campers. The 'family' feeling w staff is gone.
Oct 18, 2021
It was the loudest party environment of any campground I've ever stayed at ever. We were trying to stay on a trip for a week and work from the RV and had small children in tow. It was not a good environment for this in any way. It was loud, people were drunk at noon, and kids were roaming around unattended by parents, some even driving golf carts when they couldn't have been older than 11 year
Oct 18, 2021
Brochure says bark on ground at tent sites, there was only powdery dirt. Imagine the mess in rain! The airstream would have had a beautiful view, if only one could see through the filthy windows! The young staff drove their golf carts constantly, way too fast, making too much noise. Also housecleaning used baby changing area as a shelf for chemicals and dirty rags, I couldn't believe it!
Oct 18, 2021
This was our 3rd visit. As always the staff is courteous and the grounds are clean. We do like the reminder you text for quiet time. Makes the evenings peaceful.
Oct 18, 2021
Beautiful place
Oct 18, 2021
Fred the manager and his staff, Patty, in particular, were very unprofessional and rude! I will never return to any KOA campsite until this matter (my complaints as well as many others) have been addressed. Not enough room here to comment on the specifics, however, you should read the Yelp, Facebook, and Google reviews, there are many upset campers with the same complaints!
Oct 17, 2021
Extremely disappointed during our return visit to this KOA. We had family members join us for lunch and charged $10 per person. On the day before departure we asked about a late check out. We were quoted $30 for this request. When asked if the space was going to be occupied we were told it would be vacant. This facilities charges are excessive for guests and returning KOA members.
Oct 17, 2021
We usually stay at your KOA 4 or more times a year. It's clean, usually quiet at night. Loads of stuff for kids and adults to do.
Oct 17, 2021
I have stayed at this site multiple times happily in the past, but this last stay, there were people partying in the RV sites well past the 10pm quiet hours start. I texted security. I finally drifted off to sleep at about 11:30pm despite noise, but was startled awake again by raucous laughter at 12:05am. Given I had to get up at 6:00am, this was unacceptable. No response from security.
Oct 17, 2021
We always enjoy our stay at KOA SC/Monterey. Clean facilities with new upgrades around the park. Great items in store but over priced.
Oct 16, 2021
Had a deluxe cabin ( handicapped ) great time definitely would stay again !
Nov 14, 2021
Best koa in the area. By far.
- Michael A on Google
Nov 14, 2021
My family stayed in the airstream and it was great. A lot of things inside the airstream had a lot of wear and tear and probably needs an upgrade but it did have everything you need to be comfortable for a weekend trip. Gas stovetop, microwave, propane bbq grill, outdoor fire pit, separate heater water for shower and bathroom, small television, toaster, hair dryer, AC, heater and tons of cabinet and storage space throughout. Also had a table, chairs and benches to sit outside. Please note that the bathroom and shower are small and probably not made for someone large in size or over six foot tall! Quiet time at 10pm is strictly enforced. I was the only one with campfire on after 10pm. Tons of day time activities for the kids and is mostly a family oriented place.
- Danny Chu on Google
Nov 08, 2021
Love this camp ground!
- Nicole M on Google