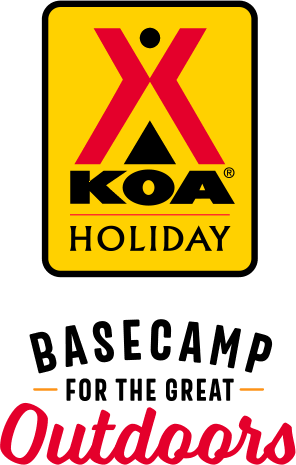 KOA Holiday Campgrounds
Whether you're exploring the local area or hanging out at the campground, KOA Holidays are an ideal place to relax and play. There's plenty to do, with amenities and services to make your stay memorable. Plus, you'll enjoy the outdoor experience with upgraded RV Sites with KOA Patio® and Deluxe Cabins with full baths for camping in comfort. Bring your family, bring your friends, or bring the whole group – there's plenty of ways to stay and explore.
KOA Holidays Feature:
RV Sites with a KOA Patio®
Deluxe Cabins with full baths
Premium Tent Sites
Group meeting facilities
Directions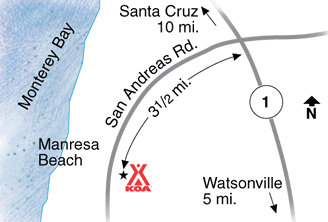 We are located 11 miles South of Santa Cruz.
Take Hwy 1 South to San Andreas Rd Exit 432 and go W 3.2 miles on San Andreas Rd.
We will be on your left. Look for the Yellow KOA Sign!
**If you are traveling on Hwy 1 North-DO NOT TAKE BUENA VISTA EXIT.
And despite what GPS, Google maps or other services may inform you, DO NOT TURN ON PEACEFUL VALLEY DR.**
Take Hwy 1 North, take exit 425 onto W Riverside Dr, take a left on W Riverside Dr toward Lee Rd.
In .2 miles, take a right on Lee Rd
In .2 miles, take a left on W Beach St
In 1.4 miles, take a right on San Andreas Rd
In 4.2 miles, destination will be on your right - look for the Yellow KOA Sign!
Get Google Directions
Nov 24, 2021
Perfect Thank you
Nov 24, 2021
We love the location, the cleanliness, everyone is very helpful. Great activities for the kids, lots to do.
Nov 24, 2021
Our most expensive pull thru spot smelled like sewage entire time. Complained to office and was told they would look into it. Never heard back. No offer of discount or new spot. Could not sit outside cause of smell.. usually a good place to stay but this was waste of money
Nov 24, 2021
Great facility overall. Very clean, spacious sites. Pool was beautiful. Great playground. Loved all the dog park options. Beautiful place. Would definitely stay there again! Thank you!
Nov 24, 2021
We are a great camping spot and the facilities were very clean. The only downside we had was the site next to us. I understand quiet time starts at 10:00, but they had a tv system blasting each night for 2 1/2 hours towards our trailer. We actually had to turn our tv up to hear it.
Nov 23, 2021
The only negative was poor ATT service. In light of that maybe have WiFi for streaming.
Nov 22, 2021
First time there. Had a wonderful time. Very clean and nice lots. Will definitely be back
Nov 22, 2021
This was the 6th or 7th time we have stayed here at it's just as wonderful each time. The air stream was perfect, the grounds are so clean and the staff are welcoming and helpful. I love the wood delivery service but wish the store was open a little later. Thanks for everything. We will return soon.
Nov 22, 2021
I would have provided 5 Stars, but there was a campsite that had multiple families and not only blasted their music, but you could hear it loud and clear from every spot in the campground, before and after 10pm. Night two I called security and nothing was done. Otherwise, this is a fantastic place.
Nov 22, 2021
We've stayed here multiple times and its always been great. The staff are all very friendly and helpful. The grounds are always kept clean.
Nov 22, 2021
Our first time in a KOA and we found it very nicely kept.
Nov 22, 2021
I especially love the bathroom/shower accommodations. The pool option, and general store. Also, I was not expecting electricity in the cabin, very nice!
Nov 22, 2021
Very nice campground, friendly staff but sites are soooo narrow for that high price. The picknick table is just beside the neighbours sewer, not such a nice sight.
Nov 21, 2021
Store staff could've been friendlier and greeting but overall a great stay with a beautiful atmosphere.
Nov 20, 2021
This was a two-night test. It was a well maintained and clean campground with lots of amenities. We were surprised to see the grill, table, and chairs on a patio at our site. We loved the tree cover and shaded run for our girls. It was very convenient for the overnight potty breaks they seem to need. We were mid-week and they spaced out the groups, so we had privacy and it was very quiet.
Nov 20, 2021
We enjoyed our stay in one of the deluxe cabins. It was just right. Loved the outdoor seating area and fire pit. Nice people, quiet place to stay.
Nov 20, 2021
Beautifully maintained, amazing amenities! A kids paradise. This campground was 10 times better than we expected. I wish you could select your specific site, that would be the cherry ontop.
Nov 19, 2021
Arrived at 6:00PM in Nov. to the specific site reserved given away ,something about needed to pay some $20 "lock-in" fee which we were never told about during the phone reservation made in July. Manager assigned us another site, when we pulled our RV around to pull-in that newly assigned undesirable site, there was an RV already parked in it. Back to office, assigned undesirable site by 8:00PM.
Nov 19, 2021
We felt so welcomed and that everyone on the staff were concerned that our stay be perfect.
Nov 18, 2021
Quiet during the week, clean, quiet and friendly staff
Nov 18, 2021
very nice, very quiet, I wish the store opened earlier though.
Nov 18, 2021
I was stay in deluxe cabin. It is well maintained, clean cabin. Very nice environment, and friendly staff too. Looking forward and come back again.
Nov 17, 2021
We always have fun when we stay at Santa Cruz Monterey Bay KOA. Lots of activities for the kids. Staff very friendly and helpful.
Nov 16, 2021
It is a nice looking park and lots of amenities for kids. Easy to occupy the kids which is good. But... The weekends are nuts. Tons of kids and park is overflowing. The sites are very too close together. Couldn't use our firepit as it would have torched the trailor beside us and our motorhome was squished against hedges. Left scratches on our rig. Not happy at all.
Nov 16, 2021
We've been coming to this KOA for 12 years. This trip, things just felt off. The camp store had changed - all the fun gifts were gone. The pool/spa hours had been drastically shortened. Banana bikes/wood/etc. were more expensive. I'm not sure if we'll be back...
Nov 16, 2021
We had a great time and our kids loved the jumping pilows and playground. Cabin was clean and had enough space for a pack n play to fit in the bedroom. I recommend bringing your own s'mores food bc marshmallows and graham crackers will cost you $12. We also bought firewood and they deliver it straight to your campsite. How convenient! Staff were friendly and helpful. We would definitely return!
Nov 15, 2021
Great stay. Lots of fun things to do for the kids. Only complaint would be the very narrow sites we were in (36&37) we had to park one trailer over the campfire pit plus perfectly position our trailer to have the slide go our over the electrical terminal. These sites need more width to them.
Nov 15, 2021
Great for Kids, the playground and jumping pillows are always a favorite.
Nov 15, 2021
Love this place. Close to the beach, close to town, and the grandkids have a great time. We have made a tradition of the family coming here at the least, once a year.
Nov 15, 2021
Place was great we will definitely be back
Nov 15, 2021
Our power kept kicking off and the spot was pretty tight getting into.
Nov 15, 2021
3rd time staying here, we love it! But very disappointed we weren't notified of the construction in the bathroom. Bathroom, showers, sink near site were closed - there were 3 portable showers/ bathroom for temp use however no trash cans (I found feminine products left out), & urine clogged showers feces on the floor. It was also loud Fri /Sat, wasn't expecting so much hammering on vacation. :(
Nov 15, 2021
Wonderfully relaxing! Enjoyed our week. Can't wait to return. Friendly staff that's goes above and beyond to make sure your stay is fantastic!
Nov 15, 2021
I loved the isolation from the neighborhood and traffic. Missed the s'mores but enjoyed the movie night. I stayed in a tent, site was great. The cabins looked very attractive. I might try one of them in the near future. Although I was alone I loved how accommodating things were for families. They seemed to be having a blast.
Nov 15, 2021
We were moved from site #1 (which had a power hookup, suggesting vans were potentially expected there) to site #31 in and amongst the huge RVs with very little privacy and lots of noise. If we were given site #1 initially with the full knowledge that we were arriving with a van, it was unclear why all of a sudden when we checked in the van was somehow a problem. Wish we had contested this.
Nov 14, 2021
Amazing as always! Friendly staff beautiful campground�
Nov 14, 2021
We really want to like this KOA. The amenities are great for kids on the weekend, but mostly closed during the week. The climbing tree doesn't open till 1pm on sat. Music is blared all day from campsites (you can hear it from 10 spaces away). People stay up talking loud and playing music until 2am. Basically we have found on both our trips it is party central on weekends. Time to drink up I guess!
Nov 14, 2021
Spaces were packed. My kids had an amazing time
Nov 14, 2021
Best koa in the area. By far.
- Michael A on Google
Nov 14, 2021
My family stayed in the airstream and it was great. A lot of things inside the airstream had a lot of wear and tear and probably needs an upgrade but it did have everything you need to be comfortable for a weekend trip. Gas stovetop, microwave, propane bbq grill, outdoor fire pit, separate heater water for shower and bathroom, small television, toaster, hair dryer, AC, heater and tons of cabinet and storage space throughout. Also had a table, chairs and benches to sit outside. Please note that the bathroom and shower are small and probably not made for someone large in size or over six foot tall! Quiet time at 10pm is strictly enforced. I was the only one with campfire on after 10pm. Tons of day time activities for the kids and is mostly a family oriented place.
- Danny Chu on Google
Nov 08, 2021
Love this camp ground!
- Nicole M on Google