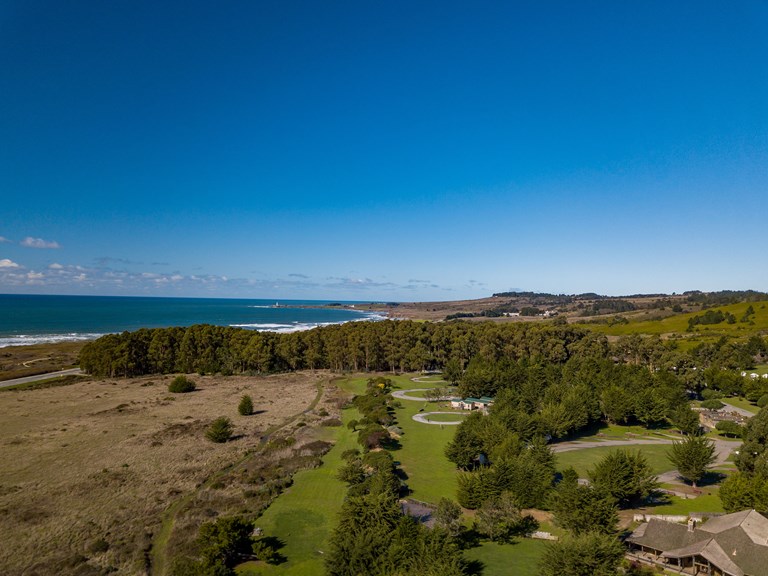 Santa Cruz North / Costanoa KOA Reviews
Directions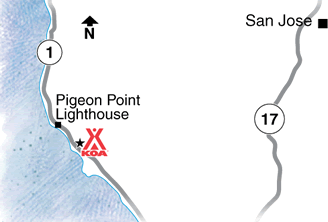 Driving South From:

San Francisco: 1 hour south on HWY 1

Half Moon Bay: 25 miles south on HWY

Entrance is on the left, 3 miles south of Pigeon Point Lighthouse. Look for Rossi Rd and signs for Costanoa and KOA.
Driving North From:

Santa Cruz: 25 miles north on HWY 1

Entrance is on the right just north of Ano Nuevo State Park signs.  Look for Rossi Rd and signs for Costanoa and KOA.
Get Google Directions
Sep 03, 2019
Very happy with our last minute plans to stay at your camp. We really appreciated all the amenities.
Sep 02, 2019
The camp was overall good. However, the tent site was too small and the tents were too close to each other. I can hear ppl from the next tent talking and snoring at night.
Aug 30, 2019
It was all good. No complaints. Just a great overnight stay. People are all very friendly. Joe
Aug 29, 2019
Amazing property with countless amenities, incredible security, friendly check-in staff, clean restrooms, spa, and laundry facilities. Outstanding campsites with tons of stuff to do on-site and in the immediate area. I will DEFINITELY be back for another trip in the near future. Thanks for having us on such late notice!
Aug 20, 2019
Nice site, too many skunks though in the camp area. I came out of my tent and bumped into four when I went to the bathroom. I wouldn't go again as the site has no pool or access to the hot-tub.
Aug 20, 2019
Clean safe place thg o camp with my kid . Liked the secluded beach 6th hats walkable
Aug 18, 2019
Awesome camp ground in a great location. We camped out with our tent. The site is lovely and the bathrooms, showers and sauna were amazing and sooooo nice after surfing. I highly recommend!
Aug 17, 2019
There is no place for tent campers to roast marshmallows.
Aug 17, 2019
Great visit, appreciated the restrooms, the sink at the campground, and other amenities. Great walk to the beach.
Aug 14, 2019
I had a great time. The staff was friendly and helpful. The ocean views were fantastic. I would definitely return to that facility.
Aug 09, 2019
Gorgeous campgrounds near the ocean. Clean bathrooms with hot water. Friendly staff and fun atmosphere.
Aug 06, 2019
Very nice and clean facility. The staff very very friendly. The kids had a blast camping with their friends. The only downside was too windy and there was a rude RV owner across from us. Aside from that, everything was good.
Aug 06, 2019
Helpful staff! Beautiful location. Camp grounds well maintained. I hope to come back soon
Aug 03, 2019
Not a fan. Was like camping in a day care. Tent area is just a very small field next to parking. Sites are not even clearly marked. When we came back after dinner someone had set their tent right next to ours. Screaming kids and slamming car doors had us up by 6am. One of the worst tent camping experiences we've had. No fires in this area either though other areas that paid more did get fire pits.
Jul 29, 2019
great location and close to the beach
Jul 26, 2019
Only thing was that the big double sink in the tent section was clogged and dirty. Other than that it was beautiful and a great stay
Jul 21, 2019
Tent sites are close together but overall great place.
Jul 20, 2019
Great overnight tent stay. Book more than one day! Fun walk to the beach (standard fitness level required) Felt clean and safe. Children's park and games available. Friendly staff.
Jul 19, 2019
We arrived after hours and located our paperwork easily. The tent sites are way off to one end. It rained all night and we packed up and headed out first thing. There was only one shower in the comfort station and it was always occupied. Overall, it was a pleasant stay, but we will choose another location next time. We parked wrong and some worker asked us to move. He seemed in a bad mood.
Jul 18, 2019
Simply magical. We enjoyed the chill atmosphere and had an amazing full moon hike! We also enjoyed the plethora of amenities. What a wonderful place to stay. We'd like to come back at Thanksgiving!
Jul 17, 2019
Very friendly staff and easy check-in process. Setting is quiet (we were tent-camping), with a good mix of sun and shade. Close to Hwy 1 and therefore within minutes of the many beaches along PCH. Affordable family vacation. Clean showers and bathrooms (being attended daily by staff - the same folks who set up and start a wood fire every night). Additional plus for kids: ADORABLE GOATS!
Jul 12, 2019
Beautiful campground, very clean, very close proximity to the beach, very quiet and peaceful. We hope to be back very soon!
Jul 09, 2019
Very nice campsite. Family and kids friendly. Walking distance to the beach, but you have to cross the highway 1. It takes about 15 mins walking. Campsite is very close to each other, good for big groups and several families going together. It doesn't feel too much sounds from the tent next to you even the site is very close to each other. Shower and bathroom is very clean.
Jul 09, 2019
My family loved the animals, garden, and playground.
Jun 28, 2019
Great location, nice facilities, friendly and accomodating staff. I will be booking my campsite for next summer!
Jun 26, 2019
Besides the fact that the advertised saunas did not work, it was relaxing and beautiful. The camp sites are small and crowded but the setting is nice.
Jun 26, 2019
A great facility.
Jun 24, 2019
First let me say your staff are wonderful, your restaurant had delicious well prepared food. The reason I will Not be telling friends or family to stay there are your bathroom showers, You have stalls for privacy for the toilets but you have only 1 shower and that is a disgrace. Woman were lined up to take a shower, the curtain didn't go all the way across and the floor was soaked. Sad so sad
Jun 21, 2019
It was a good experience. Bathroom was kept clean . But the water was clear yellow even in the dishwashing area.
Jun 18, 2019
We had a great six night stay!
Jun 17, 2019
The best campground we have ever stayed at! So many cool things to see and do at the campground itself.
Jun 16, 2019
Super nice, almost resort quality, and just a short walk to the beach. Great amenities with laundry available, showers, community fireplace, and picnic areas. We didn't realize that the tent sites didn't have firepits or trees, but it worked out fine.
Jun 12, 2019
Campsite was clean and accessible, wish we would've been closer to the fire pits as it was inconvenient for cooking
Jun 06, 2019
The best KOA I've experienced. We used a tent site which was very basic but the showers and toilet were very clean and updated and even had a sauna which worked great! No fires at the tent site but a beautiful fireplace and seating area at the sauna/bath with free firewood included to use there. The general store was awesome and the restaurant was beyond expectation. Overall EXCEPTIONAL!
Jul 06, 2020
Relaxing.
- Donald Marston on Google
Jul 03, 2020
BEST KOA I'VE EVER BEEN TO!!! This KOA has an amazing view of the ocean, nice crisp wind in your face, and lots of shade (for those who want it) but also sunny spots. . . And also, a really nice restaurant at the entrance of the KOA, as well... I really wish I could rate ABOVE 5 stars, because if I could, it would be wayyy up there!
- Max LaRock on Google
Jun 03, 2020
A great place to visit..... love it..
- Tracy Rousseau on Google

Santa Cruz North / Costanoa KOA
Open All Year
2001 Rossi Road at Hwy 1
Pescadero, CA 94060
Check-In/Check-Out Times
RV Sites, Tent Sites
Check-in: 2:00 pm, Check-out: 12:00 pm
Santa Cruz North / Costanoa KOA
Get Google Directions

© 2020 Kampgrounds of America, Inc.