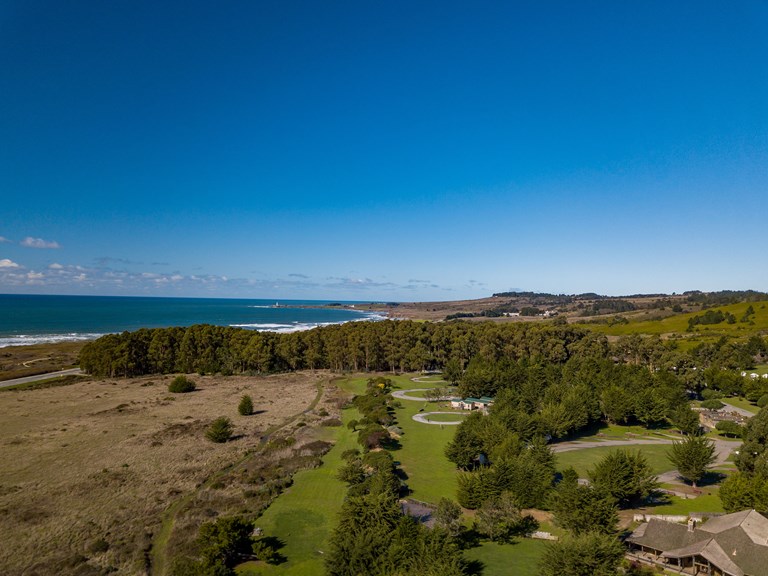 Santa Cruz North / Costanoa KOA Reviews
Directions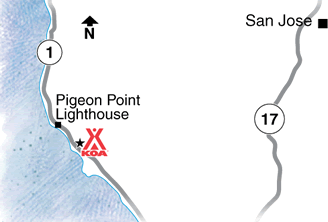 Driving South From:

San Francisco: 1 hour south on HWY 1

Half Moon Bay: 25 miles south on HWY

Entrance is on the left, 3 miles south of Pigeon Point Lighthouse. Look for Rossi Rd and signs for Costanoa and KOA.
Driving North From:

Santa Cruz: 25 miles north on HWY 1

Entrance is on the right just north of Ano Nuevo State Park signs.  Look for Rossi Rd and signs for Costanoa and KOA.
Get Google Directions
Dec 27, 2019
Love the sauna. The staff was lovely.
Nov 26, 2019
We camped in tents and we loved our experience. The restaurant was very good, and we loved that you can walk to the beach from the campgrounds. The sauna was great, as were the fireplaces near the saunas (we only wished there were more of them). Our only complaint is that there were some kids yelling until late at night - but that's to be expected when there are a lot of people around. Great pla
Nov 12, 2019
Love this place. We tent camped, but we've yet to stay when there are more rec activities on-site, so as a family with kids, it'd be nice to check the rec schedule prior to arrival or if the check-in host could ask if visitors are familiar with the site amenities to promote awareness of all your great site has to offer. Also, I didn't realize that cabin info in on diff website. Are there clear lin
Nov 05, 2019
Very clean place. The management were friendly and helpful. There was good security so i felt safe. The cafe food/coffee quite good. I would come again.
Oct 30, 2019
The location here, near the beach and state parks, is incredible. We LOVED the dry sauna and bathrooms--super nice, warm, and clean for a campground, which made camping in late October much more comfortable. Also, the staff were very friendly!
Oct 22, 2019
The campground exceeded my expectations! Such a fun place with lot's to do. Great for a family with kids or a group of friends. We will definitely be back!
Oct 07, 2019
Wonderful !! Happily had a campsite & were delighted to be near the goats & w/ a view of the ocean, amidst the eucalyptus trees. Were pleased & enjoyed the local band at the Pine Tent w/ varied instruments, keyboard, guitars, vocals... Used the Comfort Station fireplace, dry sauna & had breakfast at the restaurant. Were impressed w/ the wild birds presentation,Yoga, trails. Stay affordable...
Sep 30, 2019
Great stay. Just wish you recycled propane canisters.
Sep 28, 2019
My first time at a KOA campground, just happened to have a spot free when we needed it... I loved it! Now I'll try to book their first my next travels!
Sep 26, 2019
The personal were very helpful. However, the tent camping spot was too hard to get a steak in. (Bent 3 steaks in the process) also, y'all have a serious bug problem. Thousands upon thousands of tiny flies forming a thick cloud around you as your trying to pack up is not relaxing. I couldn't wait to get out of there. Just to get out of the bug storm.
Sep 25, 2019
Good showers and laundry, however the tent sites are horrible and small
Sep 25, 2019
Excellent. Well maintained, well managed and quite. Loved the comfort stations.
Sep 24, 2019
Everything was very good! We were bit unlucky with neighbors(they were very noisy at night) but apart from that - all good.
Sep 22, 2019
This was my 1st time staying at a KOA, and it was very nice. Everything was clean, food was great, people were friendly, it felt like 1 big family. I will definitely be staying with KOA in the future.
Sep 16, 2019
The staff to check us in was warm, informative and friendly. Our stay however was not - we had a camp of loud people, drinking, going back and forth to their car shining lights and playing loud music until 2am. Security did not make rounds. Cell phones no service. We did not walk up to the lodge for help. Security needs to be more present, this is the 2nd loud stay we had at this location.
Sep 12, 2019
Beautiful peaceful spot. Will definitely return.
Sep 08, 2019
Location was amazing; right on the coast, clean restrooms. Definitely will camp here again.
Sep 03, 2019
Loved everything! Friendly staff, well run facilities, clean restrooms, beautiful landscaping, good location, good activities, fair prices.
Sep 03, 2019
Very happy with our last minute plans to stay at your camp. We really appreciated all the amenities.
Sep 02, 2019
The camp was overall good. However, the tent site was too small and the tents were too close to each other. I can hear ppl from the next tent talking and snoring at night.
Aug 30, 2019
It was all good. No complaints. Just a great overnight stay. People are all very friendly. Joe
Aug 29, 2019
Amazing property with countless amenities, incredible security, friendly check-in staff, clean restrooms, spa, and laundry facilities. Outstanding campsites with tons of stuff to do on-site and in the immediate area. I will DEFINITELY be back for another trip in the near future. Thanks for having us on such late notice!
Aug 20, 2019
Nice site, too many skunks though in the camp area. I came out of my tent and bumped into four when I went to the bathroom. I wouldn't go again as the site has no pool or access to the hot-tub.
Aug 20, 2019
Clean safe place thg o camp with my kid . Liked the secluded beach 6th hats walkable
Aug 18, 2019
Awesome camp ground in a great location. We camped out with our tent. The site is lovely and the bathrooms, showers and sauna were amazing and sooooo nice after surfing. I highly recommend!
Aug 17, 2019
There is no place for tent campers to roast marshmallows.
Aug 17, 2019
Great visit, appreciated the restrooms, the sink at the campground, and other amenities. Great walk to the beach.
Aug 14, 2019
I had a great time. The staff was friendly and helpful. The ocean views were fantastic. I would definitely return to that facility.
Aug 12, 2020
Best KOA I've been to. It's near a lighthouse and not far from the Santa Cruz boardwalk. They have a garden and great views of the ocean. Bring a camera.
- James Nixon on Google
Aug 10, 2020
(Translated by Google) Good place to cool off (Original) Tempat yang baik untuk menenangkan diri
- Semuel Lentho on Google
Jul 30, 2020
We love it here. The grounds are beautifully maintained. Great restaurants and accommodations to suit most people's needs
- Kathie Fitch on Google

Santa Cruz North / Costanoa KOA
Open All Year
2001 Rossi Road at Hwy 1
Pescadero, CA 94060
Check-In/Check-Out Times
RV Sites, Tent Sites
Check-in: 2:00 pm, Check-out: 12:00 pm
Santa Cruz North / Costanoa KOA
Get Google Directions

© 2020 Kampgrounds of America, Inc.