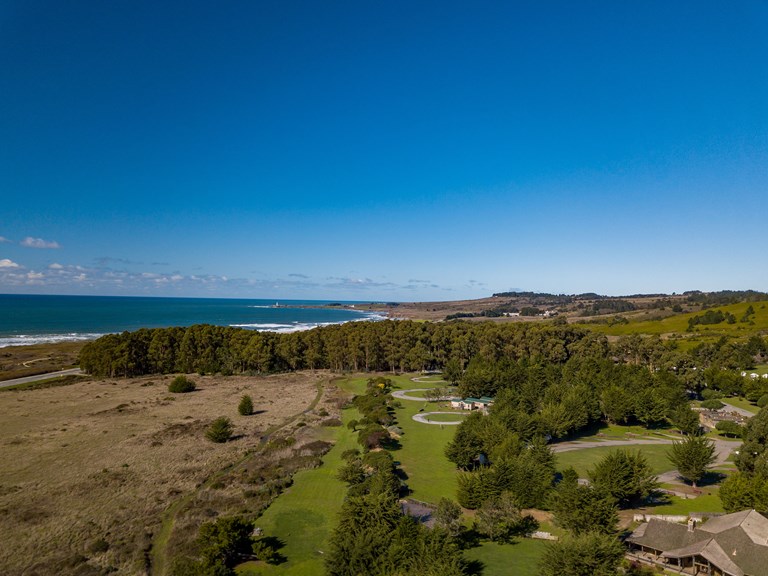 Santa Cruz North / Costanoa KOA Reviews
Directions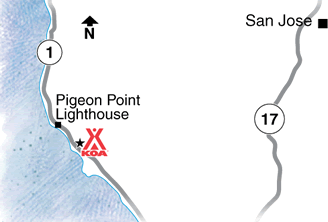 Driving South From:

San Francisco: 1 hour south on HWY 1

Half Moon Bay: 25 miles south on HWY

Entrance is on the left, 3 miles south of Pigeon Point Lighthouse. Look for Rossi Rd and signs for Costanoa and KOA.
Driving North From:

Santa Cruz: 25 miles north on HWY 1

Entrance is on the right just north of Ano Nuevo State Park signs.  Look for Rossi Rd and signs for Costanoa and KOA.
Get Google Directions
Jun 28, 2020
This was more than we expected in an RV PARK. WOW THIS PLACE was more Like AN RV RESORT !!!! , With class A costumer service and wonderful neighbors.in our area
Jun 27, 2020
I LOVED the old vinyl records spinning at Pine Tent in the morning for coffee. You guys are always dreaming up fun surprises, little touches that make it a great place to stay. I LOVED it once again. It is one of my favorite places to chill. Also I REALLY appreciated how nice and quiet it is in the morning. You guys really seem to enforce noise levels and it was SOOOOOOO luxurious to sleep in
Jun 27, 2020
Excellent facility. We would have liked to see what the resort is like when fully open and we will be back when that is possible. The beach access was great, and the grounds were well maintained. The only downside was that one of the employees who checked us in had the mask on improperly (nose out) which isn't state regulation.
Jun 27, 2020
Area clean. Good trail to beach. People distancing. Need mask to go to store or order food out. Me and my 3 grandkids had a great time.
Jun 26, 2020
Beautiful campsite, 2nd time at campsite, made reservations for next year. Friendly and welcoming staff, clean restroom. We ordered on site pizza - best pizza ever.
Jun 26, 2020
Always so nice to stay there! We really enjoyed getting out of the house during this shelter in place! Just an FYI- we had an encounter with several ticks on the trail by your dog park. My daughter was bit by one but we were able to remove it. Guests should be informed. Other than that, our stay was great!!
Jun 26, 2020
Lots of fun! Great family campground with hiking, biking, the beach and good food at the pizza restaurant!
Jun 26, 2020
Would have given it a 5 but was Pretty surprised that our cement patio area was really Dirty lots of food stains etc.. needs to be power washed also noticed spots around us were nicely landscaped with nice Plants and firepits ours was really shabby. Hopefully it will get cleaned up by the time we come to visit again. Cleanliness especially now during Covid is so important. Thank you
Jun 26, 2020
The staff is so friendly! Love the upgrades.
Jun 25, 2020
Super nice people
Jun 25, 2020
Nicest campground I have stayed in ever! Quiet, Ocean view lot.. fantastic, must reserve in advance. Very easy to get in & out of sites with your rig. Good water pressure. They need a new sign on the highway, I drove past it, vegetation growth over the sign and not very noticeable at 55MPH, 1/2 mile warning sign would be appreciated. Overall you will be amazed once you get there... have fun !!!
Jun 24, 2020
It was great due to the situation with COVID it was hard because of not being 100 percent functional,like the spa,Restraunt and having music but it was still memorable and we're coming back in Jan . Thank you
Jun 24, 2020
Very nice clean campground and in a great location. We got the last site in the whale pull thru area. I would recommend the back in sites near the front as they have more space, but they weee booked. Nice restaraunt, food was great. The rules say you need to wear masks when you are out, but there were a lot of people gathering without masks. Not really campgrounds fault, but we were careful.
Jun 23, 2020
WiFi is horrific which is a major challenge because there's no cell service at all for anyone other than Verizon. Other than that, the place is fantastic!!!
Jun 23, 2020
The park and setting is wonderful. Facilities are clean. Some security staff can be too pushy at times.
Jun 22, 2020
Nice park . Lots for rules that are signed at the beginning which is good but the rules for noise and quiet time was not followed or enforced.
Jun 22, 2020
Been going to Costanoa for 7 years. Most disappointing trip there. We were hassled often by a young security guy who took his job way too seriously. We are a family that follow rules and felt that we were being picked on by this young security guy, while other guest weren't following the rules, being loud after hours and not following parking rules. Bad business having this guy there, won't return
Jun 22, 2020
Since so many amenities weren't available the price should have been reduced.
Jun 22, 2020
Great views. Good hiking. Water pressure is too high.
Jun 22, 2020
Our stay was awesome! We love this place and come here a lot! The food was amazing both in Cascade restaurant and Pine Tent yum�
Jun 21, 2020
Brian is a big help
Jun 21, 2020
Very disappointing with the staff. We been coming here for 7 years. Worst trip there so far. Was constantly harassed by a young man in a golf cart taking his security position to the extreme. He harassed my family more than any other guest. We were very compliant with rules and policies, while other guests were loud, parking more than 1 car per site, but that was okay by security guy. Ruined trip!
Jun 21, 2020
very nice place, friendly and clean
Jun 21, 2020
Sight are nice we had a view of the ocean it was very nice. Staff was very helpful and nice a check in. Our boys purchased a pizza at the picnic tent.
Jun 21, 2020
Since so much is not available right now due to Covid 19 I felt that I really overpaid for a campspot
Jun 20, 2020
Enjoyed our first stay! Beautiful campground and loved the ocean view. We hope to be back soon.
Jun 20, 2020
We camped in our motor home. Everything around the campgrounds was well cared for and the paved areas were great for our grandkids who brought their bikes along! Only wish the store carried fresh produce!
Jun 20, 2020
The site was clean and spacious. The views were beautiful, as was the weather. We rode bikes and played on the grass. We didn't want to come home!
Jun 20, 2020
Great area, friendly staff, clean facilities. Watch out for ticks though.
Jun 19, 2020
Everything was wonderful except that our site was narrow and odd shaped. Otherwise it was a beautiful area and very nice grounds.
Jun 19, 2020
Excellent all around. The area is beautiful, wild blackberries everywhere, and the grounds where kept very nice. Will be back for sure!
Jun 19, 2020
Although we had to leave early for personal reasons, we are already planning our return stay. Really great place!
Jun 19, 2020
Super fun even with Covid restrictions. Great staff. Can't wait to get back.
Jun 18, 2020
Nice, clean campground, but very pricey.
Jun 18, 2020
Due to covid-19, many things were unfortunately closed. Hopefully, our next stay they are open so we can have a full experience. However, the short trek to the beach was cool. Bathrooms where nice and clean. Employees were all wonderful. Drink cart was an awesome plus.
Jun 18, 2020
Camp site clean. Public areas clean, supplied. Loved the bar car! No problems at all.
Jun 18, 2020
Although not a huge fan of KOAs,(expensive and RVs packed closely together) Costanoa has very pleasant trails and grounds around it. Very organized set up, well maintained and clean.
Jun 17, 2020
We like the site very much and would certainly suggest it to friends and also come back, one day. Our ratings are reflective of a bit of hesitancy as we do not feel that Covid guidelines were adhered to strongly enough. Guests were walking all over without masks and were not socially distancing to a degree set forth by local laws. This should be tightened up and monitored.
Jun 17, 2020
My stay was great and staff were very polite. There was some loud tree maintenance going on at wee hours of the morning which I thought should be done between 11am and 2pm when campers are coming and going. But otherwise a very pleasant experience. I love the mobile bar! Great idea.
Jun 17, 2020
Needed strong internet for business. Had to leave by 6:00 am to go into Half moon bay and park in a Safeway parking lot to acquire internet strength.
Aug 12, 2020
Best KOA I've been to. It's near a lighthouse and not far from the Santa Cruz boardwalk. They have a garden and great views of the ocean. Bring a camera.
- James Nixon on Google
Aug 10, 2020
(Translated by Google) Good place to cool off (Original) Tempat yang baik untuk menenangkan diri
- Semuel Lentho on Google
Jul 30, 2020
We love it here. The grounds are beautifully maintained. Great restaurants and accommodations to suit most people's needs
- Kathie Fitch on Google

Santa Cruz North / Costanoa KOA
Open All Year
2001 Rossi Road at Hwy 1
Pescadero, CA 94060
Check-In/Check-Out Times
RV Sites, Tent Sites
Check-in: 2:00 pm, Check-out: 12:00 pm
Santa Cruz North / Costanoa KOA
Get Google Directions

© 2020 Kampgrounds of America, Inc.