Directions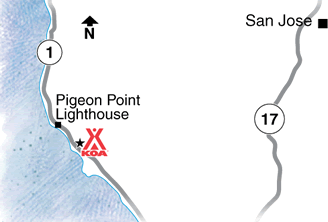 Driving South From:

San Francisco: 1 hour south on HWY 1

Half Moon Bay: 25 miles south on HWY

Entrance is on the left, 3 miles south of Pigeon Point Lighthouse. Look for Rossi Rd and signs for Costanoa and KOA.
Driving North From:

Santa Cruz: 25 miles north on HWY 1

Entrance is on the right just north of Ano Nuevo State Park signs.  Look for Rossi Rd and signs for Costanoa and KOA.
Get Google Directions
Nov 20, 2020
Super friendly people at the check in kiosk. Nice grocery store with great food iand gift items. A fun band played on Saturday night. Views of the ocean are amazing. Very easy walk to the beach. Campsite was clean. Will definitely return.
Nov 20, 2020
Had a wonderful time with family and friends.. Such a beautiful place!!
Nov 19, 2020
Best place we've ever camped. So beautiful!
Nov 19, 2020
3 nights, beautiful place! Walked to the beach about a mile away down the hill = incredible sunset views. Bathrooms are super clean and nice. Def coming back!
Nov 19, 2020
1st time taking our trailer out and we wanted to stay close to home, little did we know only 30 mins away is a whole new world! Loved it there!
Nov 18, 2020
Had a great visit! Thank you
Nov 17, 2020
Very nice staff, camping sites a little too close for me. All was very clean and great view of ocean.
Nov 16, 2020
We have been to this camp ground several times. The newly remodeled sites are really nice. The grounds are kept perfect, neat, clean. Weather was beautiful! We always love to camp at Costanoa KOA.
Nov 16, 2020
Too many additional charges. I got charged $20 for picking my own campsite. I don't see how I should be penalized for knowing what sites I'd like to book.
Nov 16, 2020
All staff were super friendly, grounds are well maintained and the location is unbeatable.
Nov 16, 2020
Lots of stress around registering and check in. Lots of extra fees. Very crowded. Very expensive. Beautiful location. Great hook ups. Terrible wifi.
Nov 16, 2020
As usual we had an excellent stay!!
Nov 16, 2020
Costanoa is one of our favorite spots! The setting is beautiful and the sites are well spaced and always spotlessly clean! The staff. Is friendly and helpful, an it is a place where we feel safe and can truly relax.
Nov 16, 2020
This was our first time visiting the Costanoa KOA and we were blown away at how wonderful our experience was! From the short hike over the dunes and to the waters edge, to the live music on Saturday night we had a wonderful time! We will happily return sometime soon! Thanks so much! Dian and Dan
Nov 15, 2020
Great staff, clean park and amenities. We can't wait to come back!
Nov 14, 2020
The campgrounds were very well maintained and clean. The extra touches really make it stand apart from other places. Can't wait to go back.
Nov 14, 2020
We stayed three nights. We were very impressed with the Seacoast campground's new site improvements and the efforts to keep the facilities clean, neat and sanitary. The food from Cascade restaurant was very good, and the campground staff was friendly and helpful. We will return!
Nov 14, 2020
We were so impressed with the park and w"the team that is there. Everyone was nice and helpful. We were especially impressed with Antonio who helped us get propane.
Nov 13, 2020
Wonderful ocean views. Very clean bathrooms.
Nov 13, 2020
Staff was very accommodating as usual and friendly.
Nov 13, 2020
It was our first time as a family to stay in Costanoa with a Travel Trailer and my girls just absolutely LOVED IT!!! We will be back soon & hopefully plan to make it a yearly trip. :)
Nov 13, 2020
The campground is well kept.
Nov 12, 2020
Awesome spot ! Clean and well run
Nov 12, 2020
Clean, friendly staff, walk to beach, bathrooms clean, RV site a bit narrow but clean and good hookups.
Nov 12, 2020
The campground is always clean and well kept. The staff are always great and the location is perfect.
Nov 11, 2020
Sad we had such trouble with cell phone and Wi-Fi but the camp and location couldn't be better. I would love to be able to afford a longer stay.
Nov 10, 2020
Friendly staff, clean bathrooms and overall clean, well kept campground. RV sites are too close together on the Whale North loop
Nov 09, 2020
I enjoyed the fact that they didn't allow tRump flags and that the campgrounds were very well kept!
Nov 09, 2020
Wonderful location to stay by the beach.
Nov 08, 2020
I felt so fortunate to be at Coastanoa on my first camping trip with my small trailer. The campground manager gave me good advice, helped me to back my trailer into the campsite, and was encouraging all around. I greatly appreciated this. I felt safe while camping here. Also, the Coastanoa KOA has access to many wonderful hiking trails. Thank you.
Nov 06, 2020
Got one of the nicest slips for my truck camper with an unobstructed view of the ocean. Perfect for my first trip in my new camper!
Nov 04, 2020
Enjoyed the grounds and the new patios and furniture in Sea Scape. Also had a to go dinner from the restaurant it was very well organized/safe, efficient and delicious. Can't wait to go back.
Nov 04, 2020
Can't say enough good things about this park. We were only there one night, wish it had been one week! Hike across highway leads to beach. The little store and restaurant were there should you need them. The place was decorated with (lots of) pumpkins. Couldn't have been more charming.
Nov 04, 2020
We liked the park. The only problem was we did not have a picnic table. A large group next to us took 4 picnic tables into their site leaving several sites without a table. We enjoyed the view from our site but was very shady with no sunny area. Next time I would like to be on another street.
Nov 03, 2020
Everything was very clean and well kept. For us, everyone was super friendly and nice. I would definitely go back.
Nov 03, 2020
We had a wonderful time at Costanoa! Very family friendly and the camping accommodations were great.
Nov 02, 2020
The security guard was a little over the top but other than that the stay was great!
Nov 02, 2020
Such a great location and friendly people running it. Enjoyed the live music and focus on keeping things safe.
Jan 18, 2021
Beautiful and clean place to camp
- Chandler Bender on Google
Dec 23, 2020
Great spot, bit pricey. Lots of nature. Beach access possible, it means crossing the highway.
- Jan Hertsens on Google
Dec 22, 2020
This place is amazing. Very cozy environment, friendly & helpful staff, great amenities. ++ restaurant is great, ingredients are fresh, make sure you eat there at least once before you go ++ hikes to the beach is wonderful, well maintained and not crowded ( visited in a warm December during covid so not sure typically if it's so spacious) +has a nice small dog park for our pup to run + well maintained flower beds, makes the ambiance relaxing and cozy
- Jason Wang on Google