Directions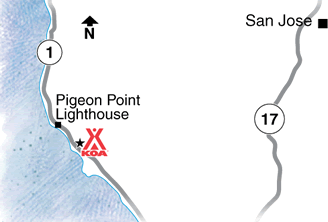 Driving South From:

San Francisco: 1 hour south on HWY 1

Half Moon Bay: 25 miles south on HWY

Entrance is on the left, 3 miles south of Pigeon Point Lighthouse. Look for Rossi Rd and signs for Costanoa and KOA.
Driving North From:

Santa Cruz: 25 miles north on HWY 1

Entrance is on the right just north of Ano Nuevo State Park signs.  Look for Rossi Rd and signs for Costanoa and KOA.
Get Google Directions
May 28, 2021
We always enjoy Costanoa. We were disappointed in all the new dog rules. We also wished we had been informed about no fires. We supprt and respect the ban. We had received 2 emails prior to our arrival and nothing was mentioned. We would of brought our propane pit and the evening's would of been more enjoyable
May 28, 2021
Awful. Rude, arrogant employees. Spaces jammed together. We are in Gemini and our slide out hit awning of next door camper. Neither of us had room to move. Gas powered leaf blowers at inappropriate hours. Smell of goats. Overall run down appearany. If this had been our first KOA, it would be our last.
May 27, 2021
What an outstanding and well-maintained RV park. All staff members - from the moment we checked in, and throughout our stay - were extremely friendly and courteous. Security folks and groundskeepers were equally helpful and friendly. We were very impressed with the park and the manner in which it was run. We loved the restaurant, and enjoyed the great service there as well. Great time!
May 27, 2021
Excellent location, 10 minute walk to beach. At check in we were given a slew of rules and told they'd be strictly enforced. An hour later, I watched an unleashed dog attack three other unleashed dogs. Another group had a fire going (KOA said fires were banned) and blared their music for hours until I got up and yelled "CONGA!" KOA staff went by numerous times, did nothing. Sites are very na
May 27, 2021
The location itself is nice and well maintained. But much of the staff we encountered weren't friendly, except for Al who checked us in (he deserves 5 stars.) The market had very little in the way of useful items, but was stocked with overpriced snacks and booze. The KOA was very empty but they still crammed us like sardines into the Eucalyptus Camp. And our spot didn't even have a picnic table!
May 27, 2021
Good stay. Campground was clean with good amenities. Loved the store, proximity to the beach and pizza at the Pine Tree. All staff that we met were friendly and helpful. We will definitely be back!
May 26, 2021
This is such a fun campground with beautiful views, fun activities, nice hikes and excellent amenities including a wonderful restaurant.
May 26, 2021
Unfortunately we could not have a fire, so no scores around the fire pit, to cold to sit outside without one. Ticks and a lot of them, my 1 dog brought in 11 in one day.
May 25, 2021
Always a nice relaxing stay. Beautiful grounds, friendly staff and nice amenities. Wish the restaurant still had the pick up window but ordered to go at the bar instead. That worked out fine too. Thanks to your wonderful groundskeepers who keep the sites super clean. They clean the tables, chairs, barbecues and fire pits! Makes the stay even better!
May 25, 2021
Had a great stay here last weekend. Stayed in site E24 and had a great view of the ocean. The place was packed so privacy was non-existent. Campgrounds were clean, comfort stations were open and well maintained and the general store has fun snacks and dry wood for $10/bundle. Both restaurants were open. Tons of activities, walk trails and beach access from the KOA. Can't wait to come back.
May 25, 2021
Was dismayed that my site was not level and the sewer connection was on the high side and stuck about 3 inches above the grade. With my class B van in level and the height of the drain, I could not empty my back or gray tanks. I asked and there was no dump station I could use. I managed to find one unused site and was able to partially dump my tanks. Bathrooms not heated. All else just OK.
May 24, 2021
My stay started out with your water connection breaking at my site , that took 2 hours to get fixed , then I spent 30 minutes picking up broken glass at my site to make it safe for my dog . Other than that it was a good time !
May 24, 2021
We loved the resort but would have appreciated better WIFI service since there is no cellphone service.
May 24, 2021
Excellent. So much to do and nice campgrounds!
May 24, 2021
Campground is very beautiful, love the view of the ocean. One of our favorites!
May 23, 2021
Beautiful grounds. Clean facilities. Easy reservation. People in the check-in kiosk very nice when we asked to move to another site when we had noisy neighbors
May 22, 2021
This was our first time at this KOA and were very happy with our stay. The location is beautiful and we loved that we could walk to the beach. The campsite and grounds were clean and all of the staff we encountered were friendly and helpful. The store has interesting food and lots of fun stuff. And we loved getting pizza at Pine Trnt. Thank you Costanoa KOA. We will be back!
May 22, 2021
We had an issue with loud maintenance work going for our entire stay but it was resolved to our satisfaction. As with other comment most spaces very small and expensive for a nicer space. But great area and not sure if any comparable campgrounds nearby. I will be back they are doing lots of up grades which is great.
May 21, 2021
Great Time at your campsite. We loved our premium site with almost new BBQ, dinning chairs and table and chairs facing the ocean. The fire pit came with wood. The Cascade restaurant was 1st class. Try the salmon.
May 21, 2021
The location and amenities are awesome. My only complaint/suggestion would be that the spots for trailers in the back streets had a bit more room. Our neighbors couldn't open their awning the spots were so tight.
May 21, 2021
Staff was excellent, grounds and facilities were beautiful!
May 20, 2021
What a pleasure. There were a lot of children on the weekend. Sunday night all was calm and peaceful. The grounds are so well kept. The best time to come is during the week. We will be back....
May 20, 2021
Great place.
May 19, 2021
good camp grounds
May 17, 2021
Great upgrades to the sites since the last time we were there. Staff is always super friendly. Too bad they can't control the weather and make people obey the rules without having to be told.
May 17, 2021
Very clean, staff is always visible, and lots of fun stuff to do! Will be back many, many times!
May 17, 2021
Great location! Friendly people, easy check in. Spaces are awesome. We had a blast and will be back!
May 17, 2021
Beautiful location, pleasant staff, good food and drinks. Will visit again.
May 17, 2021
what a great stay. it was packed which was a bit uncomfortable and it was loud but every one (almost) abided by the quiet time. the band BLUE was fantastic and full circle falconry was amazing. the walk to the water etc. what a great spot! and great food.
May 17, 2021
The entire area was clean and had all the amenities we needed.
May 15, 2021
I loved the pavers in seascape village. It really brought an already top notch stay to another level.
May 14, 2021
Enjoyed our stay very much . Very clean. Thank you for having us.
May 14, 2021
Loved: surroundings, hikes, environmental focus, garden, live music, falconry, family friendly, local organic food/drink, cute store, locals deals. Suggestions: Replace plastic takeout containers, etc. w compostable! Separate/preferred oceanside/lower priced area for smaller campers to encourage smaller/environmentally conscious footprint. (Too many huge obtrusive RVs). Lower fees.
Jun 13, 2021
Very nice experience! We were not disappointed except that the spa services were closed due to Covid 19. The camp facilities are superb!
- Fred Scatena on Google
Jun 06, 2021
We have been camping here for over four years. The grounds are gorgeous and clean. The staff and amenities are outstanding.
- Shannon Vargas on Google
May 28, 2021
Maravilloso lugar
- Elfego González González on Google