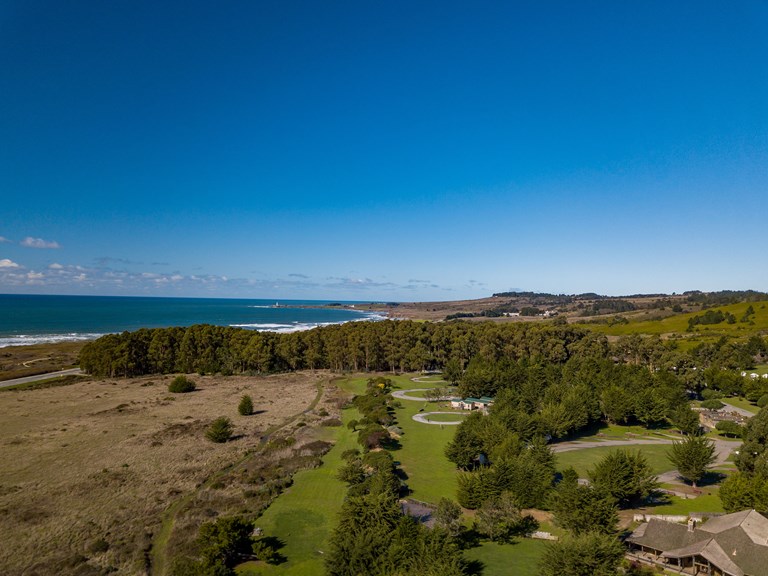 Santa Cruz North / Costanoa KOA Reviews
Directions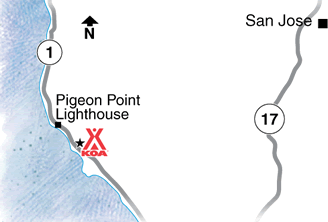 Driving South From:

San Francisco: 1 hour south on HWY 1

Half Moon Bay: 25 miles south on HWY

Entrance is on the left, 3 miles south of Pigeon Point Lighthouse. Look for Rossi Rd and signs for Costanoa and KOA.
Driving North From:

Santa Cruz: 25 miles north on HWY 1

Entrance is on the right just north of Ano Nuevo State Park signs.  Look for Rossi Rd and signs for Costanoa and KOA.
Get Google Directions
Jul 27, 2020
Our camping spot felt like a parking lot. The sites were way too close together, not enough room to set up comfortably. We were smooshed in between 2 large trailer/ rvs so we had no view.It felt like we were in the city, not camping. Looks like the circular loop is the place to be as those spots have more space, privacy and possibly a little view of the ocean. Very disappointed for the cost.
Jul 27, 2020
Loved everything but felt that the space was a little right and no wifi was a big deal when trying to use good Ke maps and such. Other than that it was great
Jul 27, 2020
Great Staff! Beautiful vacation!!
Jul 27, 2020
Costanoa KOA is awesome!! The staff is very helpful and the campground is very, very well maintained. Bathrooms and showers are great. Everything is always very clean!! Thank you Santa Cruz North/Costanoa KOA for helping us to make special memories with our family!!
Jul 27, 2020
Definitely coming back. Staff went above and beyond to make our stay that much more pleasant
Jul 27, 2020
With the Covid-19 pandemic not enough people wearing masks as mandated by the state and campground.
Jul 26, 2020
All good! Second stay here and will definitely come back. Only bad: our spot was a high traffic use for people to and from the general store. Please please please, put up a barrier or signs telling people to stay out of our campsite and go around! Site S14 and S15.
Jul 25, 2020
We love Costanoa Koa! Going back soon !
Jul 25, 2020
Loved the prep so we could just grab our tag and find our spot. Campground was clean, landscape was trimmed, altogether a lovely, peaceful place!
Jul 25, 2020
Very accomodating and helpful staff. Excellent RV sites. Lots to do. Very enjoyable.
Jul 25, 2020
The new management is doing a great job. The upgrades for the Sea Scape loop are. Amazing and we can't wait for the landscaping to be completed.
Jul 24, 2020
Great location with nearby beach access. Love what was done to the sites in our loop, with new stone patios, table and chairs, and gas grills. Only negative is very poor Wi-Fi.
Jul 24, 2020
We loved it and will be back..
Jul 24, 2020
Carla and Trina at the front desk were so kind, and Brian stopped by to say hi. KOA folks are the best!
Jul 23, 2020
Kudos to Scott and the Costanoa Team - so very kind and helpful. Our trailer had a mechanical issue but the earliest we could get it towed was the day after our departure date. Due to prior commitments we had to leave, leaving the trailer behind. Scott and team understood our situation, worked with us and kept an eye on the trailer after we left. Fantastic people - Thank you!
Jul 23, 2020
Clean, organized, updated, very noce
Jul 22, 2020
We had a wonderful time! Costanoa KOA is a beautiful spot on the CA coast. It's pricey but having full hookups during COVID19 made it easy for us to get away from home (Santa Cruz) and stay self contained. There are several trails to walk or ride bikes. What a great place to go for a change of scenery and a quick get-away!
Jul 22, 2020
Very clean, customer service is phenomenal !!! Great time, definitely coming back
Jul 22, 2020
I don't usually camp in a camp ground as I find them noisy and crowded. This one was no different on those 2 points. However, the staff at this site was pleasant and helpful, the grounds were well kept, the pull through RV spaces were very convenient and I was impressed with the amenities. I would definitely recommend this place to anyone looking for this type of experience
Jul 21, 2020
We are a group of anywhere from 5-8 families and this was our 5th year staying here. It works out great because we have some people that are campers with trailers, and some that prefer the lodge or a cabin. I love the restaurants on site. The food is delicious and it's so nice to take a night off from cooking and not have to leave the resort. We already booked our stay for next year!
Jul 21, 2020
Our family had a great stay! We camped in the eucalyptus village section. The sites are nice with grass, flowers, and cement pads, the booze cart is a huge plus, and the grounds are beautiful and well tended. We got take out from the Cascade restaurant one evening and everyone enjoyed their meals. I have already recommended the campground to others! We will be back!
Jul 20, 2020
Nice grounds, tasty restaurants, great camp shop and easy access to beach (minus crossing busy road to get there). Bathrooms were nice and clean too. Definitely pack warm clothes in July- it was chilly here!
Jul 20, 2020
Patio, fire pit, and BBQ upgrades in Seascape section, along with general landscaping are very nice! As soon as they water the grass so that it is grass . . . the park will be exceptional.
Jul 20, 2020
Very relaxing, all sites sold out still a great place to get away and enjoy the ocean
Jul 20, 2020
We had a wonderful stay! Everyone there was helpful and the grounds were very clean, quiet and safe. Thanks! We'll be back!
Jul 20, 2020
Very friendly staff and beautiful grounds
Jul 18, 2020
Enjoyable! Nice and close to State beaches with easy access !
Jul 18, 2020
Staff was amazing, scott at check in was so thoural Can't wait to come back in August
Jul 18, 2020
We loved it!!
Jul 18, 2020
Great location, COVID-19 procedures protect everyone and yet we didn't feel like we were limited. Good job!
Jul 18, 2020
Beautiful grounds. Check in Host Brian was very nice, personable and accommodating!
Jul 18, 2020
Absolutely fabulous! Sites come with a full size Weber propane barbecue, brick fire pit, table and chairs. The site backed up on a wonderful lawn and the site great shade trees. Sites had room between them and management made sure rules were followed which I so appreciate - especially keeping music and tv volumes low and off during quiet time. Great little store and restaurant nearby.
Jul 18, 2020
Our stay was wonderful. Staff was courteous and the park was clean. Definitely will be back.
Aug 10, 2020
(Translated by Google) A good place to cool off (Original) Tempat yang baik untuk menenangkan diri
- Semuel Lentho on Google
Jul 30, 2020
We love it here. The grounds are beautifully maintained. Great restaurants and accommodations to suit most people's needs
- Kathie Fitch on Google
Jul 28, 2020
This might seem on the pricey side for a KOA, but there is definitely a spa resort feel to it. The restaurant uses produce from the garden and there are lots of organic treats in the general store. It is across the street from the gorgeous seascape of the Año Nuevo State Park.
- Sarah Lacasse on Google

Santa Cruz North / Costanoa KOA
Open All Year
2001 Rossi Road at Hwy 1
Pescadero, CA 94060
Check-In/Check-Out Times
RV Sites, Tent Sites
Check-in: 2:00 pm, Check-out: 12:00 pm
Santa Cruz North / Costanoa KOA
Get Google Directions

© 2020 Kampgrounds of America, Inc.