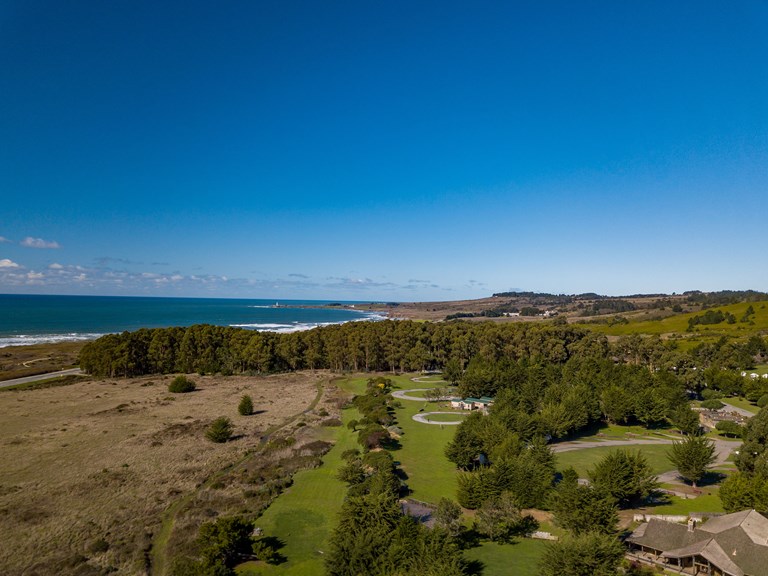 Santa Cruz North / Costanoa KOA Reviews
Directions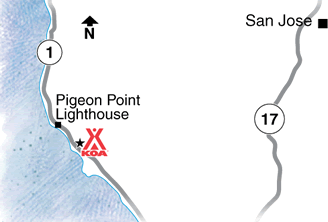 Driving South From:

San Francisco: 1 hour south on HWY 1

Half Moon Bay: 25 miles south on HWY

Entrance is on the left, 3 miles south of Pigeon Point Lighthouse. Look for Rossi Rd and signs for Costanoa and KOA.
Driving North From:

Santa Cruz: 25 miles north on HWY 1

Entrance is on the right just north of Ano Nuevo State Park signs.  Look for Rossi Rd and signs for Costanoa and KOA.
Get Google Directions
Aug 05, 2020
Lovely! The Seaside spots are pricey, but worth it if you want to splurge for a night or two of glamour-camping!
Aug 04, 2020
I understand the covid thing has you doing business differently, however if fewer amenities are open we shouldn't be paying full price. Also the spot we had was so close to our neighbor our awning almost touched their trailer, it was very uncomfortable being that close to people. Several campers walked through our fire pit area to get to another campsite. Didn't feel like we were able to socia
Aug 04, 2020
Clean beautiful and staff was amazing
Aug 03, 2020
Absolutely loved the new set-up with chairs & a bbq at every site. Such a nice touch. Had pizza at the pine tent restaurant one night, food was fantastic. We've stayed at Costanoa many times & this trip especially was absolutely wonderful. Thank you for working so hard to keep it so beautiful. Staff was exceptional!
Aug 03, 2020
It's always a wonderful experience, and the staff is always helpful and friendly.
Aug 03, 2020
This was my 4th stay here. KOA never disappoints! Kida & grandkids loved it too!
Aug 03, 2020
Another great time at Costanoa! Friendly staff and beautiful grounds.
Aug 03, 2020
Beautiful location. Helpful staff. Delightful.
Aug 03, 2020
It was our first time to this KOA and it was wonderful! The grounds are so pretty and the kids had so much fun. For the price, I wish the sites were a little bit bigger, but there are a lot of common grassy areas you can set up your games and hang out.
Aug 03, 2020
We only stayed one night but it was nice. Grounds are very clean and check in staff was super nice. Will definitely be back!
Aug 02, 2020
I would never want to stay on our site again. The site is too narrow! We felt right on top of the campers on either side, they were all nice people. I would come back if we get a reservation on a premium site. This campground does have nice amenities.
Aug 02, 2020
Beautiful campground, well maintained with friendly staff. We stayed on the Eucalyptus loop and had our own patio deck with a partial ocean view! There are walking trails, a footpath to the beach, a charming general store and several restaurants. The surrounding coastline is breathtaking and we spent one day watching humpback whales off a local beach. Lovely!
Aug 02, 2020
Upon arrival at 1:15 PM, a male attendant was adamant about charging us an extra $10 for early entry. This was never an issue in our prior stays. So, we waited 45 minutes and watched as other RVers showed up early and checked in. Once settled at our site, our peace and quiet was disturbed by weed-whacking followed by lawn mowing next to our site. At $100 a night, I expect not to have any issues.
Aug 01, 2020
Very clean campground. Staff was outstanding!!
Aug 01, 2020
Costanoa is our favorite campground; and we have stayed at campgrounds across the country on 2 cross country trips! The people are friendly and the grounds are beautiful with the Pacific Ocean as a backdrop. The restaurants and general store are top notch. Our campsite was spotless and included a new picnic table, chairs, fire pit, and new weber grill! 5 stars and we will be back!
Aug 01, 2020
We stayed just one night in a pull thru. Wished that we would have had time to explore more of the park. But will be back! What we did get to experience was great, drink cart, outside dining, all nice to have if staying for an extended time
Jul 31, 2020
Very enjoyable. Beautiful surroundings, nice layout. Only thing that they need is a bridge over highway 1 to get to the beach.
Jul 30, 2020
The WiFi and Cell Service were absolutely horrible. No good for those of us trying to work on the road. The grounds were great! We will definitely come back
Jul 30, 2020
Love the resort feel!
Jul 30, 2020
We love Costanoa and look forward to returning soon.
Jul 30, 2020
The next door sewer is 3' from out entrance door. Sights to tight.
Jul 29, 2020
Love the area - beautiful surroundings. Two negatives to share, hoping this helps you improve for the future. I understand the need for speed bumps but there are too many and they are too sharp. Shook everything in my RV even at 1 MPH. Next, I bought wood at the general store that was SO GREEN it would not burn. I added coals and used 10 rounds of lighter fluid. Made me so mad
Jul 29, 2020
We loved that we could walk to the beach!
Jul 29, 2020
Wonderful resort. Staff was extremely friendly, grounds were immaculate, amenities were top notch, overall great place.
Jul 29, 2020
Very clean facility, kind staff, beautiful views, pleasant walk to beach, landscaping was amazing. We really enjoyed our stay and look forward to returning again some day!!!
Jul 28, 2020
The weather was lovely and the grounds of the KOA were beautiful. There have been a number of improvements from my last visit, a nice dog run, new patios in one area! We sampled the tent food this time, very good! Sad more people wernt wearing masks, especially those in large groups,20+. We enjoyed our stay and will come back.
Jul 28, 2020
I booked late so I didn't get my preferred site. I was upset to that some RVers were blatantly disregarding the rules - blaring music, dogs off leash, large groups, not wearing masks while in public places (bathrooms specifically) and electric bikes with loud radios. Makes relaxing near the beach difficult. The staff was amazing as always and the campground is super clean.
Jul 28, 2020
Nice and friendly staff! �
Jul 27, 2020
Our camping spot felt like a parking lot. The sites were way too close together, not enough room to set up comfortably. We were smooshed in between 2 large trailer/ rvs so we had no view.It felt like we were in the city, not camping. Looks like the circular loop is the place to be as those spots have more space, privacy and possibly a little view of the ocean. Very disappointed for the cost.
Jul 27, 2020
Loved everything but felt that the space was a little right and no wifi was a big deal when trying to use good Ke maps and such. Other than that it was great
Jul 27, 2020
Great Staff! Beautiful vacation!!
Jul 27, 2020
Costanoa KOA is awesome!! The staff is very helpful and the campground is very, very well maintained. Bathrooms and showers are great. Everything is always very clean!! Thank you Santa Cruz North/Costanoa KOA for helping us to make special memories with our family!!
Jul 27, 2020
Definitely coming back. Staff went above and beyond to make our stay that much more pleasant
Jul 27, 2020
With the Covid-19 pandemic not enough people wearing masks as mandated by the state and campground.
Jul 26, 2020
All good! Second stay here and will definitely come back. Only bad: our spot was a high traffic use for people to and from the general store. Please please please, put up a barrier or signs telling people to stay out of our campsite and go around! Site S14 and S15.
Jul 25, 2020
We love Costanoa Koa! Going back soon !
Jul 25, 2020
Loved the prep so we could just grab our tag and find our spot. Campground was clean, landscape was trimmed, altogether a lovely, peaceful place!
Jul 31, 2020
We love it here. The grounds are beautifully maintained. Great restaurants and accommodations to suit most people's needs
- Kathie Fitch on Google
Jul 28, 2020
This might seem on the pricey side for a KOA, but there is definitely a spa resort feel to it. The restaurant uses produce from the garden and there are lots of organic treats in the general store. It is across the street from the gorgeous seascape of the Año Nuevo State Park.
- Sarah Lacasse on Google
Jul 21, 2020
Our final destination on our 26 day COVID - RV Road trip was at Costonoa. Perfect end to a great trip! As soon as we pulled in we knew we would like it. If you are into glamping this is the place for you. There are many different options for accommodations but my review is for the RV section. During our 3 night stay we enjoyed the beach. It's not too far of a walk from the campground. It is not a swimming beach. It is not a dog friendly beach however it is so quiet everyone brings their dogs down. We also hiked and biked. Word to the wise - when they say there are ticks they mean it. Our dog who was on leash for our hike was covered in ticks after our hike. We even found some on us. So beware! I would have loved to have dined indoors at the sit down restaurant but it was closed for dine in service due to COVID. We did get food from Pine Tent on more than one occasion. Food was tasty and hit the spot when we were burnt out from cooking. Costonoa is not cheap but the amenities and location make it all worth it. Of course we happened to have amazing weather which I'm sure added to the experience.
- rwheeler1977 on Trip Advisor

Santa Cruz North / Costanoa KOA
Open All Year
2001 Rossi Road at Hwy 1
Pescadero, CA 94060
Check-In/Check-Out Times
RV Sites, Tent Sites
Check-in: 2:00 pm, Check-out: 12:00 pm
Santa Cruz North / Costanoa KOA
Get Google Directions

© 2020 Kampgrounds of America, Inc.