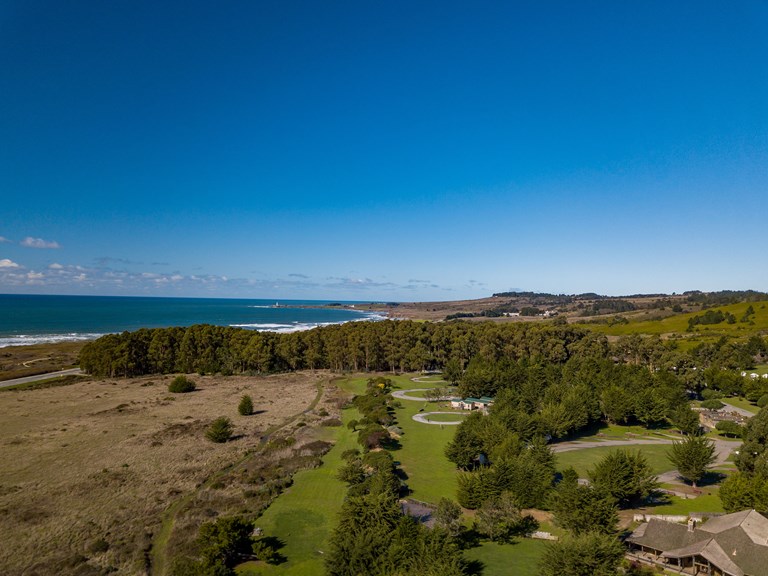 Santa Cruz North / Costanoa KOA Reviews
Directions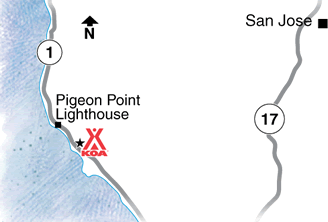 Driving South From:

San Francisco: 1 hour south on HWY 1

Half Moon Bay: 25 miles south on HWY

Entrance is on the left, 3 miles south of Pigeon Point Lighthouse. Look for Rossi Rd and signs for Costanoa and KOA.
Driving North From:

Santa Cruz: 25 miles north on HWY 1

Entrance is on the right just north of Ano Nuevo State Park signs.  Look for Rossi Rd and signs for Costanoa and KOA.
Get Google Directions
Jun 05, 2020
Our first stay at Costanoa KOA was great. The grounds are beautiful and well maintained. The staff and guests were all friendly. I gave it 4 stars (rather than 5) only because the internet and cable TV was sketchy. We stayed during "social distancing" and there were no activities. As an added note, I had no cell service with my AT&T carrier, while my granddaughters had service with Verizon.
Jun 05, 2020
Awesome campground. Nice amenities. A short walk across Highway 1 to Ano Nuevo Beach. Note no dogs allowed on this beach, you have to travel a bit to take your dog to beach.
Jun 05, 2020
Great place to stay clean baths and laundry. Only complaint the pull-thru's are way too narrow. Definitely will back in next time.
Jun 05, 2020
Well organized and friendly staff.
Jun 04, 2020
Covid precautions need a little improvement. Twice I used a pens at the store and at check-in that were not disinfected between use.
Jun 04, 2020
My only complaint would be between 8am and 9am the campsites next to us were having construction done to them. This means tractor, saws,shoveling gravel,pounding of new bricks being layed back and forth of small tractor to bring in gravel. The guys were real nice but the noise was not what we expected from 8am until 4pm 2 days in a row.I wanted to hear birds singing trees swaying and the ocean
Jun 04, 2020
I thought the park was in a great location - close to beaches and close enough to town/shopping....but not too close! The spot we were in was a bit tight and neighbors were awfully close - but - there are many locations within the park that were great so now we know the spot #'s and will plan accordingly. But we had a great time.
Jun 04, 2020
Beautiful park, terrible WiFi, small sites but now that you can choose a site that will be the way to go. Hopefully we can choose a better site and come back.
Jun 04, 2020
Enjoyed my stay. Mostly positive. I did notice that some landscape maintenance is lacking. Minor things like tall weeds in planters in the bathroom comfort area. Some of the RV sites could use some weed-eater trimming to remove tall weeds. Campsite fire pit was wobbly. These are minor...just a few things I noticed. Overall, great place and friendly staff. I will be coming back.
Jun 04, 2020
Loved it. Beautiful campground. Excellent facilities. Nice walk to the ocean.
Jun 03, 2020
Hosts are diligent on safety and Covid compliance. Unfortunately, the general population is not as diligent. Sites are spaced apart properly and we felt safe and had a great stay. It is a beautiful venue and we will stay here again soon.
Jun 03, 2020
No wi-fi. Had to walk around to try to get one bar & when I did, didn't work. Trash cans were full not emptied throughout day. Because there was hardly any traffic (due to most working from home I guess) we arrived early. Although our site was clean & already empty & ready, we were charged $20 extra if we wanted to go to our site or we could have stayed in parking lot for 2 hrs then go to our si
Jun 03, 2020
We always enjoy our stay. Clean, beautiful grounds. Amazing amenities. Friendly, helpful staff. Looking forward to coming back in October.
Jun 02, 2020
Easy check in and good service at the store and restaurants. Some visitors did not observe quiet hours on May 30, but otherwise our stay was pleasant. Hope to return again this summer.
Jun 02, 2020
We absolutely love camping here! Beautiful grounds. Staff is fantastic.
Jun 02, 2020
Friendly, clean and beautiful. Would like staff to enforce mask policy.
Jun 02, 2020
Even with the semi lockdown going on we still enjoyed our time away with the Family. Very nice resort and we plan to come back. Very friendly staff. Thanks
Jun 01, 2020
I have been here many times and the area is really nice. This time, they weren't as friendly. I arrived at 11:50 and they seemed very annoyed and charged me an early check in fee. I arrive at that time every visit and it has never been a problem. Additionally, there are so many rules it's kind of annoying. You basically pay Hotel room prices to sit silently in your spot.
Jun 01, 2020
Beautiful location and grounds, excellent staff!
Jun 01, 2020
We enjoyed ourselves. We love this campground and come often.
May 31, 2020
My wife, Penelope, and I camped at Costanoa in our Airstream Interstate about 8 times before she died of sudden cancer last August. I have so many wonderful memories of our camping trips together, including two trips we took to the campground during her too-brief cancer battle. I have since been back to Costanoa twice on my own, and though the memories are painful, they get me close to her.
May 31, 2020
The location is gorgeous! Camp grounds very well maintained.
May 30, 2020
We love Costa Noa and have been going there for many years. It's very low-key and relaxing. We stay in the site with the best view of the ocean, and it's gorgeous. The setting is beautiful, and there are a couple of good short hiking trails right from the campground.
May 30, 2020
We had a great time!
May 29, 2020
Beautiful Park, great weather. Clean facilities
May 29, 2020
The Whales section is to narrow and dirty. Won't ever stay in that section again.
May 29, 2020
The customer service has SIGNIFICANTLY improved. Checking in the staff is so much nicer than a couple years ago. The grounds are always well kept and it's just a beautiful place to stay. I'm so glad they've been able to stay open during the pandemic. I'm a healthcare worker and need to have my getaways for my own well being and to take care of myself. Love this place
May 29, 2020
Very nicely run campground. I could have done without the church music blaring from the pizza place. Why aren't they held to the same standard of music only so loud as to be heard by people in the vacinity?
May 29, 2020
We loved it! Due to the county shelter in place we couldn't enjoy all the amenities but we will be back. Beautiful grounds and friendly staff!
May 29, 2020
Way over priced. 131.50 seems like a Covid 19 price gouge.
May 28, 2020
Our stay during SIP was great!
May 27, 2020
We love staying at Costanoa. My only complaint was that we had a family that was traveling together on either side of us so they walked through our campsite non-stop. Would have made more sense to have them next to each other than have us stuck in the middle.
May 27, 2020
Love it there
May 26, 2020
WiFi was very slow
May 26, 2020
We were moved from our previously reserved site, reservations were made over a year ago. New management was nice, but our site had been given to others with a variety of stories as too why. We were put in the midst of large group, our picnic table and fire pit was a major pass thru, both sides of us had very loud music until late into the night. Security never came by to shut it down.
May 26, 2020
loved it! very clean and beautiful grounds
May 26, 2020
We have always loved Costanoa and the campground is very nice but too expensive for me to recommend to others. Raising the price by $50/night was a bit much.
May 26, 2020
Despite the RV sites being very tightly stitched together, we loved the overall experience. The grounds are beautiful and there's clearly a lot of attention given to maintaining the amenities. Plus, you can't beat the views. We'll definitely return to this coastal retreat.
May 25, 2020
This would have been 5 stars, but the space we reserved was under construction and not available. We were given another spot in a different area that was very tight.
Aug 12, 2020
Best KOA I've been to. It's near a lighthouse and not far from the Santa Cruz boardwalk. They have a garden and great views of the ocean. Bring a camera.
- James Nixon on Google
Aug 10, 2020
(Translated by Google) Good place to cool off (Original) Tempat yang baik untuk menenangkan diri
- Semuel Lentho on Google
Jul 30, 2020
We love it here. The grounds are beautifully maintained. Great restaurants and accommodations to suit most people's needs
- Kathie Fitch on Google

Santa Cruz North / Costanoa KOA
Open All Year
2001 Rossi Road at Hwy 1
Pescadero, CA 94060
Check-In/Check-Out Times
RV Sites, Tent Sites
Check-in: 2:00 pm, Check-out: 12:00 pm
Santa Cruz North / Costanoa KOA
Get Google Directions

© 2020 Kampgrounds of America, Inc.