Directions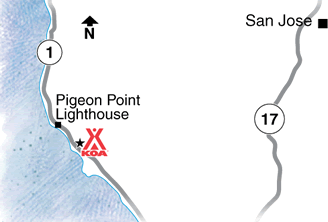 Driving South From:

San Francisco: 1 hour south on HWY 1

Half Moon Bay: 25 miles south on HWY

Entrance is on the left, 3 miles south of Pigeon Point Lighthouse. Look for Rossi Rd and signs for Costanoa and KOA.
Driving North From:

Santa Cruz: 25 miles north on HWY 1

Entrance is on the right just north of Ano Nuevo State Park signs.  Look for Rossi Rd and signs for Costanoa and KOA.
Get Google Directions
Oct 01, 2020
The staff was incredibly friendly and the grounds are beautiful. We had a wonderful stay and are so glad Costanoa was able to reopen after the fires and during this pandemic for a socially-distant friendly trip.
Oct 01, 2020
It was great even though most things were closed. We were a little disappointment by the price with so much closed and the no potable water. There should have been a discount given for that. Other than that, it was great and we will be back!
Oct 01, 2020
Immaculate grounds, within a mile from the waves with a couple nice walking trails. Good neighbors. Well maintained. Manicured lawns and flowers. Campsites arranged in "neighborhood" style circles, with large green grass play area in the middle of the circle. Nice managers, explained all well to us. Restaurant on grounds, but we didn't try.
Sep 30, 2020
The clerk was so mean to me about the masks. They treated me like an animal or something. Never coming back.
Sep 29, 2020
Vary clean and nice. Loved the live music
Sep 28, 2020
From booking and checking in to the beach within walking distance and BMX bike track for our kids, this place is #1 in our book for RV camping. We already booked our next trip!
Sep 28, 2020
The camp host Brian who checked us in was really great; helpful and friendly and made us feel welcome. The camping spot we had was spacious and had a nice picnic table, and was also close to the comfort stations which was nice.
Sep 28, 2020
Lovely, quiet, good food and well kept
Sep 28, 2020
Clean! Relaxing!!
Sep 28, 2020
Super easy to get setup and very clean. Loved it. Great beach right down the street.
Sep 27, 2020
We have gone here many times. But this mist recent stay was not the best. The situation of the campground is great. But in trying to spread out the campsites they've made it much worse. We ended up in a middle grass area with three other campsites which each had two tents and tons of kids! It was a zoo and super crowded. I'm sure the weekdays are fine but this weekend was a zoo.
Sep 26, 2020
This is our 3rd outing and it was the best place we've stayed! We loved it and will return!
Sep 26, 2020
The campground and facilities were very clean and well cared for. The staff were friendly and helpful
Sep 26, 2020
You need to put soap in the bathrooms. We stay 3 nights and all this day was empty.
Sep 25, 2020
We enjoyed all the new upgrades you have made to Seascape Village. Love the BBQ and the Adirondack chairs �
Sep 25, 2020
We were last here in Jan 2020. We love what they have done with the paver patios, bbq, chairs and table!!
Sep 25, 2020
We really enjoyed our stay at this lovely park that is well maintained, in a great location, and has many amenities. While the campground is dog friendly, only complaint is limited access in the park/surrounding areas for you to take your dog along for a walk. At times we felt we were being harassed when constantly reminded of restricted area - parking lots next to general store. Lighten up..
Sep 25, 2020
This is a beautiful campsite. Well maintained, beautiful grounds.
Sep 25, 2020
Really would like to have WiFi and phone service available at our camp site. We have 3 businesses and it really would have helped to have these services.
Sep 25, 2020
Clean, friendly, easy access. First time visiting and will be back. Camp Hosts very helpful. Wifi was tough but understandable. We had spot E 32, super spot! Only down side was the cable tv signal was frustrating. i purchased a new cable and it didn't help. Otherwise, cant wait to come back with friends after COVID>
Sep 25, 2020
We liked the section we were in. Quiet and recently landscaped. The grounds were well maintained. We could not find the dog poop bags we were told were available. One of our dogs got out of the trailer door as we were entering and we had to chase her down. An employee on a golf cart repeatedly grumbled "your dog has to be on a leash" even after we explained what happened, kind of rude.
Sep 25, 2020
Relaxing. Good hiking and beach walking. Good food.
Sep 24, 2020
Got a great site and the people are great
Sep 23, 2020
Very high feel and welcoming staff. View is unmatched and location to beaches is perfect.
Sep 23, 2020
Very nice facility. The only issue was the slab was not level requiring the front of my class A to be lifetsd 6 inches off the ground by the leveling system.
Sep 22, 2020
We love Costanoa and have been vacationing there for years. We are concerned about Covid and were very happy to see Costanoa treat it as seriously as we do. Always a great stay and what we consider "our little beach house"
Sep 21, 2020
Very clean campground, staff is always friendly! It's just a beautiful place all around!
Sep 21, 2020
My stay there was great just wished we could have stayed longer.
Sep 21, 2020
Clean grounds Beautiful surroundings.
Sep 21, 2020
Very nice place. We stay here often.
Sep 21, 2020
The park is very clean, friendly staff, and excellent camp sites. The site provided clean BBQ, table and Chairs.
Sep 20, 2020
The park is kept very clean and the staff are friendly. However there are lots of kids not wearing mask running through other peoples campsites.
Sep 20, 2020
We were extremely pleased with our recent stay. This was our first visit to Costanoa, definitely won't be our last. Check in was easy, the facility was immaculate and the staff friendly. My only complaint, and this is not KOA's fault, are the lazy people that walk through your site to get to where they want to go.
Sep 20, 2020
We went when there were few kids and the park was great. Would probably never go when school is out. Park is clean, nicely laid out.
Sep 19, 2020
It's a really nice park in a gorgeous setting. The staff were friendly, helpful and plentiful. The restrooms are very nice and kept clean. The restaurant was delicious and the general store very convenient. The proximity to beaches, Pigeon Point Lighthouse, Ano Nuevo and more is fantastic. Our only gripe is that the sites (we were in Whale North - pull through sites) are extremely narrow.
Sep 19, 2020
Property has trails with access to open beach area. On site facilities were in the process of reopening due to fires. RV spots were narrow but clean. Would likely come back and look for a different site - with grass and more space between sites.
Sep 19, 2020
There was no drinking water And thereforE not complete hookups thus the exorbitant rates should have been reduced!!
Sep 19, 2020
We like coming to Costanoa. The resort is beautiful & relaxing, but we are very disappointed in the staff. The security are very rude and unprofessional. We follow the rules of the resort but notice they only apply and hassle certain guests of their choosing. The staff should be retrained for people skills, professionalism and kindness. Ask to speak to Trina, manager but she never came to see us.
Sep 19, 2020
Great stay. Beautiful! My only complaint is my 55 year old husband as an electric bike. Pedal assist. He has bad knees. We did not see anywhere that these bikes are not allowed. My husband was actually pedaling and a security guard came after him and was so rude to him. There are ways to explain things. He's way was wrong. Bikes like this are the future. My husband was respectful. He was not!
Sep 19, 2020
No wi-fi and drinking water while we were there. No one picks up the phone at the front desk ever.
Sep 19, 2020
We loved the large back in campsite! It is a beautiful location with lots of beautiful places to hike. I just wish Covid was not happening so more activities on the site would have been available.
Sep 18, 2020
This a great campground! Brian was so very happy and helpful. We came in the dark and smokey, he helped us to find our spot & followed through with everything throughout our stay. Very clean & well kept. Everything was so convenient for us & our dogs!! Thank you!
Jan 18, 2021
Beautiful and clean place to camp
- Chandler Bender on Google
Dec 23, 2020
Great spot, bit pricey. Lots of nature. Beach access possible, it means crossing the highway.
- Jan Hertsens on Google
Dec 22, 2020
This place is amazing. Very cozy environment, friendly & helpful staff, great amenities. ++ restaurant is great, ingredients are fresh, make sure you eat there at least once before you go ++ hikes to the beach is wonderful, well maintained and not crowded ( visited in a warm December during covid so not sure typically if it's so spacious) +has a nice small dog park for our pup to run + well maintained flower beds, makes the ambiance relaxing and cozy
- Jason Wang on Google