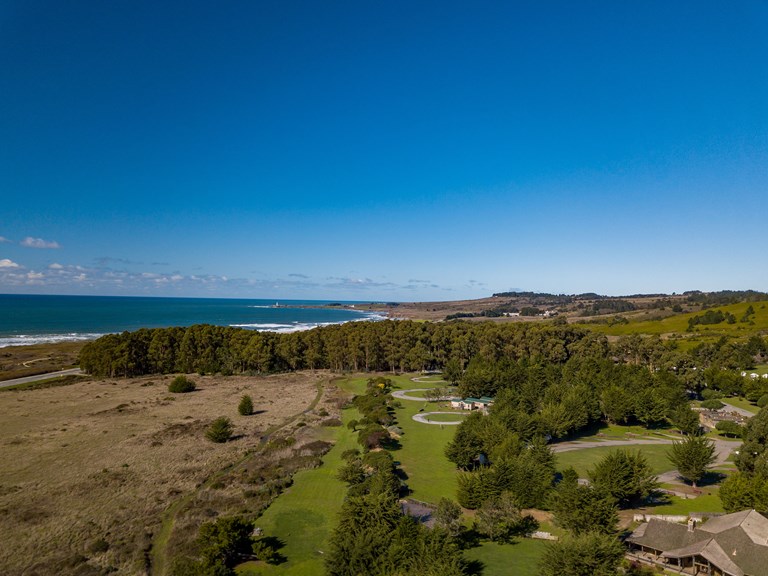 Santa Cruz North / Costanoa KOA Reviews
Directions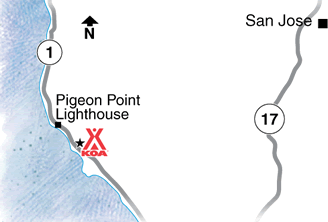 Driving South From:

San Francisco: 1 hour south on HWY 1

Half Moon Bay: 25 miles south on HWY

Entrance is on the left, 3 miles south of Pigeon Point Lighthouse. Look for Rossi Rd and signs for Costanoa and KOA.
Driving North From:

Santa Cruz: 25 miles north on HWY 1

Entrance is on the right just north of Ano Nuevo State Park signs.  Look for Rossi Rd and signs for Costanoa and KOA.
Get Google Directions
Aug 05, 2019
The pull throughs there are to small
Aug 04, 2019
Peaceful and cool temperatures. great place for our dogs wonderful view of the beach (sp E32) I would recommend this KOA to everyone.
Aug 03, 2019
Not a fan. Was like camping in a day care. Tent area is just a very small field next to parking. Sites are not even clearly marked. When we came back after dinner someone had set their tent right next to ours. Screaming kids and slamming car doors had us up by 6am. One of the worst tent camping experiences we've had. No fires in this area either though other areas that paid more did get fire pits.
Aug 03, 2019
Paid premium for dirt and sticks. Could have had grass in other areas.
Aug 02, 2019
The grounds are amazing. We would not ever stay again unless friends with kids wanted to come along. The beach is not dog friendly. The rule against flying flags is a little crazy. We were told it was a Coastal Commission Rule. We camp at the ocean every 4-6 weeks and have never been asked to not fly a flag over your rig. The Pine tent is nice.
Aug 01, 2019
Beautiful location, clean bathrooms, a variety of activities for all ages. I loved the fire placed around the bathrooms/common area along with the option of a fire at your camp spot. We also really enjoyed the sauna after a day out in the cold water.
Aug 01, 2019
We love the Costanoa Campground. Beautiful place to stay. Friendly staff. Well maintained campground. Thanks! Can't wait to visit again!
Aug 01, 2019
This was our worst stay at Costanoa, we got moved from the best site to the worst!! Thanks to Trevor and team!! We paid for 5 nights and someone enjoyed 3 night's in our site; which we booked more than a year ago!! This is the 2nd time Trevor and company did this!! My baddest B Day ever in Costanoa
CAMPGROUND RESPONSE / COMMENTS:
Thank you for your stay, however sites are not a guarantee. We are sorry you did not enjoy your premium site. We are very pleased you have reserved two more stays with us and hope you find it to be enjoyable. See you soon.
Jul 31, 2019
Enjoyed our stay but, wish sites were not so close together...at times, was not sure where boundaries were. Also, need better wifi, bad reception at best. Nice property and lots for families to do.
Jul 31, 2019
Wonderful location with complete amenities and friendly staff, but...management did not enforce the rules and therefore our stay was unpleasant at times. Quiet time was not enforced. Also, the site we had, S25, was in disrepair and needed care. For $120 a night I expect much more.
Jul 30, 2019
I don't like the fact that you can not display the AMERICAN FLAG in your sight. The exact words from the security were it can not be seen from other sights!
Jul 30, 2019
There was almost no Wi-FI. Had to search the grounds to find one small spot that had it. When you have no cell service that is important. When you charge $120 a night for camping there is NO excuse not to have the wi-fi boosters throughout the campground. Thats is a huge negative for me.
Jul 30, 2019
We love bringing our RV to the Costanoa KOA. It's a very well maintained facility with great landscaping, a well stocked store and a restaurant that's very satisfying all wrapped up with ocean views.
Jul 30, 2019
Kid friendly, clean and hot showers.
Jul 29, 2019
Clean and well managed! Great place!
Jul 29, 2019
Beautiful KOA. Very well maintained and operated. The spots were a little snug for our trailer but I would look at the site map first next time. Loved it!!
Jul 29, 2019
Had a pleasant stay, very clean but the camp sites are very small. I have a thirty foot fifth wheel with slide outs on both sides they first gave me a site I couldn't fit, the staff was very accommodating and gave me a new site. The skunk population needs to be addressed.
Jul 29, 2019
great location and close to the beach
Jul 29, 2019
Very nice and clean. Well managed. Very quiet.
Jul 29, 2019
A little expensive but great layout and activities. Clean and quiet!
Jul 28, 2019
Beautiful campground. If you have a family then make sure to try and get the seascape circle. My kids found what it means to have independence. They could ride there bikes around the circle or simply walk to the middle of the grass and always find a new friend wanting to play.
Jul 28, 2019
Clean facilities. Friendly staff.
Jul 28, 2019
this was recommended to us and it was as it was said to be. we are already planning are next visit!
Jul 27, 2019
Best RV park on the coast.
Jul 26, 2019
Only thing was that the big double sink in the tent section was clogged and dirty. Other than that it was beautiful and a great stay
Jul 26, 2019
We wanted a place to just relax for a week and Costanoa is that perfect KOA campground. Beautiful setting along the Pacific Ocean, old growth trees, quiet, excellent restaurant, unique general store, play area for children away from the RV's but close enough for children to walk, evening entertainment on weekends for adults and children. Santa Cruz is a nice 25 mile drive south. PERFECT VACATION
Jul 26, 2019
Great place! We'll be back for sure!
Jul 25, 2019
This is a beautiful campground and area. They have 2 restaurants and plenty of things for kids to do. However, for the price, the sites were very disappointing. They were so tight we barely had enough room to put our chairs out. And when we did, the entire site was dirt and rocks. $100 a night there is a joke.
Jul 25, 2019
Very clean campground and very friendly staff.
Jul 25, 2019
Costanoa KOA is a great campsite. All camp personnel were helpful and pleasant. The campground itself was very well maintained. We will definitely be visiting again.
Jul 25, 2019
Nice and quiet. I love the landacaping.
Jul 24, 2019
We held our family reunion here again this year and will definitely be back. It's pricey but soooo worth it. I almost want to keep it a secret LOL. Costanoa has something for everyone's lodging needs. And the kids have a blast exploring the property.
Jul 24, 2019
Clean and beautiful, as always. Value isn't as great as in the past as there's an extra cost associated: dogs, extra car, early check in. Getting too expensive for us.
Jul 23, 2019
Amanda, at checkin was great! Last time we arrived 1/2 hrs early and the 1st thing that the older woman said was "we could charge you 25 dollars for being early ". And she never smiled! I am glad that she wasn't there this time. She should be cleaning the toilets .Amanda was the real deal. We loved her.
Jul 23, 2019
My only recommendation is that they have benches placed around playground.
Jul 22, 2019
Awesome, as usual. We've made your KOA our summer favorite for several years. We also visit you for New Year's !
Jul 22, 2019
Beautiful campground and area. Very clean. Lots of amenities. Great service from staff.
Jul 31, 2020
We love it here. The grounds are beautifully maintained. Great restaurants and accommodations to suit most people's needs
- Kathie Fitch on Google
Jul 28, 2020
This might seem on the pricey side for a KOA, but there is definitely a spa resort feel to it. The restaurant uses produce from the garden and there are lots of organic treats in the general store. It is across the street from the gorgeous seascape of the Año Nuevo State Park.
- Sarah Lacasse on Google
Jul 21, 2020
Our final destination on our 26 day COVID - RV Road trip was at Costonoa. Perfect end to a great trip! As soon as we pulled in we knew we would like it. If you are into glamping this is the place for you. There are many different options for accommodations but my review is for the RV section. During our 3 night stay we enjoyed the beach. It's not too far of a walk from the campground. It is not a swimming beach. It is not a dog friendly beach however it is so quiet everyone brings their dogs down. We also hiked and biked. Word to the wise - when they say there are ticks they mean it. Our dog who was on leash for our hike was covered in ticks after our hike. We even found some on us. So beware! I would have loved to have dined indoors at the sit down restaurant but it was closed for dine in service due to COVID. We did get food from Pine Tent on more than one occasion. Food was tasty and hit the spot when we were burnt out from cooking. Costonoa is not cheap but the amenities and location make it all worth it. Of course we happened to have amazing weather which I'm sure added to the experience.
- rwheeler1977 on Trip Advisor

Santa Cruz North / Costanoa KOA
Open All Year
2001 Rossi Road at Hwy 1
Pescadero, CA 94060
Check-In/Check-Out Times
RV Sites, Tent Sites
Check-in: 2:00 pm, Check-out: 12:00 pm
Santa Cruz North / Costanoa KOA
Get Google Directions

© 2020 Kampgrounds of America, Inc.