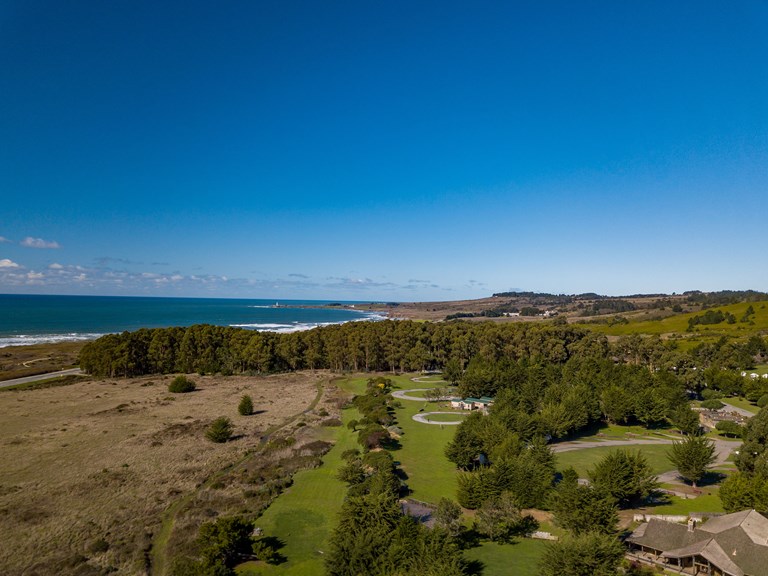 Santa Cruz North / Costanoa KOA Reviews
Directions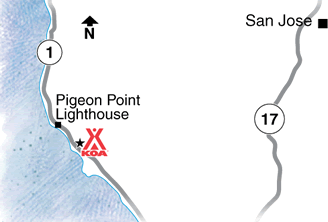 Driving South From:

San Francisco: 1 hour south on HWY 1

Half Moon Bay: 25 miles south on HWY

Entrance is on the left, 3 miles south of Pigeon Point Lighthouse. Look for Rossi Rd and signs for Costanoa and KOA.
Driving North From:

Santa Cruz: 25 miles north on HWY 1

Entrance is on the right just north of Ano Nuevo State Park signs.  Look for Rossi Rd and signs for Costanoa and KOA.
Get Google Directions
Aug 20, 2019
Clean safe place thg o camp with my kid . Liked the secluded beach 6th hats walkable
Aug 19, 2019
Nice campgrounds but you charge WAY too much for camping. With fees it was $137 a night. For that reason alone I can't see myself staying again. There are too many other nice campgrounds that are charging $50 a night.
Aug 19, 2019
Had a great time. Really enjoyed the extra activities the most.
Aug 19, 2019
Love the site and hospitality. Bar tender is excellent and would come back for more manhattans.
Aug 19, 2019
We have stayed here several times and it seems like it just keeps getting better. From the programmed activities, spa and most importantly not one but two restaurants to choose from. The easy, casual feel of the pine tent is great, and the live music is awesome. But, you can't beat a beautiful lunch or dinner at Cascade.
Aug 18, 2019
Awesome camp ground in a great location. We camped out with our tent. The site is lovely and the bathrooms, showers and sauna were amazing and sooooo nice after surfing. I highly recommend!
Aug 17, 2019
There is no place for tent campers to roast marshmallows.
Aug 17, 2019
Great visit, appreciated the restrooms, the sink at the campground, and other amenities. Great walk to the beach.
Aug 16, 2019
This is the second time we have stayed at this park. Both stays were very enjoyable and filled with fun things to do. All facilities were clean and maintained which leads to a very relaxing stay.
Aug 14, 2019
I had a great time. The staff was friendly and helpful. The ocean views were fantastic. I would definitely return to that facility.
Aug 13, 2019
Although it's a bit pricey but overall we had a very enjoyable stay. The cleanliness both at the campsites and comfort stations was great.
Aug 13, 2019
This is such a well run clean place! Kids playing and riding bikes and parents relaxing. Absolutely picture perfect.
Aug 13, 2019
We loved it.
Aug 13, 2019
The E26 site was very clean and everything worked fine. When I notified the staff that the tree branches over the fire pit were too low they trimmed them within 2 hours which was very responsive. The staff was very courteous. Only negatives were poor service in the full service restaurant and horse riding descriptions were very misleading -- only for children 12 and under for 15 minutes..
Aug 13, 2019
This was our first stay at a KOA. We were very pleased with our stay. We will definitely be back. Thinking about becoming a member of KOA.���.
Aug 13, 2019
Love this site, it is my local go to location and will continue to be. However, they advertise Wifi access but it is so bad, basically unusable. The location has little to no cellular so wifi is important for messaging. Even in the premium RV sites no signal inside or out. Even when I get to an access point the connection doesn't work. They need to upgrade!
Aug 12, 2019
Very clean and lots to do. Options like the General Store and Restaurant are a bonus.
Aug 12, 2019
Awesome campground but BEWARE of TICK INFESTATION! Our dogs (2 small dogs) picked up a tick infestation after a hike . Now a lot of work to get rid of them :(! Also skunks running around. I will go back without dogs and also will bring tick/insect repellent. Otherwise, loved the campground, awesome views of Ocean, beautiful landscaping. Because of the ticks and skunks giving a 4 rating
Aug 12, 2019
Campground was very clean and well maintained. Landscaping was also very nice. Staff at the store, restaurant and even the landscapers were all very friendly and helpful.
Aug 12, 2019
It was great! Grandchildren enjoyed riding their bikes and playing at the campground. Play equipment could be improved to include more things for older kids (9-12), such as a climbing wall or larger slides and swings. It would be nice if there were more daily activities to choose from (such as crafts, kareoke, games, for the kids every day. Evening campfires or movies would also be nice.
Aug 12, 2019
We had a very enjoyable stay. The coastline was spectacular, and the facilities were great. Highly recommended.
Aug 11, 2019
Everything was excellent, except the dog rules are a little overboard and a fenced in dog run would be great.
Aug 09, 2019
Gorgeous campgrounds near the ocean. Clean bathrooms with hot water. Friendly staff and fun atmosphere.
Aug 09, 2019
Very well maintained. Great location. Cons: expensive, skunks abound.
Aug 08, 2019
WiFi was present but didn't work
Aug 08, 2019
I've traveled the California coast for over 40 years, back when we could camp most anywhere in a van. I'm fine with those days being gone, and since Costanoa opened I always wanted to stay there. Then we got an rv and joined KOA a year ago, traveling east through several states and found KOAs to be consistently good value. But this one is just way overpriced.
Aug 08, 2019
Beautiful park. Nice hike to the beach. Clean. Nice sites.
Aug 07, 2019
Nice place.....the landscaping was lovely and the staff pleasant. There was some grime in the corners in the bathroom stalls... maybe a steam cleaning is in order.
Aug 06, 2019
Very nice and clean facility. The staff very very friendly. The kids had a blast camping with their friends. The only downside was too windy and there was a rude RV owner across from us. Aside from that, everything was good.
Aug 06, 2019
On-site restaurants overpriced and poor food choices. Greeter in the main restaurant was rude to my granddaughter. The staff did not enforce quiet hours. Dogs were left in trailers to bark at all hours.
Aug 06, 2019
Great Location, very clean and friendly staff. Highly recommended!
Aug 06, 2019
Helpful staff! Beautiful location. Camp grounds well maintained. I hope to come back soon
Aug 05, 2019
Great park! Great location! Great staff! Just need to water the grass and take care of the gopher and skunk problem. It's getting so bad we're starting to reconsider our monthly stays. At this point we're still planning on being back in a few weeks.
Aug 05, 2019
Was truly a wonderful experience! Costanoa KOA is the best and most beautiful KOA we have ever stayed at and and seen! Can't wait to go back again!
Jul 31, 2020
We love it here. The grounds are beautifully maintained. Great restaurants and accommodations to suit most people's needs
- Kathie Fitch on Google
Jul 28, 2020
This might seem on the pricey side for a KOA, but there is definitely a spa resort feel to it. The restaurant uses produce from the garden and there are lots of organic treats in the general store. It is across the street from the gorgeous seascape of the Año Nuevo State Park.
- Sarah Lacasse on Google
Jul 21, 2020
Our final destination on our 26 day COVID - RV Road trip was at Costonoa. Perfect end to a great trip! As soon as we pulled in we knew we would like it. If you are into glamping this is the place for you. There are many different options for accommodations but my review is for the RV section. During our 3 night stay we enjoyed the beach. It's not too far of a walk from the campground. It is not a swimming beach. It is not a dog friendly beach however it is so quiet everyone brings their dogs down. We also hiked and biked. Word to the wise - when they say there are ticks they mean it. Our dog who was on leash for our hike was covered in ticks after our hike. We even found some on us. So beware! I would have loved to have dined indoors at the sit down restaurant but it was closed for dine in service due to COVID. We did get food from Pine Tent on more than one occasion. Food was tasty and hit the spot when we were burnt out from cooking. Costonoa is not cheap but the amenities and location make it all worth it. Of course we happened to have amazing weather which I'm sure added to the experience.
- rwheeler1977 on Trip Advisor

Santa Cruz North / Costanoa KOA
Open All Year
2001 Rossi Road at Hwy 1
Pescadero, CA 94060
Check-In/Check-Out Times
RV Sites, Tent Sites
Check-in: 2:00 pm, Check-out: 12:00 pm
Santa Cruz North / Costanoa KOA
Get Google Directions

© 2020 Kampgrounds of America, Inc.