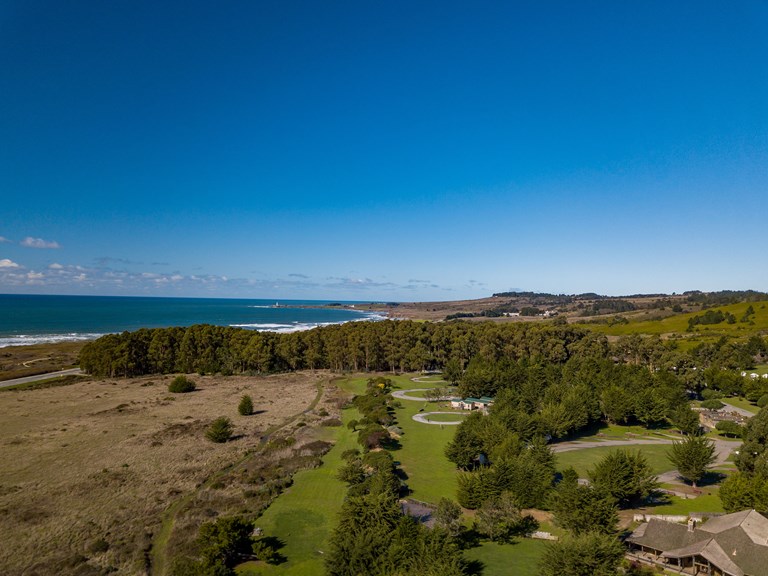 Santa Cruz North / Costanoa KOA Reviews
Directions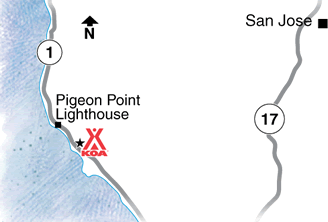 Driving South From:

San Francisco: 1 hour south on HWY 1

Half Moon Bay: 25 miles south on HWY

Entrance is on the left, 3 miles south of Pigeon Point Lighthouse. Look for Rossi Rd and signs for Costanoa and KOA.
Driving North From:

Santa Cruz: 25 miles north on HWY 1

Entrance is on the right just north of Ano Nuevo State Park signs.  Look for Rossi Rd and signs for Costanoa and KOA.
Get Google Directions
Sep 09, 2019
Staff was great as usual. Location and amenities are wonderful. All though they are currently cleaning up, pruning, etc., it would be nice if the grass was watered rather than left to dry. Also, notify guests of special events as we had to listen to a live band for a private function until 10:00 one night and 12:00 the next. Still one of the best parks around.
Sep 09, 2019
Best campground we have ever stayed at, so much to do and it's very clean! Cascade restaurant is amazing!
Sep 09, 2019
Nice, clean campground, but the flies were unbearable.
Sep 09, 2019
Clean and very well run camp ground. The fire pit could have a grate in side. I was disappointed that there wasn't an adult horse back riding program. Thanks for the stay.
Sep 08, 2019
Location was amazing; right on the coast, clean restrooms. Definitely will camp here again.
Sep 08, 2019
Great location, great staff, beautiful facilities
Sep 08, 2019
� This is an Excellent campground
Sep 05, 2019
Perfect location and very friendly staff. The downside is that they are no grill for barbecuing.
Sep 04, 2019
Very accommodating staff; always friendly. Grounds are always well maintained and looking great. We have been coming to Costanoa for 14 years and always come back once or twice a year. Only request is to not increase rates. Little expensive.
Sep 04, 2019
Grounds are well kept, but we were a little disappointed that all "recreational" activities have an extra charge --- felt a little like we were being nickle & dimed. The cost of this place is much higher then most KOAs, so I expected the activities (particularly for kids) would be included - it was surprising to see that everything had a charge.
Sep 03, 2019
Our camping experience at the KOA @ Santa Cruz North/Costanoa, CA was awesome. The staff was very nice and helpful. The campground it self was very well maintained and we enjoyed our stay. Will definitely be going back!! Thank you KOA !!
Sep 03, 2019
Only thing that could have been improved is the saunas were not working
Sep 03, 2019
Loved everything! Friendly staff, well run facilities, clean restrooms, beautiful landscaping, good location, good activities, fair prices.
Sep 03, 2019
Very happy with our last minute plans to stay at your camp. We really appreciated all the amenities.
Sep 02, 2019
The camp was overall good. However, the tent site was too small and the tents were too close to each other. I can hear ppl from the next tent talking and snoring at night.
Aug 31, 2019
Well-run RV park/lodge in lovely, tranquil fie & eucalyptus tree setting. Sites are spacious with ocean views. Beaches uncrowned & oceanside trail has spectacular views. Hill trail behind the park also offers beautiful views. Love the spa massages with hot tub access. Onsite restaurant is pricey & food is hit or miss, but nice option to have. Overall, our favorite coastal KOA.
Aug 31, 2019
Beautiful area and park, very friendly staff, but the camp sites we're very small and layed out that you needed to set up your BBQ and stuff behind the trailer.
Aug 31, 2019
Way to expensive for a normal RV site. We got one of the end sites in a 20 site empty loop. Two more campers came in and where put right next to us?
CAMPGROUND RESPONSE / COMMENTS:
The end sites are the most popular because you are closer to the ocean view. If you were not satisfied we would have been happy to find you another site. Thank you for your stay.
Aug 30, 2019
We have staid there many times. Always clean- always being updated- super friendly staff! Best KOA we have ever been to!
Aug 30, 2019
The KOA was very clean and the staff very friendly. We will most definitely will be back we had a great time.
Aug 30, 2019
It was all good. No complaints. Just a great overnight stay. People are all very friendly. Joe
Aug 29, 2019
Loved it. Not really a bad spot on the property. will be back.
Aug 29, 2019
Amazing property with countless amenities, incredible security, friendly check-in staff, clean restrooms, spa, and laundry facilities. Outstanding campsites with tons of stuff to do on-site and in the immediate area. I will DEFINITELY be back for another trip in the near future. Thanks for having us on such late notice!
Aug 28, 2019
everything was okay, nice campground, enough space. Restaurant prices to high !
Aug 27, 2019
no cell / internet service. unacceptable. Your internet says it has bars, doesn't work! Cost: literally the most expensive RV stay ever. campgrounds are dirt. we have never paid more than $100 for luxury sites which includes concrete slabs, working internet, cell service and build out kitchens! Spa was awesome, restaurant good. won't return due to dirt sites and no cell/internet service
Aug 27, 2019
This now my favorite spot. Wonderful weekend celebrating my brother's Birthday. Best part was my nephew and 3 friends came down and had a super time surfing at the beach and then the morning walk with my brother where we found that no one was on the beach.
Aug 27, 2019
It was our first time and we will be back. Great Customer Service from the Camp Hosts! A+
Aug 27, 2019
Grounds very clean space to tight high in price charged me for being a hour early check in never had that happen before
Aug 26, 2019
Friendly, helpful staff, the location is amazing and they've thought of EVERYTHING - meaning, if there's something that could make your stay there more enjoyable, they've thought of it already and that service/amenity/product is available. We had the best time! We brought four kids ages 4, 6, 7 and 9 - the kiddos and the grownups had a blast and we will be back!
Aug 26, 2019
Some of the parking spacing in seascape need to be improved. Very uneven because of the roots and hard to level your trailer. Would like to see the lawn area watered. It is so dry.
Aug 26, 2019
It was our first time here and we loved it.
Aug 26, 2019
Beautiful facility, would not book near the group camp again, we ended up across from a large and noisy group. I would also suggest changing the rules to allow dogs on a leash to access the pavilion near the small cafe.
Aug 26, 2019
Eucalyptus camp is where we stayed, there was plenty of grass area for the kids to run around and play. The only downside was the sites were very close together and your neighbors sewer lines ended up being right by your front door. Besides that it was a wonderful experience and we will be back. If you looking for space, stay in seascape camp. It had the roomiest sites.
Aug 26, 2019
Me and my wife were amazed it's really nice there we loved everything and we will definitely be back. Thanks
Aug 24, 2019
The weather was beautiful. We had come from the Temecula area of California and were looking for some cooler temperatures. It is within walking distance of the beach which we did daily. The campsites are laid out well even though they are close to each other. Beautiful shade trees as well. We loved it!
Aug 22, 2019
The park was wonderful and very clean! Love the restaurant and general store. Our only challenge was that our pull-through site was a bit narrow and we could not hangout outside our trailer. Luckily, we were with some friends and they had a deck and plenty of room to gather. Overall, it was a wonderful trip and the employees were friendly and helpful. Thanks so much!!
Aug 20, 2019
Nice site, too many skunks though in the camp area. I came out of my tent and bumped into four when I went to the bathroom. I wouldn't go again as the site has no pool or access to the hot-tub.
Aug 20, 2019
The site was clean. Staff was friendly and helpful. The families around us were all very friendly. We'd love to come back again.
Jul 31, 2020
We love it here. The grounds are beautifully maintained. Great restaurants and accommodations to suit most people's needs
- Kathie Fitch on Google
Jul 28, 2020
This might seem on the pricey side for a KOA, but there is definitely a spa resort feel to it. The restaurant uses produce from the garden and there are lots of organic treats in the general store. It is across the street from the gorgeous seascape of the Año Nuevo State Park.
- Sarah Lacasse on Google
Jul 21, 2020
Our final destination on our 26 day COVID - RV Road trip was at Costonoa. Perfect end to a great trip! As soon as we pulled in we knew we would like it. If you are into glamping this is the place for you. There are many different options for accommodations but my review is for the RV section. During our 3 night stay we enjoyed the beach. It's not too far of a walk from the campground. It is not a swimming beach. It is not a dog friendly beach however it is so quiet everyone brings their dogs down. We also hiked and biked. Word to the wise - when they say there are ticks they mean it. Our dog who was on leash for our hike was covered in ticks after our hike. We even found some on us. So beware! I would have loved to have dined indoors at the sit down restaurant but it was closed for dine in service due to COVID. We did get food from Pine Tent on more than one occasion. Food was tasty and hit the spot when we were burnt out from cooking. Costonoa is not cheap but the amenities and location make it all worth it. Of course we happened to have amazing weather which I'm sure added to the experience.
- rwheeler1977 on Trip Advisor

Santa Cruz North / Costanoa KOA
Open All Year
2001 Rossi Road at Hwy 1
Pescadero, CA 94060
Check-In/Check-Out Times
RV Sites, Tent Sites
Check-in: 2:00 pm, Check-out: 12:00 pm
Santa Cruz North / Costanoa KOA
Get Google Directions

© 2020 Kampgrounds of America, Inc.