Directions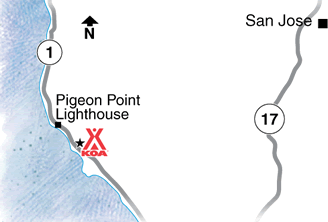 Driving South From:

San Francisco: 1 hour south on HWY 1

Half Moon Bay: 25 miles south on HWY

Entrance is on the left, 3 miles south of Pigeon Point Lighthouse. Look for Rossi Rd and signs for Costanoa and KOA.
Driving North From:

Santa Cruz: 25 miles north on HWY 1

Entrance is on the right just north of Ano Nuevo State Park signs.  Look for Rossi Rd and signs for Costanoa and KOA.
Get Google Directions
Dec 21, 2020
Amazing place!! We can't wait to return! The grounds were well kept, the staff super friendly, and the location was absolutely breathtaking!!
Dec 21, 2020
Nice, clean, close to beach. I want to go back..... soon...
Dec 21, 2020
First off you guys are REALLY expensive. Why do you not have better Wi-Fi, something so simple for the price you pay to stay here??? Frankie the skunk, although cute, should not be left wandering the campground during the day. He looks sick. He should be trapped, given medical care and released somewhere else. You guys did do a great job with the new patios....
Dec 21, 2020
very nice park
Dec 21, 2020
Awesome!!!�
Dec 17, 2020
Very friendly fun staff and awesome campground I would definitely stay again
Dec 17, 2020
The location is wonderful. Everyone I spoke with who works at the KOA, from check in to checkout, including bathroom maintenance, grounds keepers, and campground maintenance, was helpful and just so very nice. I hope to see them all when I return.
Dec 15, 2020
Staff was incredibly friendly and helpful. Beautiful property that is impeccably maintained. Oceanview RV site, with short convenient walk to an amazing beach. Restaurant onsite with great food. Only negative is the spaces are really close together and not private at all. Overall had a fantastic time and will book again.
Dec 15, 2020
Wonderful place!
Dec 14, 2020
Great stay even with our first good rain of the year! Everything conveniently located, beautiful grounds, friendly staff, very tidy and clean. Only two recommendations: please weight your shower curtains as I had to shower with the curtain open as the vacuum the running water created kept making it stick to me--not very hygienic. Awning over dishwashing station would be nice too.
Dec 14, 2020
Our favorite place Thank you again for a great experience
Dec 14, 2020
Amazing location! Very friendly staff. Just booked our next trip here!
Dec 14, 2020
Upon arrival we pulled in 20 minutes ahead of the 2:00pm check-in time and were told from the security check point person…"you know your early?" probably not the best choice of words to say to an arriving guest! Pull through sites have very little room at all for chairs etc. shrubbery needs to be trimmed and or removed as you cannot get into storage in the RV. Host are extremely friendly!
Dec 14, 2020
Fantastic place to stay!
Dec 13, 2020
We had a fantastic time at the campground. The staff was very friendly and accommodating. The upgrades it in the Seascape loop are very nice. I will definitely be coming back.
Dec 12, 2020
Covid safe and courteous
Dec 11, 2020
lots of rules..extremely hard to level rv
Dec 11, 2020
Recent improvements to campsites are just terrific. Looks so much better.
Dec 10, 2020
Wonderful as always, i would like to meet the new site manager 714-231-7785
Dec 10, 2020
Stay was great...first time at Costanoa and really enjoyed the area! Site was just right for our needs. WiFi needs some boost...upgrade needed.
Dec 09, 2020
We really loved this campground. Great area and very clean .The staff at check in were very friendly. We ate at the restaurant which was also very good. They had a band that night that we really enjoyed. We will stay here again and cant wait to bring our family with grandchildren. This is a great place for families .
Dec 09, 2020
Stay as great and our S07 site was good with a nice ocean view. Some of the sites are slightly unlevel and you have to watch for trees for your slides. The general area is spacious and the ocean can be reached by a trail. Nice to have an enclosed dog play area.
Dec 08, 2020
Great place. Loved the band Saturday afternoon
Dec 08, 2020
We had a good time, the place was well organized and maintained (I noticed regular trash pick-up). No issues, everything worked and the check-in list review was well thought-out and clearly communicated. Improvements? Lower the price, better trail access for dogs & tone down the speedbumps.
Dec 08, 2020
This was our first stay with you. We had a great spot. Loved the live band and all the beautiful amenities you provide. We are looking forward to returning!
Dec 07, 2020
With our 34 foot Diesel pusher - The site was very nice - paved patio - grill that was new - furniture up to date. Fire pit. A couple of issues - for the size of our RV - and the spot - our door opened into the planter bed. We could not pull all the way back as the power pedestal would then block the slide-out. The patio area is behind the RV so there was no lighting at night.
Dec 07, 2020
Always an awesome experience!!!
Dec 07, 2020
We had a great time everything was nice and clean.
Dec 06, 2020
Other than our space being very narrow, we enjoyed our stay and will return.
Dec 06, 2020
First time staying here and we had a great time. The campsite and facilities are very clean and people are friendly. I wish all facilities were open but due to Covid we had to modify. Great to have a little dog park so our pups could run off leash. I would just suggest to clear out the stickers that seem to grow along the west side of the pen. Hard to get these out of the dog's hair. FUN FUN
Dec 06, 2020
The staff was incredibly kind. My family loves this place:)
Dec 05, 2020
Weather was perfect. The campgrounds were clear and other campers friendly. Our pups loved the dog park. Had an enjoyable time. Will returned. So thankful the park didn't burn.
Dec 05, 2020
Beautiful campground. Great amenities and staff.
Dec 05, 2020
Fantastic upgrades to the Seascape RV spots. Overall it feels like the site has really stepped up and made the best of a COVID situation. My one complaint continues to be the VERY spotting Wifi coverage even in the premium Seascape sites.
Dec 04, 2020
Wonderful location, clean and close to the ocean
Dec 04, 2020
This place is just amazing! Will be back again and again. Kerry and Brian, who ran the KAO Kiosk were wonderful, helpful, friendly. They really looked out for us.
Dec 03, 2020
Very friendly staff. ONE MAJOR PROBLEM. In the expensively-priced Loop area they have re-landscaped the sites. UNFORTUNATELY since these are back-in sites, in 90% of the sites, they have put soil berms (no pavers) exactly where a motorhome's entry door is. RESULT: Getting in and out of our rig was difficult. Whomever designed these spots needs to re-configure and widen the fronts with pavers.
Dec 02, 2020
Saturday after Thanksgiving was busy in the campgrounds, but Sunday/Monday were much quieter. Coastanoa has nice amenities and plenty of opportunities to stay safe while enjoying the outdoors
Dec 02, 2020
Loved it! But was wondering why all the RVs were squished together when there were a lot of open spaces
Dec 02, 2020
The park was clean and easy to explore perfect weather for end of November great ocean view was able to keep social distances with no worries had a great relaxing time
Nov 30, 2020
Very frustrated and disappointed with staff that cruises through the campground in golf carts. First, constantly badgering us about our friends whom are staying at the resort parking their vehicle at our camp site, they were not coming in from off site looking for some free day use, they also spent over $1000 to stay at the property for the holiday weekend. not enough room for second complaint.
Jun 20, 2021
Picturesque
- magikman55 on Google
Jun 13, 2021
Very nice experience! We were not disappointed except that the spa services were closed due to Covid 19. The camp facilities are superb!
- Fred Scatena on Google
Jun 06, 2021
We have been camping here for over four years. The grounds are gorgeous and clean. The staff and amenities are outstanding.
- Shannon Vargas on Google