Directions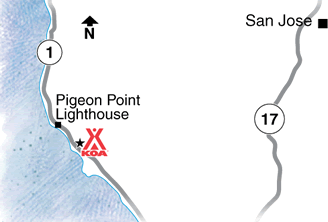 Driving South From:

San Francisco: 1 hour south on HWY 1

Half Moon Bay: 25 miles south on HWY

Entrance is on the left, 3 miles south of Pigeon Point Lighthouse. Look for Rossi Rd and signs for Costanoa and KOA.
Driving North From:

Santa Cruz: 25 miles north on HWY 1

Entrance is on the right just north of Ano Nuevo State Park signs.  Look for Rossi Rd and signs for Costanoa and KOA.
Get Google Directions
Jun 20, 2020
The site was clean and spacious. The views were beautiful, as was the weather. We rode bikes and played on the grass. We didn't want to come home!
Jun 20, 2020
Great area, friendly staff, clean facilities. Watch out for ticks though.
Jun 19, 2020
Everything was wonderful except that our site was narrow and odd shaped. Otherwise it was a beautiful area and very nice grounds.
Jun 19, 2020
Excellent all around. The area is beautiful, wild blackberries everywhere, and the grounds where kept very nice. Will be back for sure!
Jun 19, 2020
Although we had to leave early for personal reasons, we are already planning our return stay. Really great place!
Jun 19, 2020
Super fun even with Covid restrictions. Great staff. Can't wait to get back.
Jun 18, 2020
Nice, clean campground, but very pricey.
Jun 18, 2020
Due to covid-19, many things were unfortunately closed. Hopefully, our next stay they are open so we can have a full experience. However, the short trek to the beach was cool. Bathrooms where nice and clean. Employees were all wonderful. Drink cart was an awesome plus.
Jun 18, 2020
Camp site clean. Public areas clean, supplied. Loved the bar car! No problems at all.
Jun 18, 2020
Although not a huge fan of KOAs,(expensive and RVs packed closely together) Costanoa has very pleasant trails and grounds around it. Very organized set up, well maintained and clean.
Jun 17, 2020
We like the site very much and would certainly suggest it to friends and also come back, one day. Our ratings are reflective of a bit of hesitancy as we do not feel that Covid guidelines were adhered to strongly enough. Guests were walking all over without masks and were not socially distancing to a degree set forth by local laws. This should be tightened up and monitored.
Jun 17, 2020
My stay was great and staff were very polite. There was some loud tree maintenance going on at wee hours of the morning which I thought should be done between 11am and 2pm when campers are coming and going. But otherwise a very pleasant experience. I love the mobile bar! Great idea.
Jun 17, 2020
Needed strong internet for business. Had to leave by 6:00 am to go into Half moon bay and park in a Safeway parking lot to acquire internet strength.
Jun 17, 2020
This was our first time here and unfortunately because of Covid-19 many areas were not accessible. We enjoyed our stay but thought the price was a bit high especially with amenities closed. We also wished that there was breakfast food offered either at the restaurant or the Hut kiosk.
Jun 17, 2020
Es nuestro lugar favorito en e Norte de California! Favor de agregar musica en vivo cuando sea possible !
Jun 16, 2020
We loved it! Going back as soon as they have space available!
Jun 15, 2020
Wonderful place. Always improving every little aspect of your camp ground
Jun 15, 2020
Disappointed at the staff. Not as friendly as the first few times we've been here.
Jun 15, 2020
We have 0 complaints, the staff are very accommodating and friendly. The park itself is beautiful and well kept and are constantly upgrading the sites. We love this park and can't wait to get back there!!
Jun 15, 2020
Very clean facility. The staff is very accomodating. The location is ideal for a great vacation.
Jun 15, 2020
Safe outdoor activities, restaurants converted to take out
Jun 15, 2020
It was great other than being spoilt by some nasty people staying in S22. We had to get up at 11:20pm to ask them to turn the music down.
Jun 15, 2020
Had a great time. Nice staff.
Jun 15, 2020
We loved this location! The short walk to the beach was so nice. Having the restaurant and outdoor fresh pizza parlor made it so easy for our last minute trip. We will definitely be back!
Jun 13, 2020
Service was outstanding. I thought the grounds could use some weed trimming and maybe some paint on the buildings. Overall it's a great place.
Jun 13, 2020
Was very nice, had good weather bathrooms very clean, very friendly staff
Jun 13, 2020
A Little pricey, but everyone was friendly, nice place to RV.
Jun 13, 2020
It was our first time there. Check in was easy and attendant was helpful. There was construction going on but I understand that happens. Enjoyed the area. Visited the light house and the tide pools and beaches. Would have liked to pick our spot was wondering if that was an option when making reservations
Jun 13, 2020
Great campground Pull through sites are too small and close together.
Jun 13, 2020
Dog and kid friendly.
Jun 13, 2020
I would give the place a 5 star rating had it not been for the 6 family graduation celebration that went on day and night. The property was very nice but surprised the staff couldn't contain the crowd. The kids were ok, it was the adults and their drinking party games that made it unpleasant.
Jun 13, 2020
Very organized and maintained. Wish that sites were not so close together especially for the price.
Jun 13, 2020
We came in after dark and only stayed for one night. Very nice campground with lots of great options.
Jun 12, 2020
Wonderful stay. We loved our time
Jun 12, 2020
Was very impressed with the entire camp grounds. Extremely friendly employees and everyone camping very very nice. Easy access to your spot and all the hook ups worked great. Definitely wewill be back. Thank you very much.
Jun 12, 2020
Great park and people...highly recommend
Jun 12, 2020
$125/night to park in a construction zone for 3 days. Tile sawing with dust blowing directly into our trailer. A little advance notice would have been nice.
Jun 12, 2020
Clean restrooms and good pizza at the Pine Tent
Jun 11, 2020
We had our usual spot and once again we were not disappointed. The facility was clean, friendly staff and the ocean breeze and views were spectacular. An awesome outing. I can't wait until my next visit.
Jun 10, 2020
Great memories made at an amazing, calm and beautiful campgrounds.
Jun 10, 2020
This is our favorite place to camp. However on this trip, which we only had 1 full day, the construction crew was right next to us blowing dirt into our campsite, bulldozing, tile sawing, vibraplate compactor first thing at 8:15am - 4:14pm. It was miserable at our campsite, we could hardly hear each other. We kept trying to find ways to escape but it was really windy and cold at the beach.
Jun 10, 2020
The staff was very nice. The WiFi is horrible and a bummer that the website states there's WiFi yet at the park no phone service and getting WiFi is problematic even by the defined areas. The construction took a bit away from the relaxation with a bobcat going by frequently. But overall a beautiful camp and would be nice to revisit when all amenities are open.