Directions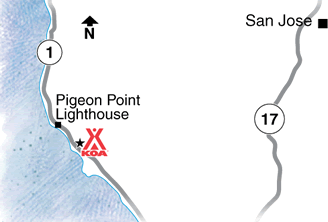 Driving South From:

San Francisco: 1 hour south on HWY 1

Half Moon Bay: 25 miles south on HWY

Entrance is on the left, 3 miles south of Pigeon Point Lighthouse. Look for Rossi Rd and signs for Costanoa and KOA.
Driving North From:

Santa Cruz: 25 miles north on HWY 1

Entrance is on the right just north of Ano Nuevo State Park signs.  Look for Rossi Rd and signs for Costanoa and KOA.
Get Google Directions
Aug 07, 2020
It is a very nice campground, clean and everyone is friendly. However it was upsetting that we were only allowed 1 car in the Tent camping area but most other tent campers had more than 1 car. I had called prior asking if we could pay for an extra car was was very rudely told no so this was upsetting when there was 6 tent camp sites and we had at least 10 cars every night
Aug 06, 2020
We wish families would try to be more considerate of the quiet times. Thought those with dogs did great to control barking �
Aug 06, 2020
This resort is amazing! This was our second time there and no complaints except for the food & beverage service. The customer service at the resort was amazing. They were very understaffed in the Cascade Restaurant and one particular hostess was extremely rude to all patrons. Other than that individual, the stay was wonderful and we will be booking again soon!
Aug 06, 2020
It was our first time ever camping! and it was not a disappointment at all, clean, quite, polite, These two ladies that in the KOA office where so nice and helps with all my dumb questions since I never calmed nor used an RV park. Very excited to return to this park again
Aug 05, 2020
The first night was amazing! The set up of where they moved some of the tent sites had less privacy than we are used to, but we got over it. The second night a large rowdy group moved into some bungalows from the lodge and were making noise late and back up the next morning at it again early. It sounded like a frat party. We told the ladies at check out, but no accommodations were offered.
Aug 05, 2020
Clean. Friendly people. Beach access is about a mile and a half walk but well worth it.
Aug 05, 2020
INCREDIBLE! We didn't want to leave. Even with activities/amenities limited, it was still a beautiful and fun place to stay. Great location near the cost, weekend immaculate grounds and friendly folks.
Aug 05, 2020
Lovely! The Seaside spots are pricey, but worth it if you want to splurge for a night or two of glamour-camping!
Aug 04, 2020
I understand the covid thing has you doing business differently, however if fewer amenities are open we shouldn't be paying full price. Also the spot we had was so close to our neighbor our awning almost touched their trailer, it was very uncomfortable being that close to people. Several campers walked through our fire pit area to get to another campsite. Didn't feel like we were able to socia
Aug 04, 2020
Clean beautiful and staff was amazing
Aug 03, 2020
Absolutely loved the new set-up with chairs & a bbq at every site. Such a nice touch. Had pizza at the pine tent restaurant one night, food was fantastic. We've stayed at Costanoa many times & this trip especially was absolutely wonderful. Thank you for working so hard to keep it so beautiful. Staff was exceptional!
Aug 03, 2020
It's always a wonderful experience, and the staff is always helpful and friendly.
Aug 03, 2020
This was my 4th stay here. KOA never disappoints! Kida & grandkids loved it too!
Aug 03, 2020
Another great time at Costanoa! Friendly staff and beautiful grounds.
Aug 03, 2020
Beautiful location. Helpful staff. Delightful.
Aug 03, 2020
It was our first time to this KOA and it was wonderful! The grounds are so pretty and the kids had so much fun. For the price, I wish the sites were a little bit bigger, but there are a lot of common grassy areas you can set up your games and hang out.
Aug 03, 2020
We only stayed one night but it was nice. Grounds are very clean and check in staff was super nice. Will definitely be back!
Aug 02, 2020
I would never want to stay on our site again. The site is too narrow! We felt right on top of the campers on either side, they were all nice people. I would come back if we get a reservation on a premium site. This campground does have nice amenities.
Aug 02, 2020
Beautiful campground, well maintained with friendly staff. We stayed on the Eucalyptus loop and had our own patio deck with a partial ocean view! There are walking trails, a footpath to the beach, a charming general store and several restaurants. The surrounding coastline is breathtaking and we spent one day watching humpback whales off a local beach. Lovely!
Aug 02, 2020
Upon arrival at 1:15 PM, a male attendant was adamant about charging us an extra $10 for early entry. This was never an issue in our prior stays. So, we waited 45 minutes and watched as other RVers showed up early and checked in. Once settled at our site, our peace and quiet was disturbed by weed-whacking followed by lawn mowing next to our site. At $100 a night, I expect not to have any issues.
Aug 02, 2020
We had a great stay and really appreciate the physical distancing that was created so we could camp safely.
Aug 01, 2020
Very clean campground. Staff was outstanding!!
Aug 01, 2020
Costanoa is our favorite campground; and we have stayed at campgrounds across the country on 2 cross country trips! The people are friendly and the grounds are beautiful with the Pacific Ocean as a backdrop. The restaurants and general store are top notch. Our campsite was spotless and included a new picnic table, chairs, fire pit, and new weber grill! 5 stars and we will be back!
Aug 01, 2020
The location and facility were excellent. My only disappointment was in the way the tent area does not allow for privacy.
Aug 01, 2020
We stayed just one night in a pull thru. Wished that we would have had time to explore more of the park. But will be back! What we did get to experience was great, drink cart, outside dining, all nice to have if staying for an extended time
Jul 31, 2020
Very enjoyable. Beautiful surroundings, nice layout. Only thing that they need is a bridge over highway 1 to get to the beach.
Jul 30, 2020
The WiFi and Cell Service were absolutely horrible. No good for those of us trying to work on the road. The grounds were great! We will definitely come back
Jul 30, 2020
Love the resort feel!
Jul 30, 2020
We love Costanoa and look forward to returning soon.
Jul 30, 2020
The next door sewer is 3' from out entrance door. Sights to tight.
Jul 29, 2020
Love the area - beautiful surroundings. Two negatives to share, hoping this helps you improve for the future. I understand the need for speed bumps but there are too many and they are too sharp. Shook everything in my RV even at 1 MPH. Next, I bought wood at the general store that was SO GREEN it would not burn. I added coals and used 10 rounds of lighter fluid. Made me so mad
Jul 29, 2020
We loved that we could walk to the beach!
Jul 29, 2020
Wonderful resort. Staff was extremely friendly, grounds were immaculate, amenities were top notch, overall great place.
Jul 29, 2020
Very clean facility, kind staff, beautiful views, pleasant walk to beach, landscaping was amazing. We really enjoyed our stay and look forward to returning again some day!!!
Jul 28, 2020
The weather was lovely and the grounds of the KOA were beautiful. There have been a number of improvements from my last visit, a nice dog run, new patios in one area! We sampled the tent food this time, very good! Sad more people wernt wearing masks, especially those in large groups,20+. We enjoyed our stay and will come back.
Jul 28, 2020
I booked late so I didn't get my preferred site. I was upset to that some RVers were blatantly disregarding the rules - blaring music, dogs off leash, large groups, not wearing masks while in public places (bathrooms specifically) and electric bikes with loud radios. Makes relaxing near the beach difficult. The staff was amazing as always and the campground is super clean.
Jul 28, 2020
Nice and friendly staff! �
Jan 18, 2021
Beautiful and clean place to camp
- Chandler Bender on Google
Dec 23, 2020
Great spot, bit pricey. Lots of nature. Beach access possible, it means crossing the highway.
- Jan Hertsens on Google
Dec 22, 2020
This place is amazing. Very cozy environment, friendly & helpful staff, great amenities. ++ restaurant is great, ingredients are fresh, make sure you eat there at least once before you go ++ hikes to the beach is wonderful, well maintained and not crowded ( visited in a warm December during covid so not sure typically if it's so spacious) +has a nice small dog park for our pup to run + well maintained flower beds, makes the ambiance relaxing and cozy
- Jason Wang on Google