Directions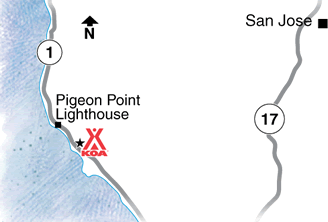 Driving South From:

San Francisco: 1 hour south on HWY 1

Half Moon Bay: 25 miles south on HWY

Entrance is on the left, 3 miles south of Pigeon Point Lighthouse. Look for Rossi Rd and signs for Costanoa and KOA.
Driving North From:

Santa Cruz: 25 miles north on HWY 1

Entrance is on the right just north of Ano Nuevo State Park signs.  Look for Rossi Rd and signs for Costanoa and KOA.
Get Google Directions
Aug 16, 2020
Wonderful facility. Really over the top amenities and service. Loved it.
Aug 16, 2020
The staff is very friendly while checking in and out. Clean restroom and shower. One thing I like best is that during COVID-19 they re-drew the camping site spaces and make each site bigger, which makes our camping experience much more comfortable and enjoyable. Will come back next time.
Aug 16, 2020
First time there. Very pretty area. Noticed One worker on a golf cart was rude to several campers because they had one tire parked on dirt in their space. He could have been more courteous. People parked that way because the size of their RV and vehicle would not allow them to park completely on pavement given the size of the space, etc. Also, registration has yet to email receipt as promised.
Aug 16, 2020
Most beautiful campground I have ever stayed at. Love the garden, clean grounds and spa like bathrooms. Would have liked to take dogs on trails and had WiFi at my space but everyone was frIendly and was very enjoyable �
Aug 16, 2020
A large group of campers is managed very well. People are respectful. The take out food from the restaurant and the patio were very good.
Aug 15, 2020
Our site was so small we couldn't even pull out our drawers in our storage bins and there was barely room for us to put out chairs. If we had used our fire pit we would have burned down the trailer next door and there wasn't even room to sit around it. It was over !$120 per night, the most we've ever paid for a site and it wasn't even usable!! We will never return to this RV park
Aug 15, 2020
Great location. Bathrooms clean. Staff friendly. Grounds was clean and will kept. Camp grounds was full however it wasn't noisy. I would stay again.
Aug 15, 2020
Very nice place. Clean, well maintained gorgeous views. Plenty to do especially if you have kids.
Aug 14, 2020
Everything was great except our premium site was dirty on arrival. Also, since we arrived on Sunday and left Wednesday, we only had one day to enjoy the amazing pizza restaurant that is set up like it's from Napa since it's closed on Monday and Tuesday!
Aug 14, 2020
Pleasant site. Clean and manicured lawns and campsites. Could see that campground employees are hard workers. Will be back.
Aug 14, 2020
It was good but the store lacked a variety of staples people forget and it is overpriced for location!
Aug 14, 2020
I know it's not your fault, but maybe you could stress the wearing of masks more to your clients. We always wore our mask when off our campsite, but that was not the case with many campers. I was Walking into the bathroom When a teenager with no mask came within inches of my face, for example, and said "sorry" such that she breathed on my. I am 74 and have a lung condition, so it was dang
Aug 14, 2020
Overall a very nice stay. One bummer about tent campsites is no fire ring/pit. We took advantage of fireplaces by Comfort Stations, but it's a little weird being right outside the bathrooms. Speaking of bathrooms, they were some of the nicest I've experienced camping and I imagine that has more to do with Costanoa than KOA, but still a very nice perk. Love ocean location & Carla in reg v. helpful!
Aug 13, 2020
We camped in a tent at the lighthouse camp ground. The campsites were close together but we were able to stay separated. The communal camp fires located by the bathrooms supplied free wood. The facilities were clean with free hot water showers and flushable toilets. We had great access to hikes and the beach. Overall we enjoyed a great trip!!
Aug 13, 2020
The bathrooms and campground were clean, and there were excellent adaptations to COVID-19 - we felt safe! Only downsides were that it was busier than we expected (lots of RVs) and there was a baby crying through the night.
Aug 13, 2020
The camp spots are so close to each other. For the price we paid, I'd expect to get a little bit more space from our neighbors. I'd recommend to anyone coming to this spot to bring ear plugs because there was no peace and quiet, even at night.
Aug 13, 2020
This is a five-star campground but because of the COVID-19 we didn't get to enjoy the full potential of this place, we will definitely revisit at a later time to fully enjoy everything they have to offer!
Aug 13, 2020
The stay was okay. But the price is insane. To charge that much to just park (and we didn't even use any of your water or electric services) is a bit of a shock. But as we had no other choice at the time, we did it. Aside from the price it was okay. The workers were very nice and helpful.
Aug 12, 2020
Overall, it was great. There were 2 issues. 1) Several of us were told "Don't park on the grass. 3 wheels must be on the pavement." There was no grass where we were parking, only dirt. Several others were parked like that and continued to without harassment. 2) We were charged a $10 early check in for arriving 1 hour early. We talked to others who arrived early. Some were charged and some we
Aug 12, 2020
It is one of the most beautiful places I have ever been. I felt like I was on the edge of the earth, with serene untouched beaches and limited to no wi-fi or cell service.
Aug 12, 2020
Pull through sites are a little narrow, so not much outside room to hang out in once you've parked. Otherwise, nice place.
Aug 12, 2020
This place is amazing. Staff is very friendly. The sites are fairly roomy and very clean. Great location can walk to the beach(a healthy walk tbh) and a short drive to a dog friendly beach. I will be heading back for sure. This will be my spot for weekend getaways
Aug 12, 2020
Overall nice facility, but unfortunately many amenities were closed. Horseback riding is not closed in San Mateo County, Dog Parks aren't closed, but they were closed at this KOA. My cable didn't work at my site either.
Aug 12, 2020
sites are clean but dry grass, weeds and endless gopher holes a trip hazard. Son in law is an amputee, fell into hole and twisted his knee. Covid times kept restaurants and playground closed and activities for kids were not available; prices should reflect them closing services not available or advertised. the sites on Coastal Village and Whale tight. cant open windows from neighbors fire smoke
Aug 11, 2020
The summer rates are steep. The end of Whale Loop needs work. Sewer clean out is raised higher than the parking space making it a huge headache to dump.
Aug 11, 2020
Camp sites are to close together. They need to trim up the shrubs dividing the camp sites they are very overgrown and you can't get your slides out with out scratching your RV.
Aug 11, 2020
Very clean, all the staff were helpful and great. Beautiful place for a weekend getaway
Aug 11, 2020
Beautiful property with so many amenities and lodging options for any kind of traveler. The staff was so friendly and welcoming. Looking forward to coming back!
Aug 10, 2020
Magical stay for my birthday. The best part of the stay was the new cocktail cart that came to our RV site and made my birthday a real celebration!
Aug 10, 2020
Beautiful, nice spot with exceptionally friendly staff. Unfortunately, the price is OUTRAGEOUS...feels a bit like price gouging because of our current times.
Aug 09, 2020
Everything was good, except that the power socket on the Campsite deck was off... I asked two times, and nobody fixed it... I finally asked someone else and it was fixed on my last day..
Aug 09, 2020
A gorgeous campground with tons of possibilities. We enjoy "glamping" while still pitching our tent. Warming stations, showers,clean restrooms, even restaurants and a general store! We enjoy the hiking trails and have been able to watch the full moon rise from the lookout overlooking the ocean and surrounding forest. Hike to the beach is equally awesome. Near Pescadero for a bike ride and lunch.
Aug 09, 2020
It was lovely, great for hiking and easy access to the coast. They do seem to have a lot of rules (eg. no hammocks, no fires in tent camping area), and my friend was unexpectedly approached by security in the middle of the night when she went to use the restroom, acted like she needed an escort. Other than that, it really was lovely to be able to camp with friends in a beautiful place.
Aug 08, 2020
My family of four had a wonderful time. We have a 5 and 7 year old and the local hikes were perfect for us. The food options were great and the people were helpful and friendly. Beautiful coast and lovely facilities! We would totally recommend Costanoa KOA!
Aug 08, 2020
Incredibly clean facility/bathrooms, 5 stars!!
Aug 08, 2020
Totally enjoyed our stay. Everything is so nice. We would for sure come back.
Aug 08, 2020
As always, we thoroughly enjoyed our stay!
Aug 07, 2020
Another great weekend at one of the best places in America!
Aug 07, 2020
Site was small and arranged so next sites utilities were at our entry door, delineation between sites was nonexistent and to get to our patio we had to go through that of the next site. Grass area was burnt brown with loose dirt in and around site. Old and poorly maintained RV's that were long term occupied nearby sites. State Beach was a hike across busy Hwy. 1. Don't recommend this KOA location.
Aug 07, 2020
Beautiful location on the coast. Facilities are new and clean. The two restaurants have good food and the staff are friendly.
Jan 18, 2021
Beautiful and clean place to camp
- Chandler Bender on Google
Dec 23, 2020
Great spot, bit pricey. Lots of nature. Beach access possible, it means crossing the highway.
- Jan Hertsens on Google
Dec 22, 2020
This place is amazing. Very cozy environment, friendly & helpful staff, great amenities. ++ restaurant is great, ingredients are fresh, make sure you eat there at least once before you go ++ hikes to the beach is wonderful, well maintained and not crowded ( visited in a warm December during covid so not sure typically if it's so spacious) +has a nice small dog park for our pup to run + well maintained flower beds, makes the ambiance relaxing and cozy
- Jason Wang on Google