Directions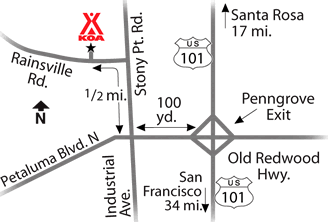 US 101 at Exit 476 - Pennsgrove. Most Northern Petaluma exit. Proceed to South/West side of freeway. Right turn on Stony Point Rd and Left on Rainsville Rd. See you Soon
Get Google Directions
Jun 29, 2021
It was great, sad that we had to leave a day early due to a family emergency �
Jun 28, 2021
I loved my cabin. It was all I had hoped it would be.
Jun 28, 2021
Park is near San Francisco so it is very busy with camping by families. Nice big playground for kids and dog park for dogs. Nice landscaping. Sites level, hookups are well maintained. New bath house next to our site. So why the 4 rating? No place close to park your tow vehicle. Sites too short and they have not left any parking spaces nearby for us oldsters who can't walk far.
Jun 28, 2021
Campground is beautiful with a lot of amenities. Staff are friendly and heplful!
Jun 28, 2021
We arrived on Friday afternoon, left on Sunday. Unfortunately, someone had ruined the motor for the Bounce Pillow so it was closed during our stay. Beyond that, we loved our cabin and space and had a great time!
Jun 28, 2021
Can't say enough good things about our experience. The lodge was clean, the staff was friendly and we really enjoyed ourselves. Thank you for making it a great time
Jun 28, 2021
Good stay, clean grounds, easy check in, well stocked shop. Nice bathrooms. Areas of improvement - The jump pillow was broken The agenda provided for the luau was from last year leading into this past weekend. The arcade was closed You guys should get a local restaurants to setup during each weekend nights to promote local businesses. Fri night El gallo was a hit. Rebuild the pool
Jun 28, 2021
I really enjoyed Petaluma KOA. It has all the amenities you could want - a pool, hot tub, petting zoo, mining, bathrooms with hot water showers and a kitchen. And dogs are welcome! Staff are very nice and helpful. I wish our group could have been in cabins all together. And I wish the kids had not had empty water bottles between bike frame and tire! That is the worst racket ever!
Jun 28, 2021
We had a great time! The pool is large and was the perfect temperature, the camp store has everything you could need, and the kids had a blast on the banana bikes, bouncing pillow and mining for gems and fossils! Thank you, we will definitely be back. -Sarah
Jun 28, 2021
We had a family vacation weekend and it was the best time.
Jun 28, 2021
Awesome location, staff very helpful. Love the text concierge. We will definitely return next time up this way again.
Jun 28, 2021
Campsite was clean and staff was very friendly. We enjoyed the text concierge service as well!
Jun 28, 2021
Nice and quite beautiful
Jun 28, 2021
Was very nice visit, originally scheduled for 3 nights, was able to add 1 more night. First site was 218 which had good connections . Second site was 242 which had all connections but the TV cable did not work very well, as the site is older &the signal strength was very low. Also the Wi-Fi worked very well at site 218 but not at all at site 242. I just wanted to inform about TV cable & Wi-Fi.
Jun 27, 2021
We loved it there !
Jun 27, 2021
Beautiful site. Plenty of space. Staff was very visible, friendly and helpful.
Jun 27, 2021
Enjoyed our stay at this well run RV park. We noted that the park was about 60% full during the week -- but come Friday, it was completely full. Retired folks like us might prefer the weekdays.
Jun 27, 2021
We've come here many times in the past and loved it but this visit was very disappointing. It said that it was going to be a luau weekend with lots of activities planned for the kids when I booked. There were virtually NONE! My granddaughters were very disappointed. The girl at the front desk said that it was due to Covid but that was not true! The previous weekend had lots of planned activities
Jun 25, 2021
Very clean, staff helpful, great bathrooms
Jun 25, 2021
Our stay was so magical we are going back in a week. Our family had an amazing time, the grounds are clean and your staff is the best.
Jun 25, 2021
Eve who works in the office went above and beyond to make our stay perfect!! She was very accommodating. We store our trailer here and all the years we have been here she has also been great to work with. Very friendly and joyful. And a beautiful smile to light up the day. My husband and I are raving about her. This lovely lady deserves a raise and a promotion �
Jun 24, 2021
We always have a great time staying here. The manager, Mike, has always stopped by our site to make sure everything is good. Facilities are always clean and the noise level always comes down by 10 which we appreciate. Beautiful KOA
Jun 24, 2021
Great, as always!
Jun 24, 2021
We had a great time. Our kids rented banana bikes, learned and played a lot of bocce ball, went swimming and ty-dyed shirts.
Jun 24, 2021
Wonderful, relaxing, staff all so friendly. Wish we had time to stay longer. Beautiful sites for our small rv: patio, garden, chairs and tables, fire pit. What more could you ask for?
Jun 24, 2021
Nice, clean, easy to navigate… the guest were all friendly, dogs were all well behaved and we really enjoyed our stay!
Jun 23, 2021
I've been wanting to stay at this KOA for a long time. I'm glad I did. The facilities were well-maintained and clean. The surroundings peaceful The staff were friendly and helpful. It's a wonderful place to relax. Also a great place for families.
Jun 23, 2021
Fun! Great area, close to 101. Spaces too close together.
Jun 23, 2021
We liked the cabins but we think they are very close to each other. On Saturday the camp felt very crowded. But other than that, we enjoyed our stay there.
Jun 23, 2021
Really enjoyed staying at the SAN FRANCISCO NORTH / PETALUMA KOA! Beautiful rural feeling campground with great amenities. We'd defiantly stay there again!
Jun 22, 2021
Mostly relaxes at our campsite. Visited the dog park, restrooms and showers. Once comment I have is that there should be more than one accessible shower. The only one listed was at the rec. hall and our campsite was in the H area. My wife is disabled and closer showers would have been helpful.
Jun 22, 2021
Amazing campsite. It's pretty with flowers and beautiful trees everywhere. Spacious�ϋ�
Jun 22, 2021
The stay was amazing! The kids loved the pool! To beat the crowd we went to the pool right when it opens. The Koa sent us text messages alerting us of daily activities .
Jun 22, 2021
This is the 3rd time we stayed in this campground. We had a great time with friends & family! The place is very clean, quiet and serene! Definitely will come back again �
Jun 22, 2021
Crowded, pool too shallow and dump tank is located in the line of traffic leaving the campground
Jun 22, 2021
It was a great stay. There was some confusion over how many occupants we could have in our cabin. When I called in advance they said six but when we got there they said four.
Jul 24, 2021
Clean bathrooms & laundry facilities
- Gina Spain on Google
Jul 22, 2021
Great family place clean and treated well
- Lucas Carlson on Google