Directions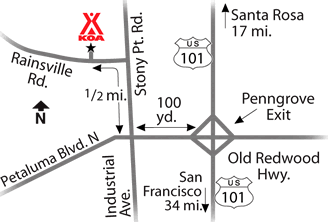 US 101 at Exit 476 - Pennsgrove. Most Northern Petaluma exit. Proceed to South/West side of freeway. Right turn on Stony Point Rd and Left on Rainsville Rd. See you Soon
Get Google Directions
Nov 09, 2020
Quiet friendly environment
Nov 09, 2020
It was dark when we arrived, however there was no escort to escort us to our camp site. We drove our 37 feet RV around, through small spaces, twice before we found our site. Even though the sites were not lit, it would have been nice to have an escort after dark for safety reasons. Also, when we stepped out of our RV to set up, we had to clean up dog poop left behind by someone.
Nov 09, 2020
These guys are wonderful!! So much help and for the thoughtful location!! We had a very long hard drive in and it was so great to have everything set and ready for us!!
Nov 08, 2020
Always amazing!
Nov 08, 2020
Great location, updated facilities, park-like setting, would stay there again.
Nov 06, 2020
Had a very good time. Staff was helpful and courteous . New check-in system was wonderful easy and quick no waiting. Camp site deliveries is a good idea and useful w/Covid around .
Nov 06, 2020
Thanks to Michael, manager of this KOA we have been able to move around to different sites in an effort to stay during my deployment to No. CA following the Wildfires. I can't thank him enough for working with us during this difficult time. We need a safe place to stay and have found it quite comfortable here.
Nov 05, 2020
Had a great time
Nov 05, 2020
We had a great stay at this place. There were 2 young high school kids who were so polite and kind who helped us with all our questions. Owen and Will they were amazing. Overall we had a great stay.
Nov 05, 2020
We waited at the entrance for twenty minutes as instructed by your registration emails. It stated to be patient if no came right away. No one came to meet us as the email stated. After waiting so long, someone finally walked up to us and told us to go inside to register. When I told the office this, there was no apology, just " we need to change our web site but haven't been able to.
Nov 04, 2020
Even though the camp was full, it never felt crowded or dangerous. Everyone stayed within their own group and even trick or treating was done in a socially responsible manner. We had a great time and enjoyed our stay.
Nov 04, 2020
Some lots were green and well maintained. Ours was not. Grass was dead or nonexistent in our section of the campground. We could not sit outside because dust was so bad. Staff was nice but not too helpful. Nice playground for kids. Overall the place needs better management.
Nov 03, 2020
We really enjoy our stay here. Great place to celebrate Halloween this year for the kids. I wish it was a bit less expensive, but nothing these days is.
Nov 03, 2020
We have stayed in your koa before so we knew it was nice. My only complaint is the cold pool and not being able to use the hot tub. The price we pay to stay there should allow for the pool to be heated. That was a disappointment! We really enjoyed the Halloween activities. Covid has managed to ruin many fun things but you guys did a great job.
Nov 03, 2020
My daughter had such a great time with other children and trick/treating. All the children and parents were so kind and had a great tme.
Nov 03, 2020
The park is great ! Very organized and clean. Staff is very helpful.
Nov 03, 2020
My husband & I have stayed there plenty of times with my in laws in their motorhome & absolutely love the place but this time we decided to stay in a cabin no bathroom & was impressed with the cabin, roomy & comfortable the only thing we were UNHAPPY with was the outside. SUPER DUSTY, window was dirty and doormat had years of accumulated dust, had to clean to be able to sit on rocking bench.
Nov 03, 2020
Was a pleasant surprise. Loved all the festivities and such a fun way to spend Halloween since we never get any trick or treaters in our neighborhood. We will be back!
Nov 03, 2020
Great! Thanks for having the pool and playground open. Much appreciated it. Love the dog park too.
Nov 03, 2020
the area is nice, people in the office nice....but the shower I used was awful!!!!! the water was coming out not enough to even rinse off the soap..had planned on washing my hair but couldnt..the water was warm..the faucet was not attached well. Thanks goodness it was just an overnight
Nov 02, 2020
WAS AMAZING AS ALWAYS. SO MUCH FUN
Nov 02, 2020
Our kids favorite campground!
Nov 02, 2020
Had a great time. Halloween at the koa is a must. Kids loved it
Nov 02, 2020
Visited for Halloween! Kids had a blast! Looking forward to next year!!
Nov 02, 2020
Even people do. It follow the guide lines of safety And Heath ! We enjoyed on our on space thanks Koa we love camp with Petaluma Koa !
Nov 02, 2020
Thank you to Larry for helping me this past weekend. I saw Larry out and about all day watering plants and keeping the grounds beautiful!
Nov 02, 2020
One of the best camping trips we've had! We will definitely be back
Nov 02, 2020
our annual family Halloween vacation is always a good time. Even this year, with the reduced activities due to Covid! Now my grandson is asking to have his birthday celebration in April at KOA! See you then!
Nov 02, 2020
We had a great time staying at this KOA for Halloween weekend. They had activities and texted us to let us know about all the activities going on at the KOA. It felt clean and safe during Covid. The cabins were well kept with full kitchen and bathroom. We will come back again.
Nov 02, 2020
Everything was very clean and well organized. Friendly staff. My kids had a blast and are already asking to go back! Thank you!!
Nov 02, 2020
The internet was not great and our site had some sewer smells. Dog park is small, they have cute donkeys though for the kids to visit.
Nov 02, 2020
This is a great place - very accommodating Highly recommend this KOA campground Beautiful Clean Well maintained Just lovely
Nov 02, 2020
Very good time and friendly.
Nov 01, 2020
Love your park, been there before. Your buddy sites with shared patios are great. We will be back.
Oct 31, 2020
Great place! Perfect location to check out all the small towns around the area and to shoot into SF for the day. It does have an aroma due to the cattle grazing in the field but it didn't bother us. The dogs were entertained. The flies stunk but again, the views, the location, the friendly staff outweighed it! The VIP dump service was awesome. We will definitely be back!
Oct 30, 2020
We love the grounds and especially love the buddy sites , bathroom were clean. The one thing that was disappointing was the sites was covered in leaves and not cleaned. The cost of staying at you KOA the sites need to be cleaned and ready for the next guest. We will most definitely stay again.
Dec 26, 2020
Beautiful campground, clean facilities. Had a wonderful time here. However the wifi is very spotty, however your camping your not supposed to be on the internet
- Ernest Coburn on Google
Dec 19, 2020
Very Clean. Great staff. Will be back.
- Denise LaFrenierre on Google
Dec 05, 2020
We love it here!!
- Maria Balderas on Google