Directions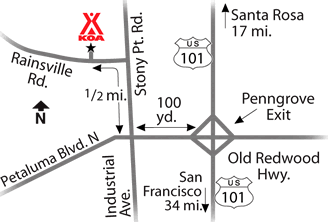 US 101 at Exit 476 - Pennsgrove. Most Northern Petaluma exit. Proceed to South/West side of freeway. Right turn on Stony Point Rd and Left on Rainsville Rd. See you Soon
Get Google Directions
Dec 06, 2020
I was looking forward to cable tv after a long day. For the second time in two weeks, the cable did not work. The last time I called and somebody came over to work on it. This time I was too tired and I just left rather than spend the second night.
Dec 02, 2020
Very friendly staff,clean campgrounds and very clean restrooms..
Dec 02, 2020
Very friendly and clean environment
Dec 01, 2020
Overall we had a great stay. For the price, however, we felt the sites should have been lead blown and cleaned a bit before our arrival. The men's restrooms usually had toilet paper everywhere and the toilet seats need to be replaced.
Dec 01, 2020
We had never camped in the fall. We had a great experience overall. The only thing was that there were young kids playing in the park without masks (most had them on) and a few women were in the bathroom without masks on our first night there. Mask policy should be stressed in those areas. We can't wait to camp again when the pandemic is over!
Dec 01, 2020
The sewage seems to have problems. It smells like a public toilet on the deck. Goats are super cute. They earned those 2 star.
Dec 01, 2020
Thank you to Talisa for her help in the front office!
Dec 01, 2020
Had a wonderful stay. It's a clean, safe and friendly place. Great communication via text loved the daily updates on store hours and activities. The sites are wonderful and nicely spaced apart. Look forward to staying again in the future.
Dec 01, 2020
Site 35 doesn't have much usable space after parking the 36 foot fifth wheel. We enjoy your place very much except with all your improvements your prices are higher than any other KOA we've stayed at. There are no options for dry camping.
Nov 30, 2020
Great facility and great customer service. Already booked for next year.
Nov 30, 2020
Had a great stay this past Thanksgiving. Just have a big issue with a site (RV site) was not being used and I had a friend member that had to rent a cabin when he could have stayed in this site. As a matter of fact a lot of sites were not begin used. Wish you would not lie about sites begin full.
Nov 30, 2020
Very disappointed in a site we were placed in this past weekend I believe it was site 671 pull through patio. Not level and right next to the bathrooms. We paid too much for this site. It not good to have to listen to the sound of hand dryers constantly. This should be one of the last sites rented and should be discounted due to its location.
Nov 30, 2020
It was a very nice KOA. First time there.I would definitely recommend.
Nov 30, 2020
Thank you to all the staff for making our stay the best. Love this campground.
Nov 30, 2020
Friendly helpful staff. RV spaces not quite level but still OK.
Nov 29, 2020
It was our first time at a KOA and we enjoyed it. It was very relaxing and nice. We appreciated their covid protocols, helped put us at ease (although not all guests followed them 100%, but that's another story). Overall, we had a nice relaxing stay and our toddler loved to stop by and feed the goats every morning.
Nov 29, 2020
Staff were friendly and professional. I appreciated that about them..
Nov 29, 2020
We enjoyed our stay at the Petaluma KOA. The owners/staff are extremely friendly and helpful. The grounds are clean and beautiful. The only downfall was having to leave.
Nov 29, 2020
Very impressed with the facilities. Loved the store and it seems like the staff is on top of it. My only recommendation would be to make masks mandatory at the playground for the time being. A lot of massless use and it was packed. Did not feel safe. Look forward to staying again.
Nov 29, 2020
We were in space Q222. They trash dumpsters are covered by landscaping. That is very nice. However, when exiting the space it is impossible to leave without driving into the other campsite to avoid scratching the trailer with the shrub branches. Additionally, the trash and recycle dumpsters were full and overflowing the entire weekend. The recycling was filled with trash and trash with recycling.
Nov 29, 2020
We had a terrific stay, despite covid. It was our first KOA stay with our first motor home. Grounds were neat as a pin. Staff were friendly and professional. Our spot, 256, was really nice. I didn't discover bathrooms until last day but we are a little new at this. We really loved the stamped concrete with the animal figures in it. Dog park was nice and the petting zoo nice we will stay here aga
Nov 29, 2020
We had a great thanksgiving stay with our nephews. We were fortunate to be 2 sites away. The campground is very well cared for and clean. Had a great stay.
Nov 29, 2020
Campground is always in great condition. If there ever is any issues they are resolved quickly without any fanfare. We have need to be in the City often and it is only 1/2 hour to the city center. The entire coast, Russian river and wine country are easy and pleasant drives, When we needed to adjust our schedule the staff have worked with us to make it happen. .
Nov 28, 2020
Very nice place. Not the first time we have stayed there but I see a lot of improvement since my last. It was great! The spot was well maintained, the service was super, very clean bathrooms and area. Even the text messages telling what is going on for the day was fantastic. This is a 5 star KOA, nice job.
Nov 27, 2020
Everyone in the campground appeared to respect the Covid=19 restrictions. Visit at another time so use of the attractions and recreational features of the campground itself would have been appreciated. Facilities appeared to be maintained except the plumbing in one of the men's showers did not work properly and had to move to another shower stall. Would
Nov 27, 2020
Was almost turned away due to the breed of my dog. It is prejudice and unbelievable.
Nov 26, 2020
We visit often, staying closer to home during the pandemic. Stayed on the opposite side of the park for the first time. Deluxe Patio spot. Very nice, clean well maintained and quiet. Even though some services are limited due to COVID restrictions, we were very comfortable! Can't wait for our next visit!
Nov 26, 2020
Thought grounds were very nice and clean. One thing I would say I didn't like is all campsites were on top of each other .fire pit was 6feet away from a pop out .
Nov 26, 2020
Loved the campground, dog park, laundry, animals, clean, nice staff. However, water was turned off twice. My husband spent 3 hours out in the cold trying to fix our plumbing and then was told by the neighbors that this KOA was famous for turning off the water and lowering the pressure. Would have been nice for them to advise of those times beforehand so guests could shower, etc.
Nov 26, 2020
Nice, quiet, and clean.
Nov 26, 2020
Very friendly staff, super clean and updated grounds. Will be staying there again.
Nov 25, 2020
Campground was very clean, spacious, great for kids
Nov 25, 2020
A bit tight getting around, however the landscaping and diverse areas are very interesting and well done
Nov 24, 2020
We loved our stay, kids had a blast, everyone who worked there was amazing!
Dec 26, 2020
Beautiful campground, clean facilities. Had a wonderful time here. However the wifi is very spotty, however your camping your not supposed to be on the internet
- Ernest Coburn on Google
Dec 19, 2020
Very Clean. Great staff. Will be back.
- Denise LaFrenierre on Google
Dec 05, 2020
We love it here!!
- Maria Balderas on Google