Directions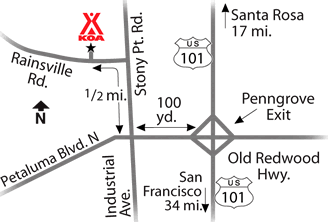 US 101 at Exit 476 - Pennsgrove. Most Northern Petaluma exit. Proceed to South/West side of freeway. Right turn on Stony Point Rd and Left on Rainsville Rd. See you Soon
Get Google Directions
Jan 04, 2021
We loved our stay. We were in site D40 and the one thing that we didn't like was that sewer was actually uphill so it made draining the tanks nearly impossible. It took my husband 45 minutes for something that normally takes 15. Other than that, we loved our stay and the staff was super helpful and accommodating.
Jan 04, 2021
As full-timers for the past 7 years we have stayed in many KOAs across the lower 48 states. This location was by far the worst AND most expensive. Our spot with tax was $100 a night! They even mishandled our rewards and cheated us out of the $25 instead giving us the $10. We weren't shown to our site upon check-in and took a wrong turn. The park is large but sites and roads very tight. No fun!
Jan 03, 2021
Very clean and friendly
Jan 02, 2021
This is the second year that we have had a long-term stay at Petaluma KOA. We have family in the area, so we stay through the holidays. It is a very lovely park with many amenities. They handled the Covid restrictions very well. Felt safe and at home. We notice that it is a great park for families and kids. We are a retired couple and also enjoyed it very much.
Jan 02, 2021
The location was ok I felt that the customer service needs work as upon arrival I was not assisted and was asked to wait outside and was informed by the rep she would come and get me but instead she helped other people ahead of me when I asked her why this was happening she was extremely rude and told me just to go inside and get helped this was extremely frustrating the way I was treated was rude
Dec 30, 2020
Very clean and lots of trees. We will definitely return
Dec 29, 2020
Excellent as always. Very friendly staff. Beautiful park. Sites are super nice and large. Very clean and staff was always out and about. Made the Holidays very comfortable during this COVID time. THANK YOU ALL!
Dec 28, 2020
The bathrooms was clean. Showers was nice. Nice and pretty quiet considering how many campers there was on Christmas weekend. All the employees that either drove by in golf cart or in the main check in / store was very nice. I really appreciated the heater in the cabin I was in. Thank you.
Dec 27, 2020
Site was clean and staff were available and friendly. We will be back!
Dec 27, 2020
Great stay - terrific customer service even over the holidays, quiet and clean space, great location!
Dec 27, 2020
My boys and I stayed for a Christmas treat and it was wonderful! Clean, safe and the staff was great! We had a wonderful time and we will be back!
Dec 27, 2020
The deluxe cabins are great for families everything is updated, clean & makes for perfect glamping. This campground is so well kept, the staff very nice, and it's close to town if needed, a hidden gem! Our little family of 3 had a lovely & safe Christmas, a welcome reprieve from being homebound during the pandemic. We'll definitely be back!
Dec 27, 2020
Everything was great! The cabin was great and our stay was great. We did not have enough propane for the gas grill and the store had already closed, but it wasn't a big deal. We will definitely choose a cabin again soon. Thanks again for a great stay.
Dec 27, 2020
Only spent one night, but enjoyed the layout. It was nice and quiet!
Dec 26, 2020
It was short but very comfortable, beautiful setting, great dog park' friendly and helpful staff. We'd definitely visit again !
Dec 22, 2020
Visit here often and it is always a pleasure. Staff is friendly and helpful.
Dec 22, 2020
We visited 3 times in a month!
Dec 21, 2020
Thank you all for being open! Love this KOA. 5 stars all the way.
Dec 20, 2020
Quiet place and very clean. I"ll be staying here again very soon
Dec 19, 2020
Great campground! Cute petting zoo! Kids loved it and they are teenagers. Close to San Fran and wine! We will come back!!!
Dec 14, 2020
OMG, this is such a beautiful KOA, not to far from San Francisco or the beaches, We stayed four nights in a Kabin (Tiny Home), they have a huge kids playground, and a petting zoo with horses and goats, swimming pool and very clean campground with friendly staff.
Dec 13, 2020
Great place; easy to find; friendly staff!! We needed to be escorted to Site - very crowded; dark and close drives - we arrived after dark - lanes not well marked or easy to see. Super clean!!
Dec 13, 2020
I stayed Dec 2020. Clean facilities and helpful friendly staff. I felt safe. Quiet nights. Very peaceful. I recommend this KOA. Book it! :)
Dec 12, 2020
I have stayed at camp grounds all over California that were much cheaper and easier to work with and accommodate with the site I was in wasn't full hook up (only water and electric) asked several times to move they wouldn't move me. This site was the worst and most expensive site I've paid for in the 2 years I've been stay in camp grounds in California
Dec 10, 2020
Showers left a lot to be desired.... water took a LONG TIME to get hot... wasted a lot of water. Otherwise it was good. Wish trailers with the BRIGHT BLUE accent lights were not allowed to illuminate after 9pm
Dec 07, 2020
Only down was guests largely didn't follow Covid protocols. It's not KOA issue imho but worth noting.
Dec 07, 2020
Great place very well kept kids loved the playground and petting zoo having a small store on site was a huge bonus
Dec 07, 2020
Beautiful grounds!! Nice and quiet. We woke up during the night and realized we had no water, but it was quickly fixed as soon as you opened on Sunday morning. We will definitely return and have already recommended it to our friends!! Thank you.
Dec 07, 2020
Always friendly and well maintained
Dec 07, 2020
It is a very nice area with big trees, some of the spaces are sloping so you have to use blocks when you level. We liked our stay there, and would come back. All the people in the office and store was super nice.
Dec 07, 2020
Beautiful campground
Dec 07, 2020
This KOA is well staffed, well cared for and up to date.
Dec 06, 2020
Shower pressure bad ,shower head corroded,expired chocolate milk in store,tv stopped working . Cabin was clean . Property was nice .
Dec 26, 2020
Beautiful campground, clean facilities. Had a wonderful time here. However the wifi is very spotty, however your camping your not supposed to be on the internet
- Ernest Coburn on Google
Dec 19, 2020
Very Clean. Great staff. Will be back.
- Denise LaFrenierre on Google
Dec 05, 2020
We love it here!!
- Maria Balderas on Google