Alert
As of June 24th WE ARE OPEN and following CDC and Covid best practices. All guests and must be registered on a site with a max of 6 people per site. Sorry No Visitors. Currently the playground, jumping pillow and other group recreation is closed. (POOL IS OPEN! with restrictions reservation are required for a time slot) Our grocery store, laundry facilities, petting farm, dog park and propane are available with social distancing and more frequent sanitizing for your protection. Facial coverings are required inside buildings. Reservations can be made online www.petalumakoa.com (recommended) or at (707)763-1492. We look forward to seeing you all back for another great summer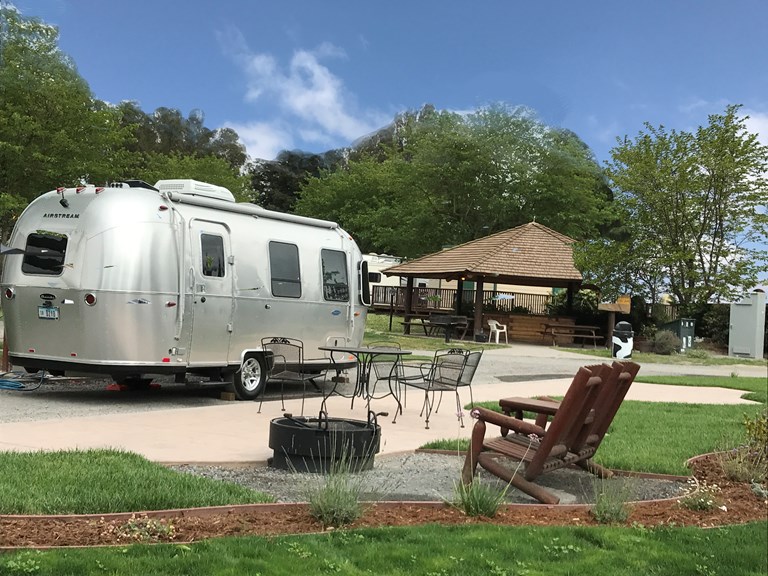 San Francisco North / Petaluma KOA Reviews
Directions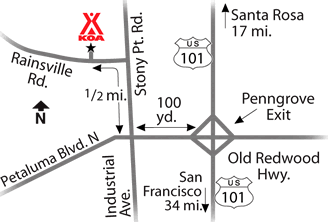 US 101 at Exit 476 - Penngrove. Most Northern Petaluma exit. Proceed to South/West side of freeway. Right turn on Stony Point Rd and Left on Rainsville Rd. See you Soon
Get Google Directions
Aug 27, 2019
Welcoming staff, tons of activities for the youngsters, spacious and clean sites
Aug 26, 2019
The front desk employees are not nice. When we ask for more towels and pillows. Anything else was great!
Aug 26, 2019
All n all it was a great time. We/ my family have made this a yearly gathering weekend event and look forward to next year!! I do have an environmental concern and request that there be more accessible and/or at each site a blue, recycle and trash/landfill bins clearly marked what goes where. And at some point introduce composting bins considering being a zero-waste business.
Aug 26, 2019
This is our second time staying at this KOA and the park is clean and staff were very customer service oriented. We stayed in a lovely lot, couldn't have been better.
Aug 25, 2019
Nice clean spot to stay !!
Aug 25, 2019
Thanks all good
Aug 25, 2019
It was Just the Night . Friendly crew Thank you
Aug 24, 2019
Beautiful grounds and surrounding area, and the campground was immaculate! There were so many things for everyone to do while there too! I'd go back in a heartbeat.
Aug 24, 2019
Simply, the best!
Aug 24, 2019
Nice place. Would stay again. Nice and quiet. One campsite let their dog run loose. One campsite left a campfire unattended. No fault of the staff, they were great and you cant supervise all the sites all the time. You cant fix stupid!
Aug 24, 2019
Great place to 'Glamp' and the staff is fantastic!
Aug 22, 2019
Our site space was very unlevel and slopped when we approached the staff to tell them that this site is not ideal for a 45 ft RV, they looked at me like why are you bothering me with this and stated: "what do you want me to do". Park is great but the staff could use some customer service training as they are not very friendly.
Aug 22, 2019
KOA it's set up for family's but on the week days they don't have as many activities even though there are a ton of kids. The train guy was sick so they canceled the train ride which was s big disappointment to the little kids. The weekends are a lot better but more crowded ...over all the Petaluma KOA is much cleaner than others camp grounds and we always have a great time..
Aug 22, 2019
Great park. Friendly, courteous staff. Extremely clean, one of the best.
Aug 22, 2019
We have stayed at several KOA's in our 3 month trip across the US. This one ranks as number 1. Beautiful property, amazing Staff, tons of activities for the kids and more! If you are trying to decide where to stay while in the San Francisco and Wine country area... Stay Here! I wished more campground owners and Staff cared like these guys do!
Aug 21, 2019
Check I was fast. Very friendly staff. Campground clean. Campsite was nice. A lot of fun for kids.
Aug 21, 2019
It was great fun. We did miss having the movies at the pool however. We loved watching them there during our past trips.
Aug 21, 2019
Clean and tidy common areas and ev sites, but dumping station was not available at our site, as requested.
Aug 21, 2019
We love coming here. Besides being a 30 minute drive to the beach or wine country this KOA is very family friendly and will keep your kids busy all day and into the early evening with ice cream socials and movies. We stayed in one of the newly upgraded pull thru patio sites and were very comfortable! Great staff and beautifully maintained grounds! One of our favorite KOA's!!
Aug 20, 2019
We had a Premium site #91, which was OK. A little short for a 42' MH. Dirt/partial gravel pad, no greenery (lawn, etc.). Cable service there is lacking, both mine and my friends pad, the reception was grainy and essentially not worth watching. Good thing each morning they collect the waste water from your rig, as there was no sewer hook-up. Lots of kids and families during the weekend.
Aug 20, 2019
We are locals but we love to stay at our Koa. Impeccably clean, Store with everything you may have forgot, great for the kids! Lots to do. Thank you for such a beautiful place to stay�ϋ�
Aug 20, 2019
Friendly staff, clean campground. We do wish they had another pool or maybe a bigger one. Gets a bit crowded on the weekends.
Aug 19, 2019
My stay at this campground was Awesome. The lodge was simply great. This was the 4th time I've stayed there. Highly recommend it they have something for every family member. Fun, Fun and more Fun
Aug 19, 2019
Great kabins! I only wish the area wasn't just dirt all around them.
Aug 19, 2019
We stayed 8 days. Campground is large but very quiet. There are so many places to explore from here within a hours drive.
Aug 19, 2019
So much fun!! The DJ (Lyle?) was amazing! Our 9 year old had a blast!! Thank you!
Aug 19, 2019
Great stay. Everyone was very nice and professional. The campground was spotless. The pool was really nice. We brought our grandkids for a 1 night stay and they had a blast. We'll be back!
Aug 19, 2019
Clean and the Maintenance staff was very helpful in directing where trash cans were located. Most of them stopped and just collected the trash. Which made my stay my enjoyable by spending more time exploring. Thanks' again....
Aug 19, 2019
Tight quarters! Un-level sites. Otherwise, OK
Aug 19, 2019
We love Petaluma and this is a very convenient place to stay.
Aug 19, 2019
The cabin was clean and welcoming. Wished there had been an overhead fan in the cabin. Convenient to the old Petaluma downtown.
Aug 19, 2019
Love this KOA! Many wonderful sites to choose from, a great schedule of activities, clean updated bathrooms & fabulous staff. This was our 2nd stay within a month & will book our next stay soon for October. Nice that we live only 12 miles away which makes getting away much easier & when your within the campground you entirely forget how close to home you are to home & enjoy the campground.
Aug 19, 2019
Facility - top notch. Customer service of employee was great. Serious negative; recreation hall, and the activity tent unless you're a fan of crazy loud music on Friday nights, and are an early riser. Lots of kids, people and noise all the time.
Aug 19, 2019
Friendly staff and very accommodating
Aug 19, 2019
Really disappointed no one to take us to the site Had a pull thru trees really over grown had to back out Had no sewer no No trash pick up
Aug 18, 2019
We really enjoyed our stay at the Petaluma KOA. Our two grand kids were with us and the weather was extremely warm. We made great use of the pool. We had a great end site #49...close to the pool, bounce pillow and basketball court. Perfect for the children and our border collie. We've been staying here since 2010 and always enjoy our stay. The cg is well maintained and it shines!! Thank you.
Aug 18, 2019
Was truly enjoyable!
Aug 18, 2019
A big campground and fairly busy. Clean and well kept. They are upgrading some of the sites. Very nice staff. Watch out for children.
Aug 18, 2019
Great campground, very well set up, and is evident a lot of effort is put in to keep the grounds and amenities tidy, as well as all the activities for kids. We are glad we discovered the KOA brand early in our CA road trip (we are from NZ) so we know what to expect where we find others. Slight annoyance - the road workers starting at 7.30am (when quiet time goes till 8am) but not a huge anoyan
Aug 17, 2019
Clean, big facility with friendly staff and lots of amenities. Convenient to San Francisco and wine country. Plenty of room in the sites, and some are set up so side-by-side friends can face each other by entering in opposite directions. Very nice.
Jul 07, 2020
great location, nice & clean with lots of trees for shade
- Denise Gonçalves on Google
Jul 08, 2020
We were thrilled to come across a great campground after our dump we stayed at in Eureka. The only downside to our stay at this KOA was not everything was available due to COVID rules. It would have been kind of KOA to not charge full price when the amenities were not available. If the campground was fully operational it would have been worth staying at more than one evening.
- rwheeler1977 on Trip Advisor

San Francisco North / Petaluma KOA
Open All Year
20 Rainsville Road
Petaluma, CA 94952
Check-In/Check-Out Times
Accommodations
Check-in: 3:00 pm, Check-out: 11:00 am
RV Sites, Tent Sites
Check-in: 2:00 pm, Check-out: 11:00 am
San Francisco North / Petaluma KOA
Get Google Directions

© 2020 Kampgrounds of America, Inc.