Directions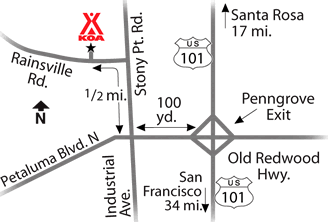 US 101 at Exit 476 - Pennsgrove. Most Northern Petaluma exit. Proceed to South/West side of freeway. Right turn on Stony Point Rd and Left on Rainsville Rd. See you Soon
Get Google Directions
Jul 29, 2020
It was great! The staff were kind and friendly. I have already recommended my aunt, who will be staying in August and my sister in-law !!! This place is great. Thank you!
Jul 29, 2020
We were completely happy with our stay! We will be coming back soon :)
Jul 29, 2020
This was a stop over stay for us on our way to Oregon. We reserved one of the premium sites and it was worth the few extra dollars. This campground is well kept and I found the facilities to be very nice. The campground is in a quite location which made for nice evening and morning quiet time outside. Lots for the kids to do as well. I highly recommend this KOA.
Jul 29, 2020
We had a great time. Everything nice and clean and the cabines were very comfortable.
Jul 29, 2020
We really enjoyed staying with you. Our family had a fun time in the area. Things that would be nice for improvement: on the map show the tent sites with trees so we can plan accordingly. Reinforce masking in bathroom areas. There were times i went and many people were in there not social distant w/o masks.
Jul 29, 2020
We liked the facilities but were very concerned that none of the other campers were wearing masks at the pool or while walking around the campground.
Jul 29, 2020
very small campground. right behind some building that ran a loud machine throughout the night. much different than our stay before, not happy with this stay. staff was friendly though.
Jul 28, 2020
We were in a VIP site . They are beautiful! We had a campfire while sitting on our glider! The pool was great and all the precautions against social distancing were enforced. We felt safe.
Jul 28, 2020
Didn't know about paying extra to pick my campground spot. Will definitely do that next time since we were placed on a busy corner and we have kids.
Jul 27, 2020
This was our first time staying at any KOA. And, even with the COVID restrictions we had a wonderful time and will definitely come back. Everything was clean and well maintained. We all loved it!
Jul 27, 2020
Was there 7 days,had a good time,,clean well cared for ,needs some update on showers,and sprinklers,was quiet,did a good for considering cocos,a little pricey tho.
Jul 27, 2020
Mike and Matt are always so good to us. They made our stay perfect!
Jul 27, 2020
Enjoy our time every time we go. Thank you to all the staff.
Jul 27, 2020
Resort is beautiful, well kept. Staff is friendly and safety is a priority.
Jul 27, 2020
We loved our very private campsite, however there was a solar light to the right of our rv that had a stobe light flicker all night long. It was very annoying, made it difficult to sleep and should be repaired. Otherwise, nice campground.
Jul 27, 2020
We had a great three night stay. The grounds were clean and there was nothing to complain about. Already made reservations to come and stay again next month.
Jul 27, 2020
Campground was mostly clean. Our site was ridden with goat heads and dead grass. I asked about a honey wagon because the dump station hose was broken and was told they don't have one. Turns out they do and wouldn't let me use it despite their dump station not having a hose for me to rinse my equipment after dumping. I even offered to pay, but still a firm no. Huge oversight of customer service
Jul 27, 2020
It was very crowded but people did seem to be wearing masks and keeping distance. The management was responsive and helpful. The camp site was clean and lovely.
Jul 27, 2020
Crazy AMAZING!!! Super clean, beyond well organized. LOVED the taco stand Friday night. We loved this campground so much, we immediately booked a trip for the following weekend with the whole family.
Jul 27, 2020
Clean bathrooms, peaceful surroundings...next time we will need to get a space with full hook ups
Jul 26, 2020
Accused of moving camping spots, the staff drove us to the wrong spot. Was yelled out by a staff for riding an e-scooter. Passed at least 30 staff on day one and it was ok. The staff got close to my face (two feet) without wearing a mask (covid). All I was doing was riding the scooter with my child. This mans unprofessionalism really bothered my child. Was going to join KOA - not now.
Jul 26, 2020
Great time. Grandson lived the petting zoo. Loved being in the trees. Drove our ModelA Woody to Bodega bay for lunch. We had a wonderful time.
Jul 26, 2020
We had a great time at the campsite. Everything was clean and very well taking care of. The staff is very nice and friendly!
Jul 25, 2020
The bathrooms ran out of toilet paper and soap. One did not work at all. Seemed quite overpriced for what we got. Long term RV residents have a chip on their shoulder.
Jul 25, 2020
Staff very friendly and helpful, looking forward to my next stay.
Jul 25, 2020
Great place to stay, clean and comfortable. Nice staff and even though the pool was the only open activity they were very organized and made it fun!
Jul 25, 2020
The only problem I had was the sewer hook up. It was in a higher position, so I had lift the hose to move it to empty my tanks. The site itself was great and nice to stay at.
Jul 25, 2020
This review has been removed by the moderator for inappropriate or incorrect content.
Jul 25, 2020
We had a very nice relaxing stay. Masks and social distancing were observed at all times.
Jul 25, 2020
We only stayed for a day but we had a fantastic time. This campground has everything you need from (facilities, supplies, activies) and location can't be beat. We'll be back again soon.
Jul 25, 2020
The entire area was very well kept, and friendly with the customers in mind. I was very pleased with the professionalism of the staff and ground keepers
Jul 25, 2020
Even though we only stayed for a couple nights. This place is outstanding. The hook up are modern and the site had plenty of room. I would definitely recommend this place to anyone wanting to stay.
Jul 25, 2020
Such a great experience for our first stay at a KOA! Great job y'all!
Jul 25, 2020
Just stayed one night but would definitely stay again. Friendly staff. Loved the check in process.
Jul 24, 2020
The camp sites where we were placed with our 40ft fifth wheel was extremely tight on getting into the space, it was not big rig friendly. There are plenty of sites that are big rig friendly however they didn't put us in one of those. It took us 20 mins to just drive into the site we had to maneuver so much to get in. Then once we were on the site, barely had room to park our truck.
Jul 24, 2020
Fire pit was dirty at both sides that we had, beside was far from level, and quite tight to each other. Overall this is a huge site and isn't bad with the family.
Jul 24, 2020
We had a great time, no complaints. Pool was nice.
Jul 24, 2020
Beautiful facilities and friendly staff!
Jul 24, 2020
Friendly, clean, nicely taken care of, helpful
Nov 28, 2020
Our favorite koa
- Don Schatzel on Google
Nov 15, 2020
Amazing. The perfect t nearby get away!
- Penny Schatzel on Google
Nov 08, 2020
The campground is beautiful and so peaceful. Tons of stuff to do within a short drive. We will definitely be back!
- Monica M on Google