Directions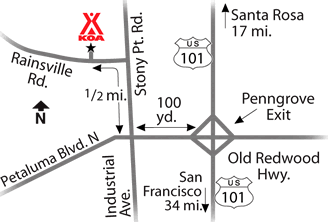 US 101 at Exit 476 - Pennsgrove. Most Northern Petaluma exit. Proceed to South/West side of freeway. Right turn on Stony Point Rd and Left on Rainsville Rd. See you Soon
Get Google Directions
Aug 04, 2020
We have been coming to this KOA for over 30 years. This stay was our first with our new camper. We needed a lot of help and attention. That is exactly what we received. The owner, Woody, made sure we had a day shift associate and a night shift associate available to help with set up and take down. The day associate Larry and night associate Scott really went above and beyond. Thanks to all.
Aug 04, 2020
Putting us In the middle of a filipino family reunion with 50+ of them walking through our campsite the whole time was not the weekend I had in mind. They were loud, rude and Obnoxious. I was so disappointed that I couldn't sit and have a relaxing glass of wine on my deck that I paid for. And I paid alot at that !
Aug 04, 2020
Friendly staff, amazing grounds and fun activities, even in a pandemic time.
Aug 03, 2020
Horrible bad attitude campground run like a concentration camp campers forced to wear wrist bands witnessed a fellow camper being denied his stay because terrier breed dog was thought to be a pit bull which he in no way resembled turned away rudely family young children who had reservations and no where else to camp that night after staying in many Koa I was shocked
Aug 03, 2020
Super great kampground. Friendly staff, clean kampsites. We would definitely come again and recommend to friends and family.
Aug 03, 2020
Always a great time at Petaluma koa
Aug 03, 2020
Beautiful property and we will return every time we're in the area.
Aug 03, 2020
This was our first KOA experience. It was just ok. We didn't realize that it was surrounded by farms so it smelled like manure the whole time. Also, our fire pit was right next to our neighbor's sewer hookup so we didn't even hang outside at night. Also, the wifi didn't work at all.
Aug 03, 2020
Great place for family fun. Nice sites.
Aug 03, 2020
Very nice setting. Clean & friendly
Aug 03, 2020
We were disappointed to find a very basic site with no patio at all, only dirt and gravel. We are retired so watch our dornding- this was very expensive for us, had stayed in much nicer for half the price. I called up to the office to make sure we were in the correct site. A senior discount would be welcome. If it is a family with 2-3 children may be worth the price.
Aug 03, 2020
It was a really nice wooded lot. My only complaint is the price, quite pricey.
Aug 03, 2020
It was our first stay at the SF/Petaluma KOA. Very nice family oriented KOA. We booked a back in slot w/ electric and water (we have a pop up trailer no bath). Our site was beautiful. The landscaping is beautiful and loved the stamped concrete pad with table/umbrella and swing chair. When we arrived, we were pleased to see how clean the bathrooms were, but by the morning they needed a cleaning.
Aug 02, 2020
One of the nicest places we've been to.
Aug 02, 2020
Everything was good although the restrictions. We really like the cleaning on the restrooms. Thank you to the maintenance team. Good job.
Aug 02, 2020
Very clean and well maintained park.
Aug 02, 2020
lovely staycation
Aug 02, 2020
Clean, friendly, adhere to Covid guidelines. Loved my stay!
Aug 02, 2020
Very noisy camp ground, peoples music blaring with no respect for others. No reason even with COVID to close the pool at 6:00. Should have reduced the rate since amenities in the park were closed. My dog liked the dog park, urine smell was very strong. Good kids park if amenities were available but people drove fast thru the park and kids didn't respect the road and cut off RVs trying to park.
Aug 01, 2020
This is one of the best KOA parks we have stayed at, a real first class premium park
Aug 01, 2020
3rd stay (102,114,115). Have 37ft with 3 slide outs. Alex was very accommodating when we set up! We are seniors and husband has a disability. Location 2hrs from home. Pretty pricey since we don't use any amenities but beautiful grounds, clean, and staff friendly. Can really relax! We'll be back.
Aug 01, 2020
Our campsite smelled like dog urine. The shower was cold. My family was placed between two huge teen outreach groups that were loud until 1:30am, then woke up at 4am and began banging pots and boxes. Not a good stay�
Aug 01, 2020
Our stay was very nice, our deluxe spot was private & wonderful, the pump out service was very convenient. We would have loved to be able to purchase firewood & have it delivered to our site but that service was not available.
Aug 01, 2020
The SF/Petaluma KOA is a huge and lovely campground. It's very clean and run by a gracious and accommodating staff. There are lots of amenities, especially for children. We've camped there twice in our camper van. The first site was on a nice grassy knoll, but last week's was in the silty dirt. It was way overpriced at $68/nt. Pick your desired area carefully. These were two quite different
Aug 01, 2020
I can't believe you are charging $100 per night and cannot even use the pool. When we called we asked if the pool was open and was told yes. Not told that you had to make a reservation and can only be there 45 minutes. This is the first KOA we have been to (and we've been to many across the US) that someone did not see us to our site after checking in. We were just given a map.
Aug 01, 2020
The place was very nice and well kept. The pool looks beautiful. We had to leave at bedtime because our tent was full of smoke from neighboring fires.
Aug 01, 2020
I stayed at your cabins last week. During our stay my son became very sick. I actually thought he might have contracted covid-19. I did the right thing and left your facility as soon as possible. I called your office on two separate occasions right after I left advising them of the issue requesting a refund or credit of our second night. I still would like a refund if at all possible.
Aug 01, 2020
We had a great time. Clean, lots of space, and responsible staff wearing masks!
Jul 31, 2020
Very convenient location-wise. Great for kids and amenities nearby. We had a blast!
Jul 31, 2020
I'm a regular camper and have been to the Petaluma KOA for years. Love the upgrades and addition they have made over the years. One of my favorite KOA's.
Jul 31, 2020
We thought the landscaping was very nice. I was disappointed to see that people do not pick up after their own dogs in the the dog park, which is such a nice thing to have available. I really appreciate being able to stay in one of the deluxe cabins (bathroom) with our small (20 lb) dog - I know that many KOA's do not do this. We always bring extra sheets to cover the bed and couch.
Jul 31, 2020
Stayed at one site for few nights and loved it. Loved it so much I wanted to stay another night. Unfortunately the site was rented so I asked for another site and I already new that the Petaluma KOA would pull through and get me another spot. It was that easy. Love this KOA for the staff, weather, location and much more.
Jul 31, 2020
Wonderful site, peaceful atmosphere, excellent way to have a safe and socially distant vacation.
Jul 30, 2020
My family camps here every year to get the cousins together. Always a clean, friendly, well taken care of property. Looking forward to our next trip back.
Jul 30, 2020
Very nice place & the cabin we stayed in was very clean!
Jul 30, 2020
It was all good.
Jul 30, 2020
Loved this campground! Something for everyone. Beautifully landscaped. Only reason I didn't give 5 stars is because I think they need to be a little stricter with making sure vehicles are not sticking out into the roadway. We had quite a time pulling our 40 ft MH out of our spot due to people not being courteous and partially blocking the road. However, that was the only complaint.
Jul 29, 2020
The Petaluma KOA is very organized. The staff are helpful. They handled the pool scheduling/monitoring very well. Felt safe amid the Covid restrictions. The grounds are well kept.
Nov 28, 2020
Our favorite koa
- Don Schatzel on Google
Nov 15, 2020
Amazing. The perfect t nearby get away!
- Penny Schatzel on Google
Nov 08, 2020
The campground is beautiful and so peaceful. Tons of stuff to do within a short drive. We will definitely be back!
- Monica M on Google