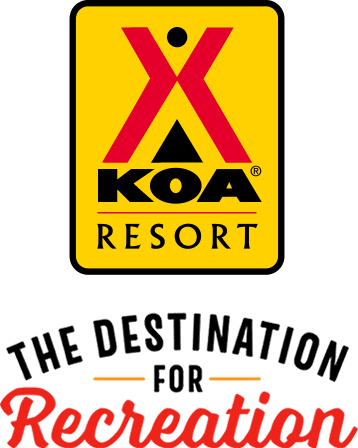 KOA Resort Campgrounds
KOA Resorts offer a carefree vacation in the great outdoors. Enjoy robust recreation and staff-led activities, kick back and relax by the resort-style pool, or grab a bite to eat, all while never leaving the campground. And with plenty of RV Sites with KOA Patios® and Deluxe Cabins with full baths to meet your needs, it's the ultimate camping getaway.
KOA Resorts Feature:
RV Sites with a KOA Patio®
Deluxe Cabins with full baths and linens
Premium Tent Sites
Resort-style pools
Indoor and outdoor group facilities
Directions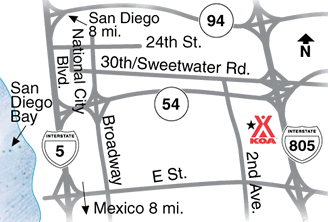 From I-5: Take E Street Exit in Chula Vista.
From 805: Exit 9, Sweetwater Rd. Turn left at bottom of ramp, go west on Sweetwater. Turn left on Second Ave, KOA is on left after bridge.
East from I-5, West from 805 to Second Ave. North on Second 1 mile
GPS: N32.656988, W117.081751
Get Google Directions
Aug 21, 2021
Awesome friendly staff, thank you.
Aug 20, 2021
Everything at this KOA is always top notch with two exceptions. First, we like spot #3406; unfortunately the tree at the rear corner always has ants that drop off on to the roof of our rv and then get inside. Ant poison could be spread out in the turf there and around that tree to eradicate this problem. Second, the WiFi at this spot is terrible, we have to use a hotspot due to weak signal.
Aug 20, 2021
this koa is very nice .bathrooms were clean .showers were clean lots of activities for our granddaughter she was so happy read the reviews that talked about crows making noise in the morning not to bad to honest fun to watch .we will be back for sure
Aug 20, 2021
Great time. Lots of kid activities .
Aug 20, 2021
We had a blast!
Aug 20, 2021
It was our first time here and we were overall happy with our stay. Just wish spaces were a little more farther apart
Aug 20, 2021
When we arrived and got to our assigned spot, we could not get our satelite TV to work. We spoke to Paola, in the office and she did a great job getting us to a better spot. The only complaint we have is the lack of internet service. At the price we paid, we should have had internet at our site. Going to the office to try to work is impossible --and what do I do with a 6 year old while there.
Aug 20, 2021
Always such a great time. Corina is so great with the kids and has the best attitude when doing the activities. Maggie at the desk was very accommodating and helpful.
Aug 20, 2021
Everyone who works there is so nice and helpful!! Last time I stayed I didn't have a fire pit I asked a worker if he could bring me one I figured it may take a little while I literally went in to put stuff down and when I came out my fire pit was already there. Thank you for the wonderful stay we will be back soon
Aug 19, 2021
The campground was amazing! The pool felt like a resort and all of the facilities were clean. We wish the Cafe was open later. The only downside was the crows. There were so many on the trees above our trailer that we could not sit outside. Maybe placing the fake owls in the trees or reflective material would keep them away. Other than the crow pooping on us every night it was a great place to sta
Aug 19, 2021
As usual, excellent time from check-in to exit!
Aug 19, 2021
It was amazing! It was our first time there and we absolutely loved it! My kids participated in several of the activities. They can't wait to go back, so we're already planning our next stay!
Aug 19, 2021
It was great
Aug 19, 2021
It was a nice stay. Had to clean the bbq grill out when we got there. It was filled with ash. It's a bummer that the cafe is only open until 3:30. But the cabin was clean and the bathrooms were kept very clean. Very clean nice place. Family friendly. Lots of amenities some shorten on time due to covid crap. The barrel bus was fun for my daughter and I and we loved the pool. Will definitely be ba
Aug 19, 2021
everything was wonderful, very clean, quiet and people very nice.
Aug 19, 2021
The employees are great, especially with kids. There was something to do all day long and you were never bored.
Aug 19, 2021
We love to stay the kids love the pool The only problem was the mosquitoes that besides that it was the best time we had in a long time thanks to all the nice stuff
Aug 18, 2021
We had a great time
Aug 18, 2021
all good except for the crows at 5:30 in the a.m.
Aug 18, 2021
Nice KOA. Pet friendly. New pool was very nice. Well laid out. Lots of activities for kids. Enjoyed our stay.
Aug 18, 2021
Clean, fun and best campground all around!
Aug 18, 2021
I have no complants, it is just expensive.
Aug 18, 2021
Nice and quiet just what we wanted
Aug 17, 2021
Dogs unleashed, radios so loud you can hear them 5 spaces away. Camp ground is kept very clean, staff is the best, but some people that come in for a few days are scumb bags.
Aug 17, 2021
Our stay was wonderful, as usual. We invited friends and family to join us, and they were impressed as well. I would like to see more pictures of the newer cabins on the website. I am considering booking one of the newer ones for our next visit.
Aug 17, 2021
Me gustaría decir que estuvo muy bien pero estuvo bien, por las muchas telarañas que había y sucio, también me di cuenta que cuando se desocupo la cabaña enfrente de mi, la muchacha que se supone debería limpiar desinfectar duró sólo 2 minutos dentro de la cabaña y no la vi con ningún artículo de limpieza sólo puso una bolsa nueva en el bote de basura. Me di cuenta que no DESINFECTAN.
Aug 17, 2021
We had a great family camping experience. We rented two cabins and an RV site. The staff were friendly and the grounds were clean. Thank you for a great experience.
Aug 17, 2021
Excellent camground. Very clean, spacious site. Very kidfriendly.
Aug 17, 2021
Overall great! We stayed in the new deluxe cabins. The unit was nice but the floors were extremely dirty/sticky and the unit showed a lot of wear in tear for how new it is. Overall our stay was excellent, I Personally believe for the price per night, the unit should be in a little better shape.
Aug 16, 2021
Great time as always ,we camp once a month at your KOA. At times on Saturday pool is way over crowded an no monitoring of wrist bands. could be allowing none campers in pool .
Aug 16, 2021
Stay was great, been coming for years but this is the first stay that bird poop has been a problem it was everywhere
Aug 16, 2021
It was awesome! Clean park, store is cool, front desk people were cool and helpful! Over all love this campground
Aug 16, 2021
All the updates at the campsite are awesome!
Aug 16, 2021
All staff was very friendly and helpful. It would help if the staff makes sure the individuals at their sites ARE NOT blasting their music. Playing music is fine but it does not need to be blasting. I hope you guys can work on taking care of that going forward. Thank you!
Aug 16, 2021
Convenient location. Spacious sites. Clean. Quite. Close to everything.
Aug 16, 2021
Have visited and been pleased before. The particular spot we camped in this weekend(3032?) is an absurdity given the amount of bird poo that is clearly a hallmark feature of nearly half the site, including utilities; vouchers for an rv/car wash should be offered to campers as a subsidy for what is an absolute necessity after leaving the site.
Aug 16, 2021
you have to know what spots get attacked by CROWS or its really really really bad. i had the office move me and it was ok. it was horrible for folks that got hit by the birds. I'll be back but will make sure not to get STUCK in the wrong spot.
Aug 16, 2021
Very friendly staff! There are so many activities for kids to do. The grounds are very well kept. I would highly recommend this KOA.
Sep 13, 2021
Family owned and operated, as a homeowner in Chula Vista I love seeing local businesses flourish, great place to bound with your family and make great memories
- Joseph Ugi on Google
Sep 12, 2021
Good place & good service
- Arce Iniguez on Google
Sep 08, 2021
Is awesome 👍
- Irma Shamon on Google