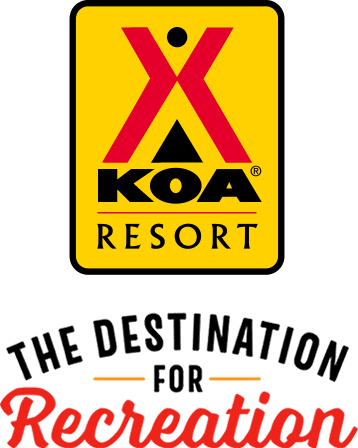 KOA Resort Campgrounds
KOA Resorts offer a carefree vacation in the great outdoors. Enjoy robust recreation and staff-led activities, kick back and relax by the resort-style pool, or grab a bite to eat, all while never leaving the campground. And with plenty of RV Sites with KOA Patios® and Deluxe Cabins with full baths to meet your needs, it's the ultimate camping getaway.
KOA Resorts Feature:
RV Sites with a KOA Patio®
Deluxe Cabins with full baths and linens
Premium Tent Sites
Resort-style pools
Indoor and outdoor group facilities
Directions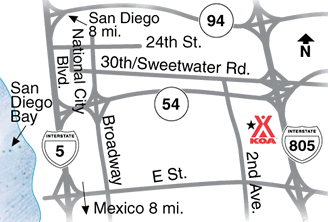 From I-5: Take E Street Exit in Chula Vista.
From 805: Exit 9, Sweetwater Rd. Turn left at bottom of ramp, go west on Sweetwater. Turn left on Second Ave, KOA is on left after bridge.
East from I-5, West from 805 to Second Ave. North on Second 1 mile
GPS: N32.656988, W117.081751
Get Google Directions
Sep 07, 2021
Stay was wonderful! loved the activities provided for families
Sep 07, 2021
I enjoyed my stay very much...I noticed alot of new housing and upgrades to the preferred tent sites...very nice...clean restrooms and showers..Friendly staff..A great relaxing place for the family..My only upset was the removal of the slushie machine at the general store..Overall very satisfied and enjoyed my stay at KOA.
Sep 07, 2021
Someone stole our towel at the pool. It was a new expensive one, so that sucked. Inquired at the front office and they said to gobto kids club, who told me to look for a lost and found in the pool area which there was none out. Wasn't very helpful.
Sep 07, 2021
Staff are quick, attentive, and helpful. Glampground is safe for families with lots of activities for the kiddos! Prices are getting a tad expensive holiday weekends IMHO. Overall we enjoyed our stay again and see y'all next 4th of July! :)
Sep 07, 2021
Great place to stay. Friendly staff willing to help you at all time, clean facilities with lots of things for the kids to do and enjoy around the campground. Had some friends and family members join us at this campground for the 1st time this weekend and they were really happy and look forward to future stays.
Sep 07, 2021
The amenities are new, clean & fun, especially the pool and restrooms. However, the tent camp sites were very cramped together, and the economy sites were subject to constant loud noises from the freeways all day and NIGHT! A neighbor right outside the camp played loud music at 4am! The worst part of the experience is the mosquito infestation. We were eaten alive by them at dawn and dusk.
Sep 07, 2021
Everything was great from the activities for the kids to cleanliness of the showers and restrooms. However the bird droppings everywhere needs to be cleaned up better. All in all we had a great time.
Sep 07, 2021
Loved that there were plenty of activities for the Kids. The store had camping supplies and more. The food was amazing. The staff was amazing and very helpful. My family had a great time.
Sep 07, 2021
Great park but the crow problem is bad. We spent a lot of time and money having to clean our truck and trailer after our stay.
Sep 07, 2021
We stayed in a Patio site for 3 nights with our 3 kids. Loved the site and all the amenities and activities. Park was clean and well manicured. Only complaint, the staff in charge of the activities, all of which were around 20 years old, could use some training in customer service. We had a few issues that could have and should have been resolved that weren't. Otherwise, we enjoyed our stay.
Sep 07, 2021
Lots of fun things for the kids to do.
Sep 06, 2021
My stay was amazing got to experience some of the imentities I will definitely be back
Sep 06, 2021
Great stay with family. Yoir staff was great! Especially Kirk, Eddy and Chrisine. Only thing needed is that you need to put fresh ground cover. (Very dirty than before) Thank you �
Sep 04, 2021
We didn't have a TV remote, we had a DVD remote but no DVD player. Toaster didn't work. Waited & waited for firewood delivery. Loved everything else.
Sep 03, 2021
Love this place, highly recommended for families. Great staff, awesome activities for kids and well kept grounds
Sep 03, 2021
Beautiful setting with nice old trees, plenty of space between campers, great pool facility. Only drawback is it is located right next to an interstate, so the road noise was noticeable. But would stay there again.
Sep 03, 2021
Property is kept clean. Easy back up spot. Lots of shade. Friendly staff at shop and reception area. My dislikes are as follows. 1. Sand Castle Cafe closed most of the time. Not according to schedule. 2. Poll was not kept clean. Not cleaned daily. Lots of sand in the pool and jacuzzis. Hair ball floating in pool. 3. Activities not done as scheduled.
Sep 02, 2021
Stay was nice, just disappointed that our site was full of bird droppings when we arrived. Was not aware of the amount of crows nesting in the area and the amount of dropping that would cover our motorhome. Spent the whole day cleaning up the droppings on top of the motorhome, awning, and slide covers. This would causes me hesitant on returning in the future.
Sep 02, 2021
Very nice place the kids love it the little train is very good for the kids I'll be back again to visit.
Sep 01, 2021
Would have been better if annoying rv guest with RC cars racing all day and night would be more considerate with noise. So loud can't sleep rest relax with annoying noise. Overall too many of that kind of individual not considerate or respectful of other guests. If you want relaxation rest peaceful enjoyment of outdoor camping this one not for you.
Sep 01, 2021
We booked Sun-tues. Our primary day on site was Monday and there were zero activities that day. It would have been nice to know that when we were booking the stay as we were surprised by it and up a creek without a paddle.
Aug 31, 2021
The kids enjoyed most of all!! Bikes, rock climbing, pool, everything you had to offer to them. Cabins and surroundings were very clean and accommodating. We definitely will plan a family trip there for next year.
Aug 31, 2021
Great service, and excellent accommodations for the whole family.
Aug 31, 2021
Stay was great, had a nice big premium spot across from the pool. Highly recommend
Aug 31, 2021
Whoop whoop!!
Aug 31, 2021
A great campground with a friendly staff.
Aug 31, 2021
Great place for family, awesome facility
Aug 30, 2021
We had a great stay. Grounds and cabins were clean and our request to stay close together was fulfilled as much as possible.
Aug 30, 2021
Great sites, activities and amenities, loved it!
Aug 30, 2021
Had a wonderful time-everything was so clean and the activities made it easy and fun to fill out days-thank you!
Aug 30, 2021
Had a great time and so did my kids. Only thing was , online said our site was going to have a fire pit and we did not. Wasn't that big of a deal but would have been nice to have.
Sep 17, 2021
The best glamping experience i have ever had recommended for everyone
- chris downs on Google
Sep 12, 2021
Good place & good service
- Arce Iniguez on Google
Sep 08, 2021
Is awesome 👍
- Irma Shamon on Google