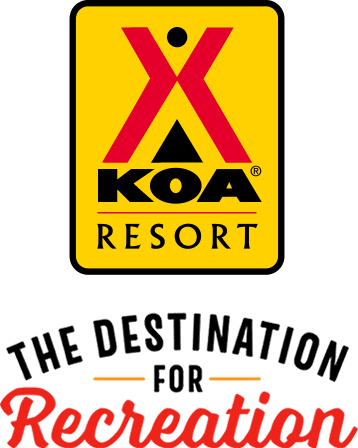 KOA Resort Campgrounds
KOA Resorts offer a carefree vacation in the great outdoors. Enjoy robust recreation and staff-led activities, kick back and relax by the resort-style pool, or grab a bite to eat, all while never leaving the campground. And with plenty of RV Sites with KOA Patios® and Deluxe Cabins with full baths to meet your needs, it's the ultimate camping getaway.
KOA Resorts Feature:
RV Sites with a KOA Patio®
Deluxe Cabins with full baths and linens
Premium Tent Sites
Resort-style pools
Indoor and outdoor group facilities
Directions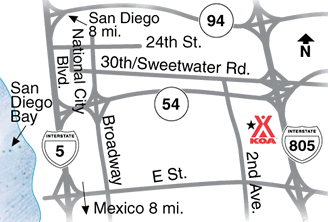 From I-5: Take E Street Exit in Chula Vista.
From 805: Exit 9, Sweetwater Rd. Turn left at bottom of ramp, go west on Sweetwater. Turn left on Second Ave, KOA is on left after bridge.
East from I-5, West from 805 to Second Ave. North on Second 1 mile
GPS: N32.656988, W117.081751
Get Google Directions
Sep 13, 2021
This was our first time here. I was very impressed. Lots of things to do if you have children with you. I didn't get a chance to use the pool but looking forward to another stay. Will get into that pool then. There was on thing we didn't care for was how early the kids could use the bounce cage. It woke us up both days. It sounded like thunder. I talk to a few others who said the samething.
Sep 13, 2021
had a blast. will be coming back
Sep 13, 2021
Our spot was good. Hook ups were fine. Upon entering people were holding up the line. Wish people would give camper coutesy. Dont blast music beyond their site. Wasnt bad but just enough to annoy. Was a good weekend. Pool was busy
Sep 13, 2021
The trip started off wonderful, but as the hours went on it went downhill. We attempted to go to the Gift Shop as well as the Sand Castle Cafe on both Saturday and Sunday with issues. Saturday the Cafe was only serving drinks and was closed for like 4 hours in the middle of the day which was really odd to us. Then on Sunday was closed completely. Overall for the price you pay it was not worth it.
Sep 13, 2021
Nice trees and amenities for kids. Disappointments: we had rare slip with tree location that didn't allow us to open our awning, cafe mysteriously closed on Sunday (if someone had COVID I get it, word was you couldn't get staff?), bike rental customer service seriously lacking (I see you spray bikes but when do you actually clean them and pump tires?), wifi super weak and spotty (didn't work
Sep 13, 2021
Very clean, lots of activities for kids, we probably wouldn't go back as there were too many kids for us. Great family Park.
Sep 13, 2021
We really enjoy or spot 8001 always very clean great staff
Sep 13, 2021
My only disappointment was that I called two weeks in advance to book a few days before our group arrival. ( Flipside Church) and they said there was no availability the week 9/7-9/10. My friends were there and they said there were numerous spots! Disappointed because we could of stayed before our scheduled group weekend and that didn't happen!! ��
Sep 13, 2021
Always clean good fun stay
Sep 13, 2021
We have passed on this KOA because of its locations in Chula Vista for a couple of years. But the Buy One get One Free had us looking at new places to visit. We were very happy to find a great new vacation getaway! Clean, great staff, great pool area and bike trails easy to get to and the bay is an easy bike ride. Trees keep it cool and grass areas and more things to do are everywhere.
Sep 13, 2021
We had a great time! All of the staff were extremely friendly and helpful and the amenities were awesome!
Sep 13, 2021
Best campsite in San Diego. Beautiful grounds, amazing pool, helpful staff, and family friendly activities.
Sep 13, 2021
My only complaint is that the 'yard' area of my site was full of dog crap. I cleaned up most of it. I noticed my neighbors had the same issue and talked to an employee about cleaning it up. For this reason alone, I will NOT stay here again or even recommend it to family or friends.
Sep 12, 2021
x For several years we have been coming to the San Diego KOA every year and stay for 2 months in the summer. We will continue to do so, as long as we are able. Place is always clean and safe. Staff is very helpful and friendly.
Sep 12, 2021
We have stayed here many times over the past 10 years. Great atmosphere quiet wooded space. Tons of family activities and the new additions are spectacular. Highly recommended place to stay
Sep 12, 2021
We have been here several times, This KOA never disappoints
Sep 12, 2021
Love the place will be back with the family
Sep 11, 2021
We had to cancel camp reservations in the mountains due to fires so we decided to see if openings were in the Chula Vista KOA. Our campsite from friends was a little far away so we asked if any sites were closer. The office staff found a site closer and made the changes. We were so grateful and it really changed the outcome of our experience. We had an outstanding time! Thank you.
Sep 10, 2021
Very nice rv park. The only negative is the squawking and crapping birds !
Sep 10, 2021
Was clean peaceful and full of things to do!
Sep 10, 2021
As usual, the park is very pleasant. Staff are friendly. We had to sweep our site when we pulled in because there were small pieces of trash and foil. We had to do this last time too. Each time we went to the cafe it was closed. One day the sign said it would be open the following day and we went - And it was closed. The mosquitoes ate me alive! That is just part of camping, but maybe bug spray?
Sep 10, 2021
Wow! And lots of trees!
Sep 09, 2021
Fun, good amenities, staff consistently cleaning.
Sep 09, 2021
First time at KOA SD ,we had a great experience. Rooms were clean , activites for the kids a +. One complaint would be at the pool. Both days saw people bringing snacks which I don't mind, what I didn't like was having snacks inside the pool . You could see food and plastic floating . We took an empty bottle and couple of gummy bags out from water People should be more responsible or KOA should n
Sep 09, 2021
WE GOT ANTS IN OUR RV WHILE THERE.
Sep 08, 2021
We have been coming to KOA in Trulieve Vista for about 12 years. We always have a great time our whole family comes down and we camped together. Thanks for a great time
Sep 08, 2021
Great time! Will return again and again!! Friendly service, clean areas, no issues to complain about.
Sep 08, 2021
Many people cut through our campsite at all times of the day and evening.
Sep 08, 2021
We had a great stay.
Sep 08, 2021
Wonderful place and everyone in our large group had a great labor day weekend there! Already put in our request for next labor day!
Sep 08, 2021
The improvements since my last visit are fantastic. The pool, clubhouse, tent electrical, and additional cabins are great additions.
Sep 08, 2021
We were there for the first time and we had a blast. Thank you!
Sep 08, 2021
Very good very clean
Sep 08, 2021
Great accommodations and I enjoyed the clean restrooms and showers.
Sep 07, 2021
Wifi is horrible and not secure. It's a very nice place, except the kids are out of control. This is the first KOA that the parents let their children run wild! No camp etiquette. Kids running thru our site! Maybe KOA should print out camp etiquette sheet and hand out when people check in.
Sep 07, 2021
Thumbs up to another memorable year! Our yearly trip with friends and family is always a heart filler. Loved all the improvements that have been done to camp ground. Thank you KOA - Chula Vista, CA!
Sep 07, 2021
Besides all the crazy mosquitoes….. our stay was awesome. See you soon
Sep 07, 2021
Covid protocols � sanitation � constant cleaning in bathrooms and common places like the kitchen �. Paola at the front desk / store friendly and wonderful. Girls assigned at the snow cone for both days wonderful and patient with the long line and undecided kids �. The Cafe staff great... Food great. we've been coming here since 1996 that speaks for itself. Thank you KOA metro. We'll be
Sep 07, 2021
Been coming for over 20 years, love it!
Sep 07, 2021
We have been coming to San Diego KOA for seven years.Our annual family reunion.It just gets better every year. So many improvements and great staff.We always rent a deluxe cabin which makes packing so much easier. Always a great time !
Sep 17, 2021
The best glamping experience i have ever had recommended for everyone
- chris downs on Google
Sep 12, 2021
Good place & good service
- Arce Iniguez on Google
Sep 08, 2021
Is awesome 👍
- Irma Shamon on Google