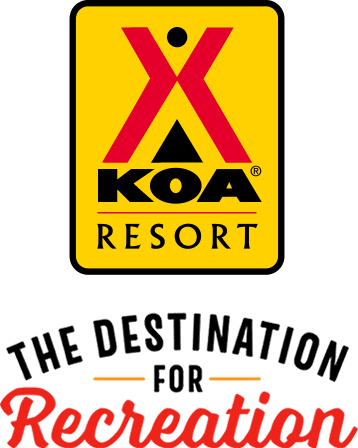 KOA Resort Campgrounds
KOA Resorts offer a carefree vacation in the great outdoors. Enjoy robust recreation and staff-led activities, kick back and relax by the resort-style pool, or grab a bite to eat, all while never leaving the campground. And with plenty of RV Sites with KOA Patios® and Deluxe Cabins with full baths to meet your needs, it's the ultimate camping getaway.
KOA Resorts Feature:
RV Sites with a KOA Patio®
Deluxe Cabins with full baths and linens
Premium Tent Sites
Resort-style pools
Indoor and outdoor group facilities
Directions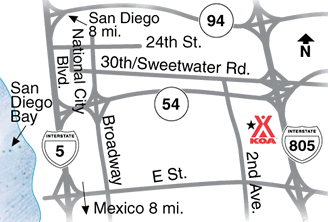 From I-5: Take E Street Exit in Chula Vista.
From 805: Exit 9, Sweetwater Rd. Turn left at bottom of ramp, go west on Sweetwater. Turn left on Second Ave, KOA is on left after bridge.
East from I-5, West from 805 to Second Ave. North on Second 1 mile
GPS: N32.656988, W117.081751
Get Google Directions
Sep 20, 2021
We always enjoy staying at the SD KOA. Park is clean, staff is friendly and very kid friendly.
Sep 20, 2021
Great experience everything looked very clean and well kept once you're inside there's no way you would believe you're in the city still . Definitely coming back
Sep 20, 2021
Great. Amenities were wonderful. Only thing I would recommend is to have a fire pit for each rv site.
Sep 20, 2021
It's our 6th stay and we're definitely coming back!
Sep 20, 2021
It was amazing will definitely be coming back
Sep 20, 2021
Check in was very stressful. Once checked in all was great. The roads are smooth for scooters. Pool was nice. Lots of activities for the kids to keep them entertained. Showers and bathrooms very nice. My kids definitely want to camp here again.
Sep 20, 2021
It may not be a KOA problem but somewhat management/crew's fault that after 10pm it should be a quiet time. Especially KOA campers come with little kids, and they do go to bed early(around 10pm). People were constantly throwing bean bags and screaming after few shots of hard liquor even at 12am! Management would never answer their hot line. Golf-cart crew would not stop them when they pass-by.
Sep 20, 2021
Mid-week stays are really great for relaxing and enjoying the facilities, including a great store and the "back yard" and Kamp K-9 for our dogs. I love the open feeling, trees and grass, and cleanliness and safety at the KOA.
Sep 20, 2021
A lot of activities for kids. It is very clean and you can't tell there's a freeway near by.
Sep 20, 2021
We had a excellent time. All the staff were very helpful and friendly. Lots of fun activities to do for the kids. My grandchildren lived the train rides wish they were offered more than once a day that was there favorite part of the trip. Already booked our next trip there in December…
Sep 20, 2021
Is was a great first experience camping for me and my family. The crowd killed me every morning. Wish I had a better understanding of the park especially since it was our first time.
Sep 19, 2021
The grounds where great. Cafes was perfect. But the other campers where not great larger parties with music blasting cigarettes smokers and loudspeaker dog barking out of control. Security needed to step in more to ask people to be more inline with the rules for sound issues.
Sep 19, 2021
There was a scheduled power outage overnight Thursday night and none of the guests were notified. I needed a breathing treatment and couldn't plug in my device. I only got Sangria twice during my stay because the cafe was already closed. Kids need to be out of the hot tub, it's not a kiddie pool.
Sep 19, 2021
We loved everything about it we had a good time and definitely looking forward to coming back and telling family and friends about it than you guys so much for making a comfortable and happy stay for us
Sep 18, 2021
Love the new facilities and gift shop. Overall a fantastic stay. I was frustrated the sand castle cafe was not open according to the posted fall hours, also when it finally was open the sand castle cafe staff were unable/unwilling to answer food allergy questions by looking at ingredient list. Probably will not plan to eat at the cafe in the future.
Sep 18, 2021
The place is nice but I had the following observations: 1. Very difficult to get in touch with front desk by phone 2. The WiFi is terrible 3. When we arrived there was bird poop everywhere (might consider talking to a falconer to get rid of crows) 4. The board room is an echo chamber, and if a club uses it, it would be nice to have a key
Sep 18, 2021
We were over whelmed by the bird droppings left on our rig, truck and everything we had with us. Would suggest you hire a falconer who will permanently run these pest off. You really do have a lovely park. I would suggest improvement to the TV and Internet. We were not that far from your office and still had pixelating TV and spotty Internet. For these reason I gave less than 100%.
Sep 18, 2021
No one answers the front desk phone, at check in they say to call if you need anything. I waited on hold for 25 minutes because "everyone was busy" but when I walked up to the front desk two employees were talking and not answering my call? I took my cell phone with me and was still on hold when I walked in the front desk. No WIFI so don't expect it unless you plan to sit by the office.
Sep 18, 2021
Appreciated moving my tent away from restroom noise I heard non-stop through the night… although I do pay more for a centrally located site. Sometimes I wish there was even $5 off if only one tent for one person on the site, but such is the way of business, so I get it!
Sep 17, 2021
Lots to do! Close to many San Diego tourist spots. The campground was very well maintained.
Sep 15, 2021
This is a wonderful park for families. Would have loved to have had some of our grandchildren with us to enjoy all the amenities.
Sep 15, 2021
We love this beautiful, well cared for campground. There is lots to do and the children love it. Staff is friendly and helpful. We've been coming for 19 years.
Sep 15, 2021
wow wow wow! its been a few years since we've been here and it just gets better and better, enjoyed our stay in a loft lodge, would have been nice if the cafe was open but its seasonal, i get that. cant wait to visit again!
Sep 15, 2021
Very nice place for children
Sep 14, 2021
Love, love, love going to KOA in Chula Vista, best KOA I have ever stayed at. Thank you for the great stay!!
Sep 14, 2021
Check in was quick and easy. Facilities and grounds were clean. Wish that the cafe had been serving food but due to being short staffed they were only serving drinks on a Saturday evening. A fire pit at all RV sites would be nice. Overall, another great stay at KOA!
Sep 14, 2021
Very clean. Good maintenance. Lot of fun for kids~
Sep 14, 2021
I was sent text messages just days before our stay giving the hours of the Cafe. It was a difficult week and we were really looking forward to rest and relaxation. With that, we did not bring food and fully planned to eat each meal at the cafe. BUT IT WAS CLOSED. ALL. WEEKEND. LONG. We find food to go. No heads up, just closed. VERY irritating and really threw a wrench in our relaxation.
Sep 14, 2021
Love this place Staff is very friendly super clean thank you everyone
Sep 13, 2021
We love the San Diego KOA. Always a great time there.
Sep 13, 2021
We loved it. Staff was friendly and attentive to my kids on all the activities.
Sep 13, 2021
Our stay was great. Our kids had a lot of fun.
Sep 17, 2021
The best glamping experience i have ever had recommended for everyone
- chris downs on Google
Sep 12, 2021
Good place & good service
- Arce Iniguez on Google
Sep 08, 2021
Is awesome 👍
- Irma Shamon on Google