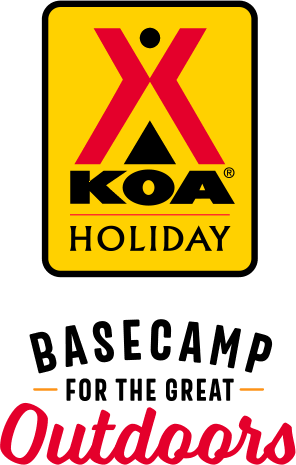 KOA Holiday Campgrounds
Whether you're exploring the local area or hanging out at the campground, KOA Holidays are an ideal place to relax and play. There's plenty to do, with amenities and services to make your stay memorable. Plus, you'll enjoy the outdoor experience with upgraded RV Sites with KOA Patio® and Deluxe Cabins with full baths for camping in comfort. Bring your family, bring your friends, or bring the whole group – there's plenty of ways to stay and explore.
KOA Holidays Feature:
RV Sites with a KOA Patio®
Deluxe Cabins with full baths
Premium Tent Sites
Group meeting facilities
Directions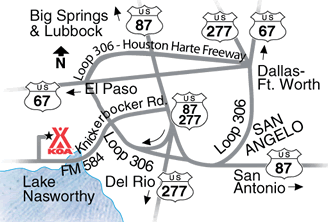 All highways, 67, 87 and 277: Take Loop 306 to Knickerbocker Rd (FM 584). Then proceed south 2 1/4 miles. Campground will be located on the west side of Knickerbocker Rd. GPS: N31.388847, W100.493670
Get Google Directions
Dec 15, 2022
This is the best place we have stayed at in our 19 years of camping. They have the greatest hosts that really went out of there way to help. The place is well maintained and rules are inforced so all can enjoy there stay. On a scale of 1 to 10 the hosts should get a 100.
Dec 14, 2022
One of the best stays we have had. It is the best most organized cleanest places we have stayed. Diana and Troy were great hosts. They work VERY hard to make sure you are a happy guest.
Dec 13, 2022
Great place to stay. Thank you!!
Dec 12, 2022
Staff is very hospitable.
Dec 09, 2022
The nicest people we have ever encountered on the road. Managers Diana and Troy were terrific. Friendly, knowledgeable, helpful. If we come through again we will definitely stay here. Park was clean, quiet, showers and laundry facilities were clean. Loved this place. We didn't even mind the airplanes occasionally
Dec 07, 2022
great staff, clean grounds, did not use the facilities - plenty of room for our 42 ft fifth wheel
Dec 07, 2022
Nice little park out in the country. Very quiet and clean. I was very happy to see they have fuel.
Dec 06, 2022
We were in one of the patio spots and we enjoyed the space and not having to share the area with others. We understand the buddy system but it's hard when you have a pet that is social. We don't use any of the amenities except the dog run. It's a very clean park and it's right next to another city park. It's close to shoping and town. Easy to get around. We like San Angelo!
Dec 06, 2022
Great Place, Next Time Will Stay Longer, The Mangers We're Great, Place Is Super Clean
Dec 06, 2022
There were cars racing through in the night and the Wi-Fi password did not work.
Dec 05, 2022
My only issue with the KOA is that you guys don't allow dog enclosures next to the camper. We have two large dogs that had to spend way too much time locked in the camper while we were sitting outside and cooking. You should re-evaluate this policy.
Dec 05, 2022
Everything as expected
Dec 04, 2022
They are the most friendly hosts that we have ever come across. They went out of there way to make sure we had everything.
Dec 02, 2022
A great, clean, well managed KOA, with great amenities. We've stayed there before and will again.
Dec 01, 2022
Great staff and good park
Dec 01, 2022
Nice clean campground. Stayed there a week during Thanksgiving. Will definitely be back.
Nov 30, 2022
It was nice at night after the planes stop flying overhead. Well lite at night,the staff was wonderful and friendly. Very clean and quiet.
Nov 29, 2022
Diane & Troy were the best hosts ever. Enjoyed every minute of the stay. They bent over backwards to make sure we were happy and had everything we needed. Will definitely be back!!
Nov 28, 2022
Other than backing into a Mesquite Tree we had a great visit. The tree not your fault.
Nov 28, 2022
Excellent management, beautiful grounds. We will definitely be back.
Nov 23, 2022
Very accommodating and friendly folks. We had a problem with our furnace and they helped us as much as they could.
Nov 23, 2022
Wonderful staff. Had an issue with my online reservation on additional KOA award points. Where I purchased another $33 point system by mistake. He helped me cancel that transaction. Very professional
Nov 22, 2022
Clean, friendly RV park. Have stayed there before and will stay there again.
Nov 20, 2022
Really helpful and friendly staff.
Nov 20, 2022
Wonderful staff and spacious sites!! Would recommend this place for all !!!!
Nov 19, 2022
Nice clean park. Patio sites are nice and long. The manager isn't the friendliest , but the other employees provide awesome customer service.
Nov 19, 2022
Very clean grounds, wonderful standards and felt very safe and genuinely cared about. ONLY place I will stay when in San Angelo.
Nov 16, 2022
Nice clean place. I would return.
Nov 16, 2022
Staff is very friendly and informative. Park is clean with easy access. I highly recommend this park.
Nov 15, 2022
Clean quiet helpful staff
Nov 15, 2022
Very nice place to stay. Friendly Staff. Excellent Cable TV.
Nov 13, 2022
Very nice, clean, friendly managers
Nov 12, 2022
Initially booked a one-night stand, extended to two-nights. Check in was easy, staff were friendly and helpful. Guided to nice level spot, lined us up, showed us all the hookups. Nice quiet location, excluding the "Sounds of Freedom" (planes doing touch and go's �), and the thunderstorm at 0346 in the morning, awesome! Facilities were clean and functional, excellent small dog run. Great p
Nov 10, 2022
Tranquille on s'est reposé
Nov 10, 2022
The staff was excellent and very friendly
Nov 08, 2022
The managers were great, everything in order and clean. It was great to stay at a park with a dog park that had NO stickers. They were very diligent in weed killing. Quiet park, nice bathroom. They have made improvements to the sights since we stayed there last year. LOVE that they offer cable tv! They only negative is the flight path overhead and planes coming in at 6:00am.
Nov 08, 2022
The friendliest and cleanest campground I've been to in a while. Thank you
Nov 07, 2022
We had a good time and the Mgr are very accommodating. We will not stay here again because of the owners policy to not have cages wire pen outside for our 3 less than 20 lb pets..not mad I understand policies but I can disagree with the policy
Nov 04, 2022
Tried several available pull thru 50 amp slides could not find one level enough to level my motorhome. Had to sleep the night without being able to open the slides up. Very disappointing. Will not stay here again.
Nov 04, 2022
Very accommodating… due to unforeseen circumstances our arrival was delayed, all info was at the office when we arrived. Our departure was delayed do to a hospital visit and they graciously waived any fees. Also glad to see attention given to site leveling since our last visit
May 02, 2023
We stayed at 3 KOAs this trip. This one was by far the quietest because it doesn't back up to the highway. Staff was friendly. We didn't check out the facilities so I can't comment on them.
- Suzanne Glorioso on Google
Apr 24, 2023
The Salt Lake City KOA is our 103rd stop (2nd time here) and stayed 1 night. Right in town and close to Walmart and Costco for supplies after being 3 weeks remote. This time near the back of the park and less noise. Registration process took less than a minute. Construction at the pool/hot tub area. Sites are paved but still needed to level and for the water, was told a pressure regulator was needed – and it was. A solid KOA and would stay here again if in the area. Connectivity: T-Mobile 116.0 down/7.7 up; Verizon UW 245.0 down/21.6 up; KOA unsecured WiFi 26.7 down/14.4 up but spotty.
- DayTrip790843 on Trip Advisor
Apr 24, 2023
By far well managed and CLEAN. Location is prime. Close to town if needing to make a quick trip to the grocery store/ grab a coffee/ fuel/ or just check out cute shops! Right around the corner from Lake Nasworthy, and access to a nice walking trail- just walking distance from the KOA. Centrally located in the park there is a nice pool, laundry room, and clean bathrooms with showers! My husband and I stayed at this KOA in our travel trailer as work brought us to the area temporarily. With how much we travel for work, and of all the different parks we have stayed at, I will have to say this was our best experience yet! The managers Troy and Diana work so hard maintaining the park! They are always making sure everyone is happily accommodated. They are also so kind. We will definitely be back!
- Sammee Moser on Google