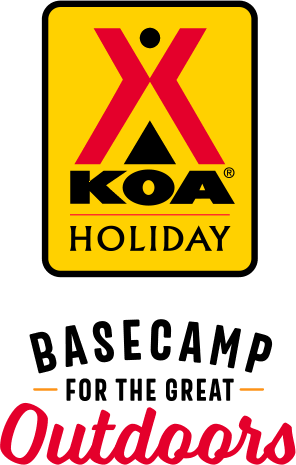 KOA Holiday Campgrounds
Whether you're exploring the local area or hanging out at the campground, KOA Holidays are an ideal place to relax and play. There's plenty to do, with amenities and services to make your stay memorable. Plus, you'll enjoy the outdoor experience with upgraded RV Sites with KOA Patio® and Deluxe Cabins with full baths for camping in comfort. Bring your family, bring your friends, or bring the whole group – there's plenty of ways to stay and explore.
KOA Holidays Feature:
RV Sites with a KOA Patio®
Deluxe Cabins with full baths
Premium Tent Sites
Group meeting facilities
Directions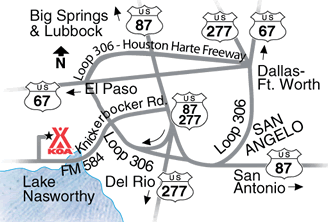 All highways, 67, 87 and 277: Take Loop 306 to Knickerbocker Rd (FM 584). Then proceed south 2 1/4 miles. Campground will be located on the west side of Knickerbocker Rd. GPS: N31.388847, W100.493670
Get Google Directions
May 21, 2020
We had the best time with our grandkids. We had not spent time with them for a while. Cabin very nice and clean. Tne office staff was outstanding. Caring and friendly. Thanks
May 19, 2020
It's absolutely awesome! The cabins are so clean, cozy & a great outdoorsy experience. The community bathroom is a short walk away which is also spotless. We loved the basketball court, pool, playground, individual BBQ/fire pit & picnic table. Planning our next stay already.
May 13, 2020
My boyfriend and I planned this Mother's Day weekend trip to San Angelo and as soon as we made it to the camp ground we loved it we got to the deluxe cabin and we absolutely loved it. We are planning a trip back very soon
May 12, 2020
We stayed in one of the deluxe cabins, and let me say it was a GREAT experience. The host was very friendly and accommodated my family and I as needed. The park, bathrooms, and cabin were very clean. We definitely recommend this KOA, and will be back very soon.
May 04, 2020
Very clean and quite.
Apr 27, 2020
I loved the cleanliness of both the cabins and the restrooms . And that there was a park for my daughter to play at!
Apr 23, 2020
The campground was beautiful and peaceful and very clean. Everyone that works there is helpful and polite. Our cabin was pretty and clean. Will definitely return in the future!
Mar 21, 2020
Used deluxe cabin and it was beautiful. Stayed with grandkids. Had great time. Your worker David was helpful and friendly.
Mar 17, 2020
Nice stay,just what I wanted.A place to sleep after a good day of fishing.The cabin was clean with heat and air conditioning.The staff was friendly and had free coffee in the morning.Rates were very reasonable!Thanks KOA.
Mar 12, 2020
SA KOA was pretty busy with folks coming/going, but still a quiet place to stay. Grounds are maintained extremely well but restrooms need some improvement for showers. Hard to get and keep right water temperature, especially when bathing a youngster and the water goes from cold to hot. Cabin was great; clean,comfy & well stocked. Staff was VERY helpful. Thanks, RAY, for everything! Hope to return!
Mar 05, 2020
One of the best kept campgrounds anywhere, will be back. Great hosts! thank you
Mar 02, 2020
It Looked Like the air fiLters needed to be changed out as weLL. It was hard to keep cabin warm/cooL bc of cLogged fiLter. Cabin master room had a bunch of dust everywhere, waLLs and on fan bLades. Looked Like it hadn't been cLeaned in months. I was hesitant about our 3mth baby sLeeping in that room bc of it. We stayed in these cabins before and I don't remember them being this rough.
Mar 02, 2020
The cabins are clean, the people are very friendly and nice. It's a very accommodating place. My family and I love the place. We will be back again.
Feb 14, 2020
Always enjoy staying. Very accommodating.
Feb 06, 2020
San Angelo Stock Show
Feb 02, 2020
Great time. Friendly people. Clean cabins.
Jan 10, 2020
We were treated really well by the staff. Facilities was nice and clean. Only complaint is showers, small and water pressure.
Jan 02, 2020
Outstanding Great facility
Jan 02, 2020
Great clean place! Awesome staff, very friendly
Dec 26, 2019
Wonderful staff. We stayed in the smaller cabin which was clean and well maintained. Would stay again for sure.
Dec 20, 2019
Took us 7 hours to drive to it, but we loved it. Tons of stuff for kids to do and the place was all decorated for Christmas! TV in the cabins was a bonus.
Nov 28, 2019
I have stayed at KOA for years now, and I have never had a bad experience. The staffs at KOA treats you just like family. If you are ever looking for a place to keep the camper or stay in some cabins, this is your place!
Jul 24, 2021
This is a great place to bring your RV. Very clean and everyone was very friendly!! They were constantly cleaning the grounds. For people who like to walk there is an awesome walking trail on both sides of the camp. I would definitely go back again. Like usual my pumpkin was always ready to go for a walk!!
- Nan Freeman on Google
Jul 20, 2021
Great customer service, Great place , The WI-FI, Cable and Cell service worked great.
- Edward Kneupper on Google
Jul 16, 2021
My husband and I stayed there from April to early July and had a great time! The staff (especially Pam & both Bobs) go above and beyond and are really helpful. They're super quick on the trash pickup and all the facilities are all well kept. We will certainly be staying there again whenever we're back in town!
- Abigail Toth on Google