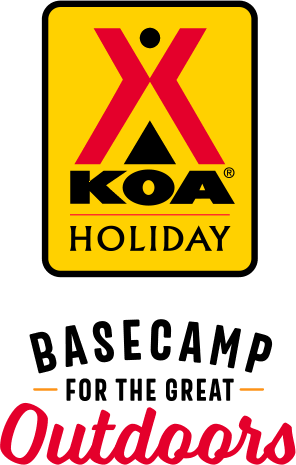 KOA Holiday Campgrounds
Whether you're exploring the local area or hanging out at the campground, KOA Holidays are an ideal place to relax and play. There's plenty to do, with amenities and services to make your stay memorable. Plus, you'll enjoy the outdoor experience with upgraded RV Sites with KOA Patio® and Deluxe Cabins with full baths for camping in comfort. Bring your family, bring your friends, or bring the whole group – there's plenty of ways to stay and explore.
KOA Holidays Feature:
RV Sites with a KOA Patio®
Deluxe Cabins with full baths
Premium Tent Sites
Group meeting facilities
Directions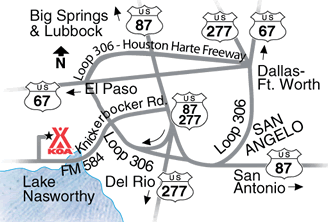 All highways, 67, 87 and 277: Take Loop 306 to Knickerbocker Rd (FM 584). Then proceed south 2 1/4 miles. Campground will be located on the west side of Knickerbocker Rd. GPS: N31.388847, W100.493670
Get Google Directions
Jan 20, 2021
I stayed in one of the cabins for two nights. The first night, I was not going to arrive until after midnight. The staff called me earlier in the day to check on my arrival time and were very friendly, understanding and accomodating...almost like family. Everything was prepared for my arrival, including the heat being on, as it was 28 degrees on arrival. Clean room, facilities and friendly.
Jan 13, 2021
Stayed Jan 8th 2021, toasty warm when we went to bed. Woke up freezing. It was 28 degrees outside. I understand stuff happens .But when I checked out I mentioned they should check the heater and the back up was actually a fan not a back up heater. They didn't believe me. I love KOA's but I'll stay in a hotel next orthodontist appt. Which we have about every month. It is pretty there.
Dec 21, 2020
They are always so nice and accommodating
Dec 15, 2020
Friendly helpful staff, super clean cabins and new beautiful bathrooms. Loved our stay!
Oct 27, 2020
The staff is incredibly nice! Great facility! Very clean. We were very impressed!
Oct 12, 2020
Absolutely wonderful stay. Rented a cabin. Highly recommend. Pool open all year. Love getting away and staying here!
Sep 15, 2020
Cabin was very nice and clean. Allowing dogs was a huge reason to stay there.
Sep 14, 2020
Very clean and ready to go.
Sep 09, 2020
Awesome folks, Sherri was fantastic. It was a great trip
Sep 08, 2020
My family loved this place!!! Very kid friendly, very clean. Nice place to get away from home��
Sep 07, 2020
Everyone was super welcoming and nice to us upon arrival and during our entire stay. We had lots of fun. The cabins were clean and cool and comfortable. We highly recommend a stay here.
Sep 06, 2020
This park is very clean and the owners and all the staff go out of their way to make sure your stay is pleasant. The dog park is nice and always kept clean.
Aug 29, 2020
The people in the office was very nice....we seen them everyday...love that they came by everyday to check and make sure we were all ok...i know I will be back to stay...the camp ground was nice...cabins....i love them they were so cute and relaxing
Aug 20, 2020
Wonderful stay, front staff made us feel at home on arrival. We had to clean: the frig was filthy, curtains had to be shaken outside, walls in the bedroom were thick with dust-had to be swept with broom, couldn't reach the dusty ceiling fans, filter in kitchen floor requires attention, BUT overall we would stay again because it was so peaceful and we loved it! Better cleaning inspection next time!
Aug 17, 2020
Great campground, very nice and clean and best out of all is they have great staff with great customer service. Looking forward to book again
Aug 03, 2020
This is a very nice place to stay, especially during COVID. The pool is nice and the grounds are clean with great customer service. I will definitely stay again!
Jul 27, 2020
The staff was out standing they were very nice and accommodating... Such a clean and well maintained campground...We really enjoyed our stay ...
Jul 20, 2020
We enjoyed every minute of our stay. Everyone that works there is so friendly and helpful. We felt very welcome there and it was a very relaxing time. We have plans to return there very soon! Thank you all for everything!
Jul 13, 2020
It was my first time staying here but was highly recommended by a family member. My stay was above and beyond my expectations. We had a wonderful stay , excellent customer service, beautiful facility , very clean, kid and family friendly. We will be back every year from now on. I loved being able to hear the birds, see the stars and enjoy the fresh air by a fire. This is a must stay !
Jul 10, 2020
Super friendly staff helped me when I needed a late stopover and early departure. The grounds were well kept with nice amenities. We hope to stay longer in the future!
Jul 06, 2020
Wonderful staff, well maintained and clean.
Jul 02, 2020
The campground was very clean and well maintained. The staff was extremely friendly and took care of our needs well. We will be coming back. This was a fantastic stop for two days to get out of town and relax.
Jun 30, 2020
My family had an amazing time. The staff was very helpful and nice. The cabin was beautiful. I highly recommended this place to my friends and family. We will be staying again in the future!
Jun 30, 2020
Our stay was absolutely perfect. Verh nice and clean cabin. Wonderful and friendly staff.
Jun 22, 2020
We usually rent a space for our little RV but we rent the cabins When our grandchildren are coming with us and we all enjoy them very much. They are clean and ready when we get there We plan to stay there many more times.
Jun 20, 2020
Beautiful grounds. I stayed in one of their Camper Cabins. It was awesome. Nicest people ever running the place. Restroom/Shower area was spotless! We highly recommend!!
Jun 16, 2020
Very nice , comfortable cabin
Jun 13, 2020
Owners and staff are very friendly and professional. Everything is awesome when I stay there.
Jun 08, 2020
My husband and I have seen many KOA's due to his job and this by far is the cleanest, kid friendly park we have ever been to!
Jun 08, 2020
Clean restrooms nice place to stay
Jun 02, 2020
One of our family gatherings once again held here. Treated very well. Cabins very clean. We had a great time. We will be going back every chance we get. We love this place.
May 29, 2020
Great! Staff was very polite.
May 26, 2020
I wanted to give a 5 because we did enjoy it but the "manager" in the maroon car was VERY rude. Everyone else was so nice. We got a deluxe cabin and took all our food to cook out on the gas grill. The grill was horrific. It looked like it had not ever been cleaned. The button to lite it did not work and the knobs were all messed up. We tried to clean it but ended up just cooking on/in the fire
May 23, 2020
Over the top hospitality!
May 21, 2020
We had the best time with our grandkids. We had not spent time with them for a while. Cabin very nice and clean. Tne office staff was outstanding. Caring and friendly. Thanks
May 19, 2020
It's absolutely awesome! The cabins are so clean, cozy & a great outdoorsy experience. The community bathroom is a short walk away which is also spotless. We loved the basketball court, pool, playground, individual BBQ/fire pit & picnic table. Planning our next stay already.
Jul 20, 2021
Great customer service, Great place , The WI-FI, Cable and Cell service worked great.
- Edward Kneupper on Google
Jul 16, 2021
My husband and I stayed there from April to early July and had a great time! The staff (especially Pam & both Bobs) go above and beyond and are really helpful. They're super quick on the trash pickup and all the facilities are all well kept. We will certainly be staying there again whenever we're back in town!
- Abigail Toth on Google
Jul 15, 2021
Always go jogging
- John Sanchez on Google