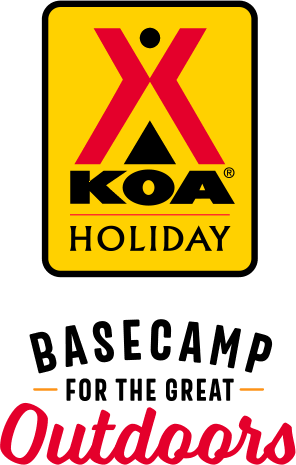 KOA Holiday Campgrounds
Whether you're exploring the local area or hanging out at the campground, KOA Holidays are an ideal place to relax and play. There's plenty to do, with amenities and services to make your stay memorable. Plus, you'll enjoy the outdoor experience with upgraded RV Sites with KOA Patio® and Deluxe Cabins with full baths for camping in comfort. Bring your family, bring your friends, or bring the whole group – there's plenty of ways to stay and explore.
KOA Holidays Feature:
RV Sites with a KOA Patio®
Deluxe Cabins with full baths
Premium Tent Sites
Group meeting facilities
Directions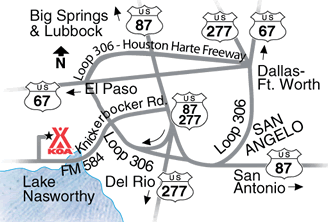 All highways, 67, 87 and 277: Take Loop 306 to Knickerbocker Rd (FM 584). Then proceed south 2 1/4 miles. Campground will be located on the west side of Knickerbocker Rd. GPS: N31.388847, W100.493670
Get Google Directions
Jul 16, 2021
Clean and well maintained. Friendly staff. Great place to stay
Jul 13, 2021
Deluxe cabin was very clean and nice. Exceeded expectations. Staff was very friendly and helpful.
Jul 12, 2021
We had a great time and we will definitely be back again.
Jul 11, 2021
During this particular stay there were (unattended?) minors screaming (literally shrieking!) well past quiet hours for an extended period of time. I didn't have the nerve to ask for help while it was happening. I was unable to sleep through this. We've stayed here two other times with no issues whatsoever. Very clean and courteous service. Wish the other guests had been as polite as the hosts.
Jul 08, 2021
Tera was the greatest person
Jul 07, 2021
We absolutely loved the cabin! Our son is at Goodfellow AFB and this was perfect for us to just hang out with him. We grilled and played corn hole, swam in the pool and were able to watch the fireworks from our cabin. Thank you for helping us make memories �ϋ�
Jul 01, 2021
Everything was great, well, except for the occasional airplane landing or taking off. But they were rare and not an issue. Nice stopover!!
Jun 29, 2021
Words cannot express what a wonderful time we had at the KOA San Angelo. I planned this stay for months. From the reservation service to the turning in of the keys the staff was awesome and ready to assist. I loved the deluxe cabin w/handicap,the pool had a device that will lower/ raise a person in/out. It fit all my dad's special needs. My family and I will definitely be return more often.
Jun 21, 2021
Great place, awesome staff. Quiet and comfortable, we had an great time.
Jun 18, 2021
Fantastic place! Beautiful, clean and great staff!
Jun 14, 2021
We stayed at four KOA locations over the week, this one was the best by far. Our little cabin and private restrooms were very nice.
Jun 11, 2021
It was a nice getaway. We were in San Angelo for football camp and stayed in cabin 2. Great location by playground, new bathrooms�and next to the best running trail in town! The AC kept us cool in the triple digit weather. A pretty great stay in my book!
Jun 02, 2021
First time staying at San Angelo, Host were great, very friendly. campground was very nice, had covered tables & firepits which made our stay very enjoyable.
Jun 01, 2021
The staff was very helpful and friendly. The park was spotless and very well maintained. We will stay here again.
May 27, 2021
I love this place and Marshal runs a clean tight operation. It feels good and secure to be here. No games or hidden agendas/costs. Good people work here that are knowledgable and happy to help. A truly special place.
May 25, 2021
Such a cute little place to stay, loved every second of it!
May 24, 2021
The o my thing it needs is a couple more bathrooms near the cabins. 2 is a little too few for the numbers. But very clean , nice and a great location!!!
May 24, 2021
We really enjoyed our stay. It was a cite cabin and the campground was very nice and quiet.
May 24, 2021
Enjoyed the stay for the first time and everyone was very helpful and kind.
May 18, 2021
We enjoyed our stay! Staff was very welcoming and helpful. Great place to have a family get together. Will return for sure!
May 17, 2021
We had a great experience at the San Angelo KOA. The staff was so friendly and helpful. The cabin was nice and clean and just overall perfect. We loved the fact that we could cook on the grill and not have to eat out as much. We will definitely stay again.
May 10, 2021
Cabin was clean and perfect patio. Great staff!!! We'll be back again soon. Belle
Apr 20, 2021
Thanks for great memories!
Apr 20, 2021
Best service and nice cabins. Can't find a better place to stay
Apr 19, 2021
From the moment we checked in, thru our stay and then at check out, the KOA staff were all welcoming and friendly. Our deluxe cabin was clean, comfortable and well stocked...outdoors was spacious with plenty of seating and dining options. Although a bit wet and chiller than normal, it was a very nice, first-time visit/stay for us!
Apr 19, 2021
The cabins are beautiful. The whole area is 100% clean. Staff is very Friendly and accommodating.
Apr 19, 2021
Very nice restrooms were clean trash picked up regularly even thou it was cold had a very good time
Apr 18, 2021
One of the best KOA's we've ever stayed at. Clean, updated features, and friendly helpful staff.
Apr 12, 2021
Love the cabin we stayed at, it clean,bright,quiet,nice space outside patio. Highly recommended.
Apr 08, 2021
Awesome experience, my girls loved it. They didn't want to leave. We will for sure be back. Very friendly people that make you feel at home !
Apr 06, 2021
Loved everything! Everyone was super nice and welcoming. The cabins and restrooms were really clean. The kids had a blast egg hunting that was made possible by the staff there. They really went above and beyond. Will definitely be staying there again in the future!
Apr 01, 2021
Very clean facilities and friendly staff. We enjoyed our stay and will definitely be returning.
Mar 23, 2021
Good ,will stay their again.
Mar 22, 2021
We loved the cabins and cleanliness of the location. Staff were friendly and accommodating. Our only complaint would be the young ladies driving an atv around the campgrounds at an unsafe speed and late in the evening. They were also underage. Our daughters didn't feel comfortable riding their bikes around with these two on the road. We were under the impression that no atv's were allowed.
Mar 22, 2021
The staff was so friendly and kind and the facility is always clean, safe, warm and cozy.
Mar 18, 2021
One night in cabin. Nice people, park a little junkie , looks like a lot of long termers
Mar 15, 2021
We had a last minute reservation & the KOA was accommodating to our late arrival. The campground was clean & very well kept. We had a comfortable stay & will be returning soon.
Mar 11, 2021
The cabin we rented was a pretty good size. Although it was not very clean. I was concerned about staying out of town in a cabin because of covid. But I felt it would be ok since this was a KOA. In the past it has been clean. There was dirt all over the floor. It hadn't been mopped in awhile. The bathroom around the tub and toilet was not clean. We stayed in the loft and there was dirt and dust.
Mar 02, 2021
We stayed for the weekend to visit our Marine in training. The KOA cabin was very clean and comfortable. The grill and table outside was a great place to visit and grill burgers and steaks. I will be going back to the KOA again, and recommend it to everyone coming to San Angelo.
Feb 13, 2021
This was our second time to stay here and the ladies were still as sweet as could be!! We plan on staying there again this summer!!
Jan 23, 2021
We were planning on buying a used RV and staying at KOA that night. However the trailer wasn't what we expected so we walked away from it. The staff at the KOA changed our reservation to a cabin instead. Thank you very much. The cabin was comfortable and the bathrooms and showers were immaculate. We would definitely stay here again.
Jul 20, 2021
Great customer service, Great place , The WI-FI, Cable and Cell service worked great.
- Edward Kneupper on Google
Jul 16, 2021
My husband and I stayed there from April to early July and had a great time! The staff (especially Pam & both Bobs) go above and beyond and are really helpful. They're super quick on the trash pickup and all the facilities are all well kept. We will certainly be staying there again whenever we're back in town!
- Abigail Toth on Google
Jul 15, 2021
Always go jogging
- John Sanchez on Google