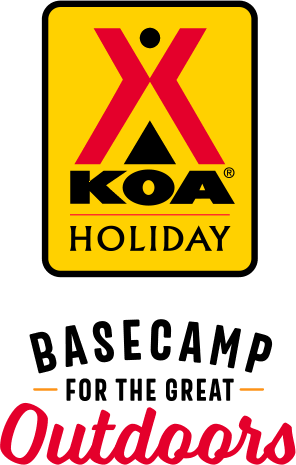 KOA Holiday Campgrounds
Whether you're exploring the local area or hanging out at the campground, KOA Holidays are an ideal place to relax and play. There's plenty to do, with amenities and services to make your stay memorable. Plus, you'll enjoy the outdoor experience with upgraded RV Sites with KOA Patio® and Deluxe Cabins with full baths for camping in comfort. Bring your family, bring your friends, or bring the whole group – there's plenty of ways to stay and explore.
KOA Holidays Feature:
RV Sites with a KOA Patio®
Deluxe Cabins with full baths
Premium Tent Sites
Group meeting facilities
Directions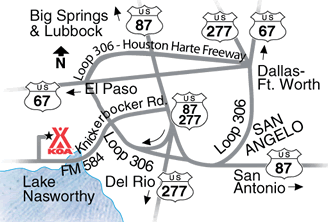 All highways, 67, 87 and 277: Take Loop 306 to Knickerbocker Rd (FM 584). Then proceed south 2 1/4 miles. Campground will be located on the west side of Knickerbocker Rd. GPS: N31.388847, W100.493670
Get Google Directions
May 12, 2021
Nice, easy overnight in our 34 Class A with tow vehicle. Check-in was super quick. Owner led us to site and stayed to make sure we could get all connections. Very clean, flat, gravel. No trees and sites are side-by-side but a quiet crowd the night we stayed. We didn't use any facilities. Highway is nearby so some road noise. We enjoyed the adjacent road that locals use as a walking path.
May 11, 2021
Very nice and clean park. A bit noisy in the morning due to air traffic and roadway.
May 11, 2021
It was amazing. We will stay again soon(-:
May 10, 2021
Very friendly and helpful staff. Also, enjoyed the pancake breakfast fund raiser. Great job!
May 10, 2021
Cabin was clean and perfect patio. Great staff!!! We'll be back again soon. Belle
May 10, 2021
Clean spacious park
May 09, 2021
The hosts were super friendly and knowledgeable. They obviously took great care of the entire park and each of their guests. One of the most well keep parks I've visited. Hopefully will be passing by again sometime.
May 09, 2021
Host and hostess were great. Plenty of room. Everything was perfect. Will stay again anytime through there
May 07, 2021
Extremely quiet, clean and reasonably priced!
May 06, 2021
Well taken care of park will stay there again
May 05, 2021
Friendly, efficient telephone reservation hete, same at arrival. Assisted getting situated given physical limitations. Flexible in extending my stay. Site was a side-by-side. When another RV was there, we were too close. However, campground is well-situated by various regional attractions and shopping needs. At departure, their compressor filled several very low pressure tires.
May 04, 2021
Awesome KOS! Very quiet. We were escorted to our spot. Didn't go to the dog park or the pool but both looked nice. We were there for my step-daughters wedding so this wasn't an actual camping vacation for us. Overall, very nice and friendly!
May 02, 2021
Very friendly & caring staff. Very clean & well kept. Walking trail and Lake Nasworthy nearby. Would recommend to anyone!
May 02, 2021
Great location - very clean and modern.
May 01, 2021
Enjoyed the park, especially the size. Some are very big. Thank you!!
Apr 28, 2021
Great staff and great park
Apr 26, 2021
The lady who took my reservation over the phone was 5 star!! So helpful and patient with our sketchy connection. It was perfect for what we needed a place to stop for the night. And the extended church property next door that allows you to let your dog run was a huge bonus.
Apr 25, 2021
Great place!!
Apr 25, 2021
Very clean and friendly staff
Apr 23, 2021
People are courteous and helpful. Very clean campground. Nice walking areas nearby. Sites are level with well kept services.
Apr 22, 2021
Just how a KOA should be. Great staff, everything clean and we'll maintained. We will be back!San Angelo KOA has the added bonus of affordability.
Apr 22, 2021
The campground was kept clean, the utilities very good working order. The staff was very friendly and helpful.
Apr 22, 2021
Beautiful grounds close to a nice lake
Apr 21, 2021
Only 2 nights, but wish we had more time. We will certainly be back to visit. Nice campground in a great location!
Apr 20, 2021
The owner Sherri and her staff were the nicest staff that I have ever encountered at a KOA. We brought a small church RV group and they were extremely helpful in ensuring everything went well. I honestly cannot say enough good things about this park and its staff.
Apr 20, 2021
Thanks for great memories!
Apr 20, 2021
Best service and nice cabins. Can't find a better place to stay
Apr 20, 2021
Perfect in every way, great staff, not near a freeway or a railway line, professional caring staff, a great shop, great amenities- perfect
Apr 19, 2021
From the moment we checked in, thru our stay and then at check out, the KOA staff were all welcoming and friendly. Our deluxe cabin was clean, comfortable and well stocked...outdoors was spacious with plenty of seating and dining options. Although a bit wet and chiller than normal, it was a very nice, first-time visit/stay for us!
Apr 19, 2021
This KOA is very clean with a nice pool and basket ball goal on a small slab. The cabins are new and well maintained. The staff is very friendly and helpful. The only issue I had was parking for my F-250 at my site. I have a 38 foot trailer which left me no parking space. The guy next to me was kind enough to share some of his space for me to park. I will stay here again.
Apr 19, 2021
Very clean, very accommodating, friendly staff.
Apr 19, 2021
The cabins are beautiful. The whole area is 100% clean. Staff is very Friendly and accommodating.
Apr 19, 2021
Very nice restrooms were clean trash picked up regularly even thou it was cold had a very good time
Apr 19, 2021
Nice and clean , quiet , good areas for kids ( my daughter played out for a long time) and dogs ( ours loved the gated walking area they don't really like dog parks so we didn't use that but it looked nice) and friendly staff. I didn't get her name but she was collecting the trash on Sunday morning she was very nice and even gave our dog a treat lol .. we would definitely stay here again.
Oct 11, 2021
Awesome establishment. Marshall and Sherry are top notch owners
- Mark Mccarty on Google
Oct 09, 2021
We had a great time. My kiddos are in this area, it was nice seeing them. The office and escorts are very nice and friendly.
- elizabeth geasley on Google
Sep 27, 2021
Very nice staff and prompt service!
- Laura Mohler on Google