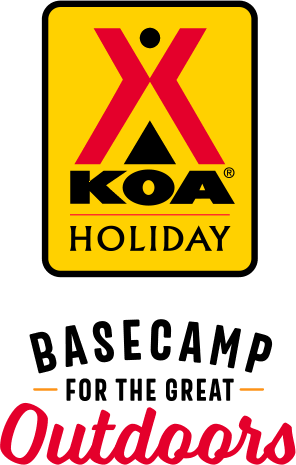 KOA Holiday Campgrounds
Whether you're exploring the local area or hanging out at the campground, KOA Holidays are an ideal place to relax and play. There's plenty to do, with amenities and services to make your stay memorable. Plus, you'll enjoy the outdoor experience with upgraded RV Sites with KOA Patio® and Deluxe Cabins with full baths for camping in comfort. Bring your family, bring your friends, or bring the whole group – there's plenty of ways to stay and explore.
KOA Holidays Feature:
RV Sites with a KOA Patio®
Deluxe Cabins with full baths
Premium Tent Sites
Group meeting facilities
Directions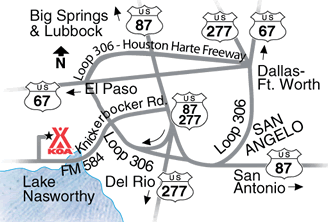 All highways, 67, 87 and 277: Take Loop 306 to Knickerbocker Rd (FM 584). Then proceed south 2 1/4 miles. Campground will be located on the west side of Knickerbocker Rd. GPS: N31.388847, W100.493670
Get Google Directions
Jun 01, 2021
The staff was very helpful and friendly. The park was spotless and very well maintained. We will stay here again.
Jun 01, 2021
Everything was very nice while we stayed there. They should disclose that there is a charge for more than 4 people in one of the Cabins that sleep 8.
Jun 01, 2021
Everyone was friendly welcoming and helpful. People around us were quiet. The bathroom was clean and liked there was a handicap stall with combo toilet and shower. The road noise and the planes flying low overhead were the negatives. Our site (#70) had large river rocks on the hookup side which made it very difficult and treacherous to hook up and unhook. Almost fell numerous times.
Jun 01, 2021
Clean park, super friendly staff, great location near the lake!! Will definitely be back again!
Jun 01, 2021
It was very welcoming. Very friendly environment and friendly staff and guest. We recommend the stay. It's not far from stores and lake areas. We would stay again.
May 31, 2021
From the time we checked in Julie was very welcoming asked if it was our first time staying there,and it was our first time RV'ing. The escort to our site took time to explain all the hook-up and made sure that we knew everything else about the camp ground. We wished we could of remembered his name.We found the KOA in San Angelo very clean and welcoming.Thank you for a very pleasant experience
May 30, 2021
Very nice accommodating employees. The KOA Campground and campsites are well maintained. It has been a delightful experience. Thank you.
May 30, 2021
We stay while visiting grandson who is stationed at Goodfellow Air Force base it was clean people were very friendly and helpful only minutes from the base easy to find was close to places to shop eat and enjoy time with grandson close to airport when we picked up his girlfriend just a very convenient camp ground if ever met San Angelo Texas again will definetly stay again thanks for the friendly
May 29, 2021
Very nice, clean, and friendly. We have stayed here before and we will again!
May 28, 2021
We stay here whenever we are heading north out of San Antonio. Nice quiet location yet close to all major roads. They also recommended a great Mexican restaurant when we asked for suggestions. We'll be back.
May 28, 2021
Very pleasant setting with generous room, nice trees and grass. Nice pool. Easy In with a guide. Very clean and well kept up grounds. Provided trash bags left they pick up each day.
May 27, 2021
Outstanding place & great staff!
May 27, 2021
I love this place and Marshal runs a clean tight operation. It feels good and secure to be here. No games or hidden agendas/costs. Good people work here that are knowledgable and happy to help. A truly special place.
May 26, 2021
Just over night. But great staff and site clean and big.
May 25, 2021
Probably the most level site that we have encountered. And the small pebble surface made setting-up a breeze. Enjoyed the concrete pad and chairs. Location is great, very close to a Walmart grocery store. And just alongside the RV park is a very nice walking/jogging loop road which offers lake views.
May 25, 2021
Such a cute little place to stay, loved every second of it!
May 25, 2021
Very nice hosts, very clean! Cute little store and location is great. Thank you!
May 25, 2021
Very friendly staff and helpful. Also very quiet and peaceful. Will be going back again
May 24, 2021
San Angelo KOA is a great place to stay. The staff take care to keep it clean and well manicured. We enjoyed our stay there.
May 24, 2021
Internet wifi intermediate. Neighbors are on top of each other. If they are smoking you cannot have your windows open. It was a quiet park.
May 24, 2021
The o my thing it needs is a couple more bathrooms near the cabins. 2 is a little too few for the numbers. But very clean , nice and a great location!!!
May 24, 2021
We really enjoyed our stay. It was a cite cabin and the campground was very nice and quiet.
May 24, 2021
Great Stay!! Friendly hosts, very clean comfortable park . We were in town visiting family and will definitely be staying with you again.
May 24, 2021
This KOA is the cleanest, friendliest and nicest KOA we have stayed at.
May 24, 2021
Enjoyed the stay for the first time and everyone was very helpful and kind.
May 23, 2021
Had a great stay. Felt secure leaving our home while we explored San Antonio. Friendly staff.
May 23, 2021
The staff was great and very accomodating and the rv park was very well maintained. We didn't use any of the facilities, but they looked well taken care of also.
May 23, 2021
Very grateful to have an escort to our site after hours. A Great Place!!! We will RETURN!!!
May 22, 2021
We were there for nights with Some other campers for a rally. All went well, we had no issues. I was particularly pleased with the trash pick up And the friendliness of the staff.
May 22, 2021
Our stay was perfect. We were greeted by very kind and friendly office staff. We even had the person (Don) I think go above and beyond to help us with anything we needed. Facility was well maintained and they really care.
May 21, 2021
Nice park. Enjoyed our stay. We arrived at the turnoff before the gps said we were there.
May 21, 2021
Couldn't ask for any better from staff, overall cleanliness and condition. Would recommend to anyone.
May 21, 2021
Just overnight but very friendly staff.
May 20, 2021
Overnight stay only. Nice people. Nice location. Nice site. Will definitely stay here when in the area and will recommend to other travelers. Liked being led to my site. Liked having a patio with chairs so I didn't have to get ours out on just an overnight visit.
May 20, 2021
Just an overnight. Everything was fine except the dryers don't dry the clothes all the way. People were nice.
May 20, 2021
Loved the campground. The rocks were easy to walk on. Much better than asphalt. Staff was super. Poured rain so we couldn't enjoy all the amenities.
May 19, 2021
Lots of open spaces, even when all the sites are full. We felt very secure and cared for.
May 18, 2021
The park is always clean. Thanks for everything
May 18, 2021
We enjoyed our stay! Staff was very welcoming and helpful. Great place to have a family get together. Will return for sure!
Oct 23, 2021
Outstanding
- Robert Richardson on Google
Oct 11, 2021
Awesome establishment. Marshall and Sherry are top notch owners
- Mark Mccarty on Google
Oct 09, 2021
We had a great time. My kiddos are in this area, it was nice seeing them. The office and escorts are very nice and friendly.
- elizabeth geasley on Google