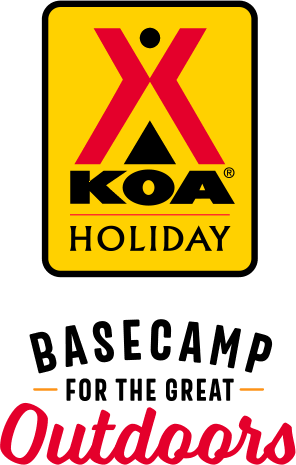 KOA Holiday Campgrounds
Whether you're exploring the local area or hanging out at the campground, KOA Holidays are an ideal place to relax and play. There's plenty to do, with amenities and services to make your stay memorable. Plus, you'll enjoy the outdoor experience with upgraded RV Sites with KOA Patio® and Deluxe Cabins with full baths for camping in comfort. Bring your family, bring your friends, or bring the whole group – there's plenty of ways to stay and explore.
KOA Holidays Feature:
RV Sites with a KOA Patio®
Deluxe Cabins with full baths
Premium Tent Sites
Group meeting facilities
Directions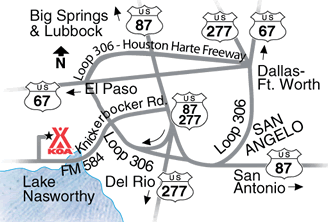 All highways, 67, 87 and 277: Take Loop 306 to Knickerbocker Rd (FM 584). Then proceed south 2 1/4 miles. Campground will be located on the west side of Knickerbocker Rd. GPS: N31.388847, W100.493670
Get Google Directions
Jul 13, 2021
Very clean and nice park. Nice big spaces. Pool for the kids. Very close to the lake.
Jul 13, 2021
Friendly staff, clean bathrooms and showers. Good size pool.
Jul 13, 2021
Clean and quiet area with all needed amenities. Friendly staff. We only spent one night there cause we were on a road trip toward Colorado, but we'd stay here again if passing through area.
Jul 13, 2021
Deluxe cabin was very clean and nice. Exceeded expectations. Staff was very friendly and helpful.
Jul 12, 2021
As always the staff is courteous and helpful. We have stayed at this park for 6 years and will continue to when we are in San Angelo.
Jul 12, 2021
We had a great time and we will definitely be back again.
Jul 12, 2021
We were assigned a "pull-thru" site. Hardly big enough for the 32' travel trailer alone. Site next to us was so close the slides almost touched. However for $35 for full hookups I guess I shouldn't complain.
Jul 12, 2021
Only issue was men's restroom. One sink and toilet were out of order. Also, around 6am both the men's and women's restroom were marked out of order and locked at the entrance at 6:20am. Other than that a pleasant stay.
Jul 11, 2021
Very clean and well manicured park. Air traffic can be a little loud at times.
Jul 11, 2021
Road and sites were all gravel, so people weren't sure of where there sites begun and ended. Spaces were tight, neighborhood wasn't the best. Host seemed really tired. That said for a single night place with hook ups, it did its job, but not to the usual KOA standards.
Jul 11, 2021
During this particular stay there were (unattended?) minors screaming (literally shrieking!) well past quiet hours for an extended period of time. I didn't have the nerve to ask for help while it was happening. I was unable to sleep through this. We've stayed here two other times with no issues whatsoever. Very clean and courteous service. Wish the other guests had been as polite as the hosts.
Jul 10, 2021
Playground was nice for the kids. The bathroom was clean and updated. Pool could use a cleaning, there were back swimmers in it. The grass at our site should've been cut. Long wet grass is annoying for all. The low branches we ran into outside our tent were annoying. Show some pride in your KOA and provide basic maintainance. Tenters shouldn't be treated as second class campers. That's how we felt
Jul 09, 2021
Laundry was very economical, Bathrooms were CRAZY CLEAN!!!!!!!!! Pool was very nice and the people were awesome and very helpful. The only negative would be that our trailer spot was in the middle of a gravel parking lot with no shade and very few other trailers which felt a little strange and lonely. Also the WiFi was not very good.
Jul 08, 2021
Great park. Loved our site. Staff is very friendly and helpful.
Jul 08, 2021
Tera was the greatest person
Jul 08, 2021
Very clean and organized. Liked being escorted to our site
Jul 08, 2021
We had been traveling home & decided to spend the night in San Angelo. I called the San Angelo KOA & got a reservation w/ no problem. When we got there everything went very smoothly & the staff couldn't have been nicer, also very helpful. Thanks for a great stay, wish we could have stayed longer!
Jul 07, 2021
We absolutely loved the cabin! Our son is at Goodfellow AFB and this was perfect for us to just hang out with him. We grilled and played corn hole, swam in the pool and were able to watch the fireworks from our cabin. Thank you for helping us make memories �ϋ�
Jul 07, 2021
Very nice park with BIG sites. We had a small patio divided by lattice from the other sites. Our site was clean, level, gravel/crushed granite. We were only there for one night, but I felt very safe and comfortable.
Jul 06, 2021
Was in space 66 and everything was very good, the grounds were clean and the staff was great. Have been there several times in the past and as usual great place to stay. Will be back as soon as we can. Thanks to everyone there for working so hard to keep it a great place.
Jul 06, 2021
Great service and a nice, clean campground.
Jul 03, 2021
Perfect for me! Everyone so very helpful!! Will return again and again.
Jul 02, 2021
KOA San Angelo is a good on the way overnight stop. Gravel driveways and pad, a little unlevel. The area for walking and dog runs are a nice feature. Nice part of town and get to see airplanes landing overhead, but the noise was not too bad.
Jul 01, 2021
Clean, friendly and a great stay while headed back east.
Jul 01, 2021
Friendly and EXTREMELY helpful. Will stay on our return trip. Thank you.
Jul 01, 2021
Everything was great, well, except for the occasional airplane landing or taking off. But they were rare and not an issue. Nice stopover!!
Jun 30, 2021
This is my favorite KOA. We've stayed here before and will again. Like the 2 mile walk around the hill.
Jun 29, 2021
Words cannot express what a wonderful time we had at the KOA San Angelo. I planned this stay for months. From the reservation service to the turning in of the keys the staff was awesome and ready to assist. I loved the deluxe cabin w/handicap,the pool had a device that will lower/ raise a person in/out. It fit all my dad's special needs. My family and I will definitely be return more often.
Jun 29, 2021
Good sized spots even for my 43 ft toy hauler. Clean bathrooms/ showers. Nice dog walking area. Definitely recommend
Jun 28, 2021
Very good except Rv next to us just let there dogs run loose. Would stay again
Jun 27, 2021
Staff is very friendly and welcoming. Campground is well kept. Wifi access can be a little spotty on sites furthest from office, so if that is important request sites closer. Campground is within a 15 minute drive of most everything in San Angelo. If San Angelo is in your travel plans, this campground is a great choice.
Jun 27, 2021
Wish someone had warned us about the tarantulas coming out at night... scared the #### out of me when I was walking my small dogs at 11 pm.
Jun 25, 2021
Very clean and well maintained
Jun 24, 2021
The San Angelo KOA is a nice and clean place to stay. It lacked trees at the camp sites, which made it feel hot. The staff was friendly.
Jun 24, 2021
We stayed only one night. We would readily recommend this KOA for short stays or overnight on your way through Texas to New Mexico, Colorado, or further destinations in the West, Northwest, or Midwest.
Jun 24, 2021
Easy access, friendly staff, and nice layout!
Jun 23, 2021
I had an emergency visit to local hospital for 4 days. Since the length of my stay was uncertain the staff at KOA worked with my husband to hold our site as long as we needed it. At a staff hamburger party they brought my husband plates of food. They were so thoughtful. They went out of their way to help. Thank you, staff at KOA San Angelo, TX
Jun 23, 2021
We were just there for the night, but this was our second stay. Staff are friendly and efficient and the facility is clean and well cared for. We would definitely return
Jun 22, 2021
We had a nice stay. The property is well maintained and our check-in went smoothly.
Jun 22, 2021
First campground we ever stayed . Friendly and helpful staff. Clean and nice all through the park! We will be staying again!
Oct 23, 2021
Outstanding
- Robert Richardson on Google
Oct 11, 2021
Awesome establishment. Marshall and Sherry are top notch owners
- Mark Mccarty on Google
Oct 09, 2021
We had a great time. My kiddos are in this area, it was nice seeing them. The office and escorts are very nice and friendly.
- elizabeth geasley on Google