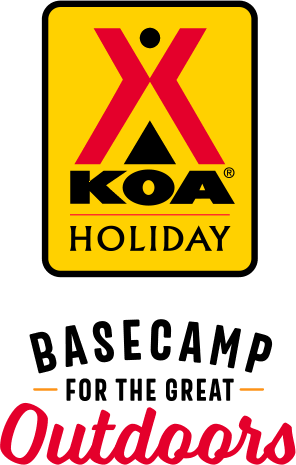 KOA Holiday Campgrounds
Whether you're exploring the local area or hanging out at the campground, KOA Holidays are an ideal place to relax and play. There's plenty to do, with amenities and services to make your stay memorable. Plus, you'll enjoy the outdoor experience with upgraded RV Sites with KOA Patio® and Deluxe Cabins with full baths for camping in comfort. Bring your family, bring your friends, or bring the whole group – there's plenty of ways to stay and explore.
KOA Holidays Feature:
RV Sites with a KOA Patio®
Deluxe Cabins with full baths
Premium Tent Sites
Group meeting facilities
Directions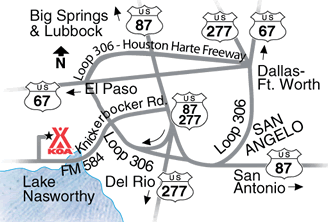 All highways, 67, 87 and 277: Take Loop 306 to Knickerbocker Rd (FM 584). Then proceed south 2 1/4 miles. Campground will be located on the west side of Knickerbocker Rd. GPS: N31.388847, W100.493670
Get Google Directions
Mar 24, 2021
Showers were the worst I've ever in counter. Hard to regulate the temperature and then it turns off for no reason.
Mar 23, 2021
We are always happy with our stay and the owners and employees are always wonderful. Would recommend to all to try it out, and bring your boats, jetskis and fishing poles as Lake Nasworthy is a few seconds away
Mar 23, 2021
Good ,will stay their again.
Mar 23, 2021
The hosts were very nice and helpful. The camp was very clean. We will stay there anytime we are in the area again.
Mar 23, 2021
Very polite staff.
Mar 22, 2021
Great stay again - Campground is very clean and extremely well kept. Spaces are very comfortable. Above all, however, the management is making you feel welcome. No question, we will be coming back.
Mar 22, 2021
We had a great weekend. The staff were very friendly and helpful. The facilities were clean and comfortable.
Mar 22, 2021
We loved the cabins and cleanliness of the location. Staff were friendly and accommodating. Our only complaint would be the young ladies driving an atv around the campgrounds at an unsafe speed and late in the evening. They were also underage. Our daughters didn't feel comfortable riding their bikes around with these two on the road. We were under the impression that no atv's were allowed.
Mar 22, 2021
The staff was so friendly and kind and the facility is always clean, safe, warm and cozy.
Mar 22, 2021
Met all of our expectations. Facilities were well maintained. Friendly, service focused staff.
Mar 22, 2021
Camp grounds were very clean and kept up. Staff was friendly and generous...were eager to help.
Mar 21, 2021
This was our 5th time to stay here. It was a great stay as always. The park hosts Ray & JoAnn are extremely nice & helpful. Will definitely stay here again, and we recommend this KOA for anyone looking for a nice campground in the San Angelo area.
Mar 21, 2021
Jo Ann greeted me at the Front Desk. She was very pleasant and helpful. She got in touch with Ray who escorted me to my site. Ray made me feel "at home" as he directed me into my space. This KOA is very well managed and plan to return next time I'm in San Angelo.
Mar 20, 2021
I want to go back soon! Didn't get to fish! To cool and windy! Comfortable hanging around camp grounds! Will go back. Do recommend! Employees very friendly �
Mar 20, 2021
Spaced out, clean, nice walking path, central dog park
Mar 19, 2021
Nice campground, but our site was too unlevel. Had to put blocks under front tires. Need to make sites more level.
Mar 19, 2021
One of the best KOA's we have ever stayed in. Park was very clean, dog run well kept, great area outside the park to walk. A very pleasant 1-nite stay.
Mar 18, 2021
One night in cabin. Nice people, park a little junkie , looks like a lot of long termers
Mar 17, 2021
Great campground and great people.
Mar 16, 2021
Very nice campground with clean amenities!
Mar 15, 2021
This is a great campground. Our third time here. Will definitely be back.
Mar 15, 2021
We had a last minute reservation & the KOA was accommodating to our late arrival. The campground was clean & very well kept. We had a comfortable stay & will be returning soon.
Mar 11, 2021
The cabin we rented was a pretty good size. Although it was not very clean. I was concerned about staying out of town in a cabin because of covid. But I felt it would be ok since this was a KOA. In the past it has been clean. There was dirt all over the floor. It hadn't been mopped in awhile. The bathroom around the tub and toilet was not clean. We stayed in the loft and there was dirt and dust.
Mar 10, 2021
Clean campground, friendly staff, great place to camp
Mar 10, 2021
Just an overnight stay. Friendly staff clean grounds and facilities. Close to everything.
Mar 09, 2021
Fine. Friendly staff.
Mar 08, 2021
Friendly and helpful staff. Place is very well maintained.
Mar 08, 2021
Had a very good time, very clean and very friendly staff, and a big plus for us it was very kids friendly �‍������‍�����‍������, we would definitely go there again and recommend to family and friends,
Mar 08, 2021
Conveniently located. Nice people.
Mar 06, 2021
Very helpful and friendly staff; Clean campsite in great location. We just purchased our RV and this was our first week-long trip - what a great experience. Hope our future KOA's are just as wonderful. Thank you
Mar 02, 2021
We stayed for the weekend to visit our Marine in training. The KOA cabin was very clean and comfortable. The grill and table outside was a great place to visit and grill burgers and steaks. I will be going back to the KOA again, and recommend it to everyone coming to San Angelo.
Mar 02, 2021
We stay at the KOA in San Angelo at least once a month and we enjoy it very much. The staff is always there and friendly the grounds and pool are nice and clean
Mar 01, 2021
Very nice park. Quote and in a good location. Plenty of walking trails
Mar 01, 2021
Was adequate for what we needed - a place to stay for the night after just purchasing a new trailer before heading back to California.
Feb 25, 2021
Very nice and very helpful people ~ under the circumstances they did everything they were great
Jun 11, 2021
Very clean park. Super friendly and helpful folks. Will definitely stay here again.
- Charles Smith on Google
Jun 04, 2021
Super super friendly helpful staff. Clean and nicely landscaped, loved the dividers they had for each site and bistro set. Only spent one night on the way home but we will definitely return. Give your staff a raise they will keep your visitors coming back!😉
- angela serrano on Google
May 30, 2021
The folks that own this camp site are VERY Friendly and accommodating!! They go out of their way to make sure everything is in working order....Very clean and so well kept!! I would recommend staying here !! You will be im
- Craig Horton on Google