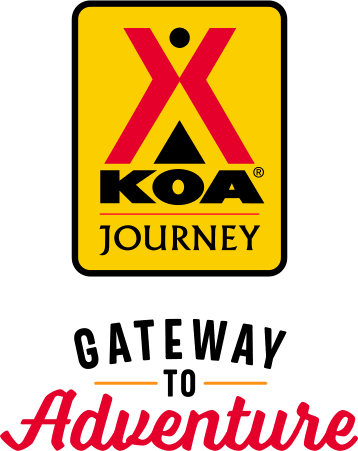 KOA Journey Campgrounds
KOA Journey campgrounds are the perfect oases after a day on the road. Whether it's along the way or a quick getaway, they've got you covered. Located near the highways and byways of North America with long Pull-thru RV Sites, they deliver convenience to the traveling camper. Pull in, ease back and take a load off.
KOA Journeys Feature:
Pull-through RV Sites with 50-amp service
Premium Tent Sites
Well lit after hours check-in service
Directions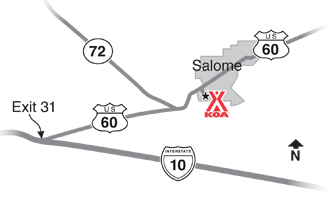 East on I-10 from Quartzsite & California: Take Exit 31/US 60 E/Wickenburg/Prescott onto US 60 East. At mile marker 54, turn right onto KOA's entrance road.
West on I-10 from Phoenix & Buckeye: Take Exit 81/Salome Rd/Harquahala Hwy. Turn right onto Salome Road. Travel 31 miles to Hwy 60. Turn left (west) on Hwy 60, go 2 miles.  At mile marker 54 turn left onto KOA's entrance road.
GPS: 33.760976, -113.649419
Get Google Directions
Mar 19, 2019
Enjoyed the pool and the people! Nice surprise to have smoothies one day ($1.00) and free sweet rolls on Saturday morning. Lots of "perks"-nice place to stay!
Mar 18, 2019
Great camping with great people. Clean showers, rest rooms, and pool. Could not ask for more.
Mar 18, 2019
Even though the back in site we were in was a "double wide" the people next to us parked with their slides extending into our site, and even worse, they ran their sewer hose onto our site (2 ft from our picnic table) and when we brought it the offices attention they didn't care.
Mar 17, 2019
Enjoyable stay, kind and gracious staff.
Mar 17, 2019
Very friendly and helpful hosts. The park was well maintained and the showers were spotless. We'll stay here again.
Mar 14, 2019
Stay was ok, but NO Sprint cell phone coverage! Couldn't make or receive calls or texts ... VERY inconvenient if I needed to contact family members. If there was a medical emergency (where I was immobilized) and couldn't get help a tragedy could've occurred. If a senior had Sprint and was in same predicament and died, you'll have a lawsuit on your hands. Please establish cell coverage.
Mar 13, 2019
Awesome ohv riding!
Mar 12, 2019
Very friendly...if you like to off road there is plenty to explore... if you are looking to go shopping, dine out, Starbucks, you are 60 miles away. If you want friendly campers and activities .. pot luck, pancake breakfast, crafting with other camper, card games, hot dog/fire pit get together this is the place. We will be coming back next winter
Mar 12, 2019
the sites are wide and the park is clean. this is a great place for UTV trail rides.
Mar 11, 2019
Love staying here !!!
Mar 10, 2019
We really liked it in Salome. The staff at the KOA were all wonderful!! We booked for next year already
Mar 10, 2019
Great place in the desert. Lots of space for my dog
Mar 10, 2019
Good RV park, especially if you are interested ATV activities. All facilities were clean and in good working order and the office staff very helpful.
Mar 09, 2019
What a wonderful experience!!! Excellent amenities but more importantly was the people!!!!! I will be back!!!
Mar 07, 2019
Very overall positive stay, staff extremely helpful and friendly. Very clean and well maintained. We would definitely stay here again.
Mar 06, 2019
Out of the way and not much around, so take it with you. Gravel parking lot. If you ride off-road, this would be a great place. No TV reception here. I would stay again.
Mar 04, 2019
Matt did a good job as always.
Mar 04, 2019
We spent a month in Harcuvar, AZ at the Salome KOA. The staff is friendly and the park is well maintained. We will be back next year.
Mar 04, 2019
For 3 months we enjoyed the special activities and pot lucks and pancake breakfasts. Love the staff and plan to spend 3 more months there next winter. Lots of trails to ride.
Mar 02, 2019
Excellent staff excellent staff fun fun fun
Mar 01, 2019
The staff is what made our month long stay so much fun. Good friends are what we made at the KOA in Salome AZ. Pool and hot tub were great. Very clean and well kept up.
Mar 01, 2019
Wish they had more activities at night. The laundry room needs to be updated with better machines and possibly larger. The staff was friendly.
Mar 01, 2019
Employees were very nice. Spaces were somewhat tight. The park was clean and quiet.
Feb 27, 2019
Only stayed 1 night while traveling through and enjoyed our short stay. Liked all the facilities and activities.
Feb 26, 2019
The campground is clean, well maintained, well run. The staff are friendly and helpful. Clean bathrooms and showers. Clean, well-operating laundry. Great information about local activities. All of that would give it 4 stars. The hot tub makes 5 stars!
Feb 24, 2019
Overnight wonderful people and place. However the internet was a pain. Had to call twice to provider as directed by park to get it set up as a free account. System would not accept the parks Password. Great for kids...lots to do if staying longer.
Feb 22, 2019
all the employees were very friendly and helpful
Feb 21, 2019
Was just okay. Beautiful area.
Feb 21, 2019
Very large lots, clean, but to much noise from the traffic.
Feb 19, 2019
Nice size sites and staff was great.
Feb 18, 2019
A return trip for me. Friendly folk. Staff as well as Campers! The county has some rules that the staff conveyed to me in a kind manner, and helped me to a solution! Loved playing pool, nice clean hot tub, roomy showers, tv and morning coffee was a treat! All round great two night stay!
Feb 18, 2019
Good KOA far enough from I-10 to be quiet but close enough to be convenient. Park is spacious and well laid out. The entrance is a little weird but even though office was closed when we arrived were able to find our site without trouble. Decent lighting at night and good hookups.
Feb 12, 2019
Got to the site late, but the office had left our instruction packet by the office door. Had everything we needed to find our site, get set up and get around the park. Everyone we met was very nice and helpful. Works out to be a great spot to overnight between Phoenix and Joshua Tree National Park.
Feb 11, 2019
We had a 30 day reservation, but arrived in the area a few days ahead of time and were able to secure a spot with Matt to start enjoying the campground and area. He and all of the staff have been so friendly and helpful. We are definitely enjoying our stay!
Feb 10, 2019
We always feel at home at the Salome KOA. The staff is amazing and very helpful.
Feb 09, 2019
Nice park good staff very clean
Feb 09, 2019
Shirley was great at Check-in. We requested a pull thru and she was able to re-arrange the sites to get us one. Darrell was the greatest! He saved us from a very cold night by fixing a small heater that I had taken apart and couldn't get back together. It took him quite a while to accomplish this but her persevered and we had a very toasty warm night which was 30 degrees outside. Love this place!
Feb 09, 2019
They hosted a fantastic pancake breakfast and a good hot dog and chip night! Well done!
Feb 08, 2019
Perfect! Large spaces. Staff above and beyond.
Feb 01, 2021
Staff is above & beyond with helpfulness and friendly demeanors. Very clean facilities, bathroom, clubhouse, etc, but even the outside tables. Grounds kept up, everything was great!
- Christina Danner on Google
Jan 29, 2021
Great KOA with easy access to go off roading into the desert. There were alot of friendly people staying and enjoying themselves at the park. The pull through site we had was very spacious and super clean. We would definitely stay again.
- James Reilly on Google
Jan 19, 2021
One of the nicest KOAs we've stayed at in a long time. Staff is above andd beyond friendly good little Mexican restaurants just down the street
- Sheri Vess on Google