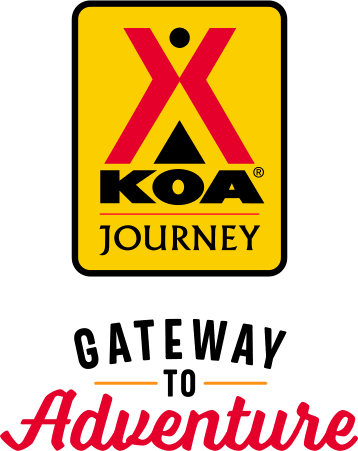 KOA Journey Campgrounds
KOA Journey campgrounds are the perfect oases after a day on the road. Whether it's along the way or a quick getaway, they've got you covered. Located near the highways and byways of North America with long Pull-thru RV Sites, they deliver convenience to the traveling camper. Pull in, ease back and take a load off.
KOA Journeys Feature:
Pull-through RV Sites with 50-amp service
Premium Tent Sites
Well lit after hours check-in service
Directions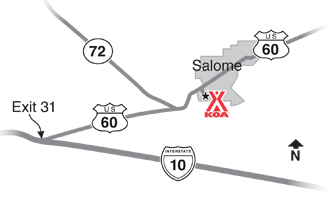 East on I-10 from Quartzsite & California: Take Exit 31/US 60 E/Wickenburg/Prescott onto US 60 East. At mile marker 54, turn right onto KOA's entrance road.
West on I-10 from Phoenix & Buckeye: Take Exit 81/Salome Rd/Harquahala Hwy. Turn right onto Salome Road. Travel 31 miles to Hwy 60. Turn left (west) on Hwy 60, go 2 miles.  At mile marker 54 turn left onto KOA's entrance road.
GPS: 33.760976, -113.649419
Get Google Directions
Jan 25, 2020
Arrived late, unable to hookup to electric due to positioning of post and holes cut into it. Wifi would not work and no cell service to attempt calling after hours manager. We left and boondocked at loves in Quartzite. The campground has still not responded to my complaint.
Jan 24, 2020
Very clean, very nice large camper spots. Great location with ATVing right out of the campground. I hope to stay there again soon.
Jan 24, 2020
We had 2 sites reserved side by side well in advance of our arrival. Once we got there, we were told that they were not available- the person in the office was not very helpful nor was she very friendly. Once we got to our sites, we saw open sites that would have accommodated the people who took one of our reserved sites. I don't think we would return back to this KOA.
Jan 24, 2020
Very nice people. Had a great stay.
Jan 24, 2020
very nice and well run I did notice SOME campers did have their dogs off leash
Jan 23, 2020
Was a very pleasant stay everyone was very nice
Jan 23, 2020
Have stayed numerous times and great each time Park is well cared for
Jan 23, 2020
We were only at the campground for 2 nights but liked it very much. The campground caters to ATV riders and really does a good job. We were just pass through but were impressed with the way the KOA took care of them. If you ride an ATV and like riding in the desert this is the place for you.
Jan 22, 2020
Friendly staff, spacious sites, and a great area for walking my dog. They kindly accommodated my need to stay an extra day due to an issue with my motorhome.
Jan 21, 2020
Salome KOA was very remote. My mistake. 15 days of no rental car was depressing. I wasn't sure I would last. But I did. Other campers were very friendly and helped me out. One camper took me on day trips which were wonderful. So Salome KOA was remote but the people and staff were some of the nicest yet! I would recommend this desert location to everyone.
Jan 21, 2020
Very nice and clean. Lots of games in game room. Friendly staff
Jan 19, 2020
Everything was great! Very clean showers, and such nice staff!
Jan 19, 2020
Great place… Didn't know what to expect and was pleasantly surprised! Will definitely stay here again
Jan 19, 2020
Very relaxing.
Jan 17, 2020
Overnight stay on a pass thru trip. Pleasantly surprised at the smiles and the amenities here. Folks at office were so genuinely welcoming and informative. Laundry facilities were very clean and in working order..great stay. We will stop again. Thanks!
Jan 16, 2020
The campsite was nice, but it is in the middle of nowhere. We came to investigate what was available. If it was closer to Quartzsite, we would have been happier. Unless you bring side by sides there is nothing to do. Didn't realize there was no tv service was another disappointment for the length of time we stayed. Everything is so far away. We need to read our map better and read the amenities.
Jan 15, 2020
It was a very clean well maintained park. There were lots of park models but well kept. Nice wide roads and fair size lots. People were extremely friendly as well!
Jan 15, 2020
Spots were clean and level. Pool was a great temperature for January swimming.
Jan 13, 2020
We drove in and was incredibly disappointed. Nothing more than piles with electric and water access We left and went to a different campsite down the road, with much more character
Jan 09, 2020
First time in a KOA. Loved it. Clean, hot tub, laundry, convenience store, dump right at your site--everything was great!
Jan 08, 2020
Matt and the Gang were great. Clean safe park. Good for overnight and long term.
Jan 05, 2020
Excellent facility. Will definitely stay there again!
Jan 05, 2020
Just stayed one night in transit but very nice place. Basic, clean, nice bathrooms, pool and spa. Only downside is it is very isolated if you're not into rockhounding or desert off road sports. But I'd definitely stay again if I needed a place to stay on the way from point a to point b!
Jan 04, 2020
It was a fabulous day! We had a large group of us camping and riding side-by-side's and we all love it! Extremely clean! We loved the heated pool and spa it was so relaxing at the end of the day. Also loved the clubhouse in case it was too cold (as it was) To eat outside as a group. We plan to come back often. Every one of the staff was exceptionally friendly and nice
Jan 04, 2020
Had a Great stay.Will be coming back
Jan 04, 2020
Such a nice CLEAN Campground we enjoyed our stay
Jan 04, 2020
Two words: Hot Tub. Such a serene spot!
Jan 02, 2020
Large sites...great access to the desert. A little far from retail, but if you've stocked up with the essentials there are some basics nearby.
Jan 01, 2020
Overnight stay, easy in an out, nice pull through for 40ft 5th wheel didn't have to disconnect.
Dec 29, 2019
Campground, pool area and restrooms were very clean. Matt, the manager, was very helpful. Staff are all pleasant and enjoy interacting with campers.
Dec 24, 2019
Shower was very small - had to step out to turn around. otherwise it was ok.
Dec 22, 2019
Just did a quick overnight and enjoyed the quietness and space.
Dec 22, 2019
Nice facility for first time KOA use but always do dispersed. No individual fire rings and nightly rate was $38.77. A ridiculous amount and just enough to force two $20 bills since we weren't writing our card numbers on an envelope. A friend and I were a late checkin and left early. We were unable to get our change. KOA no more. Thank you -
Dec 20, 2019
Loved the people taking care of facilities
Dec 17, 2019
Our stay at the Salome KOA was very nice. This KOA is very clean and easy to find and a great in-between place to park for a night or longer. The Park Staff was very friendly and helpful.
Dec 13, 2019
Very clean and well maintained, friendly and helpful staff. Cool when we stayed there so the heaters in shower rooms were appreciated.
Dec 09, 2019
We always use this KOA as an overnight stop on our way to CA, NV, etc., because they have wonderfully huge sites that you can pull into without having to unhitch your rig or tow car. Excellent bathrooms/showers (some of the nicest we've seen).
Dec 03, 2019
Great friendly staff.
Dec 02, 2019
Made some great changes since our stay in 2018. Club house and game room were fantastic. Staff were so friendly and helpful. We will be back next year.
Feb 01, 2021
Staff is above & beyond with helpfulness and friendly demeanors. Very clean facilities, bathroom, clubhouse, etc, but even the outside tables. Grounds kept up, everything was great!
- Christina Danner on Google
Jan 29, 2021
Great KOA with easy access to go off roading into the desert. There were alot of friendly people staying and enjoying themselves at the park. The pull through site we had was very spacious and super clean. We would definitely stay again.
- James Reilly on Google
Jan 19, 2021
One of the nicest KOAs we've stayed at in a long time. Staff is above andd beyond friendly good little Mexican restaurants just down the street
- Sheri Vess on Google