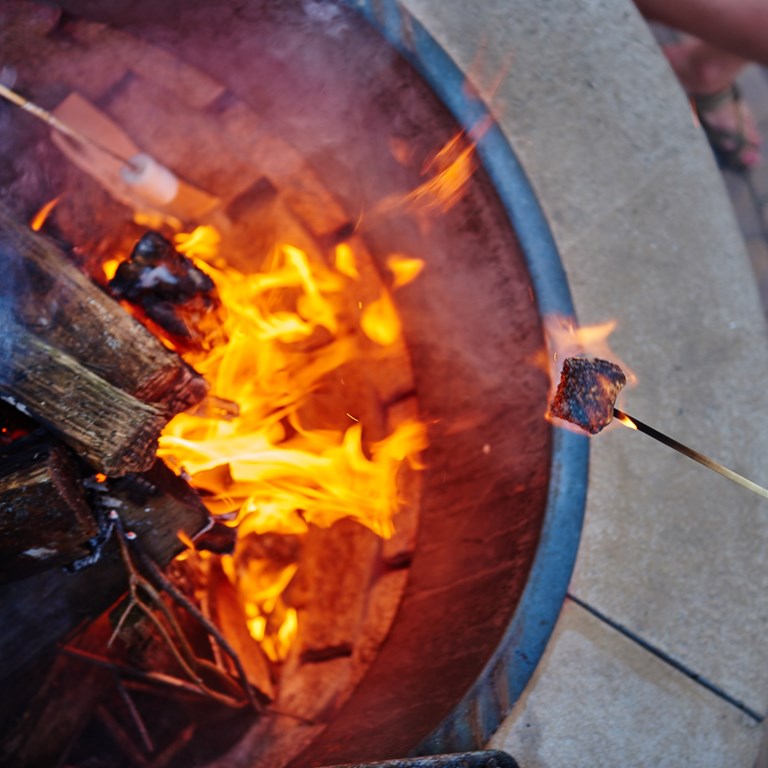 Lebanon KOA on Salmon Falls River Reviews
Book your fall escape today!
Directions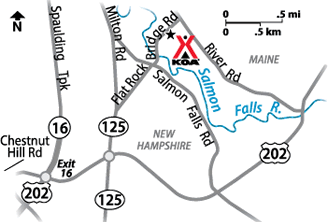 From Boston: Take Route 95 North to Portsmouth, New Hampshire. Go left at the split (Exit 4), which will put you on the Spaulding Turnpike (Route 16 North) toward New Hampshire. Follow the Spaulding Turnpike to Exit 16 and follow the signs to Route 125 North toward Milton. Go one block and take your first right onto Flat Rock Bridge Road. At the stop sign, cross Salmon Falls Road and continue driving straight over the bridge to the campground entrance.
Get Google Directions
Aug 13, 2020
The campground itself is well taken care of in terms of cleanliness and maintenance of sites. I didn't give a rating of 4 or 5 because the grounds kept losing electricity and any time someone dumped their black tank the smell affected all campers in the 2 block radius. Also, the check in process was terrible as the staff stood around doing nothing and cash only so I couldn't purchase anything.
Aug 13, 2020
This is a great campground to stay at with kids! The staff is very friendly & let kids be kids! Cleanest campground bathrooms I've ever seen & great water pressure. There are so many activities included with your stay! My kids were having so much fun we paid the small extra fee to stay until 5pm on your checkout day to enjoy all the amenities.
Aug 13, 2020
Ropes course amazing! I think that folks staying in RV's should be met to review the unit light the stove. Was not happy the the standards for Many things changed before the CDC visit and while CDC was there. Tells me a lot about how things were not compliant before, not favorable. Young men (staff) in golf carts very respectful! Bump on water slide needs fixed opened the skin after 2 runs!
Aug 12, 2020
You do not get the accommodations listed and pictured. ONLY 3 working toilets AS THE OTHERS were stopped up. Only 1 of the 2 soap dispensers in bathroom worked. They are not cleaning or sanitizing during Covid. Me & others who rented were accused of stealing pillows we were never provided with even though I have video. Manager Lisa hung up on me as well as someone else who called to sort out issue
Aug 12, 2020
Bathroom dispenser had no soap for 3 days during covid. When we notified the manager about the soap she was rude and said "use the other one". Sheets provided had stains on them, even though they weren't used to sleep it was very off putting. Upon checking in not one person was wearing a mask, it was very concerning considering the amount of people they come in contact with on a daily basis.
Aug 12, 2020
We had great time! We'll definitely go back
Aug 12, 2020
Receptionist was rude. She then directed me to drive down an interior road that was closed due to tree trimming. This caused me to unhook my toad and be road that was clos have to back up a couple hundred yards to get to my site which was supposed to be a pull thru. sewer was at front of lot, electric in middle. Cement pad poorly placed due to utility locations. Dusty roads,crazy golf carts.
Aug 12, 2020
My stay was wonder really enjoyed my time there. Was trying to go back next month. I will be back next year.
Aug 12, 2020
Wasn't clean. Couldn't find the office as it is not marked. Peoples trash and campground park trash seems to be everywhere. Some staff taking COVID-19 precautions, some not, and that is just in the office, elsewhere it was worse. Bathrooms were new looking but not clean, fortunately we are self contained and had an alternative. Free WiFi - I don't know where that was, no WiFi near us to be found.
Aug 12, 2020
Great facilities
Aug 12, 2020
Check in was horrendous. Was told I couldn't arrive early due to Covid. So I arrived at 3, and my RV wasn't yet cleaned. Had to wait over 30 minutes. Finally got inside and it was barely cleaned. Thankfully I brought Lysol so I could finish up. 20 minutes later our gas alarm went off bc the cleaning crew left a burner on. We had to leave the windows open in 100 degree heat.
Aug 12, 2020
Overall our stay was good, our cabin was not very clean but I cleaned it up a bit so no worries. Was a little disappointed the northern pool was not open but no biggie. The people in the cabin next to us kept allowing their dog to poop on our site I was kind of upset about that. But overall everything was good and my kids had a good time
Aug 12, 2020
Trees not maintained, branches damaged my awning. No seats in the shower, no place to toiletries, no hot water for 2 days, dusty roads, unusual amount of people cutting through the site.
Aug 12, 2020
Very nice park but Dusty roads
Aug 11, 2020
The campground did not have our reservation right and when they tried to put us in a spot it was too small so we had to go back to the office to try to find a spot that we would fit in.The laundry was closed and it would have been nice to know ahead of time to pack more clothing/towels.Very dusty, fishing pond -more of a bait pond.Will never again stay here to top it off got yelled at by staff
Aug 11, 2020
The position as trash pickup person needs to be created. Trash bags need to picked up at all sites everyday. That's my suggestion after my experience from other KOA campsites.
Aug 11, 2020
This place is so cool. Not only is it very kid oriented, but they do great providing fun for any age. So much to do. One of the pools was down, but that didn't prevent us from having a great time. My kiddos were super thrilled to sit in a theater to watch a movie, something taken from us recently. With everything going on in the world today, this is a great place to escape reality! Great!
Aug 11, 2020
It was our first time camping at a KOA, We loved it. The bathrooms were always clean, the staff was so friendly when we couldn't find our site one of the staff brought us to the site. Our last day we did the ropes coarse and staff members Seth and Zack were extra helpful with my son when they saw he was having a hard time with the course. They worked with him one on one. We will be going back!
Aug 11, 2020
Our RV rental had some issues, 1st they gave us the wrong key to get in, 2nd the stove top shield was broken. The sink didn't have a spray hose and had to move the faucet back and forth. The steps coming in didn't go all the way down to the deck so we used a cinder block. The was no shower curtain in the bathroom and no towels. The last night the air conditioning wouldn't keep up and it was hot.
Aug 11, 2020
We rented a camper. The pink jezza that grows in a bathroom was on the sink faucet and around the back side of the water spout. There was a hole in the wall, the fire extinguisher ripped off the window shades malfunctioning. The pool area had a strong stench of urine and the water was far from crystaL clear. No attendants attending to the amount of people in the area, no social distancing at all
Aug 11, 2020
Staff was super nice, clean and quite campground, only down side was the gate entrance is very tight, some of the paperwork for check could have been emailed and filled out prior to arrival. staff also needs to know the roads if the campground and not make campers do the entire campground road to get to the patio sites, the "unable" corners were not impossible and very easy verse the outer road.
Aug 10, 2020
The section we stayed in had large sites and was clean, S48-S49. One pool was open the North one was not. Not much water in the fishing pond, we understand there has been very little rain lately, the sites across the road, trash needed to be cleaned up and sewer pipes not hooked up taken care of.
Aug 10, 2020
We had such a great weekend!! So much to do and so much fun! Would definitely come back again!!
Aug 10, 2020
Lots of fun. Lots to do! I came with 2 other moms and between us all we had 5 15 year olds. Not one ever said they were bored. Thanks for a great time.
Aug 10, 2020
Cabin was very clean. Staff was very helpful. One pool closed, could be because of COVID, so the other was always crowded. It did also have the water slide. Did not matter, we had the lazy river which was wonderful. Would definitely recommend to friends and family and will be back for another visit.
Aug 10, 2020
The only thing I'd recommend is maybe do something for dust control have a water truck drive around.
Aug 10, 2020
We were supposed to have a site you gave to another person in our group, people walking through our site and the sites of those with us. The bathrooms were clean, activities felt safe and organized. Sites too close for our taste. Good camping but not our type of campground. Didn't feel like other KOAs
Aug 10, 2020
We rented a camper for are stay and it was perfect. It had everything we needed and was very clean.
Aug 10, 2020
We just had an overall great memorable vacation with out family. Thank you
Aug 10, 2020
I love the campground and the ammenities, although I have to say we were quite disappointed with the compliance of Covid-19 recommendations. The pool was over capacity, the chairs were set way to close, the line for the slide was not marked off and employees and guests did not comply with mask usage within the store. On any other given year, everything would have been two thumbs up.
Aug 10, 2020
We loved your campground however were vey upset to see Covid regulations not being followed. We have camped in numerous places this summer and this campground was the absolute worst about following CDC guidelines , I am not even sure how they have not been fined .
Aug 10, 2020
My family and I had a great time all around.
Aug 10, 2020
It's been years since I e camped here and I love all the upgrades! Great family place!!
Aug 10, 2020
Our second time staying here and we really like the campground. It's not far from home yet it FEELS far away when you're there. I appreciate that showers are free, mini golf is included, ropes course. You will not get bored here! It's a large and relatively busy campground. I only wish they offered an intermediately priced site. It's pretty pricey if you have a pop up only
Aug 10, 2020
Overall- very satisfied with our stay. our Favorite place to camp! We love that there are always activities. very impressed With Zack at the ropes course. He was very friendly & respectful. Arcade staff seemed miserable. One blonde was very rude. They don't interact and make helping customers seem like a chore. Arcade prizes were very limited and ticket cost went from 1600 to 15000! Ridiculous!
Aug 09, 2020
Spent 3 nights in a deluxe cabin with three grandchildren ages 11, 11, and 14. Because the children liked it so much from last years trip we returned again this year. Lots of activities and things to do so nobody is ever bored. NO electronics..... just good old fashion fun riding bikes and playing outside. All of the workers were very helpful..
Aug 09, 2020
We where told it was fine to rent the golf cart for three days on phone. Come the third day we found out they only booked us for 2 without informing us and had to return. We had asked manager to call us because we were really bummed but never got a call. Our first day they were evacuating couldn't set up till 9pm and where hoping to be worked with better. last year was good this year not so much
Aug 09, 2020
2nd night into our stay is when the storm hit and power was lost. Staff said it could be days without power so we checked out 2 nights early. We rented one of the RVs but couldn't sleep because the mattress was not comfortable. We really loved the site we were on and the campground and staff are amazing.
Aug 09, 2020
You do not have some one to keep people fallowing the rule
Aug 08, 2020
Rented a Deluxe Cabin and when we got there found out no Grill but a grill thing over the fire ring which to me is not a cooking grill. Cable didn't work in Our cabin and no internet.
Aug 08, 2020
There were so many things to do we could have never left the camp!
Aug 08, 2020
Beautiful spot on the river, cabin was clean and staff were friendly!
Aug 07, 2020
I loved the campground but there were a few disappointing things...one pool was completely shut down..and had been for 3 weeks. The pool with the waterslide was closed a good portion of the day on Sunday for cleaning...and until many campers were so mad about it they finally opened it but kept the waterslide shut down..pool should be cleaned well before 11 when it opens
Aug 06, 2020
We enjoyed all of the amenities that are offered here. We stayed in one of the safari tents, and it was great, with plenty of room for our family of 5. There was a tropical storm that came through and power was out for a while, but the staff did a great job communicating with us. The only negative was the actual lot itself, there was very little room to have a fire, and very close to other lot.
Aug 06, 2020
There was a huge mixup with our reservation. It ended up being resolved to our satisfaction, but I felt like that was only because I kept proposing different solutions. The staff didn't seem to be very resourceful about coming up with ways to fix the mistake. The large pool being out of order was a HUGE disappointment, especially since the other pool is so small.
Sep 14, 2020
It a fun camp ground i made lot's of friends there and everyone there is very friendly
- Andrea WallSanchez on Google
Sep 06, 2020
Great facilities and the new management is doing an excellent job!
- Damian Watson on Google
Sep 05, 2020
We LOVE this campground and have come back the last couple years. We are foster parents in NH and they partner with an organization called FARE each year to support us by offering discounted rates. We cannot express how amazing it is for us and our kids to have time to reconnect and check-out of the day-to-day stress. THANK YOU!
- Erin Faith Page on Google

Lebanon KOA on Salmon Falls River
Open July 1 - October 12
21 Flat Rock Bridge Road
Lebanon, ME 04027
Check-In/Check-Out Times
All Sites
Check-in: 3:00 pm, Check-out: 11:00 am
Lebanon KOA on Salmon Falls River
Get Google Directions

© 2020 Kampgrounds of America, Inc.